Looking for the best Christmas beauty gifts in 2016? Look no further, About Time to the rescue. We've got you covered this December; from perfume gifts to beauty experiences, products for pampering to stocking fillers, here's our top beauty gifts we'll be putting under the tree this Christmas:
Best Christmas Beauty Gifts: Skincare
1. For Results-Driven Products: Dr. David Jack
What: Prepare Cleanser (£45)
The Lowdown: Dr David Jack is London's leading anti-ageing doctor, based on Harley Street, and has an amazing results-based skincare range. We love the new Prepare Cleanser, which is anti-ageing cleanser with jojoba and sweet orange oil is designed to soothe the skin and remove all traces of makeup, debris and oil that build up over the course of the day and at night. Formulated with clinically proven antioxidants with skin soothing properties, it can be used twice daily to soften and cleanse the skin. Brilliant.
What We Say: This cleanser is beautiful to use – the scent of sweet orange oil really lifts it, and your skin looks visibly brighter after a few uses. What a treat.
Buy: Online here
2. For Bespoke Beauty: Lisa Franklin Skincare
What: Pro-Effect Lumniscient Base (£70) and Love Light Energy Candle (£28)
The Lowdown: Lisa Franklin is a highly-regarded facialist and beauty expert, who has also created a primer which creates a flawless complexion. The nutrient-rich formula is packed with unique ingredients that work on every skin type by harnessing the potent powers of precious metals and minerals. If you need an extra boost, Lisa has also created the Love Light Energy Candle. Using her knowledge of beauty scents, the candle is designed to recreate the perfect opulence when having a facial, to fully relax the mind body and soul. Perfect to uplift this busy festive season.
What We Say: This base is lovely to use under foundation to give you a real, light glow. It's also great if you're in a rush and need something to lift the face without adding lots of powders and liquid. We love the silky texture, too.
Buy: Online here
What: Age Defence Journey – exclusive Christmas set (£37)
The Lowdown: Two anti-ageing must-have products enriched in OPC PIN for a beautifully moisturized complexion. We love IXXI – a French expert brand that focuses on anti-ageing products, and a major player in the field of environmentally responsible green chemistry. The Age Defence Journey features a feeding serum and a special under eye cream, for a pampering this Christmas.
What We Say: One of the best Christmas beauty gifts for your mum. Behind the sexy, gold packaging, there's some products here that really work. The serum has a beautiful, silky texture and the eye cream is great when you need a little winter boost.
Buy: See here
Best Christmas Beauty Gifts: Gift Sets
Name: Haute Couture for Her (£80)
The Lowdown: This Christmas, treat beauty obsessed friends and family to an exclusive Haute Couture gift box from BRYT Skincare. Featuring a selection of premium, hand-picked products from this British botanical range, each of BRYT's Xmas Gift boxes is the perfect present for the pamper queen. Haute Couture for Her includes BRYT Remove, BRYT Cleanse, BRYT Day and Night, then choose from BRYT Essential Serum, BRYT Calm Serum or BRYT Nourish Serum. Yes, please.
What We Say: The bright packaging of these products really draws you in, and their no-nasties formula is great for sensitive skin. The cleanser is great first thing in the morning for a fresh-faced feel, and we love the calming serum as an additional skin treat when you've been out and about all day.
Buy: See here
2. For a Lip Set: Tropic Skincare
What: Luscious Lips Collection (£15)
The Lowdown: The mint, vanilla extract, brown sugar and mango seed butter makes this limited edition gift set smell like a delicious minty white chocolate dessert for the lips. The two-step system comprises of Lip Smooth which is a gentle sugary exfoliant, and the Lip Soft balm which is an indulgent buttery treat that gives long-lasting hydration. Just so kissable.
What We Say: The perfect stocking filler – these lip butters smell absolutely amazing, and we can't get enough of the white chocolate flavour.
Buy: Online here
3. For a Fancy Set: Omorovicza
What: Blue Diamond Set (£400)
The Lowdown: The Blue Diamond Collection by Omorovicza was designed to awaken and revitalise the skin, and to illuminate from within. This decadent set contains the Blue Diamond's Collection's favourite products: the Blue Diamond Super Cream and the Blue Diamond Concentrate. Silky smooth yet deceptively powerful, this duo will transform the appearance of your skin within minutes. Right on.
What We Say: We love this brand too much – and the high price point really is a testament to its quality. You'll notice a difference using these creams after a few days, they really help to brighten and contour the skin.
Buy: Online here
4. For a Natural Set: Burt's Bees
What: Burt's Bag of Treats (£19.99)
The Lowdown: Burt's Bees has been offering distinctive earth-friendly, natural health and beauty care products for over 30 years. From a beekeeper's backyard in Maine to the leading edge of natural, Burt's Bees knows natural body care solutions from head-to-toe and we can't get enough of their products. Treat someone you love this Christmas with the Burt's Bees Burt's Bag Of Treats gift set. It contains a gently exfoliating Peach & Willowbark Deep Pore Scrub, nourishing Milk & Honey Body Lotion and the classic 100% natural Beeswax Lip Balm with Vitamin E and Peppermint for moisturised, healthy looking lips, all wrapped up in a beautiful, travel sized wash bag.
What We Say: Burt's Bees is the perfect Christmas treat. Their milk and honey body lotion is one of the most insanely delicious, sweet-smelling creams you've ever tried. And the lip balm is just perfect for the colder winter months. Lovely stuff.
Buy: Online here
5. For Teen Beauty: 7th Heaven
What: Basket Full of Goodies (£9.99)
The Lowdown: 7th Heaven is the world's number one face mask, who has a huge range of natural, cruelty-free products, including some uber-pampering Christmas gift sets perfect for teens. If you can't decide which mask to choose, this big basket of beauty treats is just what you need. Montagne Jeunesse products are full of the most delicious and natural ingredients, allowing you to pamper and indulge. The gift set includes: Acai Body Smoothie Sachet, Fresh Feet, Bath Bombs, Pom Pom, Dead Sea Mud Pac Face Mask, Avocado Oil Mud, Hot Chocolate Face Mask and many, many more.
What We Say: One of the best Christmas beauty gifts for some Old-school fun. These quirky masks are the perfect thing to unwind with after the long Christmas festivities are over – you'll be thanking us later.
Buy: Online here
What: OPI Breakfast at Tiffany's The Classics Mini Pack (£24.95)
The Lowdown: Treat yourself to a gorgeous manicure using the OPI Breakfast At Tiffany's The Classics set – one of our favourite Christmas gift sets. The always-fabulous nail care brand have done it again with their indulgent selection of 10 solid shades and luxurious colours inspired by the globally renowned film Breakfast At Tiffany's which stars the glamorous style icon Audrey Hepburn. The kit includes a wonderful Madam President red, girl Bubble Bath pink and a bold Speaker of the House burgundy.
What We Say: We love the range of colours in this set, and what's more, OPI continue to deliver rich pigmentations promising to cover nails in just a couple of coats. Chip resistant and long lasting, OPI deliver time and time again with their great selection of nail polishes – a fab alternative to shellac manicures.
Buy: Online here
7. For a Brush Set: Real Techniques
What: The Highlight and Glow Set (£20)
The Lowdown: Light up the room with a natural, beautiful glow. Featuring three precision cut brushes in varying densities, lengths, and shapes for highlighting, strobing, and bronzing. The set features a multi task brush – long, tapered bristles bronze and highlight face and cheek bones – and a targeted blending brush, which is densely packed to blend highlighting liquids and creams. There's also an exclusive compact fan brush with short and dense bristles add glow and a panoramic case to keep your brushes organised.
What We Say: You cannot beat the quality of these brunches. Made with 100% cruelty-free bristles, the set helps create fresh, colourful, head-turning looks. Great for using with a cream-based highlight for an extra Christmas pop.
Buy: Online here
What: Facial Gift Set from MOA
The Lowdown: The brand new Facial Gift Set from MOA combines Daily Cleansing Ritual – the Green Balm  with a super soft bamboo face cloth and Aphrodite Facial Oil, beautifully presented in a luxury gift box designed to be treasured and kept. This face care duo makes a wonderful daily skin ritual, protecting the skin from the harsh winter weather and helping to protect against premature ageing.
What We Say: If you're looking to add to your skin routine, this daily cleansing ritual is a great place to start. The facial oil has a wonderful texture, and is perfect for all skin types.
Buy: Online here
9. For a Sparkling Set: Ted Baker
What: Ted's Twinkling Trio (£25 for the trio or £10 each)
The Lowdown: Shine bright day and night with Ted Baker's twinkling trio of glistening gems. Each hanging-diamond bauble unwraps to reveal a Sweet Treats fragrance with a complementary mini nail polish colour, to ensure you sparkle from head to toe this Christmas.
What We Say: Another great stocking filler, the little gems are the perfect keepsake to remember the festive season. Each fragrance is girly and lovely, with a beautiful nail polish to match.
Buy: Online here
10. For a Special Set: Dr. LEVY Switzerland
What: The Gift of Youth Delight (£299)
The Lowdown: Christmas 2016 sees the arrival of the new handmade Dr. LEVY Switzerland vanity case, which beautifully presents Dr. Levy's world renowned stem cell products. There's two essential sets to choose from – Delight and Deluxe, containing Dr Levy's award-winning, iconic and intense stem cell products which have been placed together, in a limited edition, luxurious handmade vanity case to perfectly host your absolute skin care essentials.
What We Say: A really lovely treat. The Gift of Youth Delight set retails at £299 and includes the award-winning Intense Stem Cell Booster Serum and the brand new 3DEEP Cleanser presented in a stunning hand-made vanity case PLUS two mini-tubes in gorgeous pouch and surprise gifts.
Buy: Online here
Best Christmas Beauty Gifts: Stocking Fillers
1. For a Christmas Cracker: Caudalie
What: Body Essentials Christmas Cracker (£10)
The Lowdown: The perfect table decoration, gift for a friend or treat for yourself, this Caudalie Christmas Cracker contains some of the brand's best-loved body products. The lovely cracker includes a Nourishing Body Lotion with grape polyphenols to prevent premature ageing and gingko biloba to activate micro-circulation, and the Nourishing Body Lotion, which leaves your skin soft, nourished, protected and energised. The cracker also contains Thé des Vignes Shower Gel with the calming scent of powdery cloud, ginger liqueur, orange blossom and jasmine and their Lip Conditioner with beeswax, shea butter and anti-oxidants to repair and protect damaged lips. Delicious.
What We Say: These products all smell absolutely delicious, and give a real home-spa feel when pampering. We can't get enough of the body lotion for a luxurious, soft indulgence.
Buy: Online here
2. For a Pamper Night: ila Spa
What: Festive Blessing Body Cracker (£20)
The Lowdown: This Christmas, ila have also created the Festive Blessing Cracker, a fun twist on the traditional Christmas Cracker filled with mini versions of their most popular products. The starry night deep blue Blessing Body Cracker is ideal for those seeking a soul soothing boost; it features their Body Lotion for Nurturing Skin, Body Wash for Toning Skin, Body Oil for Vital Energy and Bath Salts for Inner Peace.
What We Say: Such a lovely gift this Christmas. The cracker also contains an inspirational ila blessing card in the place of a traditional joke, creating the perfect alternative to the traditional Christmas cracker for authentic, natural beauty lovers. We love.
Buy: Online here
3. For a Festive Candle: Willow and Honey
What: Spiced Orange Candle (£32)
The Lowdown: The Spiced Orange candle by Willow and Honey is truly the scent of Christmas. What's more, Willow and Honey have just re-launched the whole collection with beautiful new packaging in collaboration with a world renowned fashion illustrator and introduced a line of new reed diffusers. With 100% natural soy wax, blending citrus top notes and hints of cinnamon, nutmeg and clove. The soft crackle from the wooden wick and festive fragrance make for a cosy experience to warm you from head to toe.
What We Say: One of our favourite, best best Christmas beauty gifts. We couldn't get enough of this candle at About Time HQ – it made the whole office smell like Christmas, with the overwhelming scent of spices, sweet orange and cinnamon. A real, festive treat.
Buy: Online here
4. For Tangle-Free Hair: Tangle Angel
What: Tangle Angel (£14.95)
The Lowdown: Tangle Angel are well known for their cool and quirky style, along with being the perfect brush to detangle and not damage hair. Its also used by celebrity stylists as the perfect blow dry brush for added volume. It comes in a variety of styles and colours, the precious pink is a personal favourite. What's more, the brush's heat resistant bristles retain their shape even when used with the high temperatures generated by hairdryers up to 115 °C. Right on.
What We Say: Super useful if you're always out and about, in the gym, or getting ready in a rush – this brush is perfect for tangle-free locks, that won't snag your hair.
Buy: Online here
What: MYSPA Fragranced Candle (£3) and MYSPA Room Spray (£2)
The Lowdown: Nothing says Christmas like a bit of pampering and relaxation, helped along by some lovely scents. For candles, try MYSPA's Coconut and Fragnipani candle – create your very own spa retreat at home as the aromas relax and stimulate your senses. And to scent your room, their Coconut and Fragnipani Room Spray – a deeply immersive room fragrance for you to lose yourself in. Show stress the door.
What We Say: For the price point, this range is really impressive. Sure, it's not the strongest smelling candle you've ever experienced, but for £3, it's a really lovely stocking filler this Christmas.
Buy: Online here
8. For a Classic Cream: Astral
What: Astral Original (£2.99)
The Lowdown: Astral is a one-pot wonder cream that does everything from moisturising your face and body and acting as a hydrating face mask, to repairing cracked heels, preserving a sun tan and removing make-up as a cold cream. The formula of this moisturiser is unchanged from the 1950s, and it has a celebrity following including the likes of Joanna Lumley and Amanda Holden.
What We Say: This cream is so old-school and wonderful; its classic scent and creamy texture evoke feelings of nostalgia, and it works a dream when you're in a rush and need a quick moisture boost.
Buy: Online here
Best Christmas Beauty Gifts: Gadgets
1. For a Smooth Shave: Philips SatinShave
What: Philips SatinShave (£70)
The Lowdown: Philips SatinShave is ideal for women who want a quick solution for smooth skin every daily. The new wet and dry electric shaver can be used in the bath or the shower and using gels or creams if you prefer, it has a multiflex head with dual foils for fewer missed hairs, soft-touch comfort cushions for a super soft skin feel, a pearl-tip trimmer and safety bars protect from scratches and an ergonomic handle for effortless control. The new Philips SatinShave range is so comfortable you can shave daily, but so close that you don't have to.
What We Say: A really versatile, impressive shaver that gives you a super close shave for silky smooth pins. Its attractive design and easy-to-use functionality blows regular razors out the water, and it's a good investment, we say.
Buy: Online here
2. For a Facial Brush: Magnitone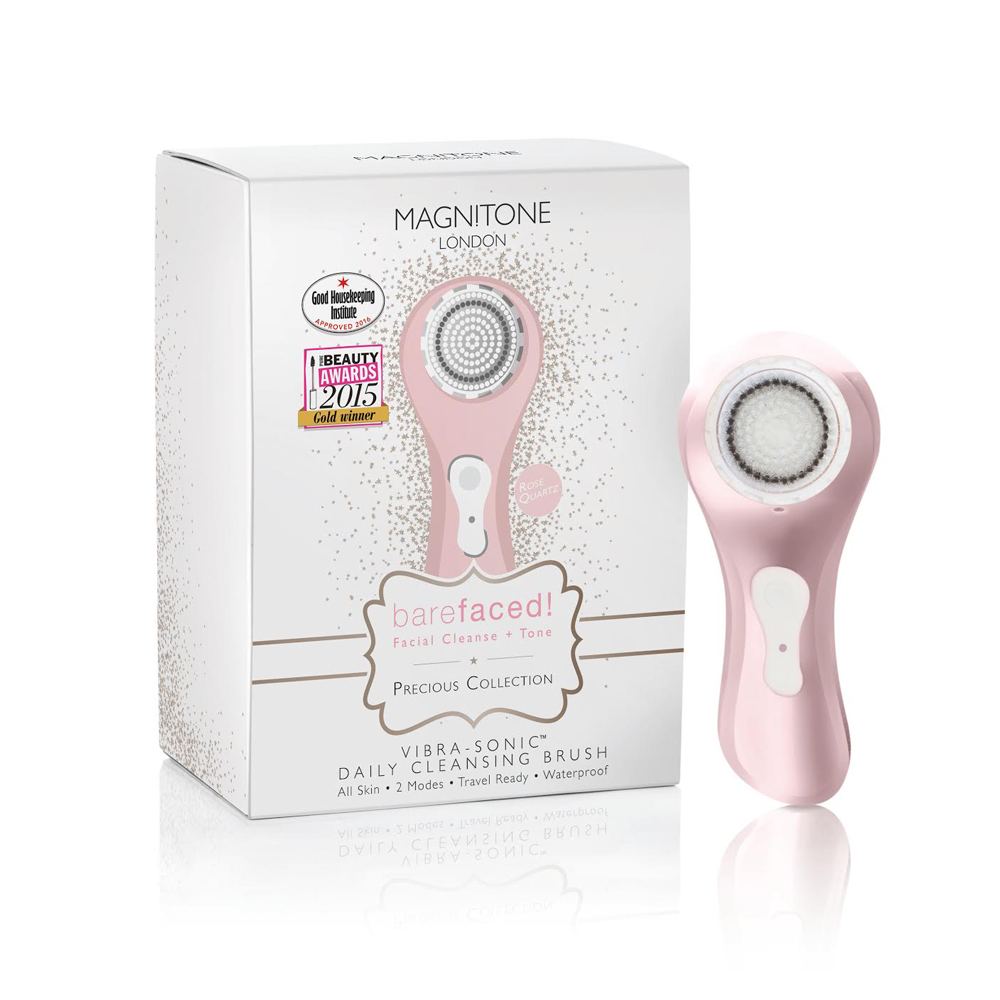 What: The Magnitone Precious Collection (£70)
The Lowdown: The Magnitone Precious Collection is the perfect gadget gift for women; these daily cleansing brushes are all about getting naturally radiant, beautifully conditioned skin. Using Vibra-Sonic cleansing and toning brushes gives you ultimate skin confidence, the brush cleanses and tones, using electromagnetic vibrations and sonic oscillations, to give skin a 60-second workout. It energises skin and boosts micro-circulation – think of it like a personal trainer for your face. With a USB charger and travel pouch, your Precious Collection Brush is ready when you are.
What We Say: One of the best Christmas beauty gifts for something quirky. A really great product for giving your skin an extra boost and glow – the easy-to-use brush helps to remove dead skin from the face, and increases blood flow. Like a facial in a brush, we can't get enough of it.
Buy: Online here
What: Toni&Guy Illusion Styler (£89.99)
The Lowdown: The new limited edition Toni&Guy Illusion Styler is perfect for changing up your hairstyle at the click of a button. The styler provides the most up to date technology to achieve the look you want, with digital touch control, heat proof storage and luxury heat proof mat. This styler straightens, curls and waves with one glide through the hair. Designed with superior touch controls and precision heater technology, the 25mm extra long floating plates ensure perfect results and flawless finish hair. Yes, please.
What We Say: One of the best straighteners we've ever tried. It's great if you're looking for lots of different styles with one tool, as you can curl and make waves with this styler too. Functional, attractive, heat-controlled, this styler is the one.
Buy: Online here
Best Christmas Beauty Gifts: Perfume
What: Ghost the Fragrance Gift Set (£25)
The Lowdown: The original scent in the Ghost portfolio, this timeless classic with top notes of hibiscus, rose and jasmine is a must-have for every dressing table. Complete with a scented candle to fill your home with your favourite Ghost scent all year round! If you're looking to spoil someone, they've also got a lovely Ghost Eclipse Pamper Set, which is packed full of sweet, gentle aromas – 50ml of Sweetheart perfume, a special candle, rose gold beauty bag, lip gloss, gold glitter nail varnish and hand lotion. Lovely stuff.
What We Say: A beautiful present for a loved one this Christmas. The candle is absolutely delightful and will light up a home perfectly – and the Ghost fragrance cannot be beaten.
Buy: Online here
What: La Femme Prada Eau de Parfum (£69)
The Lowdown: La Femme Prada is one of my favourite fragrances ever; straying from fragrance's more familiar routes, a sultry journey is evoked by its Frangipani scent and its unusual spicy smell. This floral note evokes the dewy humidity associated with the faraway flower. The note is interwoven with Ylang-Ylang, its spice made smooth with beeswax, vanilla and tuberose. Delightful.
What We Say: A super feminine, sexy scent that's perfect for the Christmas party season. It's one of those perfumes that people always ask after – unusual, decadent and delicious.
Buy: Online here
3. For a Body Lotion Set: Michael Kors
What: Michael Kors Wonderlust Eau De Parfum Gift Set (£58)
The Lowdown: Michael Kors Wonderlust evokes a lust for life with a blend of luxurious blossoms mingled with delectably spiced notes including the freshness of Italian bergamot, a tantalizing pop of pink pepper and cooling almond milk. Deeply romantic, this luxurious gift set includes Wonderlust Eau de Parfum Spray, Body Lotion and a gold Michael Kors key-chain.
What We Say: We love this gift set for a special treat. You get a body lotion, perfume and key-chain all in one, and the perfume is absolutely delicious.
Buy: Online here
Best Christmas Beauty Gifts: Pampering
1. For a Glow: Skinny Tan and Tone Oil
What: Skinny Tan and Tone Oil (£29.98 for 2 with mitt)
The Lowdown: Global self-tanning success story Skinny Tan is back with another innovation in tan and tone technology. New Skinny Tan and Tone Oil is the natural, hydrating, quick and easy way to a streak free tan that looks so natural no-one will ever know you are faking it. Skinny Tan & Tone Oil is not only the first to be made with a natural skin-kind tanning agent but it also includes smoothing organic oils and guarana berries for a firming effect. Win win.
What We Say: We loved it. No orange, no streaking and no skin-drying chemicals – Skinny Tan Oil applies smoothly in seconds with a silky finish and an instant bronze glow that then develops to a long lasting natural colour. So good.
Buy: Online here
2. For Sun-Kissed Skin: Ambre Solaire
What: Garnier Ambre Solaire No Streaks Bronzer Self-Tanning Dry Body Mist (£7.79)

The Lowdown: Garnier Ambre Solaire No Streaks Bronzer is a great Christmas beauty stocking filler and winter beauty essential. The festive season has arrived, and with it a string of parties that reminds us how much we miss out summer-glow. But your natural looking tan can be revived with the Garnier Ambre Solaire No Streaks Bronzer Self-Tan Mist.
What We Say: A pretty fool-proof spray tan that helps you get a holiday glow. The facial tanning mist is great for a spray before bed to wake up all fresh and sun-kissed.
Buy: Online here
3. For Pampering at Home: Spa Find
What: Spa Find – Ruby Radiance Spa Facial Collection (£35)
The Lowdown: The leaders in home spa skincare and pioneers in natural and organic formulations, Finders Brands give your skin an instant boost of health and vitality. The brands utilise the naturally healing powers of Dead Sea mud, salt and seaweed to not only improve your skin but also help calm the mind and relax the body. We love the Spa Find Ruby Radiance kit, which contains Renewed Radiance Energizing Cleanser, Renewed Radiance Energizing Toning Spray, Deep Sea Nourishment and Energizing Mud Mask for the perfect at-home pamper.
What We Thought: Packed full of rejuvenating and anti-stress minerals; they are the perfect pamper solution to enjoy over the festive season and ultimately, replenish your skin for a flawless finish. We can't get enough of the mud mask – perfect for a little indulgence this Christmas.
Buy: Online here
4. For Party Locks: Hair Rehab London
What: Original and Luxe Volume Clip-ins (£99.99/£154.99)
The Lowdown: For the friend, daughter, sister or self who's always wanted long, luscious locks, allow HairRehab London to answer your beauty prayers with their extensive range of clip-in hair extensions and hair pieces, all designed to transform your look. From £9.99 for synthetic hair pieces and £94.99 for human hair pieces, there's something to suit all budgets. We love the Original and Luxe Volume Clip-ins – made from 100% Grade AAAA Human Remy hair, the clip-ins feature a completely unique multi-layer weft design system for a natural and blended look.
What We Say: One of the best Christmas beauty gifts for a friend. Easy-to-use, luxe looking with amazing results, this clip-in extensions are great for changing up your hair style this Christmas. Each pack contains a full head of clip-ins including large, medium, small and mini pieces for give you a new look.
Buy: Online here