CBD oil is a hot new trend in the world of wellness and beauty right now. From sleep to chronic pain and even anxiety, it has an impressive list of claims to its name. Naturally derived from hemp, CBD stands for 'cannabidiol', a substance that is legal, non-intoxicating and non-addictive. Although it belongs to a similar family, hemp is not to be confused with marijuana which has high levels of the intoxicant THC. Hemp is not a controlled substance in the UK whereas marijuana is. So, if you're new to the world of CBD or want to explore its many forms, we've compiled a list of some of the very best CBD products on the market (all THC-free and non-psychoactive):
What: nooro have launched the UK's first CBD snack bar range in three deliciously feel-good flavours. 
Why: Revolutionising the way we snack, nooro have turned the benefits of CBD mainstream with their three healthy snack bar flavours: Lemon & Ginger, Banana & Cinnamon and Cacao & Coconut. These vegan snacks are packed with a selection of natural ingredients that contain antioxidants, essential vitamins and minerals, healthy fats, slow-release energy and 25mg of CBD. Promising to create a balance between mind and body, these unique snack bars ease feelings of stress and improve cognitive function to help keep you on track. 
Price: £2.95 per snack bar
Stockists: Planet Organic, As Nature Intended, Revital and nooro online.
What: There's nothing quite like sinking into a warm, relaxing bath and Westlab's new Mindful salts has just taken it to a whole new level. 
Why: Westlab's Mindful salts create a fragrant, mineral-infused bath to bring you absolute peace in the comfort of your own home. Magnesium-rich Epsom and Himalayan Salts have been infused with frankincense and bergamot essential oils to instil a feeling of relaxation in the mind and body. The added CBD conjures an oasis of tranquillity that leaves you feeling centred, calm and relaxed. Westlab's Mindful salts are truly a perfect antidote to a busy day. 
Price: £6.99
Stockists: Look Fantastic
What: Sometimes we all need a little pick-me-up and Young LDN's 45-minute CBD facial is just the ticket. 
Why: CBD has been making waves in the beauty scene. Research has shown that it's one of the most potent antioxidants on the market and helps diminish dullness, softens ruddy complexions and improves your skin's youthful glow. Young LDN's facial consists of 4 zen steps: the first is a deep cleanse using Circadia Skin products which thoroughly clean the skin of impurities. Next, Young LDN uses Grön CBD Rejuvenate Awakening Clay Mask, which combines the anti-inflammatory powers of CBD with the moisture-balancing properties of clay. The mask is left on for 6-10 minutes before being removed with a hot face towel. MedTerra CBD Oil is then massaged into the skin using a combination of techniques such as pressure point, deep tissue and gua sha massage, stimulating lymphatic drainage and giving the face an overall lift. The final step is Grön's CBD Time-Reversing Face and Neck Cream which works to plumpen, moisturise and rejuvenate the skin to leave it feeling soft and glowing. 
Price: £75 for a 45-minute session. 
Stockists: Young LDN
What: Raised Spirit, the UK's first organic certified CBD brand has launched a delicious CBD cacao and coconut oil that can be spooned into smoothies, sauces, coffees and eaten raw. 
Why: Raised Spirit uses organic hemp-based oils that help restore a balance between the mind and body. The brand's CBD Cacao jars are handmade using raw cacao powder, CBD-infused coconut oil and sweetened with coconut blossom syrup. This little jar of goodness is packed with antioxidants, anti-inflammatory flavanols and mood-enhancing compounds that release endorphins and make you feel great. If that wasn't enough, coconut blossom contains a wide range of vitamins and minerals as well as inositol, a carbocyclic sugar that helps combat high-cholesterol, diabetes and even depression. 
Price: £39.99 per 196ml jar
Stockists: Online at Raised Spirit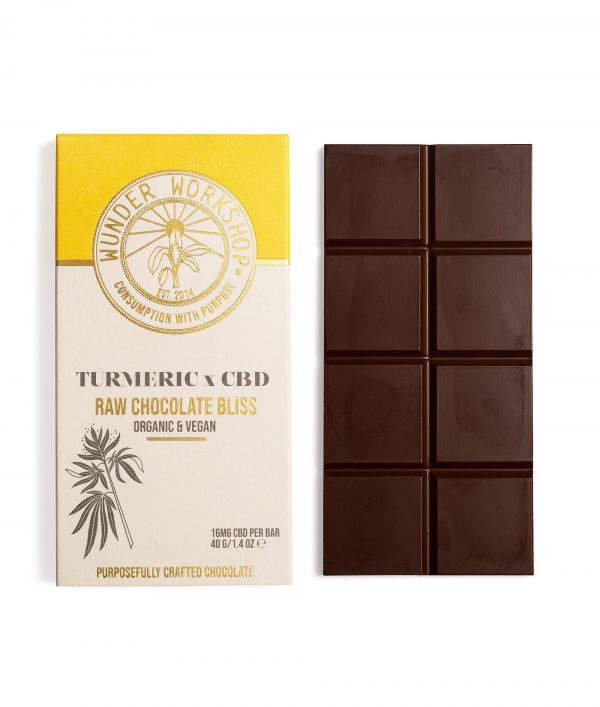 What: Wunder Workshop's Turmeric and CBD Raw Chocolate Bliss Bar is a heavenly melt-in-the-mouth delight with all the benefits of CBD. It also happens to be both organic and vegan. 
Why: As the name suggests, Wunder Workshop's Bliss Bars are designed to instil a feeling of bliss from the very first bite. This might not seem to be groundbreaking news to the chocolate lovers who may already be well-acquainted with how it makes them feel. However, Wunder Workshop turns the concept of bliss into a science by adding a precise dose of CBD (16mg) to create a delicious mood-enhancing bar of chocolate. As if that wasn't enough, the raw chocolate bars are handcrafted and stoneground by Pablo at Forever Cacao using single-origin cacao from Peru. The turmeric is ethically sourced from small community farms in the heart of Sri Lanka and each chocolate bar is flavoured with Wunder Workshop's signature Golden Mylk® turmeric latte blend to create an instantly creamy and moreish taste. 
Price: £5.99 per bar
Stockists: Wunder Workshop online
What: Green Stem's organic and cruelty-free CBD hand cream is fortified with nourishing essential oils to leave your skin feeling soft, supple and pampered. 
Why: Green Stem's hand cream is infused with 99% pure ethically-grown CBD from Colorado, USA. Used for its restorative healing properties, the CBD oil is combined with lavender essential oil to help you feel calm and balanced. The added jasmine and sandalwood essential oils create a deeply luxurious cream that absorbs into the skin without a trace of oily residue. Both key remedies in aromatherapy for centuries, jasmine is believed to relieve the symptoms of anxiety, PMS and skin ailments while sandalwood is said to ease digestive problems and muscle tension. 
Price: £19.99 
Stockists: Green Stem online
What: Working in partnership with CBD&YOU, Gorgeous Brewery have been developing a new CBD-infused beer called Grasshopper and it's finally available to order online and at their family-run pub in Highgate.  
Why: Gorgeous Brewery's Grasshopper Pale Ale is enriched with naturally pure CBD oil. Developed in partnership with CBD&YOU, London's first pure-play CBD shop, the combination of hemp extract and hops creates a resinous citrusy flavour that's low in bitterness and 100% vegan. Containing 5mg of CBD, the beer is enough to make you feel a little relaxed without being too extreme. A gentle and drinkable beer, Grasshopper Pale Ale is a deliciously unique tipple to enjoy. 
Price: £3.50 per bottle plus delivery
Stockists: Available online via Gorgeous Brewery or go to The Bull Pub in Highgate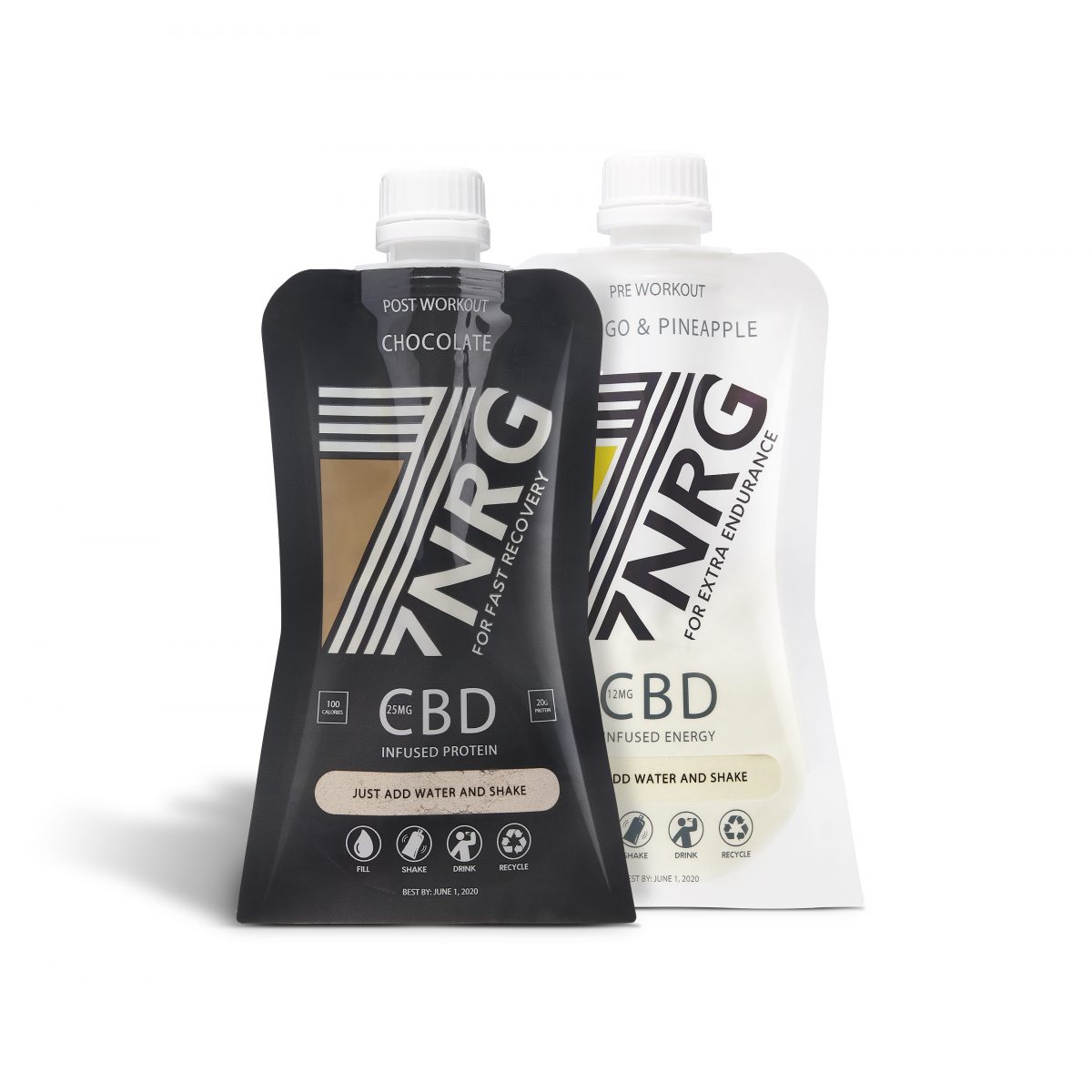 What: This October, 7NRG are launching the world's first recyclable pre and post-workout drink infused with broad spectrum water-soluble CBD to aid muscle recovery after your session at the gym. 
Why: 7NRG's two workout drinks are designed to help your body achieve optimal performance during and after your gym session. The brand's Pre-Workout Mango & Pineapple CBD Energy Drink contains precise doses of CBD to increase wakefulness and drive to help you focus during your workout. The Post-Workout CBD Chocolate Protein Drink helps speed up muscle recovery and limits soreness and combined with high-quality protein powders, it's the perfect supplement after a rigorous exercise session. 
Price: 7NRG Pre-Workout Mango & Pineapple CBD Energy Drink, £4.50. 7NRG Post-Workout CBD Chocolate Protein Drink, £5.40 
Stockists: 7NRG online and Canna Club Shoreditch from 7th October 2019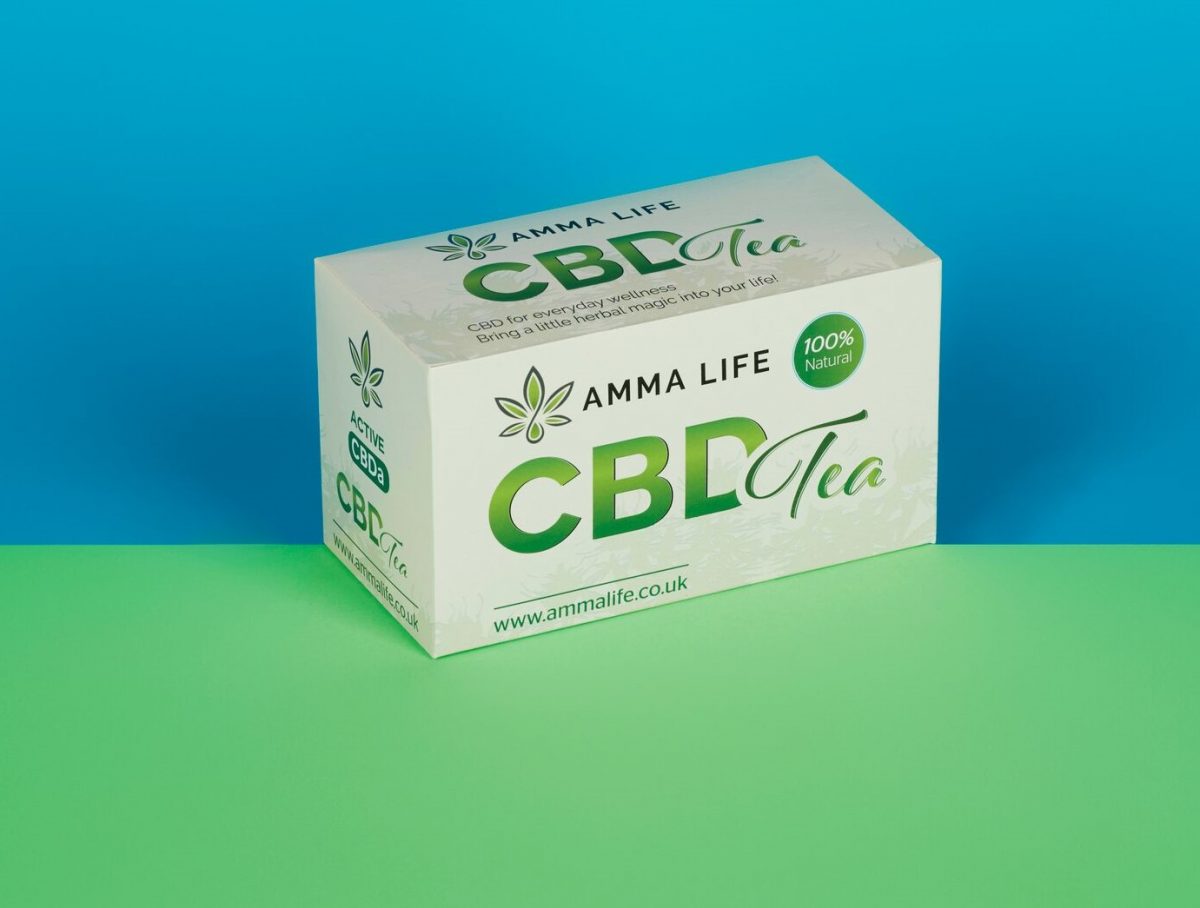 What: Bristol-based CBD company Amma Life have recently picked up the prize for 'Best Hot Drink' at the Healthy Food Guide's Best of Health Awards 2019 for their CBD herbal tea infusion. 
Why: Amma Life's caffeine-free CBD tea has become a game-changer in the world of herbal teas. This soothing beverage has been said to quell feelings of anxiety and helps to support general wellbeing and physical health. Filled with the finest quality cannabis Sativa and peppermint leaves, Amma Life's teas offers a unique opportunity to ease CBD into your daily routine. Enjoy as a morning cuppa to kick start your day or take a mug to bed to help you unwind and regain your inner calm before sleep. 
Price: Starting from £12.49 for a box of 20 tea bags
Stockists: Amma Life online
What: Wellness brand Grass & Co have recently launched EASE, a new bestselling 5% CBD oil. 
Why: Unlike regular CBD oils, Grass & Co's EASE is enriched with fine-quality botanicals including ginger, turmeric and orange to create a pleasant citrusy taste that's bursting with natural antioxidant-boosting and anti-inflammatory benefits. A remedy that eases the symptoms of chronic pain and restores a calming balance in your mind, EASE contains 500mg of ethically produced THC-free CBD made from hemp grown organically in Eastern Europe. Navigating the world of CBD oils and supplements is a tricky business for first-timers. Much like its name suggests, EASE is a great starting point as it doesn't have that notoriously earthy taste found in many CBD oils. 
Price: £39.50 
Stockists: Available at Grass & Co online