Valentine's Day 2021: 12 Wine, Prosecco and Champagne DeliveriesBy Alicia Grimshaw
Just because we're celebrating V-Day within our own four walls this year, doesn't mean we can't pull out the stops. From Vintage English Sparkling Wines to Champagne and Proseccos – here's 12 boozy deliveries for the most romantic day of the year:
The Lowdown: Hattingley Valley's limited-edition sparkling rosé is an ideal gift or the perfect addition to a slap-up romantic feast. The brand-new 2017 rosé (voted best sparkling English rosé at the Champagne & Sparkling Wine World Championship 2020), comes in a specially designed bottle featuring a heart-shaped label, and a blank Valentine's card that the Hattingley team will lovingly scribe with your own personal messages for you, before despatching in a stylish gift box.
Where: Buy online, £41
The Lowdown: Unwrap Champagne Nicolas Feuillatte's Réserve Exclusive Brut and Réserve Exclusive Rosé which come with adjoining white and pink 'jackets', a snug and delicious prezzie for a loved one on 14th February. Réserve Exclusive Rosé is a delicately nuanced Champagne literally bursting with deep red fruit flavours which makes for the best shade of pink. Blended with 10% Chardonnay, 45% Pinot Noir, and 45% Meunier, this Champagne has a tasty blend of redcurrant, blueberry and raspberry notes, combined with a hint of wild strawberries.
Where: Buy online, £35

The Lowdown: If you're looking for something different this Valentine's Day, look no further than the first English sparkling wine from a Champagne House – Louis Pommery England. Freshness and finesse thanks to the yellow citrus aromas that emerge initially, Louis Pommery Sparkling Wine offers a beautiful balance and a rich harmony. A lovely and delicate pale straw yellow in colour.
Where: Buy online, £39.99
The Lowdown: A new arrival in the UK, Prosecco Gioiosa DOC Rosé is beautifully pink – an ideal tipple to enjoy for Valentine's Day. With a brilliant rose hue and bubbles that dance in the glass, Prosecco Gioiosa DOC Rosé does not only make any table look exceptionally pretty, but its natural flavours are utterly romantic. Floral and fruity on the nose there are beautiful notes of cherry blossom, wild berries, strawberries and roses. 
Where: Majestic Wine, £9.99
The Lowdown: No matter what the occasion, Gusbourne's award-winning English sparkling wines deliver elegance with every sip. Exclusively vintage, every wine is unique to each growing season and presents an authentic reflection of a specific time and place. Gusbourne's Rose 2016 is delicate pink in appearance, with soft summer berries and floral notes on the nose. Made from a blend of estate-grown Pinot Noir, Chardonnay and Pinot Meunier, Gusbourne's Rose has a crisp freshness and is presented in a special gift box, making this the ideal gift this February.
Where: Buy online, £49
The Lowdown: For those planning a virtual date night, online wine delivery service Perfect Cellar provides an easy way to send a quality bottle of wine (or three) at an affordable price to your special someone to enjoy with you digitally. Made up of wines you wouldn't find in the supermarket, the Perfect Mixed Gift Box features 3 of Perfect Cellar's favourite award-winning and 90+ point rated wines for the toast to remember.
Where: Buy online, £50
The Lowdown: Chapel Down, England's largest and leading winemaker and mighty fine spirits maker, has some of the finest fizzes on offer including their highly drinkable Rose Brut. A delicate rosé with aromas of ripe strawberries and raspberries with background notes of toasty shortbread. The palate is focused and pure, its fine mousse contributing to the crisp and fresh style. A fizz to pop open with a special someone this Valentine's Day.
Where: Waitrose and Chapel Down website, £26.99
The Lowdown: Lucy's Wine curates boxes of wine which change each month. The Starter Box is an excellent choice for Valentine's Day. It includes three amazing and unique bottles: a Rosso Piceno that is the perfect accompaniment to pizza and pasta; a crowd-pleasing Corbières Blanc; and fun, organic prosecco, Casa BelfiBianco Bio Frizzante 2018.
Where: Buy online from 3rd Feb, £42

The Lowdown: The Northern Wine & Beer Co has launched a Valentine's Wine Case guaranteed to hit the right note this Valentine's Day. The case of six includes two bottles of red, two whites, a Champagne and an Organic sparkling wine – all of the wines have been sourced from small craft, often family-run producers and are usually found in top restaurants around the UK.
Where: Buy online, £75
The Lowdown: The Emissary is a British premium prosecco created by Londoner and drinks aficionado Ed Smith to fill the gap in the market for a high quality, distinctive superior prosecco label. The Emissary has recently introduced a highly anticipated, superior Rosé prosecco to the UK – an excellent addition to a V Day dinner.  The Emissary Prosecco DOC Rosé Treviso Millesimato 2020 is a vibrant, premium prosecco tailored to the English market. 
Where: Buy online, £17.99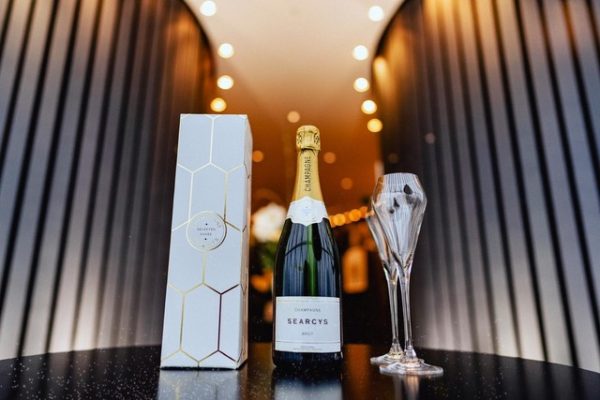 The Lowdown: Valentine's maybe a little different this year, but British restaurateur and event caterer Searcys is on hand to add some sparkle to your homebound date night. Bringing the charm of St Pancras Champagne Bar to your four walls, Searcys Cuvee Rose as well as the Brut arrives in a bespoke white and gold box, complete with a personal message. An elegant and fruity pour, the Brut white encompasses aromas of peach and plum with notes of citrus, while the red fruits of the Brut rosé are dominated by strawberry and white flowers aromas.
Where: Buy online, £39
The Lowdown: Artelium is a new boutique Sussex wine estate which grows outstanding grapes in vineyards across the South Downs. They've produced, not one, but two vintage sparkling wines by celebrated winemaker Dermot Sugrue. Pop open either the award-winning Curators Cuvée 2014 or the Makers Rosé 2015 to make your Valentine's Day a special one.
Where: Buy online, £32