London's taking on the American tradition of Thanksgiving and these events, pop-ups and menus are some of the best to get you joining in the festivities. It's time to get your turkey face on:
1. Eat all the Cranberry Sauce: United Ramen
What: Grub Club launches a one-day-only Thanksgiving pop-up with United Ramen. Ridiculously good ramen is fused with turkey leg, spicy sweetcorn, ginger soy runner beans, and cranberry sauce.
Where: Located on Islington's Upper Street the full location is sent via email after booking – leaving an added touch of mystery!
Why: Grub Club shares delicious culinary delights from some of the best chefs in London with the city's locals. A chance to try out an alternative Thanksgiving for those who are less fussed by the traditional turkey n' all the trimmings.
Book: http://grubclub.com/united-ramen-thanksgiving–turkey-ramen/1878
2. Try a Fancy Feast: Hubbard and Bell
What: The highly respected Soho House group are putting on a Thanksgiving meal at their recently opened Brooklyn-style grill, Hubbard and Bell, on the 27th November from noon until midnight. Guests will feast on the restaurant's take on the typical smoked turkey leg, cranberry, pumpkin and green bean set-up, with iconic Pumpkin Pie for dessert.
Where: Hubbard and Bell, 199-206 High Holborn, WC1V 7BD
Why: The Soho House Group rarely goes wrong and this is a prime opportunity to indulge in both a one-off menu, inspired by Brooklyn's foodie offerings from Italian and Jewish communities, as well as American style dining in an exciting new restaurant.
 3. Have a Thanksgiving Burger: BRGR.CO
What: Popular Soho burger joint BRGR.CO presents THE PILGRIM – a special Thanksgiving burger available between the 24th and 30th of November.
Where: BRGR.CO, 187 Wardour Street, W1F 8ZB
Why: Taking the best of what's available to chow down on during Thanksgiving BRGR.CO transfers it to a different truly American institution – that of the burger. Renowned for their high quality burgers and delectable sides BRGR.CO is the perfect place to get your Thanksgiving in quick and affordable form. Swapping beef out for a 6oz turkey and thyme burger, it comes with cranberry ketchup, hash and buttered sprout leaves, pigs on a stick and fries.
4. Join a Smokin Party: The Blues Kitchen
What: Renowned establishment The Blues Kitchen in Camden serves up a true Deep South-style Thanksgiving affair at their Shoreditch branch, accompanied by the Mardi Gras Mambo.
Where: 134-145 Curtain Road, London, EC2A 3AR
Why: America is a melting pot of cultures and whilst the pilgrims may not have experienced many of them, the twenty-first century has (and we definitely like a party). The menu remains full-on traditional but the venue adds an evening of fun to the feasting with music from New Orleans musician Dom Pipkin. Best of all it's free entry.
What: Another Thanksgiving affair harkens once more from Islington's Upper Street. This time round it's at House of Wolf who are pairing up with their good friends Check on Presents on 27th November.
Where: House of Wolf, 181 Upper Street, N1 1RQ
Why: Here you get not one but two companies throwing together a serious Thanksgiving feast for one night only. Check on Presents will be serving up London's very own take on the traditional fare, with the likes of pork belly, Creole butter, duck egg, and black Norfolk turkey just some of the mouthwatering ingredients on the menu. This is Thanksgiving with a serious side of London style.
And one for luck…
6. Try a Thanksgiving Slice: Bite Me Pizza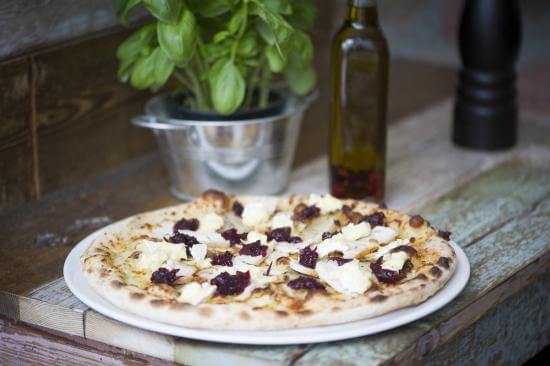 What: If you tend to spend your holiday season lounging around with your nearest and dearest than Bite Me Pizza has the perfect accompaniment to your ultimate sofa session.
Where: The warmth of your own home! Bite Me Pizza is based at Westbourne Grove, Notting Hill
Why: Another option if you're not waving a flag for the traditional table run-down of a Thanksgiving dinner. As is obvious from the name these guys serve up a delightful dish of doughy, cheesy goodness. Only available onThanksgiving Day (that's Thursday 27th November if it wasn't clear already!) this is a one-of-a-kind creation. The pizza is topped with mozzarella, roast turkey breast, crispy pork belly, brie and cranberry sauce. That's right brie, and pork belly, on a pizza. At this rate we'll want it all year round!