Do people actually make Halloween cocktails? Who cares, we're making them a thing. If you're hosting a scarily good bash, or you fancy whipping up some liquid goodness in your own kitchen this weekend – here's 5 Halloween cocktails to sink your teeth into. Creep it real, people:
For a Berry Cocktail: Belvedere
The Drink: Belvedere Halloween Cocktail (created by Dry Martini at the Melia White House Hotel)
Ingredients:  
30ml 

Belvedere

 Vodka
10ml Crème de Cassis
10ml Crème de mure
10ml Lemon juice
20ml Grapefruit juice
3 Blackberries and 5 Blueberries – muddled
Method: 
Place all the ingredients into a glass, stir and top up with Veuve Clicquot champagne in a coupette.
For Punch: Slingsby Gin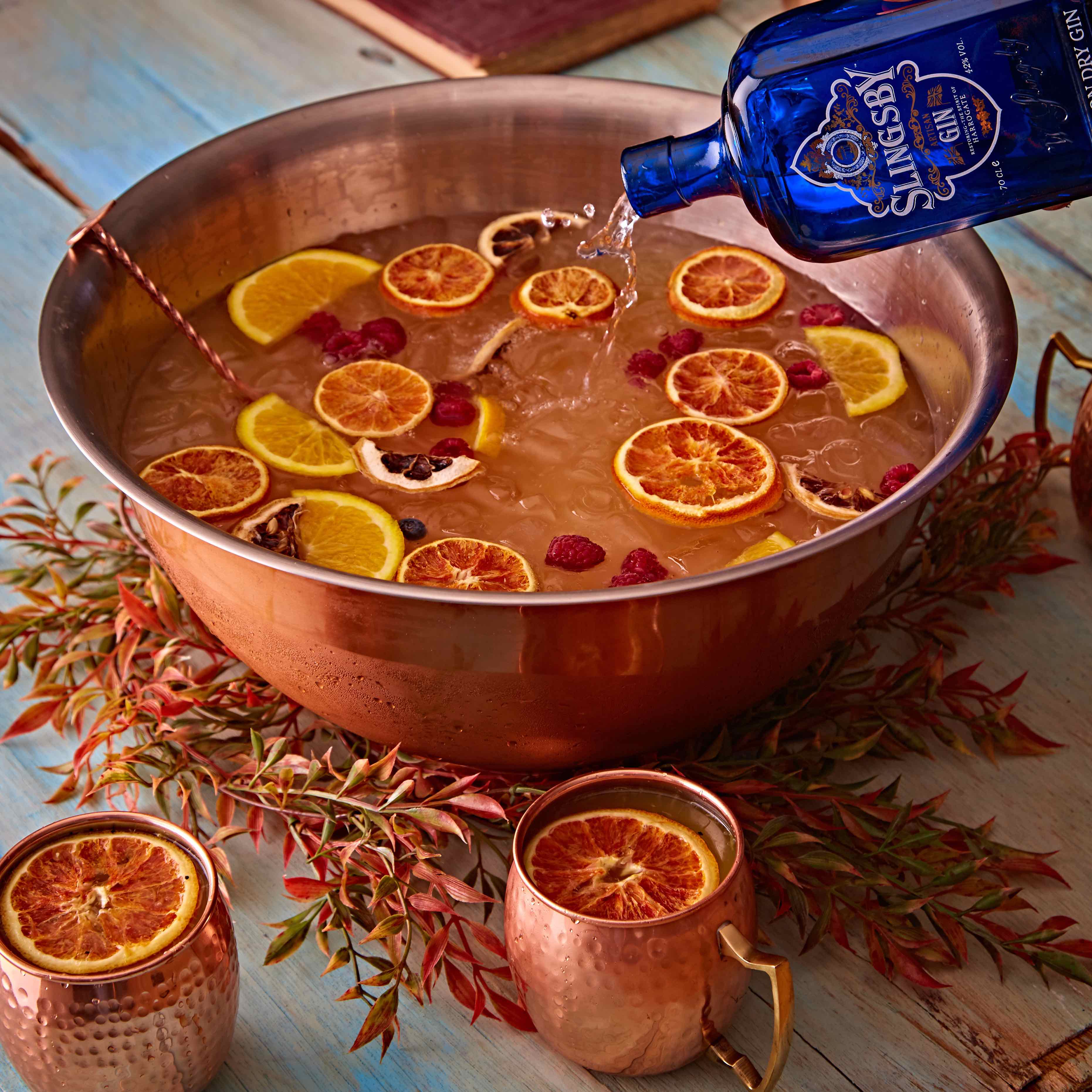 The Drink: Candy Corn Punch
Ingredients: 
 1 part Slingsby London Dry Gin
2 parts Orange Juice
¼ part Maraschino Liqueur
1 part Pineapple Juice
½ Lime Juice
Slices of Orange, Pineapple, Apricot and Lime
Fresh Blueberries and Raspberries
Method: 
Put all ingredients (minis the fruit) in a copper bowl and stir well. Or, place a glass bowl inside a hollowed out pumpkin. Garnish with slices of fresh fruit and a scattering of berries.
For a Twist on a Bloody Mary: Russian Standard Vodka
The Drink: Bloody Masha
Ingredients: 
50ml Russian Standard – platinum or original
Juice of 1/2 a Fresh Lime
4 dashes of Tabasco
6 dashes of Worcestershire Sauce
75ml of Quality Tomato Juice
Pinch of Salt and Pepper
Method: 
Place all ingredients into a Boston shaker and seal with no ice and shake slowly (tumble). Pour this mix into your glass filled with fresh cubed ice. Garnish with black pepper and a wedge of lime.
For a Fruity Cocktail: Double Dutch
The Drink: Lychee Love
Ingredients: 
50ml Zubrowka Vodka
25ml Lemon Juice
20ml Lychee Juice
10ml Agave Syrup
Top up with Double Dutch Cranberry Tonic
Method: Place all ingredients in a long glass, stir gently and top up with Double Dutch Cranberry Tonic, and ice if you wish. Garnish with a lychee (kind of looks like an eye), and some candy floss for an extra oh la la.
For a Tequila Cocktail: Cazcabel
The Drink: Dead Gringo
Ingredients: 
50ml  Cazcabel Coffee Tequila
50ml Milk
Method: 
Add the coffee and milk to a rocks glass full of ice. Give it a good stir, but leave the coffee near the bottom. Let the mixture settle, and serve.