Still not started your Christmas shopping? We're here to the rescue. Perfect for the gin lover in your life, we've rounded up a selection of gin-centric gifts – from nifty sets to fruit-flavoured delights and award-winning options. Grab the wrapping paper, it's time to shop:
The Lowdown: Experience the magic of Italy and a taste of la Dolce vita with MALFY Gin. The perfect stocking filler, MALFY's set includes the full range in miniature form including – Malfy Originale, Malfy Con Limone, Malfy Gin Rosa, and Malfy Con Arancia. Distilled with some of the finest botanicals including handpicked juniper, Italian lemons, pink grapefruits, oranges and blended with Italian water, enjoy in a G&T, Spritz and many other cocktails.
Perfect For: G&T aficionados.
Where: Buy online, £12
The Lowdown: Containing everything needed to give coffee and gin lovers alike the most indulgent festive treat,  The Sipsmith Sipspresso Gin Gift Set is the ultimate gift for cocktail enthusiasts and newbies looking to create handcrafted drinks at home. Sippers will be treated to: 1x bottle of Sipsmith Sipspresso Gin, 1 bag of ethically sourced Fruit & Nut Pact Coffee, 1x Sipsmith Copper Jigger and 1x Copper Swan Stencil – everything needed to create delicious and indulgent coffee gin cocktails at home.
Perfect For: The adventurous gin drinker.
Where: Buy online, £48
The Lowdown: Slingsby Blackberry gin is the brand's latest fruit-flavoured gin – and it's a cracker. Crafted with the company's award-winning London Dry Gin base, infused with Yorkshire blackberries and water drawn from the world-famous Harrogate aquifer, it's a fruity and refreshing gin with a beautifully sweet finish.
Perfect For: Gin lovers looking for something a little tangy.
Where: Buy online, £30
The Lowdown: Elephant Gin has launched its newest creation: the Handcrafted and Delicious Sloe Gin Chocolate Bundle. In the set, you will find five large sloe gin chocolates and a 500ml bottle of Elephant Sloe Gin (a combination of its award-winning Elephant London Dry Gin with the classic flavour of fresh sloe berries). 15% of bottle profits are donated to African Elephant Conservation to protect the world's most iconic and threatened African elephants and their habitat. 
Perfect For: Gin, chocolate and wildlife lovers.
Where: Buy online, £42.90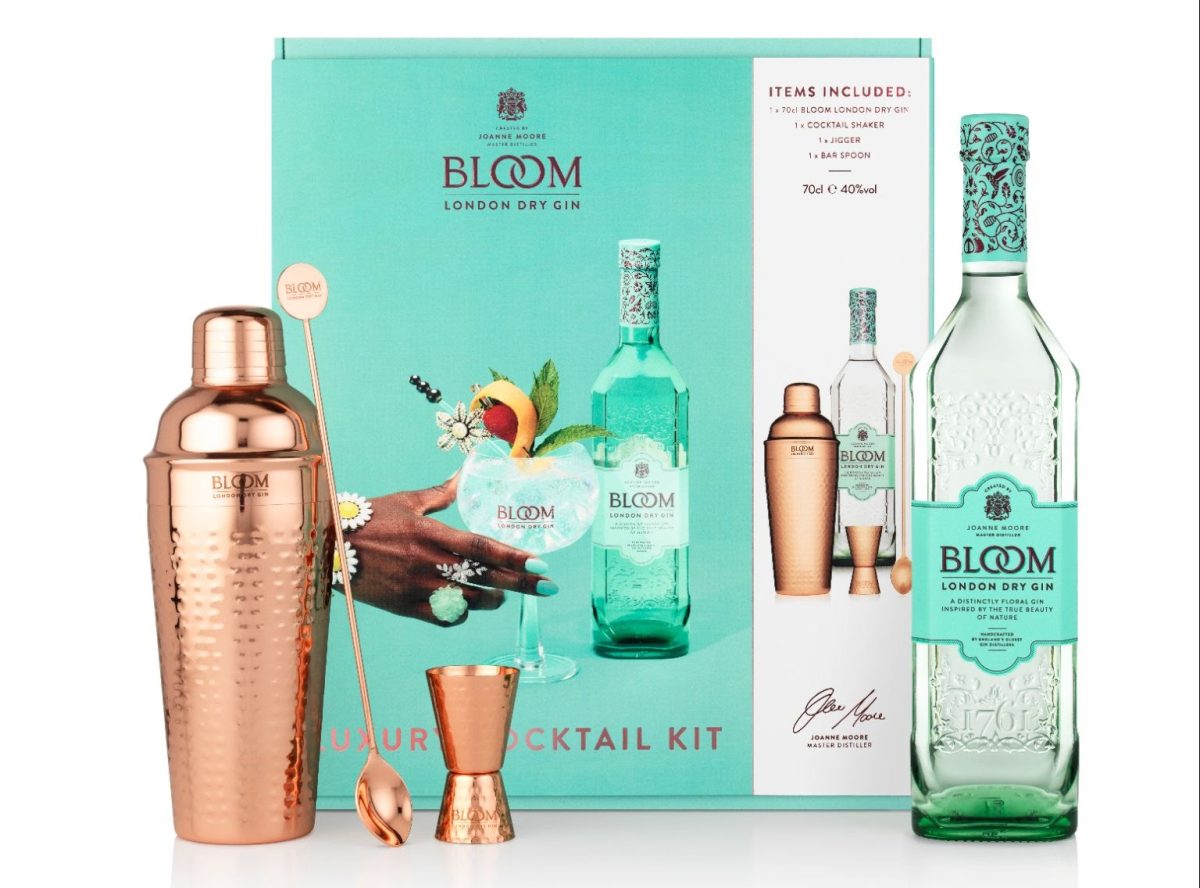 The Lowdown: BLOOM's luxury gin gift set contains all you need to whip up gin-based cocktails within your own four walls. Containing a 70cl bottle of BLOOM London Dry gin, a rose gold hammered cocktail shaker, a measure jiggers and a cocktail bar spoon, you'll be a master mixologist in no time. BLOOM London Dry gin is a smooth, fresh and floral award-winning gin: the result of Master Distiller, Joanne Moores vision to create a lighter tasting gin for all. 
Perfect For: Budding cocktail makers.
Where: Buy online, £43.99
The Lowdown: BULLDOG Gin has created a slick gift pack that comes with a Matte Copa Glass to make the perfect BULLDOG G&T. The iconic BULLDOG Gin uses 100 Percent British wheat and water to create a smooth, eminently mixable gin with multiple layers of flavour. Its 12 botanicals include White Poppy from Turkey, along with Dragon Eye and Lotus Leaf from China; adding a layer of distinction to its refreshing citrus notes. 
Perfect For: Newbie gin drinkers.
Where: Buy online, £35
The Lowdown: Names 'World's Best Gin' by the International Spirits Challenge an astonishing four times – you know you're in safe hands with a bottle of No 3. The time has come to replace whatever gin you've been using up to now with this, or spread the love by sending someone this gorgeous new gift box. A delicate blend of six botanicals, expect the vibrant notes of juniper, citrus, and lavender to arise on the nose, with cardamom, coriander, grapefruit, and pepper on the palate. It's a real catch.
Perfect For: A gin lover with a bit of class.
Where: Buy online, £39.80
The Lowdown: Now available in the UK, Gin XII is a dry gin with a rich, authentic taste, born of a long period of research and reflection, it features fresh, minty, floral, and slightly spicy notes. This premium handcrafted dry gin gets its name from the 12 botanicals it contains, and its flavours evoke distinct images of one of France's most popular destinations.
Perfect For: People who prefer their gin with a French twist.
Where: Buy online, £39.95 
Photo credit: Riccardo Piazza
The Lowdown: Bombay Sapphire has launched three striking Create & Capture kits – a collaboration with Kodak and three emerging artists, designed to encourage acts of creativity this festive season. Each set includes a 70cl bottle of either Bombay Sapphire, Bombay Sapphire Sunset or Bombay Bramble, a Kodak Instant Printomatic camera in a matching colourway, and an A6 photo album adorned with each artist's unique design, so those gifted the set can proudly capture and treasure snaps of their creations. 
Perfect For: Snap happy drinkers.
Where: Buy online, £60
The Lowdown: Putting Wild Fox Distillery's fruitful trees to good use this exclusive, new for 2021 spirit, is the perfect festive option. With 10kg of freshly picked damsons, farmhouse Aga-dried clementine wheels and the perfect blend of Christmas spice distilled into the classic base recipe Gin. The aroma instantly transports you to the festive season with hints of star anise and cinnamon, on the pallet a spiced jammy flavour which pairs beautifully with hot water and honey for a Lancashire take on the 'Hot toddy' or simply pair with plenty of ice and a splash of Indian tonic water to create a festive G&T.
Perfect For: Getting in the festive spirit.
Where: Buy online, £42