Wondering where to find the best festive hot chocolate in London? Good news: we've discovered the capital's tastiest festive hot chocolates. You must try them. Immediately. Straight after you've wolfed down a Christmas burger or a slice of Christmas pizza in London. Stop what you're doing and make a bee-line for these winter warmers:
What: Valrhona Hot Chocolate
The Run-Down: Head to Chin Chin Labs at Camden Market for their almighty rich hot chocolate topped with torched marshmallow. The liquid nitrogen ice cream clan have created this absurdly delicious masterpiece – and it's out of this world. 70% Valrhona chocolate is slowly simmered with milk, giving a luxurious, thick and creamy consistency, before being pimped up with herbs and spices, and finally finished with that torched marshmallow lid.
Grab it: Locations here
What: Salted Caramel Hot Chocolate
The Run-Down: The hot chocolate game in London has reached tasty to heights thanks to the arrival of this salted caramel beauty by Fatties Bakery. Without a doubt, one of the best salted caramel hot chocolates in London. Homemade Camberwell salted caramel is blended with decadent chocolate, and is finished with a torched marshmallow rim and a chocolate chip cookie for dipping. It's the stuff of absolute legends. A proper, chocolatey winter warmer.
Grab it: Druid Street Market, 126 Druid St, Bermondsey, London SE1 2HH
Photo Credit: Instagram Fatties Bakery
What: Hot Chocolate Bauble Ice Cream Sundae
The Run-Down: Happy Endings? No, it's not some dodgy massage parlour in Shadwell. A new opening in Spitalfields Market – Happy Endings is a retro dessert bar knocking up nostalgic sweet bites and happiness inducing puddings. One of the best festive hot chocolates in London – the hot chocolate is real the star of the show. Expect a decorated chocolate bauble is filled with sundae, then boozy hot chocolate is poured over, before being served with the final flourish – a Christmas spiced marshmallow.
Grab it: 16 Horner Square, London E1 6EW
Photo Credit: Instagram @theredbeanienz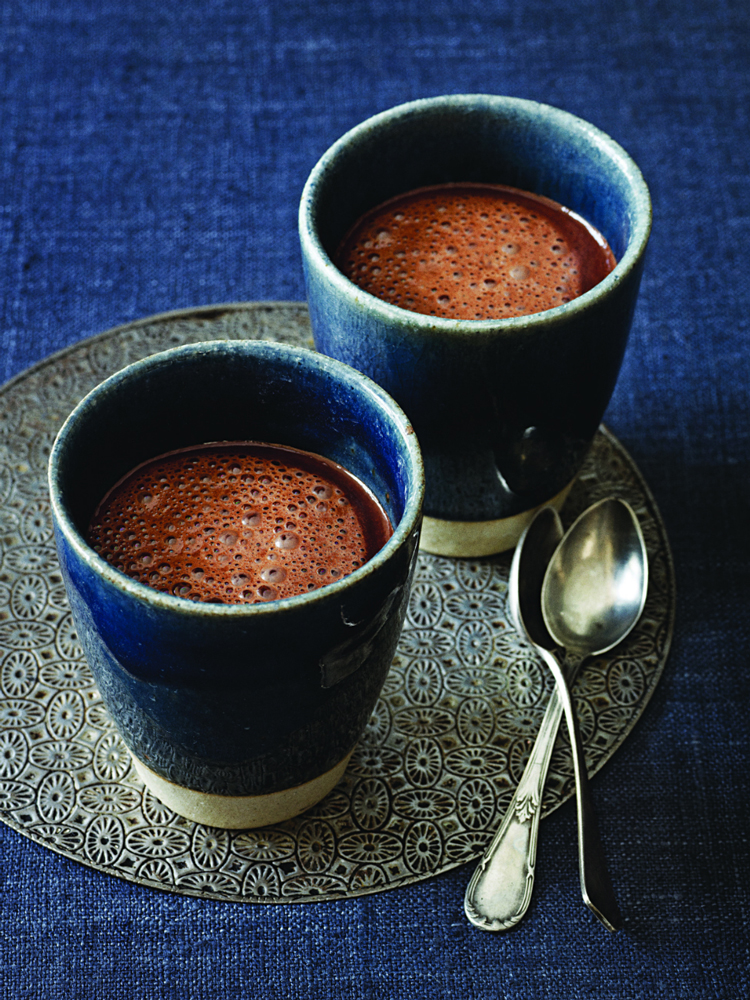 What: Aztec Hot Chocolate
The Run-Down: Paul A Young's hot chocolate is the sweet nectar of life, and you'd be hard pressed to find a better dairy-free hot chocolate in the capital. The hot chocolates are made with Valhrona 100% cocoa powder, 70% chocolate and light muscovado sugar, missing the common ingredient of milk. You can pimp up your chocolate with a range of spices like cinnamon, nutmeg, chilli, ginger or cardamom.
Grab it: 143 Wardour St, Soho, London W1F 8WA and 33 Camden Passage, London N1 8EA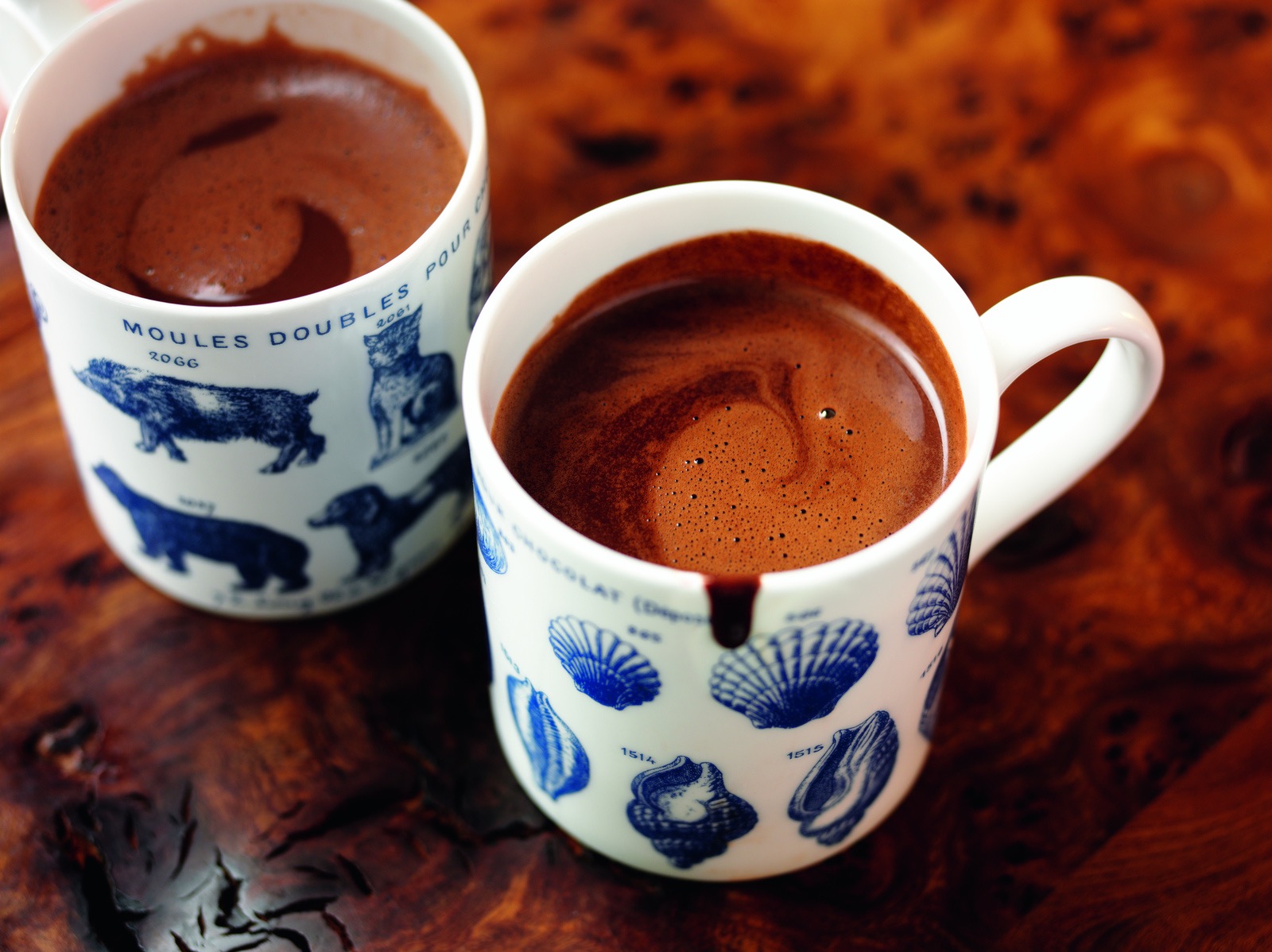 What: The Nutcracker
The Run-Down: Rococo have set up shop at Bluebird Cafe over the festive season, and have created an exclusive served for the occasion. The Nutcracker is made with award-winning Rococo chocolate, hazelnuts and warming Amaretto, as well as a vegan friendly dark drinking chocolate. You can also add to your hot chocolate from the range of ingredients found at the topping trolley, such as marshmallows, a sprinkling of cinnamon, a pillow of whipped cream or a glug of brandy. One of the best festive hot chocolates in London, without a doubt.
Grab it: 350 King's Rd, Chelsea, London SW3 5UU
What: Signature Hot Chocolate
The Run-Down: Man, we have a lot of time for You Doughnut. They serve doughnuts how they should be: straight from the fryer. While you should stock up on their mini fried balls of joy, go for their signature hot chocolate; a blend of rich chocolate, topped with marshmallow fluff, doughnut pops and edible glitter. Drink this and you'll sparkle for days.
Grab it: 19 Great Eastern St, London EC2A 3EJ
Photo Credit: Instagram @no_diet_club
What: Spiced Turmeric and Chilli Hot Chocolate
The Run-Down: Did you just read that description? What's not to love. A hit of chilli, a pinch of tumeric, and the finest chocolate is used to make Parcafe's Xmas serve. And we also appreciate the variety of dairy-free milks on offer; choose from almond, soy or oat. Perfect for the dairy-free babes.
Grab it: 53 Park Lane, Mayfair, London W1K 1QA
What: Terry's Chocolate Orange Hot Chocolate
The Run-Down: This is what we call a festive hot chocolate – in fact, we say it's one of the best festive hot chocolates in London. As soon as December rolls around, every supermarket is stocking Terry's Chocolate Oranges like nobody's business, and the clever people at The Habit have knocked up something ruddy wonderful. This boozy concoction is made with Cointreau, 3 scoops of  70% Eucodorian milk chocolate flakes, milk, orange zest, before being topped with whipped cream and Mini Terry's Chocolate Orange segments.
Grab it: South London Gallery, 67 Peckham Rd, London SE5 8UH and 60 Nunhead Ln, London SE15 3QE
What: Maison Pierre Marcolini Hot Chocolate Cocktail
The Run-Down: If you really want to soak up the festive feels, Dalloway Terrace is a winter wonderland in central London. Think faux fur blankets, hot water bottles and fairy lights. And back by popular demand for Christmas is internationally renowned chocolatier Maison Pierre Marcolini, who has brought back his acclaimed chocolate cocktail: Bourbon Brittle. The cocktail is a muddle of Peanut Butter Maker's Mark, Hazelnut Liqueur, Dark Chocolate Liqueur, and Pierre Marcolini Hot Chocolate. Oh baby.
Grab it: 16-22 Great Russell St, Fitzrovia, London WC1B 3NN
What: Festive Hot Chocolate
The Run-Down: Melba at The Savoy has launched a new selection of hot chocolates, featuring innovative toppings the counter is famous for. Festive hot chocolates in London don't come much better than this; choose between traditional, Brazilian or festive hot chocolate before adding any combination of toppings such as crushed macaroon, cookie dough or crunchy chocolate pearls. Drinks can be finished off with a drizzle of chocolate or salted caramel sauce for an additional, sweet touch.
Grab it: Strand, London WC2R 0EU