It's amazing what anger can do to you. On the long, long way home from the cinema, after being subjected to what, essentially, is two hours of glorified domestic abuse, I found myself so repulsed by thinking about lust and violence, that I forced myself to think about beauty. For me, flogging someone isn't love, it isn't even like, but what is love is sharing a box of Laudree macarons on a bench at the Royal Academy. Or drinking a Chilli Old Fashioned with an old friend over lunch time when you know you really shouldn't be.
What makes something sexy? I suppose it's associations. There will always be things around us – sounds, images, colours, tastes – that we find truly sexy. The (terrible) film got me thinking about London; a city I have lived and loved in, which runs through my veins like the tube under our pavements. In the midst of the hype, it would be a shame lest we forget all the other shades that make up this beautiful city. Thinking about these things soothed me. And hopefully they will soothe you too.
Save your money on the cinema, and buy one of these memories instead. Here's my 25 favourite shades in London:
1. The Dazzling Shade of the Sky from Aqua Shard
What: That turning moment when the sky goes from grey and dull to brilliant and sparkly between the hours of 5 and 7, and suddenly London is transformed from this drab thing to a city full of possibility.
The Idea: Get the lift up to Aqua Shard, at around 5pm, and have a Bakewell Martini (trust me) as the sun sets. It's more fun than paying for the View from the Shard, and the setting is magical.
32 London Bridge Street, London SE1 9SG
2. The Soothing Shade of Chai Tea at Dishoom
What: It's one of my favourite shades in London. I'm not quite sure why – I suppose it always represents good things – relaxation, friends, fun, memories of travelling around India with a backpack.
The Idea: The Chai Tea at Dishoom is bottomless, so you can sip into the early evening in peace.
12 Upper St. Martin's Lane, London WC2H 9FB
3. The Glossy Shade of Paul's Hot Chocolate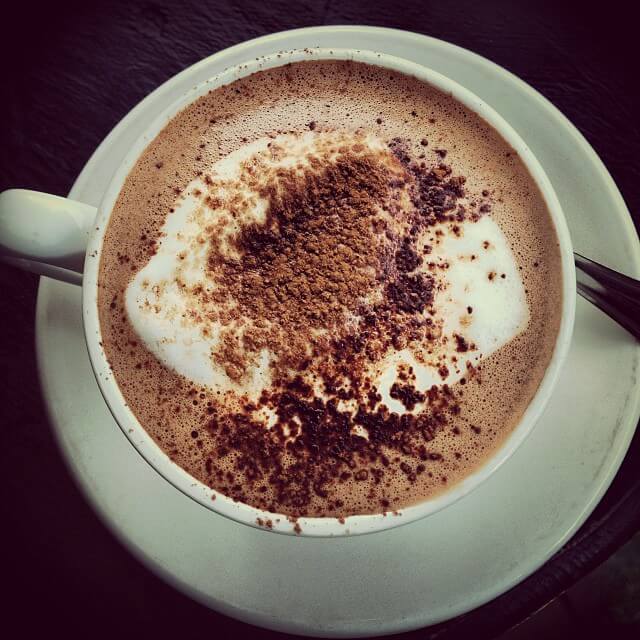 What: One of the thickest and most delicious hot chocolates in London; and one of the few places that tourists and locals frequent equally. It's not just a rich, dark shade, it's also glossy. Beautiful.
The Idea: I would suggest going to the Covent Garden branch and getting a hot chocolate to take away. Then stroll to the Covent Garden Piazza (do this at around 4pm on a weekday) and listen to the opera singers in the square. One of the true London experiences that will cost you nothing – if you stay far enough away that you don't get roped into putting money in their violin cases.
29-30 Bedford Street, Covent Garden, London, WC2E 9ED
4. The Rich Shade Carluccio's Pasta e Fagioli Soup
What: Random, I know. But there's something about the rich red colour of this soup that reminds me that even chain restaurants can be fantastic sometimes, and grateful that the UK welcomed this white-haired funny speaking Italian man with such open arms.
The Idea: At Market Place, just by Oxford Circus, a little enclave of London that's dead during the day and come 6pm, the streets are filled with people drinking pints and thinking about Fridays.
8 Market Place, London W1W 8AG
5. The Brilliant Shade of Primrose Hill Sunlight in the Morning
What: It's grey and miserable, but somehow reaching the summit of Primrose Hill at 8am will always take your breath away. Even when the sky if full of clouds, the view is still amazing – partly made by the feat of reaching the top whilst running without passing out.
The Idea: Best first thing in the morning, when you can stretch silently along with the other runners in that oh-so-London way. Don't try to talk to them. That's not the done thing.
Primrose Hill, London, NW1
6. The Calming Shade of Beavertown Brewery IPA
What: A bold and sexy IPA with a good whack of rye in it for flavour, this beer is made in London, packaged in London and sold in London. It's basically London in a glass. All malty, hoppy and sweet.
The Idea: In some of London's best bars – try it at The Elgin in Maida Vale, The Bonneville in Hackney and The Monarch in Chalk Farm.
7. The Satisfying Shade of Matcha Latte at The Modern Pantry
What: Anna Hansen's The Modern Pantry do one of the best green tea lattes in the Capital. The shade might put you off, but think of it as your morning coffee given a serious boost with anti-oxidant green tea properties, and made creamy with almond milk. Delicious.
The Idea: With breakfast at The Modern Pantry – you can't miss their pancakes, or the prawn omelette, which they are famous for.
47-48 Saint John's Square, Clerkenwell, London EC1V 4JJ
8. The Shocking Shade of Chilli Old Fashioned at Nopi
What: One of London's best chilli cocktails, this is as strong as hell and spicy as anything, but is rather moreish. The cocktail uses French hazelnut liqueur as a base, and a really dry Sherry, so it's not too sweet and really well balanced. Hot.
The Idea: Best small plates in London. Get the burnt aubergine with yogurt and black garlic and thank me later.
21-22 Warwick Street, London W1B 5NE
9. The Pretty Shade of Sky at Duck and Waffle
What: I didn't know which shade to pick from Duck and Waffle, as the entire restaurant is 50 Shades of Perfect, but the view on arrival in the bar really can't be beaten – as it's your first experience of seeing London from this high up.
The Idea: Duck right at the bar on arrival and get a photo taken on the glass staircase with the glittering buildings and sparkling chandelier behind you. Iconic.
Heron Tower, 110 Bishopsgate, London EC2N 4AY
10. The Pastel Shade of Macarons at Ladurée
What: Macarons that can't be eaten, and, although they're not exactly the most London this in the world, one of their stores sits opposite Fortnum and Mason, so it's almost the same thing. The sweet, melt-in-the-mouth macarons come in every flavour from Salted Caramel (the best) to Coffee.
The Idea: Get a box at the Green Park branch, and walk the fifty seconds to the Royal Academy of Arts nearby and explore the exhibitions. After that, pop into Fortnums to try all the fancy jams and preserves, and don't leave without buying a box of rose and violet creams.
Burlington Arcade, 71-72 Burlington Arcade, London
11. The Promising Shade of Crepes at Hampstead Creperie
What: The best crepes in London come out of a van. Which I come say the same about men. What's brilliant at La Creperie de Hampstead, and makes people come back, is that nothing changes here – they've done the same thing every day, with top ingredients, a perfect French technique and a little know-how, and the results are always spot on.
The Idea: Get a Belgian Chocolate and Banana One (the dream) and take a stroll around the fancy shops of Hampstead High Street, before finding yourself at The Everyman cinema with club seats. You can order fresh mint tea and ice cream to your seats – it's like the cinema gone all fancy.
77 Hampstead High Street, London NW3 1RE
12. The Perfect Shade of Snowflake Ice Creams
What: One of London's pioneers in good quality ice cream – they also do pancakes which you can fill with a variety of 50 different fillings. The ice cream is made with an Italian technique that makes sure only the smoothest, creamiest taste. The stuff dreams are made of.
The Idea: Go to the Soho branch and eat it in Soho Square. Try adding molten hot chocolate from the tap (a melted chocolate tap!) onto your ice cream for extra indulgence.
102 Wardour Street, London W1F 0TN
13. The Warming Shade of Pho Soup
What: Pho noodle soups are the kind of thing a cold, wintery day in London requires. I'm not fussy about the time of day, either. Get the one with beef if you need something to boost your day.
The Idea: They also do nice summer rolls. Just saying.
14. The Vibrant Shade of Raw Food at Nama
What: One of London's trendiest healthy food restaurants, Nama serves all kinds of dairy-free, egg-free and raw treats. A raw curry is nothing like you're expecting – it's really, really delicious. They also do 'raw sushi' made with kohlrabi and kimchee. Nom.
The Idea: Go for health brunch on a Saturday (think raw pancakes with banana ice cream, and coconut porridge with dates) and then wander down to nearby Notting Hill market to buy vintage jewellery and try on fake fur coats.
110 Talbot Road, London W11 1JR
15. The Calming Shade of Cupcakes at Peggy Porschen
What: Some of the prettiest cupcakes in London – and very popular for a reason. You can't miss their banoffee cupcakes with salted caramel and chocolate; or the ever-popular red velvet cake.
The Idea: Buy one and take a wander around Elizabeth Street – it's one of my favourite streets in London, and has fantastic boutique, jewellery shops and bespoke perfumeries.
116 Ebury Street, London SW1W 9QQ
16. The Treaty Shade of Leon Porridge
What: Leon's porridge is really exciting. You can get it made dairy-free with soya milk, and the best one comes with dark chocolate and banana.
The Idea: Grab it before work with a green juice that's a bit like drinking salad, in a good way.
17. The Daring Shade of Salmon Sashimi at maze
What: The sushi and sashimi at maze cannot be beaten; if you come you have to try the Seared Salmon Roll with avocado, or the Spicy Tuna.
The Idea: They also do a cracking Yuzu Pisco Sour, made with egg white and bitters. The perfect place for a first date.
10-13 Grosvenor Square, London W1K 6JP
18. The Bursting Shade of Chicken at Chicken Shop 
What: Two of London's favourite restaurants together in one place. At Chicken Shop & Dirty Burger, the Soho House group have finally brought these two beauties together under one roof, at long last.
The Idea: A quarter of rotisserie chicken, a side of slaw and some garlic-butter corn on the cob. Do not, I repeat DO NOT, leave this place without trying a giant slice of their deep filled apple pie. That's an order.
27A Mile End Road, Whitechapel, E1 4TP
19. The Beautiful Shade of Japanese Omelette at Okan
What: Hidden away in Brixton Village Market, Okan is very much the secret that's out of the bag. They serve an amazing omelette – it's rich, full of surprisingly delicious ingredients and only £8. Win win.
The Idea: Spend the day wandering the market and trying all the foodie treats on offer, and stop for coffee in one of the fantastic small coffee houses.
Unit 39, Brixton Village, Brixton Village Market, Coldharbour Ln, London SW9 8PR
20. The Caramelized Shade of Lemon Pudding at Mele e Pere
What: You should probably eat everything at Mele if we're being totally honest. But if we could only have one thing, it would be the lemon pudding. We're talking melting marshmallow and fresh lemon curd. We're talking heaven. Read about Mele's amazing new menu here.
The Idea: Come for truffle gnocchi, swordfish capriccios and a few Vermouths (they make their own) and it might just be the best date of your life.
46 Brewer Street, London W1F 9TF
21. The Brilliant Shade of Ceviche and Pisco Sours at Ceviche
What: They have a fantastic range of Pisco Sours at Ceviche and Andina in Shoreditch; I love the Pineapple and chilli infused Pisco, pomegranate juice and Fever Tree ginger ale. It's so good because they use homemade chilli-infused Pisco. You can't miss out of their famous ceviches, either; try the one with salmon, blueberry and avocado.
The Idea: Come for the amazing, fresh ceviche that made Martin Morales famous, and stay for a Peru Bravo cocktail or ten.
17 Frith Street, Soho, London W1D 4RG
22. The Comforting Shade of Orzo at Ergon
What: Greek restaurant Ergon on Picton Place does some really fantastic, warming dishes. The slow-cooked Orzo, covered in cheese and tomato sauce, doesn't even need the accompanying lamb, it's that good.
The Idea: Avoid the queues at the restaurants in Selfridges and come here for a satisfying meal instead. They also do raki-based cocktails, which, I'm told, are the next big thing.
16 Picton Place, London W1U
23. The Vital Shade of Raw Salad at The Wild Food Cafe
What: Organic Arurvedic Super Salad (£9.70) – organic lamb lettuce and wild rocket topped with amaranth, courghetti spaghetti, hijiki seaweed, slices of artichoke hearts & avocado, cucumber & red pepper cubes, finished off with coriander, rocket & parsely pesto, mango salsa, activated savory seeds flavoured with leafy greens and spices, and marinated shitake mushrooms!
The Idea: It tastes like sunshine in a bowl. Literally. Have one, feel virtous and then spend all your money in the Kiehl's stores only moments away.
1st Floor, 14 Neal's Yard, Covent Graden, London WC2H 9DP
24. The Brilliant Shade of Hyderabadi Scotch Eggs at Ethos
What: The best thing about them is that they are veggie! In fact, Ethos is a totally vegetarian and vegan restaurant, close to Oxford Circus. The restaurant focuses on global cuisine; with meat-free BBQ, fresh salads and unlimited weekend brunch.
The Idea: Come for the avocado soup and dairy-free cheesecake, and feel so noble. Perhaps visit on a weekend, or late weekday evening, when the work crowd has disappeared.
48 Eastcastle Street, Fitzrovia, London W1W 8DX
25. The Fun Shade of Hakkasan Dim Sum
What: Michelin-starred Hakkasan in Mayfair does some amazing dishes, including peking duck with caviar, deep-fried sesame balls with green tea and unusual ingredients such as abalone, sea whelk and, er, fried tofu. Look out for their Chinese New Year menu.
Eat: Look out for their Chinese New Year menu – last year it featured gold macarons with champagne and popping-candy filling, of course.   
17 Bruton Street, London W1J 6QB