London has a whole host of fantastic Italian restaurants and we think L'Anima Cafe is up there. Italian chef Francesco Mazzei of Liverpool Street's fantastic restaurant L'Anima, has just opened a younger, cooler sibling mere paces from the flagship original.
No stranger to casual dining (he's appeared on BBC Saturday Kitchen, and his Calabrese pizza appears on the Pizza Express menu), Mazzei now wants to offer his familiar Calabrian dishes in a more chilled setting.
After a quiet soft launch, L'Anima Cafe is now officially open. Here're five reasons why we think it's about time you went:
1. Reason One: The Food
Italian Restaurants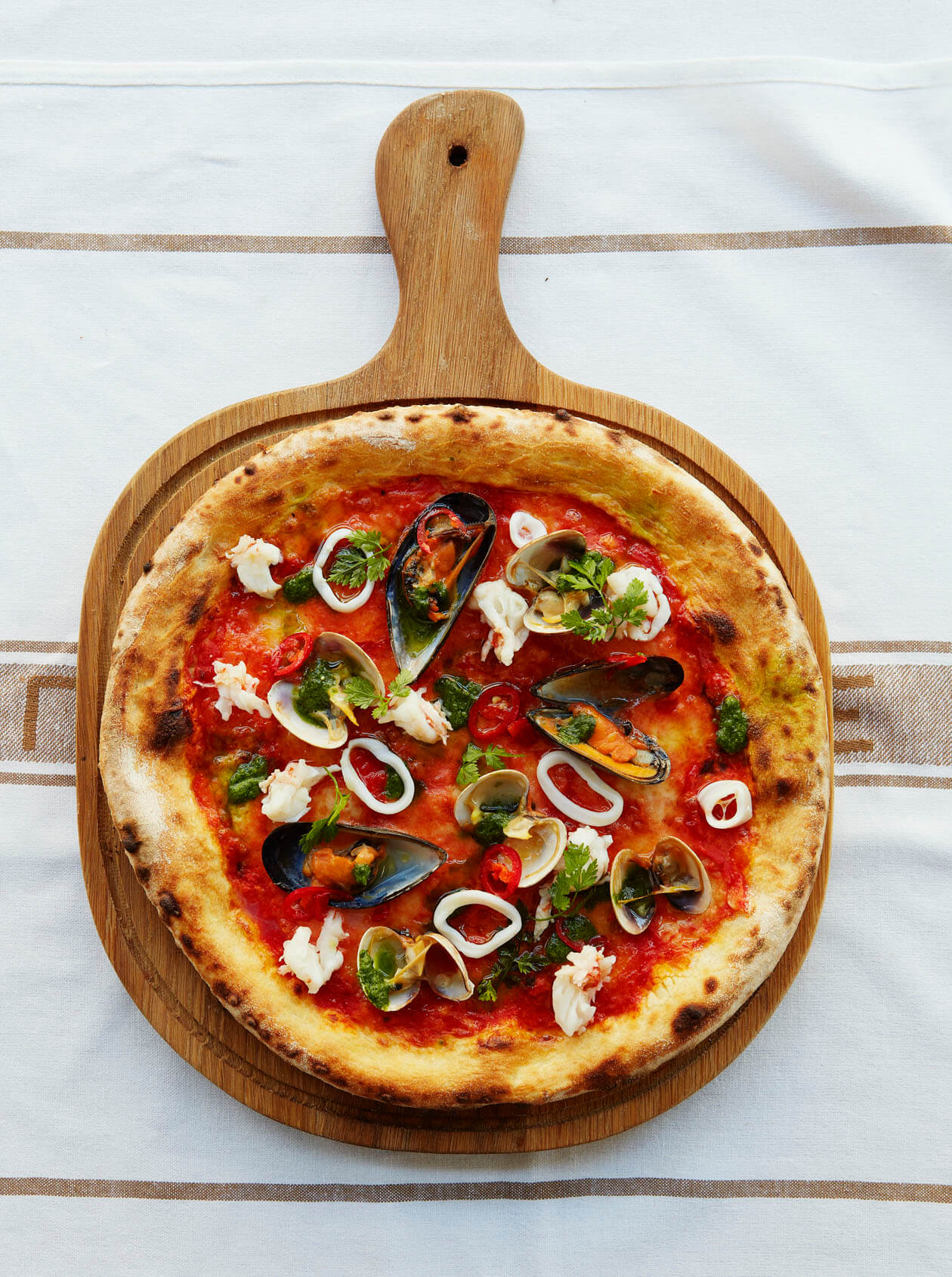 Some London restaurants seem all about the hype, less about the food. Not here. This is the gooey, crunchy, fragrant and foodie equivalent of a lazy morning, with nothing and no-one to answer to.
Think aubergine in tomato sauce with mozzarella and a wood-fired sheet of bread; lamb with al-dente pasta rings and an intensely-spicy smudge of n'duja; flash-fried squid with baby tentacles, plus tangy tomato, basil and olive oil
A mosaic-tiled wood-fired oven near the bar means it would be practically illegal to come here and not try a pizza: mine came piled high with whole smoked garlic cloves, mozzarella, and Calabrian ham, all draped languorously over a crispy-chewy base.
Dessert was just as good: Our dollop of tiramisu came with lightly-whipped mascarpone on a boozy biscuit layer, sprinkled with cocoa. Heaven.
2. Reason Two: The Service Italian Restaurants 
For evidence that L'Anima Café is related to L'Anima, look no further than the flawless service. Smartly-dressed bar staff were friendly and accommodating, the manager was enthusiastic (if perhaps, just a tad too much). We didn't wait too long and everyone was helpful.
3. Reason Three: The Price

Italian Restaurants 
It's not exactly budget, but the value for money here is surprising. Large antipasti start from around £6 per plate, while mains start at £9-10 (compared to L'Anima, where starters begin at £9.50).
If you were after a light dinner, you could get away with spending little over £20 for a good meal including a glass of wine, which is actually pretty damn good for a restaurant with one foot firmly in the City.
4. Reason Four: The Atmosphere

Italian Restaurants
It's no cute bohemian joint, but who could expect that after the monochromatic lines of Mazzei's other place?
Instead, this site somehow manages to deliver a relaxed atmosphere without totally forgetting the crisp, upmarket setting of its big sister.
5. Reason Five: The Vespa!

Italian Restaurants
Just as you were getting a bit depressed at the thought of leaving, fear not – there is an actual Vespa in the entrance area. Yes, really.
I wandered back to Liverpool Street imbued with deep satisfaction, a faint whiff of smoked garlic and tiramisu, and the sense that L'Anima Café is somehow that rare London thing: a great meal in a friendly place, for not too much.