Nestled in the corner of Hoxton Square, beneath Adam Handling's The Frog (see Masterchef the Professionals 2013), you will find a small sign above an unassuming door leading to a darkened staircase. Descending into the unknown I half expected to be pushing aside fur coats, brushing off snow and greeting a friendly fawn.
Once your eyes have adjusted to the light you are met by a room decked in dark wood and leather with deep booths on one side crying out to be sat in. Alas though I was alone (for a change), so it was the bar for me.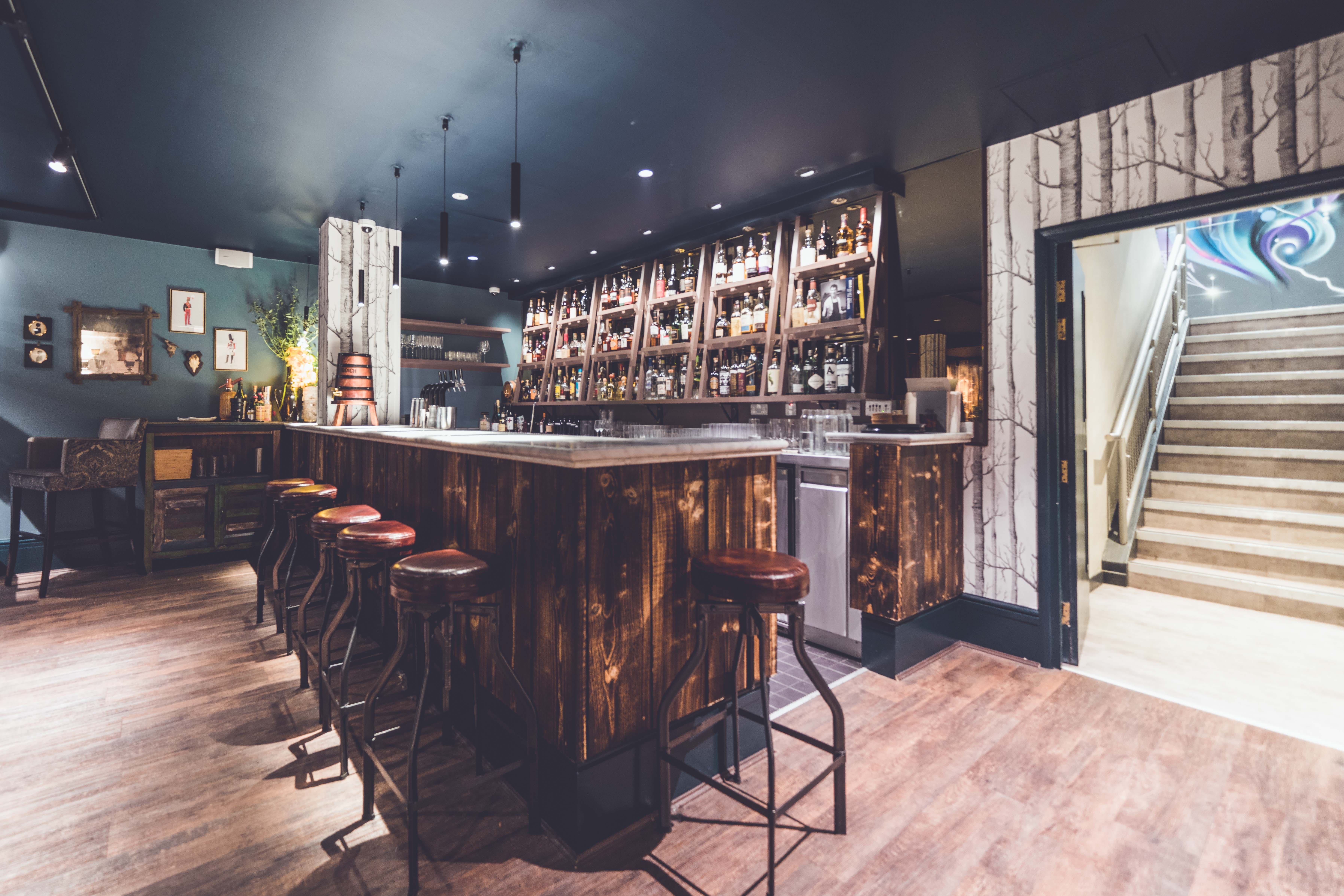 Iron Stag is the brainchild of Mr Handling and industry legend Matt Whiley (aka Talented Mr Fox) and in their own words seeks to make "whisky fun" with a small but perfectly formed menu centred around the Water of Life. Each cocktail comes with some element devised and made in-house in their Willy Wonka lab hidden away in the back.
After striking up conversation with the barman I started off with the Working Class Hero, a decadent concoction of nougat infused Woodford Reserve, caramel, dark chocolate and essence of batter. Yes. Batter. This is a liquid deep-fried Mars Bar, something I've never been brave enough to order (I can feel my arteries closing up just thinking about it) but if it tastes half as good as this then I might just have to (I later learned that they actually have d.f.m.b on the snacks menu). Top notes of chocolate and nougat are enveloped by the warmth of the bourbon which then gives way to crispy batter. So smooth it didn't last long…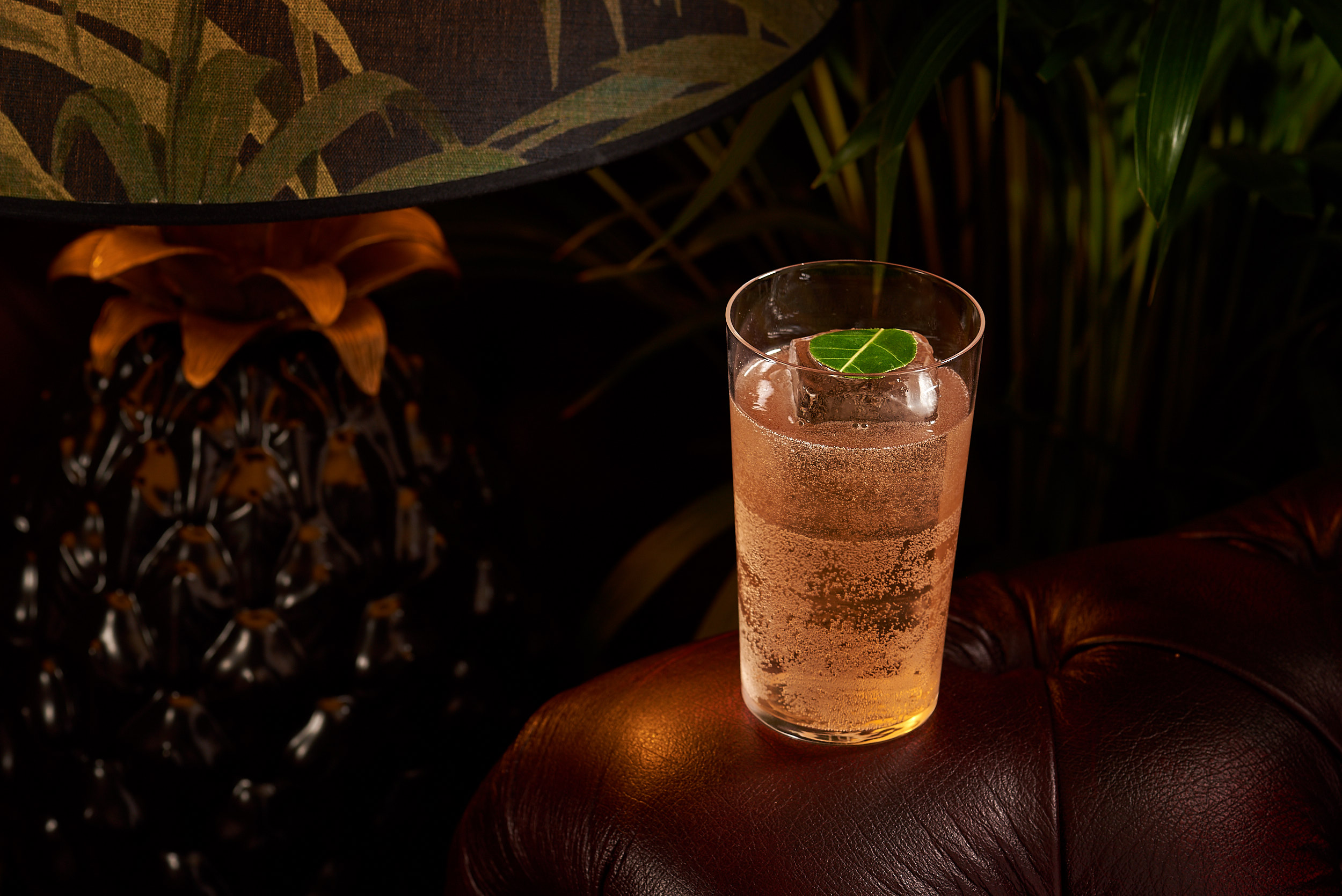 Perusing the menu as I tried not to look conspicuously alone I was drawn to their list of whiskey and sodas, a drink catapulted out of the 1950's by the meteoric rise of the Highball out in Japan (same thing, fancier name). Here at Iron Stag, unsatisfied with the vagaries of mixing these two in a glass (either it's not mixed enough or the soda loses its bubbles) they instead carbonate and bottle their own recipes in-house. The result is nothing short of fabulous. Asian Invasion takes 15y Glenfiddich, pineapple, miso caramel and shiso soda and is presented beautifully in an iced glass (a la Tokyo) so thin I fear it might break. The taste is SO refreshing; pineapple hits you from the off then fades before any of the cloying sweetness it often brings. You then get complex umami, gentle sweetness and a background buzz of booze. No wonder the Japanese love them so much.
With more time (and no work in the morning) I would happily sit here and go through the whole whiskey and soda menu, savouring each unique, complex and lip smackingly refreshing one in turn. Alas though my time was short but just enough to squeeze in a Rose Poseur; wild strawberry infused Glenfiddich 12y, lemon verbena and rose which was every bit the smash hit of my Asian Invasion and would have been worth the visit alone.
For those not into cocktails they have a tight but excellent selection of craft beers and wines (props for the English sparkling!) that will leave you just as happy as I was. And for those of you who really are into cocktails why not take them on tap? Groups can book a booth replete with your very own tap filled with one of the house specialities for you to enjoy at your leisure. But no head underneath please. This is a classy joint.
For more information on Iron Stag, see here. 
45-47 Hoxton Square, London N1 6PD
Photo Credit: Addie Chinn