On November 2nd, the Mexican celebration Day of The Dead takes place. A holiday where people pay their respects to loved ones that have passed away and celebrate their life. Over the years the Day Of The Dead celebrations has grown in popularity in the UK and to mark this special holiday, we'd rounded up a selection of tequilas and mezcals you need to try:
The Lowdown: This is a Mixto Tequila like no other. El Sueño is created sustainably without the compromises made by the cheaper 100% agave brands by using the highest quality ingredients and traditional production methods and natural volcanic spring water that rises at the heart of VIVIR's own distillery in Mexico.
This El Sueño Gold Tequila is rested for up to two months in oak casks. This brings a beautiful gold colour to the Tequila and just a hint of sweeter caramel and vanilla notes and perfect for making punch cocktails to share with friends in celebration of Day Of The Dead.
Drink: El Sueño Diablo's Cup
Ingredients:
– 200ml Pineapple syrup
– 400ml Lime Juice
– 600ml El Sueño Tequila Gold
– 800ml Ginger beer
– Garnish – orange slices and cherries
Method: Mix all ingredients together in a large punch bowl, garnish with orange slices and cherries.
The Lowdown: VIVIR is produced using 100% Weber Blue Agave and natural volcanic spring water and the aged tequilas, Reposado and Anejo, are also finished in American Oak ex-bourbon barrels. This results in a uniquely smooth, fresh and robust spirits range that has quickly won multiple awards.
Celebrate Day Of The Dead this year with the brand's Devil's Spice cocktail this year, something delicious and refreshing and perfect for tequila lovers who are looking for something refreshing and punchy.
Drink: VIVIR Devil's Cup
Ingredients: 
– 50ml VIVIR Reposado
– 25ml Lime
– 10ml Sugar Syrup
– 10ml Ginger Syrup
Method: Shake and top up with ginger ale.
The Lowdown: Incorporate mezcal into your celebrations this year with a Pensador Espadín. The earthy aromatic spirit takes its flavour from the Oaxacan region of Miahuatalán where it is produced. It's perfect for bringing an authentic taste of Mexico to people's homes and transporting them to the beautiful land of its origin.
The Pensador Negroni is the perfect twist on traditional Mexican-themed cocktails, and perfectly suited to pre-dinner aperitivos or late night drinks during your evening.
Drink: Pensador Negroni
Ingredients: 
– 30ml Pensador Espadín
– 20ml Martini Riserva Speciale Bitter
– 20ml Vermouth del Professore
– Garnish with an orange twist
Method: Mix Pensador Espadín, Vermouth del Professore and Martini Riserva Speciale Bitter in a glass with ice, add orange twist and garnish with orange twist.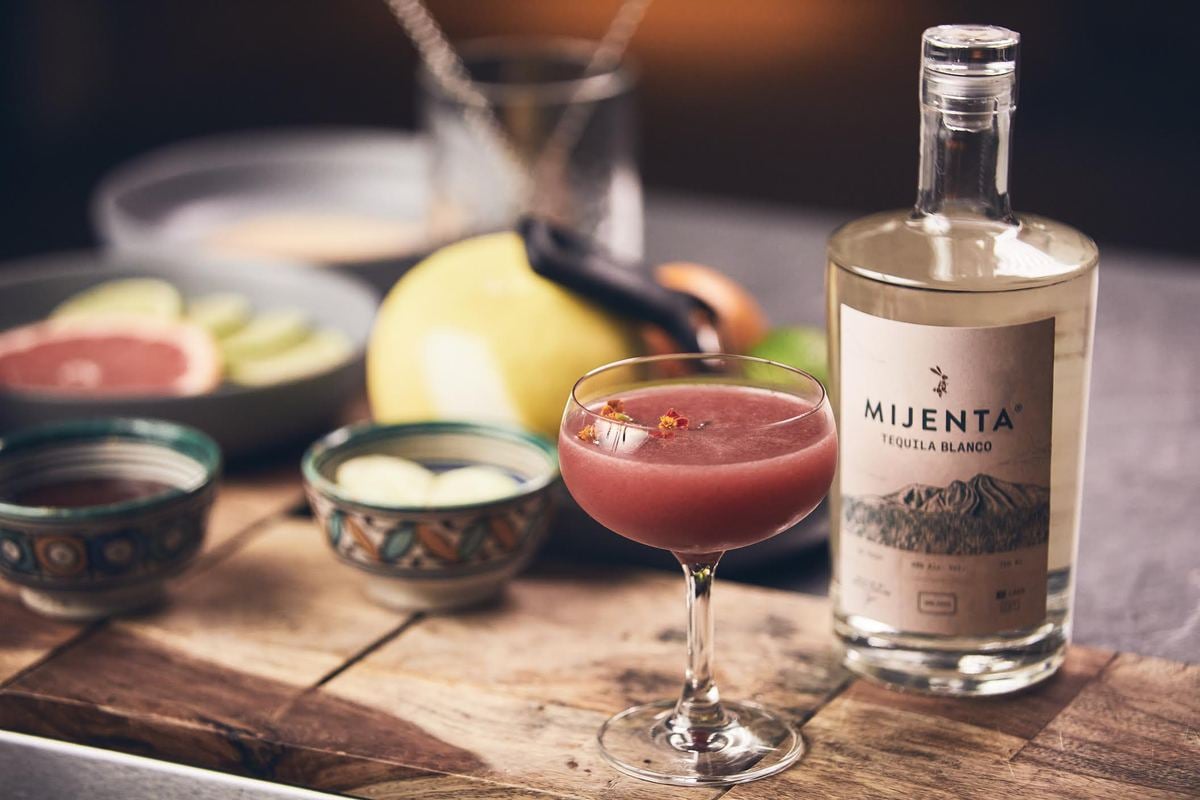 The Lowdown: Mijenta Tequila is a new award-winning, sustainable, and artisanal tequila from the Highlands of Jalisco in Mexico, that is at the forefront of the clean spirits movement. Inspired by a shared cultural heritage, Mijenta offers a unique, super-premium spirit that is carefully crafted with a commitment to environmental sustainability and support for the local community.
Mijenta (pronounced Mee-hen-ta) is inspired by "Mi Gente" meaning "My People" and refers to a collective mindset, a way of being and a community of like-minded people who come together to celebrate life.
Drink: Summer in Arandas
Ingredients: 
– 50ml Mijenta Blanco Tequila
– 4 Watermelon Cubes (size 1 1/2 inch by 1 1/2 inch)
– 30ml Elderflower Liqueur
– 30ml Elderflower Syrup
Method: Muddle the watermelon, add the rest of the ingredients and shake vigorously with plenty of ice. Double strain into a rocks glass with fresh ice and garnish with a salted watermelon cube.
The Lowdown: The Lost Explorer Mezcal is a deliciously different smoky agave spirit for the adventurous spirits wishing to try something new. The Lost Explorer Mezcal is a handcrafted artisanal spirit made from 100% agave, cultivated in the sun-soaked Valles Centrales, Oaxaca in Mexico.
It is a toast to empowering sustainable Mexican enterprise, whilst protecting the ancient artisanal craft, heritage and biodiversity of Mexico. Harvested in harmony with the elements and in tune with the rhythm of nature, the three uniquely profiled expressions, Espadín, Tobalá and Salmiana, seek to inspire people to celebrate the earth and live curiously, exploring the wonder and diversity of the sacred agave plant.
Drink: The Lost Explorer Espadín Mezcal
Ingredients: 
–  40ml Lime Juice
– 30ml Blackberries
– 25ml Chambord or Berry Liqueur
– 8 Basil Leaves
– Garnish: Fresh basil and blackberries
Method: Combine all ingredients in a shaker with ice. Give it a strong shake to muddle the blackberries. Strain into an Old Fashioned glass filled with ice. Garnish with a fresh basil frond and blackberries.
The Lowdown: Every drop of El Jimador tequila is made from 100% plant-based blue weber agave, delivering a smooth and balanced flavour ideal for sipping, or to enjoy in long and refreshing cocktails. With a hint of citrusy sweetness, this peppery, award-winning tequila is bottled immediately after the double distillation process giving it a crystal-clear appearance.
Drink: The Paloma
Ingredients: 
– 50ml El Jimador Blanco
– 10ml Agave Syrup
– 10ml Lime Juice
– 60ml Pink Grapefruit Juice
– Soda Water
Method: Fill a cocktail shaker with ice, then add all the ingredients minus the soda water. Shake until the outside of the shaker feels cold, then strain into a salt-rimmed glass. Add a few fresh ice cubes and top with soda water to serve.