A Christmas Day out conjures visions of a glistening Oxford Street, of Covent Garden, of the Southbank lit up against the Thames, of Winter Wonderland silhouetted amongst the plane trees. The lights are up and there's mulled wine around every corner. But these frosty paths can sometimes seem too well trodden. Throughout November I was lucky enough to have my pop-up based just around the corner from Homerton Station in East London.
Every day locals stopping in for porridge would wax lyrical about a new shop to explore, another area to visit, another place to eat. I found myself passing on these recommendations to friends who had travelled east to see me. And I thought it About Time to put a few of them together, so others could plan a fun day of Christmas wandering nearby.
A wise man once said 'the key to happiness in life is a leisurely breakfast'. He must have been meaning Brunch. For a happiness of the wise-man variety look no further than…
With its simple school-like lay out, and the light that streams in from two large windows at the front of this Scandinavian coffee shop, stepping across its threshold makes you instantly feel at ease with the world. This welcoming space is a family run café serving expertly concocted Swedish dishes and delights, from Gravlax to Cinnamon buns, knocked back with a selection of Scandinavian drinks. Located at the north end of Chatsworth Road, this corner cafe is a stone's throw from Millfields Park, so pop the rest of that Glögg into a cup and stroll off that brunch across the green.
Look out for this discreet and charming café at the south end of Chatsworth Road. Based next to the grand Chats Palace, they operate with only 8 to 10 people inside at any one time. And they take their coffee seriously. Each shot is made with a studied precision that is a wonder to behold. More of a grab and go, pit stop kind of place, but a super space nonetheless.
My porridge pop-up allowed me the good fortune to spend a month here. I might be biased but it has to be one of the standout spaces in the area. A mix of everything brings it a unique atmosphere; there's shopping, a barber, all sorts of pop-ups, and cozy nooks to give in to Sunday laziness. You could while away the day gazing at the imaginatively arranged windows piecing together the front of the shop, browsing through the home goods, the handmade wooden boards and backpacks, or flicking through the selection of cook books. These guys have a great relationship with everyone in the area, there's a good chance you'll find yourself tucking in to some good food and coffee shoulder to shoulder with one of the handful of artists/designers/writers/seamstresses that have contributed to this wonderful place. Grab yourself some of their new range of Christmas cards and write your wish lists here.
From end to end the shops and stalls on Chatsworth Road leave you spoilt for choice.
Littered with flowers, cacti, candles and stationary this is a beautiful little shop one could spend a happy hour looking around. The care taken in the design of the space makes it enticing enough, but the smell of the fresh plants and candles are enough to have you pivoting back on yourself to peak in. A great place for little interesting presents and stocking fillers.
LBJ is a foodie's delight, if gourmet gifts are flavour of your month then this is your place. Owned by ex St John Pastry Chef and Jam Maker, Lillie O'Brien conjures creations the likes of which you'll have never seen, jams such as Blueberry & Wild Fennel and Fig & Earl Grey. They'll have the butter on your toast melting in heady anticipation. She stocks all sorts of other deliciousness; don't miss out on the f.a.t. Kimchi Hot Sauce.
Sunday Vintage Market Stalls along Chatsworth Road
Wooly jumpers, skirts, wax jackets, red cabbages, winter squashes, clementines, lamps of all ages and shapes and sizes. Check out Ash Green, Metro Retro, and Tincup Lights, amongst many others.
A great store for simple but unbearably desirable jewellery, as well as plants, plant hangers, bags and homeware. Disclaimer: it's impossible to leave without finding something you'll fall in love it. There will definitely be something in here for you to add to your Christmas list.
Once you're hell-bent on moving to the area, this draper has a wonderful selection of modern prints and fabrics that will have you making all sorts of plans and schemes. Perhaps just start with a rug to wrap up in this winter.
Late Lunch/dinner spots
Chilled
The second of the Eat 17 restaurants is situated above the Spar on Chatsworth Road. Located in the building that first housed The Electric Cinema over 100 years ago, they've maintained the lovely turn of the century detailing that imbues it still with a Hollywood feel. Dimly lit with a decadent interior, but a supremely relaxed vibe. The tasty organic steaks are the way to go after a long day of Christmas shopping.
Sophisticats: if you fancy something a little more special.
Run by the magnificent people responsible for Borough Wines, this is a low key wine bar next to Hackney Downs station. The food is great, but the wines take centre stage. It serves simple seasonal dishes and up to 30 wines offered by the glass at any one time. A wonderful place to end the weekend, and one of hackney's best kept secrets. Although not for much longer.
Lower Clapton Road
For music lovers, a record shop and café with an expert's discerning collection of the very best records, and from time to time live music from a few big names. Administer some caffeine injection and spend the afternoon listening to some sweet tunes.
An intimate and truly super store for book lovers They stock an eclectic selection of contemporary and classic fiction, children's books, politics, art, cookery and much more. This little shop has released their top Holiday Gift Guide for books for all sorts, including 'big fiction', 'East London' and 'Dadcore'. Pages often hosts book clubs and events, so check them out before you go pagesofhackney.co.uk.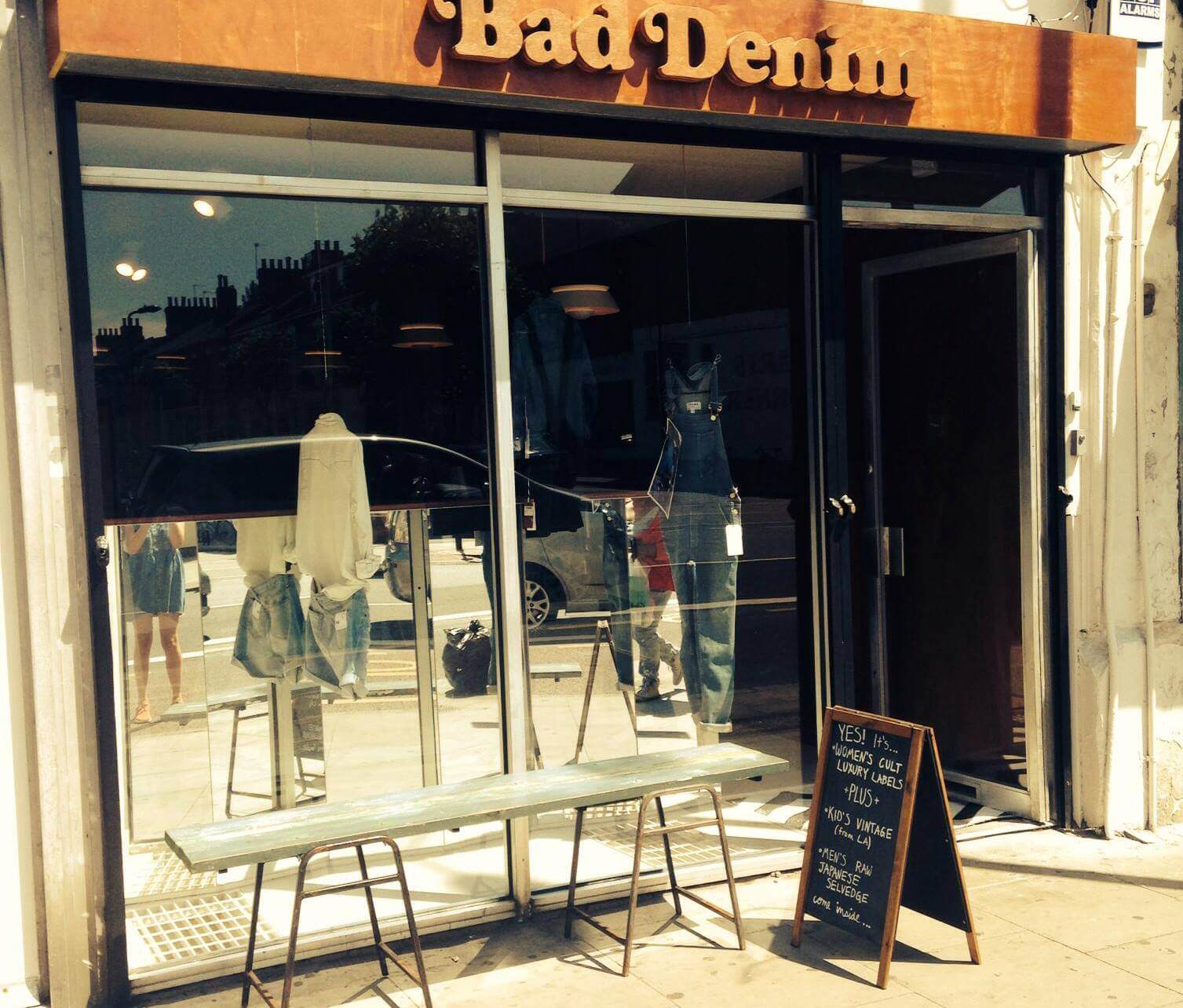 Don't take its word for it; this shop is pulling your soon-to-be-denim-laden-leg.  Bad Denim peddles the very best of all things denim. Every colour and style, from flares to boyfriend-fit to dungarees to straight leg, Bad Denim is both a place to treat yourself and be the best friend anyone could ever ask for. A favourite is certainly the 50's shape, stylish and loose, ready for Christmas' excesses.
With a range of over 300 local and imported beers, these guys have plumbed the depths of brewery-stocks worldwide to keep your festive cheer in fine fettle this season. If any particular local lager knocks your socks off and you're planning a Christmas party, Clapton Craft can produce casks and growlers just for you, delivered and ready to pour. You'll be the man.
Late Lunch/dinner spots
Chilled
If there's a paradise where Sunday Roasts spend their downtime prepping themselves for the back end of the weekend, it's in the kitchen of the Windsor Castle. The dark wooden interior keeps this sprawling Victorian pub feeling cosy, and if you're a little toasty after too many brandies take a break in the sweetly lit garden. They've got great local bevvies and a hearty seasonal roast menu, and everything you need to go out in style before the Monday morning slap back to reality.
Once you go sourdough you never go back. Mouth-wateringly good sourdough pizzas. Sodo choose the best local ingredients to make top quality pizza. The restaurant is a sweet space, set up next to an open kitchen. You'll be drawn in by its intimacy and the smell of fresh dough and melted cheese as you open the door.
Sophisticats: if you fancy something a little more special.
Recently opened, and already voted the best restaurant in Clapton, it's a spot for wine lovers and charcuterie enthusiasts. Their wine selection and sharing boards are something special. This isn't a place to hold back. Enjoy.
Alexandra Hely-Hutchinson