Photography by Angelica Malin
Imagine, for a moment, that you are dining in the sky. With stunning panoramic views of the Mediterranean Sea, the life below and all the wonderful colour of this city, you could be in heaven. In fact, you're on the 13th floor of Le Vendôme Beirut, a spectacular 5* hotel in the heart of the capital. It feels as if you're in the clouds, from the table all you can see is the glittering azure sea below, and the twinkle of the sun on the water. And you can see something else: three scoops of fresh melon, mandarin and peach sorbet, and you know everything is going to be OK.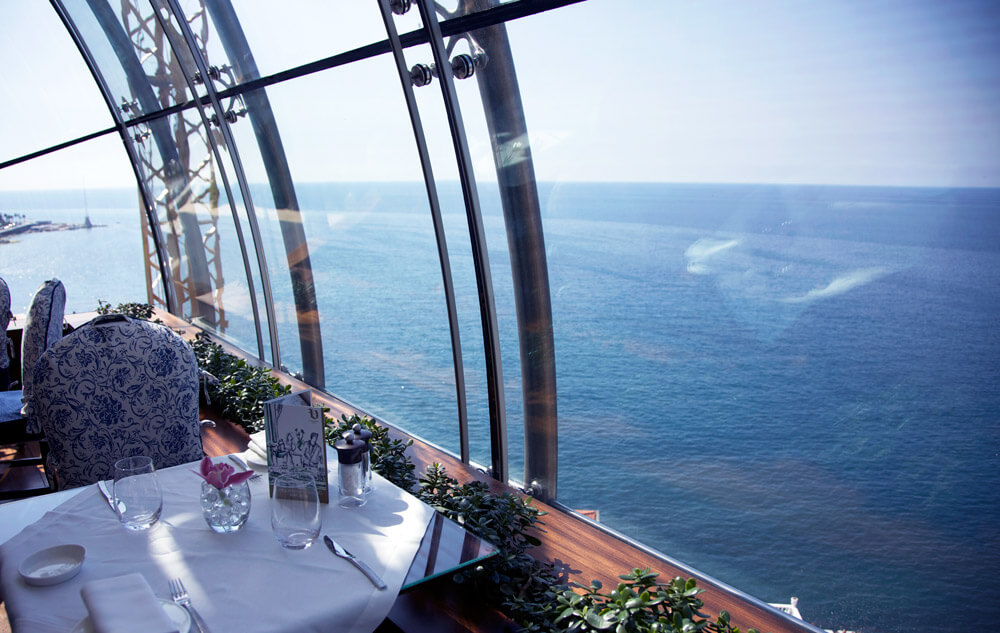 Sydney's at Le Vendôme Beirut: Need to Know
The restaurant is open 24-hours day; for breakfast, brunch, lunch, cocktails and dinner. It's fantastic for pre-dinner drinks. It's laid-back, but quietly assured; it's the kind of place you come for cocktails at 8pm and spend the entire evening watching the sun set, in total quiet. This is the restaurant of my dreams.
Sydney's at Le Vendôme Beirut: The Food
If you're visiting Beirut, then we insist you must go. Start your meal with a selection of their best appetisers; try the tomatoes on sticks which, although doubling up as armour, highlight Beirut's fantastic fruit and vegetable quality. The burrata with is to die for; served with a combination of fresh and sundried tomatoes, drizzled in garlicky olive oil, a sprinkling of fresh basil the final flourish of a confident chef, it melts in the mouth, although not in the memory.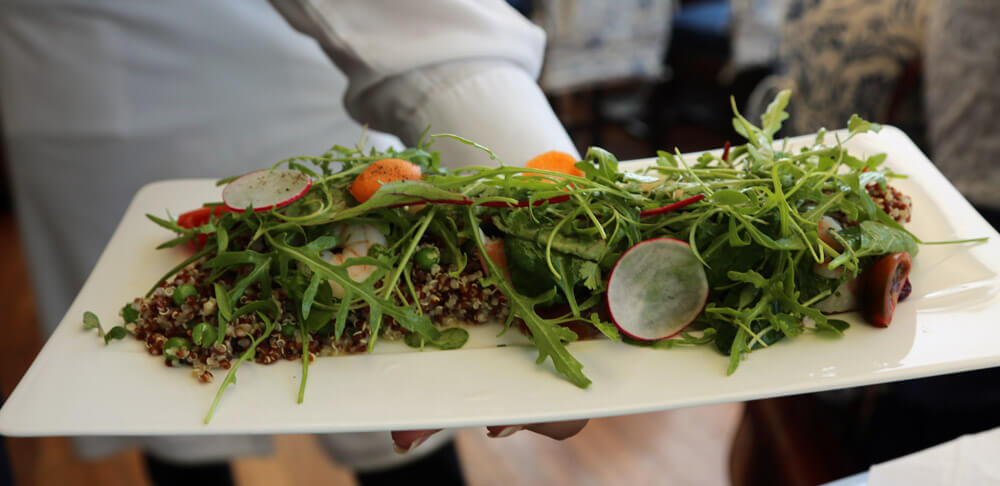 The quinoa trend is also alive and well in Beirut; here it's served with radish, walnuts, carrot and the most juicy prawns, all finished off with a lime-infused dressing. They also serve ceviche tacos, filled with spicy tuna; an odd combination of iceberg lettuce, chilli mayonnaise and raw fish in a flour taco that works, even though you think it couldn't possibly.
For mains, you have to try their famous Lobster Roll; it's one of the dishes that put the hotel's restaurant on the map. It served in a brioche bun with extra seafood sauce (not that you need it) – simple, done well.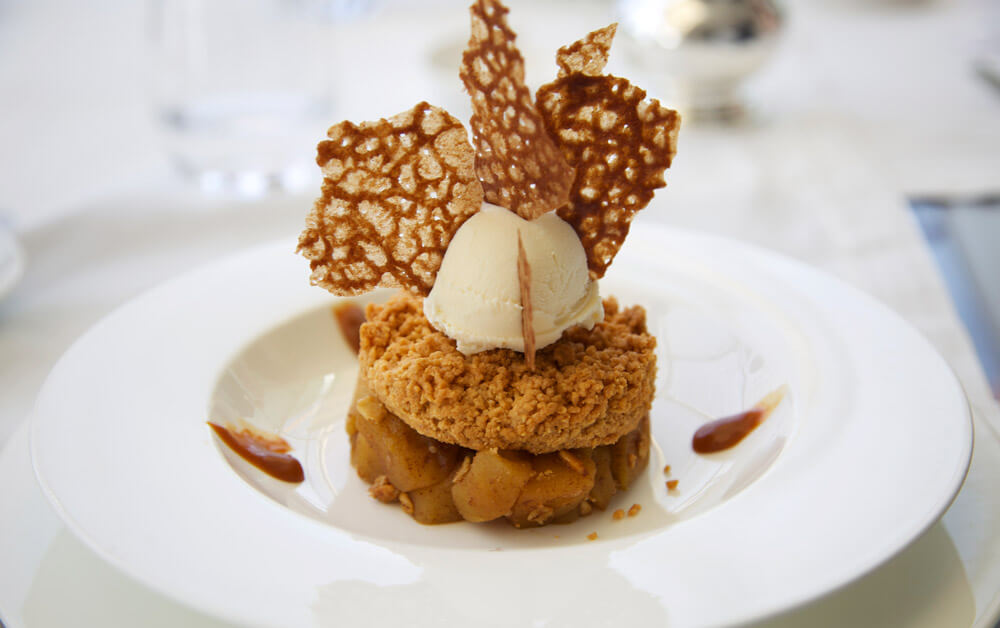 Sydney's at Le Vendôme Beirut: The Sweet Touch
Don't leave without trying the desserts. While generally speaking I'm not a fan of deconstructed desserts; here they pull it off. Imagine a creme brûlée placed on a light biscuit base with fresh berries; you didn't realise it's what your creamy dessert has been wanting the whole time. And the deconstructed apple crumble has all the best parts of this classic comforting dessert, but it's beautiful to boot. Almost too pretty to eat. Almost.
If you're looking for luxury, decadence and, frankly, the best dining experience in Beirut, then you can't miss Sydney's. It's open 24 hours, so you can live out the fantasy of eating lobster and drinking dirty martinis at 6am, whilst watching the sun rise.
Photos by Angelica Malin 
If you're looking for an art attack, the Phoenicia Hotel in Beirut is launching a new in-room video art installation with Rebecca Russo and Videoinsight Foundation. The video art will be on show for up to a year in the guest bedrooms and marks the Phoenicia's contribution to Beirut Art Week and Beirut Art Fair which launch this month. See more here. 
For more information and to get high in the sky see 

here



Read more of our Best of Beirut series here