As the long-awaited sunny days of spring arrive, Bacardi has compiled a list of key seasonal trends and sippers, alongside quotes and recommendations for elevating your at-home cocktail experience.
BOMBAY SAPPHIRE Gin & Tonic Spritz
A crisp update on the classic G&T incorporating MARTINI BITTER, lemon juice and honey syrup, best served chilled and alfresco.
Ingredients
– 30 ml BOMBAY SAPPHIRE
– 15 ml MARTINI BITTER
– 15ml Lemon juice
– 15ml Lemon honey syrup
– Premium tonic water
– ½ orange wheel
Method
1. Add BOMBAY SAPPHIRE, MARTINI BITTER, lemon juice and honey syrup into shaker and shake
2. Strain into spritz glass
3. Fully fill the glass with cubed ice and top with premium tonic water
4. Garnish with ½ orange wheel
BOMBAY SAPPHIRE bottle is available on Amazon for £24
ST-GERMAIN Spritz
The St-GERMAIN Spritz is simple, elegant and quintessentially French when made with Champagne: there's no finer way to unwind than with the signature apéritif. Mix the ingredients below over ice in a highball glass and garnish with a fresh wedge of lemon. 
Ingredients
– 40 ml ST-GERMAIN
– 60 ml Champagne or Prosecco
– 60 ml Sparkling Water
– Lemon twist
Method
1. Mix in a Collins glass over ice
2. Stir gently and garnish with a lemon twist.
ST-GERMAIN bottle is available at Amazon for £23.80
GREY GOOSE Le Grand Fizz a la Russe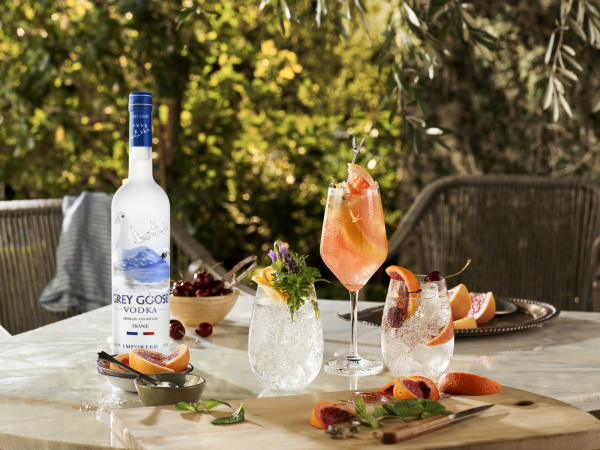 "The GREY GOOSE Le Grand Fizz a la Russe is a fantastic summer update to a vodka and tonic. It's sophisticated and interesting – a bittersweet Spritz packed full of zesty citrus notes. If you're looking to impress guests at your garden party or BBQ this summer, why not garnish with thyme sprigs fresh from the garden?"
Ingredients
– 30ml GREY GOOSE Vodka
– 15ml Peach Liqueur
– 15ml Fresh Grapefruit Juice
– 60ml Premium Tonic Water
– Thyme
– Grapefruit Wedge
 Method
1. Combine all ingredients except the tonic water over cubed ice in a large wine glass.
2. Stir and top with tonic.
3. Garnish with grapefruit wedge and sprig of thyme for added flavour.
BOMBAY SAPPHIRE Gin Mule
"Nothing says summer better than the botanical notes of a well-made gin and this spicy update to the classic vodka cocktail really delivers. A refreshing twist on a classic cocktail traditionally reserved for vodka; vibrant ginger spice meets the bright juniper and citrus flavour profile of Bombay Sapphire, lifted with a squeeze of fresh lime. Delicious."
Ingredients
– 50 ml BOMBAY SAPPHIRE gin
– 15 ml Lime juice
– 100 ml Ginger beer (chilled)
– 2 Fresh mint sprigs
– 2 Lime wedges
– Slice of fresh ginger (optional)
Method
1. Fill your rocks glass to the tub with cubed ice
2. Pour 50 ml of BOMBAY SAPPHIRE over the ice
3. Squeeze and drop in 2 wedges of lime
4. Top with ginger beer
5. Garnish with fresh mint and a slice of ginger
BOMBAY SAPPHIRE bottle is available on Amazon for £24
BACARDÍ Mojito
"The irresistible flavours of BACARDÍ Rum are given extra sparkle in this super simple but wonderfully refreshing Mojito. It's the perfect tipple for those craving something zesty, yet sweet and refreshing. Garnish with freshly awoken mint  – and if you're feeling experimental, why not add in a raspberry or two?"
Ingredients
– 50 ml BACARDÍ Carta Blanca Rum
– 25ml Lime juice
– 12 Mint leaves
– 2 tsp Extra fine sugar
– 25 ml Soda water
Method
1. Build over cubed ice in a highball
2. Mix in freshly awoken mint leaves
BACARDÍ Carta Blanca is available on Amazon for £21
MARTINI Fiero & Tonic
"MARTINI Fiero is the perfect ice-cold tipple to enjoy in the sunshine. Bold flavoured and brightly coloured, the bittersweet orange flavour and striking red colour of MARTINI Fiero are both 100% natural. Designed to be paired 50/50 with tonic over ice and an orange garnish for maximum impact with minimal fuss."
Ingredients:
– 70 ml MARTINI Fiero
– 70 ml Tonic water
– Orange wedge for garnish
Method:
1. 50% MARTINI Fiero and 50% tonic water
2. Serve over ice with an orange garnish
MARTINI Fiero is available from Sainsbury's for £10