About Time: You Discovered the Best Coffee LiqueursBy Sam Holder
In 2018, scientists made one of the most important discoveries of all time. No, it wasn't proof of life on Mars. Nor was it evidence that we're all living in a giant computer simulation like the Matrix. The most significant scientific find of 2018 had drastically more far-reaching consequences for the whole of humanity, something that could change our future forever: coffee and alcohol may help people live longer. (Read that again and let it infuse for a moment or two.)
While it's true the report found they're only beneficial in 'moderate' amounts (and there have been plenty of reports that found pretty much the exact opposite), this was the biggest ever study of people aged 90 and over. Finally, some good news for caffeine and booze fans worldwide!
Whether coffee and alcohol is actually good for you is still up for debate – don't take our limited scientific word for it. But what isn't, is the fact they taste great together. And as anyone who's ever had an espresso martini knows, they can be a potent combination. (The cocktail was only invented by legendary Soho bartender Dick Bradsel when a customer asked for something to 'wake me up, then f**k me up'.)
With the craft coffee revolution in full swing and every trendy bar and distillery infusing spirits with different types of aromatics, this is a golden(-brown) age for coffee and alcohol. Some of these new creations have been designed specifically for cocktails, others to savour neat over ice.
From tequila to rum, intensely bitter aperitifs to super sweet digestifs, this is our guide to the best coffee-flavoured alcohol.  
The Run-Down: Tequila and coffee doesn't sound like it should work, but this is a king among coffee liqueurs. For some, the slightest mention of tequila brings back head-over-the-toilet memories from group holidays in Zante, but this fine drink is a different beast altogether. Silky smooth high quality Patron is paired with a rich – but not too sweet – coffee flavour, making it dangerously easy to sip and quite possibly the tastiest shot in existence. It's well balanced, well priced and well nice.
Price: £32.95, The Whiskey Exchange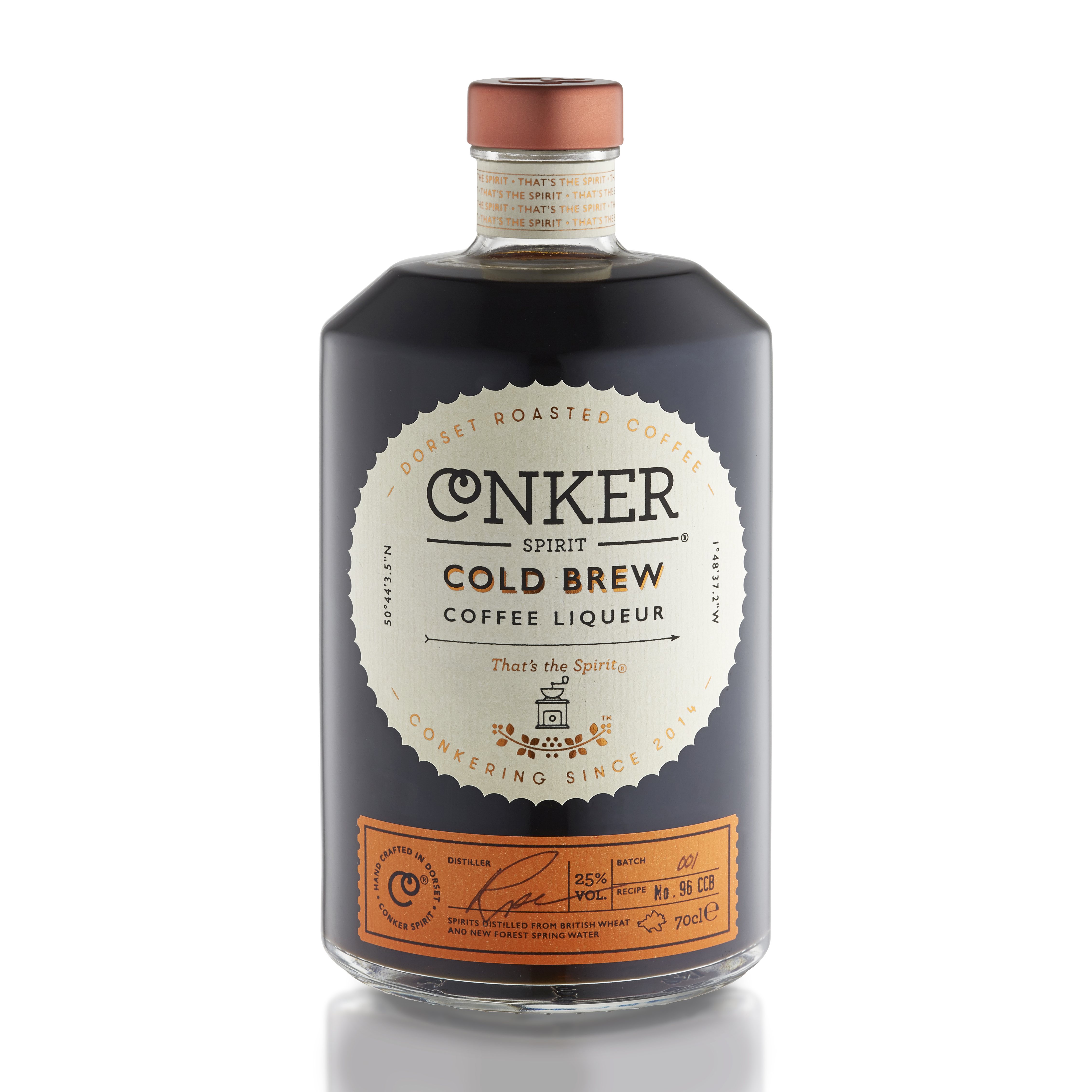 The Run-Down: Close your eyes and this tastes like a proper cold brew coffee. That's because it pretty much is real cold brewed coffee… with the added bonus of some nice lovely booze. There are no extracts or flavourings, just proper coffee blended with Conker's homemade grain spirit. And what a difference it makes; the beans are grown in Brazil and Ethiopia, before being roasted in Dorset and then cold-pressed, which allows their natural fruitiness and citrusi-iness (as well as bitterness) to shine through.
Price: £30, Conker Spirit
The Run-Down: Coffee liqueurs have a reputation for being sweet and sickly, bought once to make some White Russians (after watching The Big Lebowski) and then left getting crusty at the back of the booze cupboard. This is a coffee liqueur for grown-ups: dark, bitter and intense, much like a great espresso. Building on the classic Italian amaro digestif, cold-pressed beans are combined with a whole host of different botanicals. 14 in fact, ranging from grapefruit and cardamom, to illawara plum and quassia (whatever they are). It's fruity, herbal, bitter-sweet flavour is like nothing you'll have tried and the bottle design, a drawing which reveals itself as the liqueur is drunk, is truly inspired.
Price: £33.95, 31 Dover
The Run-Down: Petits fours, coffee and a nightcap = post-dinner perfection. Now you can have all 3 in one simple drink (it's a marvel I didn't get a job in advertising). This chocolate and coffee liqueur from Welsh distillery Aber Falls is more chocolate than coffee, so it's sweet and decadent rather than dark and brooding. Works best as a naughty nightcap or an indulgent cocktail ingredient.
Price: £22.95, Amazon
The Run-Down: Shiver me timbers, the name's not great but the stuff inside is. 5 year-old rum and Brazilian coffee is apparently a match worth plunderin'. (That's it, there will be no more pirate-speak.) It's perfectly balanced, the beans don't overpower the booze, instead evening out that natural sweetness in the rum. There's a big hit of dark chocolate and a nice heat from the booze, just enough to warm up your cockles on a long voyage out to sea…
Price: £30, Pirate's Grog Rum