Introducing: Top 10: Rooftop Bars in London. Summer has come and the same conversation monotonously loops on London's commuter packed Tubes; 'I haven't seen sunlight all week, work has been mad!' We've all had that square eyed, air conditioned feeling, followed by a surge of relief when six o'clock comes. Freedom hits your stomach, like that first cold drink smacks down your inhibitions. But with the relative rarity of sunshine, comes a certain responsibility – it is time to savour your time at one of London's finest rooftop hangouts:
#1 City Slicking
On the rare occasion that the sun breaks through on payday, make the most of feeling flush al fresco. Note: you might get carried away, so make sure to bin any card receipts instantly.
1. For People Watching: Madison, St. Pauls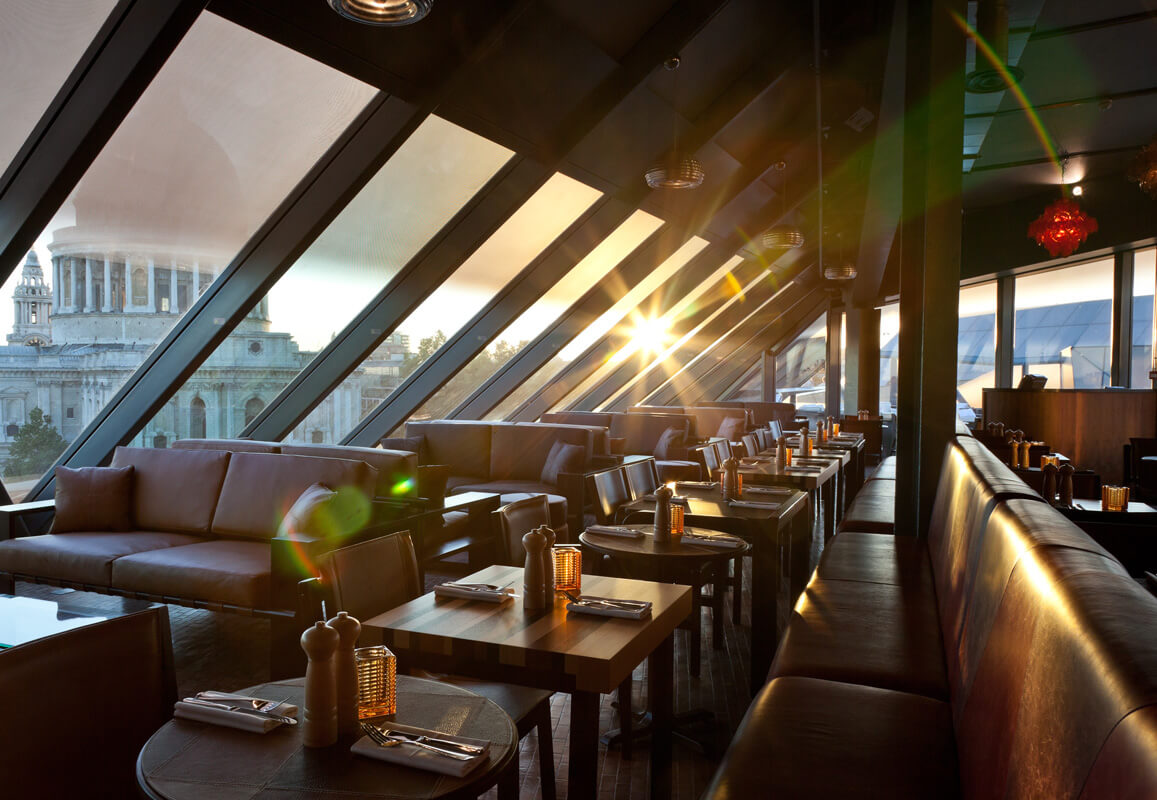 Next to the cluster of intimidating office blocks, where business is churned out like eggs from battery hens, lies one of London's best cherished rooftop bar. Once a well-kept secret, Madison is now the newest acquisition of the D&D Empire. Overlooking the iconic dome of St Paul's Cathedral, the bar remains a great little spot for sipping something cool and playing a game of eye-spy. Madison is an equally enthralling people watching spot – a sea of neat little hair flickers, husband hunt amongst the red trouser brigade. That said, Champagne comes by the glass, and Champagne Cocktails are sophisticatedly simple.
1 New Change, St Pauls, EC4M 9AF
*If you just can't face the queue for the lift… Head down the road to Sky Bar, St. Paul's The Grange Hotel, London, EC4V 5AJ – equally awesome views of St. Paul's.
2. For the Classic Cocktail: Boisdale, Canary Wharf
Just down the road from the scrolling banners of Reuters, lies the Scottish bar and restaurant Boisdale. This terrace, is not technically a roof top, but it is perfectly positioned for sipping a fine selection of classically served cocktails- you won't go wrong with 'The Gin & It'. Once the sun goes down it is well worth giving into your hunger pangs and following the jazzy tartan carpet upstairs. Here you will be dwarfed by the gleaming and spectacularly stocked bar, with over 1,000 whiskies to choose from. We are utterly enthralled with the over-the-top Scottish chintz. In the company of stags heads and kilt-clad waiting staff, tuck into melt-in-the-mouth Scottish smoked Salmon or treat yourself to a platter of oysters.
Cabot Place, Canary Wharf, E14 4QT
#2 Neighbourhooding
If you fancy finding an outdoor supper where you are never quite sure what will be on the menu.
3. For Seasonal Goodness: The Rooftop Café, London Bridge
If you are in the mood for something minimal and unpretentious, head to London Bridge. Split up and hunt down the buzzer for the Café. (*Hint it is next to The Shard). If you do stumble upon the entrance make the steep climb up and up to find a glass or two of organic vino on the herbaceously planted rooftop. Make sure you make time for a spot of dinner, by tucking into the menu which changes daily. Expect quirky takes on classics which use only the best seasonal ingredients.
The Exchange, 28 London Bridge Street, SE1 9SG
#3 Join the Tourists
Sometimes it might just be worth paying a little over the odds, for panoramic views over some of London's best loved landmarks.
4. For the View: Oxo Tower, Waterloo
Take a lift to the 8th floor of one of London's most iconic Southbank buildings, here you will stumble upon the OXO Tower Bar and Grill. Don't let yourself be intimidated by the neon lights and sleek lines, just head outside, sit back and witness the sunset over the City. Go straight to the cocktail menu, to sample tipples that have been created with Londoners in mind. Superb Martinis are concocted using the Chiswick based Sipsmith's gin, or if you seek fruity refreshment, the 'Southbank Cocktail' blends Beafeater 24 Gin and Belvedere Grapefruit Vodka, with lychee liquer and grapefruit juice.
Barge House Street, South Bank, SE1 9PH
5. For an Outdoorsy Feel: Vista at the Trafalgar, St James's

There is but one place where you can drink with the great Lord Nelson for company. Sitting high on his column, Nelson oversees the proceedings of Vista London, the rooftop bar, which is blessed with views out over Trafalgar Square. This is the type of place, where countless boyfriends have probably got down on one knee, overcome by the mind boggling sunsets. You will pay a pretty penny for the view and the bar is slightly blighted by throngs of tourists, but this is a right of passage for a thirsty Londoner. Splurge and head straight to the champers, or sample the 'Bliss Garden' a herbaceous celebration of the great outdoors, with plenty of lemon and just a dash of Jerry Thomas Bitters.  
2 Spring Gardens, St James's, Sw1A 2TS
#4 Lazy Sundays
If you like to ignore the oncoming onslaught of the week ahead, head east.
6. For the Cool Factor: The Boundary, Shoreditch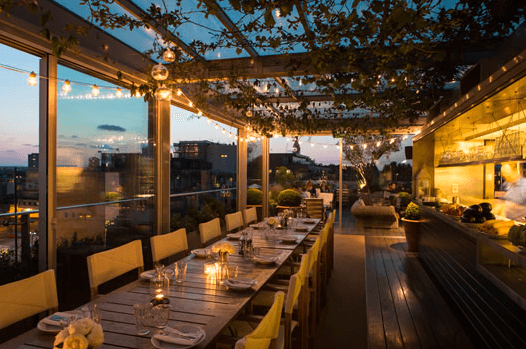 Perfectly positioned to escape the hustle and bussle of Sundays in Shoreditch is The Boundary, a reincarnated Victorian factory. The bar has 360 degree views out over the east End, and the one hundred odd olive trees.  On a hot day let yourself be transported mind and body to the Mediterranean.  If the unpredictable British weather catches you out, don't worry, the bar now has a shower proof pergola, draped in grape vines. This is the perfect spot to knock back a couple of cheeky Sunday afternoon beers, or a jug of iced sangria.  
2-4 Boundary Street, E2 7DD

#5 Forward Planning
If the weather forecast is all sunshines and rainbows, get organised and head to Hoxton.
7. For Quirky Fun: The Dolls House, Hoxton
The Dead Dolls Club is currently in residence at a disused textile factory- The Dolls House. We are in awe of this three story venue overlooking Hoxton Square. If you creep up through the layers of emporium, a roof terrace haven awaits you. The roof terrace is members only, but don't panic. There are no extortionate joining fees, simply fill out the online form and bring one of four gifts for the house – A Fine China Dog for the Parlour, or even a Top Shelf Spirit for the bar. We look at joining as a safety net, as your favourite spirit will await your fall. So choose your poison, head up to the roof and recline on a lounger.
35 Hoxton Square, N1 6NN

#6 The New Kids on the Block
8. For the Worker Bees: 'On the Roof with Q'

Selfridges have jumped on the pop-up rooftop bandwagon and have got alfresco well and truly sorted! Come sun, the rooftop sides and canopy are winched back, but come rain they provide shelter, creating a beautiful room with a view. Selfridges are offering customers a slice of just about everything that's trending in the food and drink world. They have teamed up with restaurateur Des McDonald to transport guests into the 'Secret Garden', a haven of lush foliage. This is a truly foodie hangout, where you can breakfast on Organic Granola, sip on a super-juice, or road test the gluten, dairy and sugar free puds from Daisy Lowe's new book. By night, be lead up a candle lit 'Garden Path' to sip luscious cocktails and munch cracking ceviche.
Open until 27th September- Selfridges, 400 Oxford Street, London
9. For the Height Haters: Pont Le Plage, Waterloo
If you get vertigo, don't worry! Le Pont de la Tour has transformed its Thames-side terrace into a lavish 1920s inspired sea-side restaurant, complete with crustacean and ceviche bar. Londoners will have the chance to escape the smog of the city and be propelled back to a by-gone era of Riveria chic. Head Chef Tom Cook, formerly of Le Gavroche and Restaurant Tom Aikens, has designed a beach inspired menu. Crab by the bucketload, will be accompanied by a 'Rose Fountaine'!
36D Shad Thames, SE1 2YE
10. For the Urbanite: Frank's Café and Campari Bar
This summer Frank's Café and Campari Bar will be returning to it's the Peckham multi-story rooftop, in mid-June. As with any dingy carpark you will thoroughly deserve a stiff drink once you have battled up the whiffy flights of stairs. With the unstoppablee rise of the Negroni, it is wise to get there early.
Wednesday- Sunday: 10th Floor, Peckham Multi-Story Carpark, SE15 4ST