About Time: You Mastered Spontaneous Dating in LondonBy Angelica Malin
You know the scenario.
It's quarter to six in the office; you had visions of going home and curling up in front of Piers Morgan's Life Stories with a bowl of steaming cheesy carbs (Tesco's Finest Pumpkin and Amaretti Ravioli is my guess) and you get a text. Not just any text. The text. One from someone who matters, who makes your heart flutter just a little bit.
But here's the problem: you're the furthest thing from date-ready. Do you postpone for another night? Do you do a cheeky post-work Topshop spree? Fear not, London, we're here to help. Problem and solution, we've cracked your date dilemmas. This, lovers, is how you date:
#1 Game Face
The Problem: You look like you've been dragged through a hedge backwards.
The Solution: Blow dry bars are the ultimate solution for pre-date pampering; you can be in and out within 15 minutes and your hair will look fabulous. Here's our favourite spots:
1. Blow LTD – Covent Garden
Blow LTD is based on the concept of fast beauty. It's a fantastic spot near Covent Garden; the blow drys all take under 25 minutes, and they have additional make-up packages too. The looks are all trend-based and they do a fantastic Power Blow that makes you look all glossy and chic – read more about Blow here.
Blow LTD, 8 Slingsby Pl, London, WC2E
2. Muse of London – Oxford Circus
A salon where someone will wash your hair for you, and you blow dry it yourself? Yes, please. Muse is a super trendy little salon near Oxford Circus that is open until 9pm on weekdays – for £15 they will style and smooth your hair and make it perfect for a night out. They also have a Root Bar where, after your roots have been sorted, you can blow dry your own hair for ease. It's only £18 to get your roots done. Total bargain.
You might find yourself addicted to the post-work blow dry. Luckily, if you work in the area, you qualify for a 30% off Workaholics Loyalty Card too. Phew.
Muse of London, 24 Mortimer St, London W1T 3JP
3. Nails and Brows – Mayfair
If you're in need of serious date pampering with no time, then you need to double up services. This Mayfair salon is perfect for a quick pamper as you can get a simply fantastic manicure and your Cara brows at practically the same time. The salon is cute and intimate – manicures start at £15 and bikini waxes from £28. Pamper, perfect.
Nails and Brows, 31 Berkeley Street, Mayfair London W1J8EJ
#2 In a Rush 
The Problem: You've got a date way across town and you've spent too long at work filing client reports and daydreaming about infinity pools.
The Solution: Naturally, there's an app for that. Here's our picks:
It goes without saying that in dire times, UBER will save you. Often getting an UBER can work out a lot cheaper and more stress-free than rush hour, and you can get money off for recommending a friend to the service. Also, you get to see a photo of your driver, which is always fun.
This app, crazily enough, helps you work out which door will let you out in front of your desired station's exit. It also tells you which door on the train will open when you get there – and works without internet, so you'll never be stuck walking the length of the platform again.
#3 Pick Your Poision
The Problem: You've been charged with the task of picking somewhere to go, and you haven't got a scooby.
The Solution: There are three places that never let me down when it comes to first dates, here's my little black book, you can thank me later:
1. For Casual Cool: Mele E Pere
This Italian gem is easily my favourite restaurant in London; Mele E Pere does the most sensational Italian small plates, with seasonal, fresh recipes and fantastic authentic Italian produce. They've also got a cool little bar in the basement restaurant with excellent Vermouths. It's the place to go for casual cool.
Read more about Mele E Pere here
2. For Unexpected Romance: Cartizze Bar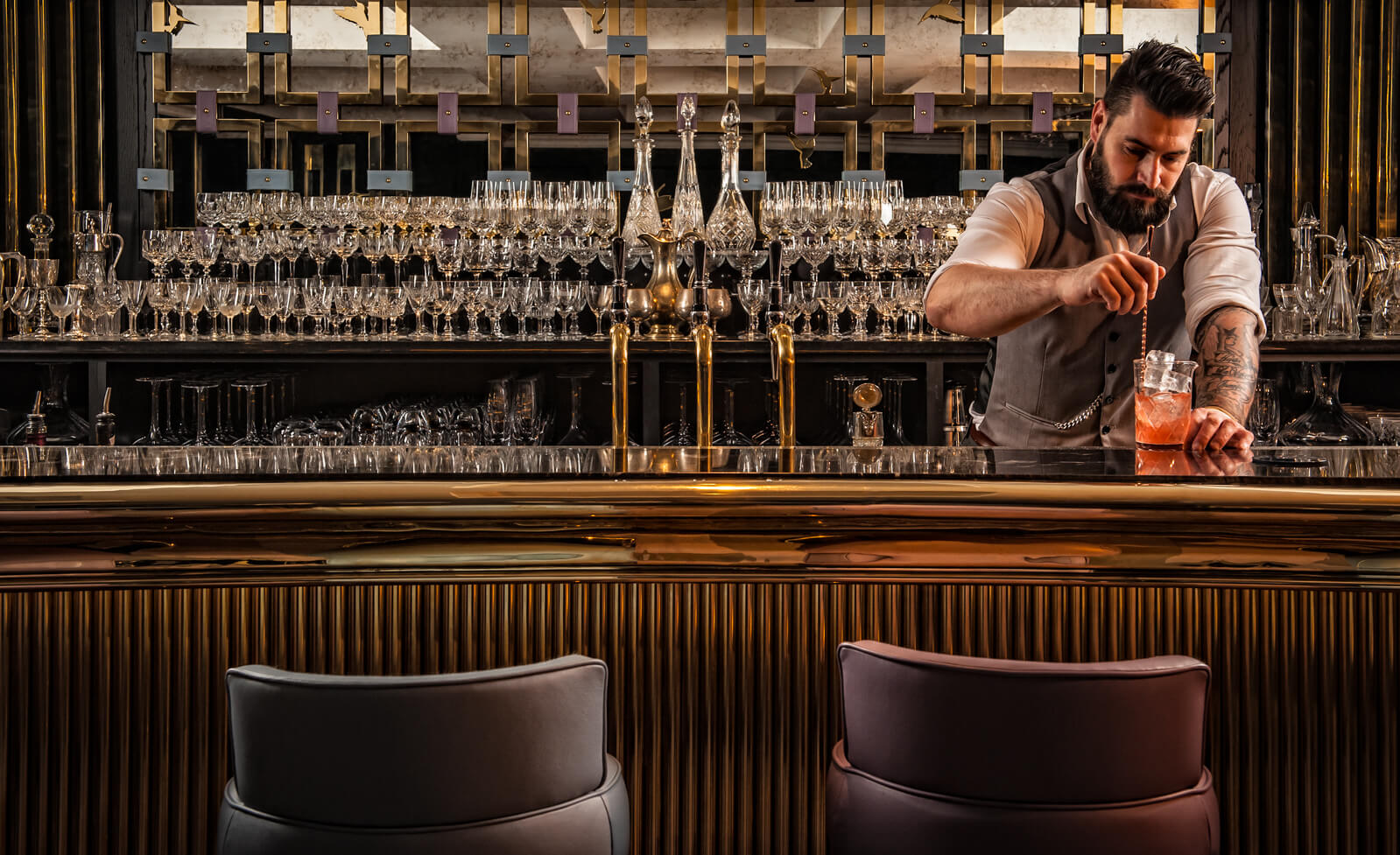 There's something truly romantic about Cartizze. Perhaps it's all the Venetian glasses, or its secret location, tucked away in Lancashire Court in Mayfair, but it feels like a secret you don't want to share. Get a table in the back room which has a fireplace and an outdoor area with heaters, and you could be in Italy. Order a Rhubarb Bellini made with homemade rhubarb cordial and sip away the winter blues.
3. For a Laugh: Bounce Bar
Sometimes you need an activity to get the date going; and what better than ping pong – it's fun, sociable and guaranteed to make you chuckle. I unfortunately cannot play as I'm ruthlessly competitive to the point of repulsion, but I've known many a fine date occur at BOUNCE in Holborn. When you come, order the Bounce Bellini – it's made with pear puree, cider brandy, pink clove liqueur and Prosecco and is damn delicious. Lethal in the right way.
For 5 more quirky date ideas, see here.
#4 Getting Peckish
The Problem: The date's going well and he wants to grab a bite to eat. You've suddenly forgotten your every single food taste. Do you even like tapas?
The Solution: Well the first solution would be tweet at us, and we'll help find your date spot. Failing that, in times of need, one must turn to technology for such things. There are some fantastic foodie apps in London that can help you find the perfect date spot, here's our suggestions:
This app is fantastic if you're out and need to find somewhere for dinner easily. CityHawk allows you to book a table for dinner quickly via the app, and helps find special deals, too. The element of spontaneity is key to this move; you want a fluid transition from drinks to dinner, without jarring the evening or ruining the momentum. Download the app, find a handpicked, excellent restaurant, and become the master of spontaneity.
If you'd like your choice of restaurant to be more of a shared experience, try the Foodspotting app, which shows you photographs of food from restaurants near you. The idea is to help you find not just the perfect restaurant, but the perfect dish. So if you've got a craving for Mac n' Cheese or Polish meatballs, you can make it happen. It's food perving on a whole new level.
This app is fantastic for finding street food in London; sometimes you just don't fancy a three-course dinner and a stuffy restaurant, and want to get stuck into a juicy burger. The app allows you to rate street food vendors and find daily street food specials. Genius.
For more London drinking ideas, see here.
For more London restaurant ideas, see here.
For more dating advice, see here.
For 5 quirky date spots in London, see here.