Kiss goodbye to standard Christmas stocking filler ideas and say hello to our hot picks, ideal for the beer/coffee/cocktail lover in your life. We've discovered 15 must-buy stocking filler gifts for under twenty quid. Go on, have a scroll:
Christmas Stocking Ideas: Coffee
The Lowdown: Caravan Coffee Roasters have launched their Xmas Brü just in time for the festive period. Tasting notes include winter berries, hazelnut crème, cookie dough and rich white chocolate for a decadent and smooth finish. Caravan's Xmas Brü is both full-bodied and well balanced making it versatile for both filter and espresso. 
Price: £10
Where: Buy online
The Lowdown: The Gentlemen Baristas source their Single Origin Nicaragua Coffee from Santa Luz farm, approximately 20 kilometres away from Jinotega. The microlot covers 311 hectares, of which 180 hectares are currently dedicated to the production of coffee. Expect tasting notes of apricot jam and malted biscuits with a caramel finish.
Price: £10
Where: Buy online 
The Lowdown: Blue Coffee Box coffee beans are all ethically sourced from farmers and local cooperatives around the world using the Direct Trade model, which means farmers are paid 30% more than Fairtrade prices – and the beans are then lovingly hand-roasted by the UK's best coffee roasters. The sleek letterbox friendly boxes are delivered monthly (or as a one-off gift), and each box contains three bags of 100% pure arabica coffee that is curated to personal taste.
Price: £16.99
Where: Buy here 
The Lowdown: For those who like everything that little bit sweeter, Beanies Coffee's Bundle includes: a Sticky Toffee Pudding Scented Soy Wax Candle, All in One Salted Caramel sachets and 4 jars of flavoured coffee.
Price: £15
Where: Buy online 
Christmas Stocking Ideas: Beer
The Lowdown: Adnams' 5 litre mini-kegs will keep the party going this Christmas, with options to suit everyone's taste. The keg range includes: Adnams Ghost Ship, Adnams Mosaic Pale Ale, Adnams Dry Hopped Lager, and Adnams Ease up IPA. There's 8 pints in each mini keg – and will definitely pack out a stocking.
Price: £16.99
Where: Buy online 
The Lowdown: Bermondsey-based craft brewers Fourpure have put together a starter pack for the beer lovers this Christmas. The collection features six beers from their core range and a 2/3 pint glass – everything you need to start your journey into craft beer and Fourpure.
Price: £13
Where: Buy here 
The Lowdown: SIBA award-winning brewery Signature Brew, and Great TasteAward winning coffee roastery, Perky Blenders have collaborated to create Rise & Shine, a box set of coffee beer, ground specialty coffee and a glass to enjoy them both from. In the set you'll find Rise, roasted and ground Ethiopian coffee, and alongside the specially made glass, Shine Coffee Pale Ale, a 4.4% ABV golden pale ale, brewed by Signature Brew and their friends at Perky Blenders.
Price: £19.99
Where: Buy online 
The Lowdown: Salcombe Brewery has aged their award-winning Island Street Porter in a barrel for six months to create a beer with the same characteristic undertones of chocolate and dark cherry but with a far greater depth and complexity of flavour. Their new Speyside Whisky barrel-aged porter (ABV 6.2%) has an almost jam-like sweetness that is complimented by a hint of vanilla. This sweetness is balanced against the peaty notes from the whisky, culminating with a full-bodied chocolaty finish.
Price: £19.99
Where: Buy online 
Christmas Stocking Ideas: Spirits and Liqueurs
The Lowdown: This is going to be your new Christmas tipple of choice – bold but a true statement. The newly launched Disaronno Velvet is a refreshingly smooth cream liqueur with tasting notes of toasted almonds, apricot, vanilla and a hint of toffee. It's like a Baileys and Disaronno mash-up – and we're into it.
Price: £15
Where: UK major supermarkets
The Lowdown: RedLeg Spiced Rum is made by blending the best rums from the Caribbean and leaving them to rest in oak barrels before infusing with Jamaican vanilla and ginger. Incredibly smooth and versatile, this is spiced rum as it should be. Perfect with simple mixers such as cola and ginger beer, RedLeg Spiced Rum works beautifully in classics such as a refreshing Mojito or festive Hot Rum Punch.
Price: £15
Where: Tesco, Morrison's, Sainsbury's, Waitrose, and Amazon
The Lowdown: Perfect for budding bartenders looking to get started on their mixology journey, the Woodford Reserve gift pack has everything to make the world's most popular cocktail at home. This exclusive gift pack includes a Woodford Reserve 20cl bottle, an ornate Glencairn rocks glass and 60ml of signature Old Fashioned Syrup. Chic and tasty.
Price: £20
Where: Asda and Sainsbury's
The Lowdown: With an irresistible flavour, Baileys Salted Caramel is velvety-smooth and luxurious with rich caramel flavours and a hint of salt. Enjoy over ice, or as an extra-cosy Baileys Salted Caramel hot chocolate.
Price: £15
Where: Major supermarkets
The Lowdown: The Hotel STARLINO Gift Pack is beautifully packaged and would make a great stocking filler for mixologists and cocktail fans. The Hotel STARLINO range hails from Torino Distillati in Northern Italy and the packaging for the gift pack is inspired by the distillery itself as Master Distiller, Beppe Ronco says: "We have so many friends and visitors to our distillery we sometimes refer to it as a hotel."
Price: £12
Where: From Amazon
Christmas Stocking Ideas: Other Gifts
The Lowdown: Knoops offer a range of chocolate flakes to make the ultimate luxury hot chocolate at home. For the hot chocolate newbies, try the 35% Milk Chocolate Flakes – a luxurious, milky treat boasting the perfect balance of sweetness. 
Price: From £8.95
Where: Buy online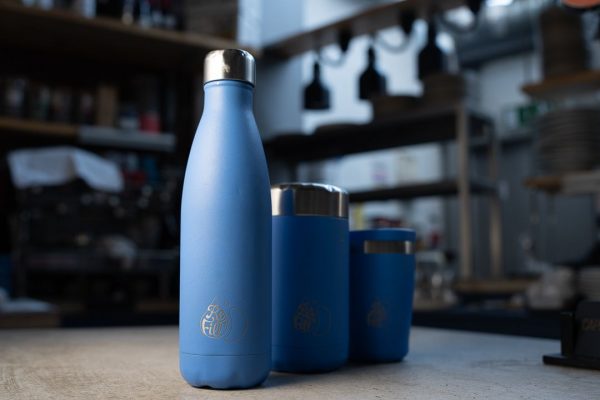 The Lowdown: Not only do the Chillys bottles look good, keep things hot or cold for ages, but they also donate money to City to Sea when you purchase so it is the gift that keeps giving. By choosing a reusable for your friend or family member you are helping keep single-use plastic from our oceans and waterways in the UK and abroad. They are perfect for travel or the gym as they are leak-proof, hardwearing and keep water cold for 24 hours.
Price: £20
Where: Buy online