It's 7pm on Friday evening, and my flat mate and I are snailing through traffic on the M1. I'm hot, I'm bothered, and we're on our third run through the Charlie's Angels soundtrack CD. Now, that's a great soundtrack, but even I have my limits.
Fast-forward to 8.30pm, and we're sipping champagne on a beautifully primped sofa outside Mallory Court Hotel's dining room. Everything is perfect: the books on the shelves are colour-coded and perfectly aligned; people speak in hushed tones and hold champagne flutes in the right way. My flat mate points out the only aberration: a slightly off-centre lampshade. Minutes later, a besuited staff member scuttles over to straighten it, and harmony is restored.
Have a meal in Mallory's fine dining room, and you'll feel a bit like you're in Poirot, or Cluedo, except with less opportunistic murder and more smoking jackets. Billie Holliday trickles out of a speaker concealed behind wood-panelled walls, gentlemen wear dinner jackets with handkerchiefs peeking out the breast pockets. For someone who's used to London restaurants, i.e. being practically thrown out the door after the meal by waiters quaking at the sight of the queue, this meal is a luxury: sprawling lazily over several hours, punctuated only by our helpful (but never oppressive) waiter, Thomas.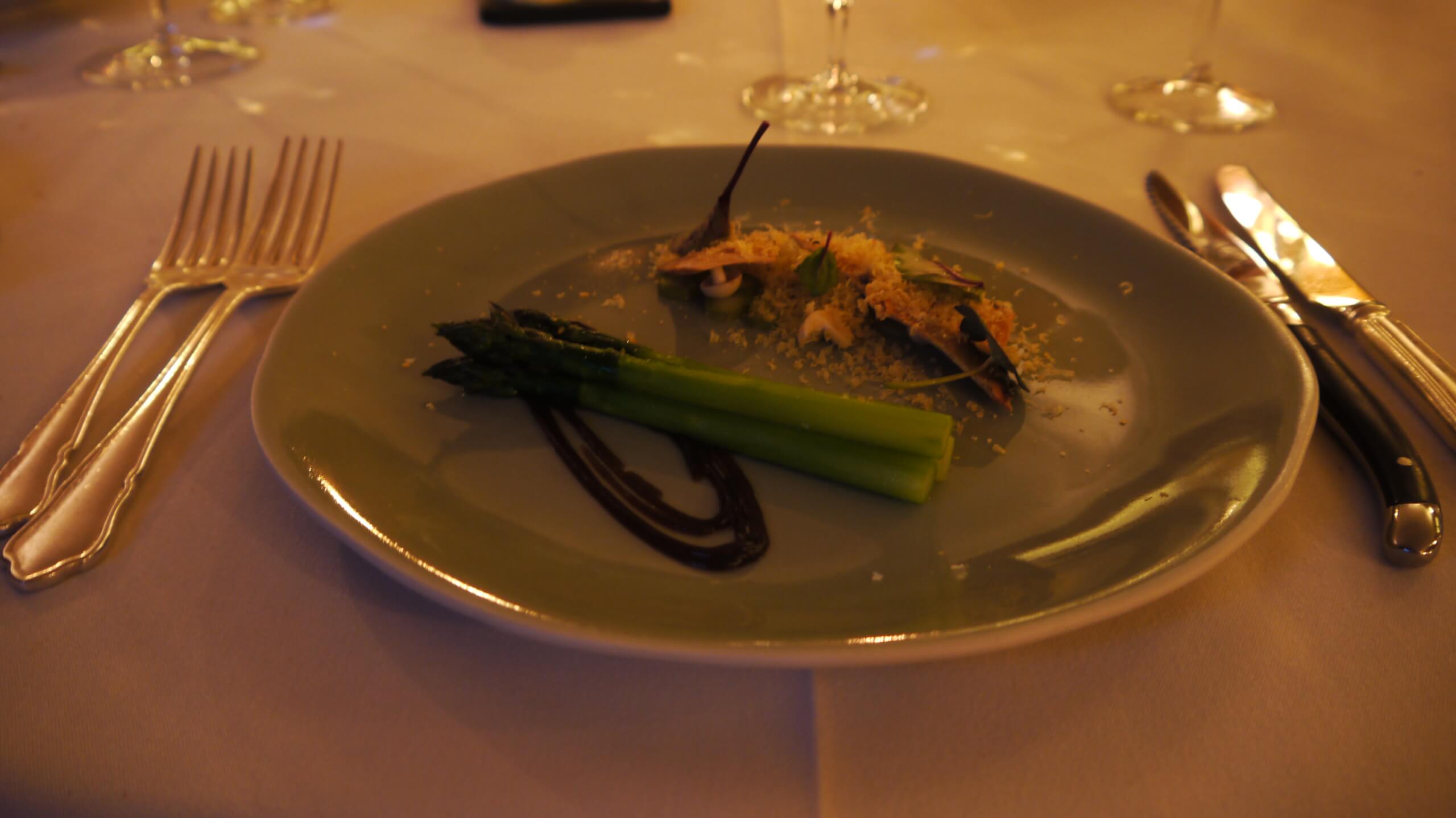 The food is rich but not too heavy; my Kineton asparagus starter with mushroom ketchup and cured egg yolk is light and tasty, and my flat mate's charred leek with ham hock makes me swear I'll never eat another slice of wafer-thin supermarket ham again. My main is my favourite though: Cumbrian pork belly and fillet with broad beans just the right side of soft, crispy ham and a teeny tiny pot of super-soft mashed potato.
We have lots of fun with the desserts. My flat mate goes for strawberries with light-as-air goats milk sorbet, while I – a true believer in the fruit-free pudding – choose a chocolate tart with banana toffee. 'My pudding is like the boozy yet distinguished uncle who's fun to sit next to at weddings,' I say through a mouthful of chocolate. 'Okay,' says my flat mate. 'Then mine is the gorgeous young mistress of a banker with a midlife crisis, the kind of woman who doesn't eat carbs and wears a top without a bra.' (You know you've found the ideal flat mate when they not just indulge but outdo your passion for dessert personification.)
After dinner we end up talking to a formidable gentleman at a neighbouring table. He engages passing waiters in conversation about the cheese board and says things like 'a day without fish is a day wasted' and 'I find beer always tastes best out of silver'. We're enjoying the conversation so much that it takes a glass of Cognac and several petits fours before we realise how late it is and retire to our suite.
Our room is like the personal quarters of a very distinguished relative: overlooking the herb garden (naturally), all polished mahogany furniture with caramel-coloured wallpaper and a gleaming marble bathroom. My only issue is with the bedding: there's a reason we've forsaken sheets and blankets in favour of duvets, and it's because they're superior in every way. But the L'Occitane toiletries and thoughtful touches (newspaper-of-choice outside door in the morning, post-journey snack of apples, biscuits and dried fruit left out on arrival) more than make up for a scratchy blanket or two.
We spend most of our stay at Mallory Court saying how we have got to do this more often: it's the perfect antidote to a working week in London, not to mention a sticky crawl along the M1. If only the immaculate hotel was reflected in the weather: a sudden downpour the next morning means our planned walk through the perfectly manicured grounds is abandoned – but never mind. I'm sure we'll be back before long.
Mallory Court, Harbury Lane, Leamington Spa, Warwickshire; http://www.mallory.co.uk