Planning the perfect 48-hours in New York? From boutique hotels to luxury restaurants, street eats to art galleries, we've got the lowdown on spend the ideal 48-hours in New York City. Enough with the small talk, let's chat bagels:
48-Hours in New York: Where to Stay
There's so many amazing hotels in New York; from super-luxe Uptown boutique hotels, to trendy Tribeca haunts, you'll find something to suit your style. From personal experience, here's our pick of the best:
1. For Real Luxury: Viceroy Central Park
The Lowdown: There's no hotel in New York quite like the Viceroy Central Park. If you're looking for a stylish boutique stay, only moments from Central Park, then this is the place for you. The hotel is located on West 57th Street, between 6th and 7th Avenues – it's a great spot for exploring nearby Central Park and vibrant Midtown. Expect style and sexy decor at this hotel. Set on 29 floors, with an Art Deco feel, the hotel boasts a fitness centre, luxury restaurant and one of the city's best rooftop bars: The Roof. Their restaurant Kingside is a destination in its own right; expect a mixture of fantastic New American and Japanese cuisine, focusing on seasonal ingredients, with a buzzy New Yorker vibe. We loved the hotel's laid-back style and slick five-star service. Book here.
Perfect for: Couples, those looking to explore Central Park and, of course, foodies.
Where: 120 W 57th St, New York, NY 10019, USA
2. For Contemporary Cool: The Frederick Hotel
The Lowdown: Another great find, if you're looking for a vibrant, youngish kind of stay in New York, The Frederick is a fantastic boutique hotel in Tribeca. The hotel is home to a 24-hour fitness centre, restaurant and cocktail bar. We loved the style of the hotel; it mixes vintage and Art Nouveau styles, with flashes of colour and touches of minimalist design, for something rather unique to the area. The hotel boasts its own cocktail bar and Italian dining spot, Serafina Tribeca, which serves up great Italian small plates and tasty pizzas. The accommodation ranges from Superior Single to Junior Suite, the most luxury room with a King bed, pullout sofa and flat-screen TV. Book here.
Perfect for: Explorers. The hotel's location is great for exploring nearby areas Tribeca, and easily-walkable SoHo, East Village and Chelsea.
Where: 95 W Broadway, New York, NY 10007, USA
3. For Ultimate Style: The Greenwich
The Lowdown: This hotel. Just… Wow. If you're looking for a hotel with tonnes of style, masses of class and the best facilities in Lower Manhattan, you can't miss The Greenwich. Honestly. It's one the nicest hotels we've ever visited in the world, let alone New York. What makes it so special? Well, for one, the hotel's style is quite unlike any others. Part of Leading Hotels of the World, you can tell the interiors have been given the upmost attention, the bedrooms fuse a range of style and influences with flair – from hand-loomed, Tibetan silk rugs to English leather settees, beds from Sweden, bathrooms designed in unique patterns of hand-laid Moroccan tile and Italian Carrara marble. There's modern touches to compliment the hotel's look, including flat-screen TVs, free WiFi, pre-loaded iPods and unlimited free snacks in the room. That's right, free M&Ms. We're in love.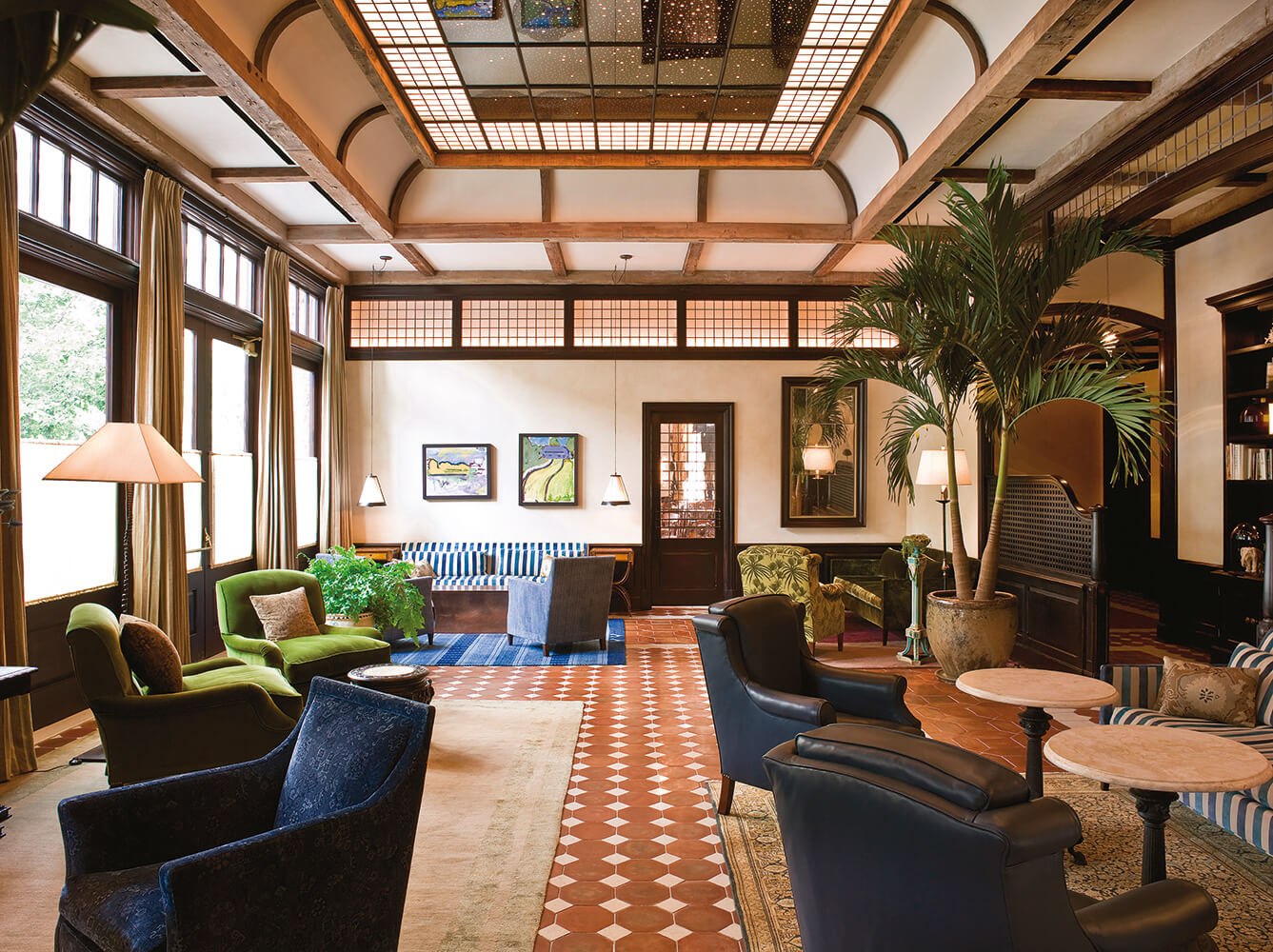 There's also some great facilities for guests, including the 5* Shibui Spa, which using organic, plant-based products, for treatments inspired by ancient healing techniques, and a fab swimming pool, sauna and steam room. For dinner, there's a fantastic Italian restaurant Locanda Verde, which serves up delicious pastas and small plates, and for post-dinner cocktails, we loved the private bar and reading room for hotel guests only, complete with open fire place and comfy leather sofas for relaxing with an Espresso Martini in hand. Basically, The Greenwich has everything you need in one place – it's one hotel you must visit in New York. Book here.
Perfect for: Design lovers and spa seekers.
Where: 377 Greenwich St, New York, NY 10013, USA
4. For Location: Sofitel New York
The Lowdown: If you're looking for comfort, luxury and ease, this hotel is the one. The Sofitel New York is perfectly located for exploring some of New York's best sights, including Times Square, the Broadway theatres, Rockefeller Centre, art museums and more. We loved the proximity of Central Park and The Met from the hotel, it's the perfect hotel if you're visiting New York for the first time and want to see the sights. The hotel is vast in size, with 30 floors and 398 spacious rooms, including 52 suites and one presidential suite. The suites are hugely impressive, with marble bathrooms, expansive balconies with the views of the New York skyline and comfortable living rooms. The hotel also has its own French fine-dining restaurant, Gaby, which serves up delights such as steaks, burgers and fresh salads. Book here.
Perfect for: Business travellers and sight-seers. 
Where: 45 W 44th St, New York, NY 10036, USA
5. For a New Hotel: LUMA Hotel New York
The Lowdown: For a new spot in town, you need to visit LUMA Hotel Times Square. The hotel is bright and light, like a back-to-the-future imagination of a hotel. The newest boutique hotel in Midtown, it's only moments from Times Square, which makes it a great spot for visiting the nearby tourist spots. The hotel is adjacent to lovely Bryant Park, and, more importantly, a giant Whole Foods for stocking up on all the health foods and nut butter. We liked the easy hospitality of LUMA, the staff are all super friendly and considerate, and the hotel itself is a great hub for drinking, dining and relaxing, with its own Basque-inspired restaurant Ortzi and trendy cocktail bar. The in-room amenities are great, especially the deluxe rooms with fast WiFi, walk-in showers, smart TVs, sofa beds and large windows with views over the city. For a slick, comfortable, modern stay in New York, LUMA is a real find. Book here.
Perfect for: Fuss-free travellers and families.
Where: 120 W 41st St, New York, NY 10036, USA
6. For a Touch of Class: WestHouse Hotel New York
The Lowdown: I mean, there's really no hotel quite like WestHouse in New York. If you're looking for ultimate privacy and seclusion in a bustling city, this is the hotel you need to stay in. WestHouse has the feel of a stylish Uptown apartment, all marble and plush interiors, with the discreet service that makes it feel like a home away from home. Moments from sights such as Carnegie Hall, Central Park and Fifth Avenue, you'll feel like a star in Sex and the City from the moment you step into the hotel. The hotel is like its own a private residence, complete with luxury suites and a guests-only lounge on the 23rd floor for early-evening cocktails and complimentary breakfast. In the rooms, expect a 1920s Art Deco design, with modern touches that compliment the New Yorker vibe. There's only 172 luxury rooms in the hotel, and you can opt for great in-room services like blow-drys, make-up and massages. (Can you say that the Hair and makeup services are provided by NOMI Beauty. Fashionable, fun and forever stylish, WestHouse needs to be top of your list for hotels in New York. Book here.
Perfect for: Discreet travellers, luxury lovers and Uptown stays.
Where: 201 W 55th St, New York, NY 10019, USA
48-Hours in New York: What to Do
48-hours in New York is simply not enough, as there's so much to do in the city. If you're pushed for time, here's our top-picks for attractions and experiences in NYC – and if you want to have more fun, try buying tickets for a live NBA Knicks game:
1. Eat All the Food: Chelsea Market
Chelsea Market is one of the best food halls in the world, just a short walk from the Hudson River in the Meatpacking District. This is the place to come for a total feast, with more than 35 vendors serving up everything from cheesecake to bagels, matcha lattes to vegan sushi. The market gets over 6 million visitors a year and you can see why – it's a neighbourhood market with real soul, serving locals and tourists alike with some of the finest food New York has to offer. We loved the delicious baked goods at Amy's Bread and lattes at Chailait, the humus at Dizengoff and the rose halva at Seed + Mill. A one-stop shop for all your foodie needs.
2. Get Your Art Fix: The Metropolitan Museum of Art
You can't spend 48-hours in New York and not visit one of their great museums. The Metropolitan Museum of Art is one of the world's largest and finest art museums, and something you must see in New York. Its collection includes more than two million works of art spanning five thousand years of world culture, from prehistory to the present and from every part of the globe. We loved the current David Hockney exhibition, which showcases the artist's work over his lifetime, and the beautiful Arabic art collection. A must-visit. Other great art galleries in the city include the MoMa, which is the home of contemporary art in New York, and the Guggenheim. It's worth purchasing a CityPass to see these and much more.
3. Take an Insider Tour: Heart for Art
Heart for Art provides curious individuals and innovative companies with an opportunity to take advantage of the rich culture available throughout New York City. With knowledgeable instructors, they craft unique and individualised art-focused events. They offer a two hour gallery tour Tuesday through Sunday at noon – join them as they explore galleries in the Chelsea, SoHo or Lower East Side neighbourhoods of New York City. Heart for Art also offers VIP group tours for parties of 6 or more, tours include Chelsea Gallery Highlights, Lower East Side Gallery Highlights and the Curator's Experience. We love.
4. Go Wild: New York Adventure Club
Looking for something interesting to do in the city? The New York Adventure Club is a 9,000-person strong urban exploration community, which creates special access experiences geared for locals around the interesting people and places in the NYC area.  The club organises around 10 events a week ranging from behind-the-scenes tours to intimate social gatherings – some of their most popular experiences include a visit to the Ellis Island Abandoned Hospital Complex, a behind-the-scenes tour of Staten Island Zoo, and a look inside a NASA spacesuit maker in the Brooklyn Navy Yard. See more here.
5. Get Some Air: Brooklyn Botanic Garden
Need some space from the hustle and bustle of the city? Brooklyn Botanic Garden a beautiful place to visit. It's an urban botanic garden that connects people to the world of plants, fostering delight and curiosity while inspiring an appreciation for the environment. BBG inspires people of all ages through the conservation, display, and enjoyment of plants, with educational programs, research and conserving regional plants and plant communities – a must-visit. Other great walks in the city including The High Line, which is a public park built on a historic freight rail line elevated above the streets on Manhattan's West Side, and, of course, Central Park which cannot be missed.
Photo credit: Brooklyn Botanic Garden
48-Hours in New York: Where to Eat
There's so many amazing places to eat in New York, that one list is simply not enough. Click here to discover the best desserts in New York and my Top 10 eats in New York in 2018 will be out soon. Here's a taster of what's to come:
1. For Brunch: Minnie's on Clinton
The Lowdown: Minnie's is a great local brunch spot on the Lower East Side, and one of the best breakfasts in New York. Chef John Keller oversees the menu at Minnie's, which is features bright, flavourful dishes inspired by owner Millie Stallings' family recipes. Expect mediterranean-influenced American plates like poached eggs with halloumi, squash and kale pesto, Croque Madame with Katz pastrami and the best pancakes around.
Where: 29 Clinton St, New York, NY 10002, USA
2. For Kosher Food: 2nd Avenue Deli
The Lowdown: 2nd Ave Deli was an internationally renowned Gotham landmark for more than half a century. Over the years, its founder, Abe Lebewohl, provided the best Jewish fare in town, transforming his tiny ten-seat Village eatery into a New York institution. Today, his nephews Josh and Jeremy have revisioned the deli into something modern at the 2nd Ave Deli at 162 East 33rd Street and 2nd Ave Deli at 1442 First Avenue. One taste of their chicken matzoh balls soup, you'll see why 2nd Ave Deli is the favourite of so many who seek a hearty, filling, and soul satisfying meal. Come here for the pastrami sandwiches, delicious pickles and the best apple strudel in town.
Where: 162 East 33rd Street and 1442 First Avenue
3. For Bagels + More: Russ + Daughters
The Lowdown: Russ & Daughters Cafe opened in 2014, on the 100th anniversary of Russ & Daughters – the world-famous appetizing store and New York City institution. After a century in which generations of customers patiently waited in line at the store; it was time to give everyone a place to sit down. Developed, owned, and led by Josh Russ Tupper and Niki Russ Federman, the 4th generation of the Russ family, the Russ & Daughters Cafe takes the appetizing classics for which Russ & Daughters is famous and presents them in a beautiful setting that evokes Russ & Daughters' timeless appeal, history, and haimishness. Come here for the best brunch food around, including The Classic board with smoked salmon, cream cheese and a bagel, crispy potato latkes, the Russ Pastrami and the most delicious chocolate babka French toast you'll ever taste.
Where: 127 Orchard St, New York, NY 10002, USA
4. For Cocktails: The Pool Lounge
The Lowdown: The Pool Lounge is a cocktail bar created by Major Food Group featuring unique drinks by legendary bartender Thomas Waugh. Come here for seriously good cocktails in a stylish location; each cocktail focuses intensely on a single flavour and leans towards the tropics. It's a great spot for people watching; The Pool Lounge sits above and overlooks THE POOL restaurant, which is one of New York's most iconic spaces. We recommend trying the Jalapeno cocktail with tequila, sherry and cucumber – it's devilishly good.
Where: 99 E 52nd St, New York, NY 10022, USA
The Lowdown: If you want a once-in-a-lifetime foodie experience, then you must visit Sushi Azabu for their Okamase – a traditional Japanese tasting experience of sashimi, maki and nigiri. This little spot is tucked away on a quiet street in Tribeca – blink and you'll miss it – and discreetly serves up some of the best Michelin-starred sushi you'll taste in New York, probably in your whole life. It's an experience like none other, you'll be transported mentally and emotionally to Japan, with the freshest fish and sushi, in an unique, intimate dining experience at the sushi counter. You've never tasted sushi and sashimi quiet like this – the speciality sushi is crafted from fresh-from-Japan fish and prepared by skilled chefs, trained in Japan, who are talented in the highest quality of preparation, elegant cooking and Omotenashi. Come here for the Omakase, which features otoshi, a small appetiser, assorted seasonal sashimi, tuna tasting, Black Cod, nigiri of the chef's choice, miso soup and dessert. A must-visit.
Where: 428 Greenwich St, New York, NY 10013, USA
6. For Fine Dining: Boulud Sud
The Lowdown: Boulud Sud is Chef Daniel Boulud's vibrant celebration of the sun and the sea. Drawing inspiration from the coastal Mediterranean, the menu emphasises regional flavours, featuring an abundance of fresh vegetables, seafood, citrus, grains and herbs. We loved the refined elegance of the food; everything from small tasting plates of chicory salad with pear and blue cheese to salmon sashimi with pomegranate, delicious Middle Eastern dips to delicate handmade pasta, including a stunning potato and artichoke agnolotti. If you're looking for somewhere special, this is it. And for a tipple, complementing this breadth and depth of Mediterranean soul, the wine list ranges from French rosés and Italian reds. We love.
Where: 20 W 64th St, New York, NY 10023, USA
Fly to New York with Norwegian Airlines – Norwegian flies from London Gatwick to JFK non-stop in under 8 hours from £200 return daily. To see more and book, visit here.