Weekend Guide: 8 Unmissable Events in London This WeekendBy amelia richards
With the Bank Holiday Weekend all but a distant memory, and the four day work week drawing to a close, we thought it was high time we put out some inspiration for what to do in the capital this Friday, Saturday and Sunday:
Friday 26th April 2019
What: As is the case on the last Friday of every month, The Tate Modern is keeping its doors open long into the evening for a special celebration of their current exhibition. This month the focus is on their Franz West retrospective.
West is best known for Punk-ifying art. He is well known for his unpretentious, abstract sculptures, furniture and collages. Some of his most playful sculptures incorporate objects from everyday life; a hat, a broom, and even a whisky bottle.
Visitors to the exhibition will be able to get hands with replicas of his Passstücke – papier-mâché pieces designed for visitor interaction, blurring relationship between artist and audience.
In addition to the exhibition, visitors can expect an eclectic mix of art, music, film, drop-in workshops and pop-up talks.
When & Where: 6-10pm, Tate Modern, Bankside, London SE1 9TG
How Much: Free
What: To celebrate the Game of Thrones season finale, Electric Brixton are hosting a very special dance party. Guests can expect an enormous replica Westeros Castle, battles of fire and ice, dragons, flamethrowers, and lookalikes of your favourite characters. There will also, of course, be an Iron Throne. If all this isn't enough to entice you, you'll also be excited to hear that Hodor himself will be on the decks, busting out the dance tunes as you boogie your way through the blizzard.
When & Where: 10pm-5am, Electric Brixton, Town Hall Parade London SW2 1RJ
How Much: From £20. Book here.
Saturday 27th April 2019

What: From the brains behind Real Food Festivals comes River Walk Market, a new weekly independent market housed in the awe-inspiring Battersea Power Station redevelopment.
River Walk Market is set to become the go-to destination for the new generation of slow-foodies. Expect to find a host of independent and artisan food and drink producers, artists, designers, street food and live musicians every Saturday.
The weekly changing line-up of live musician and DJs is put together by new mayoral initiative Busk in London.
When & Where: 11am – 5pm, Circus West Village Battersea Power Station London SW1 8AH
How Much: Free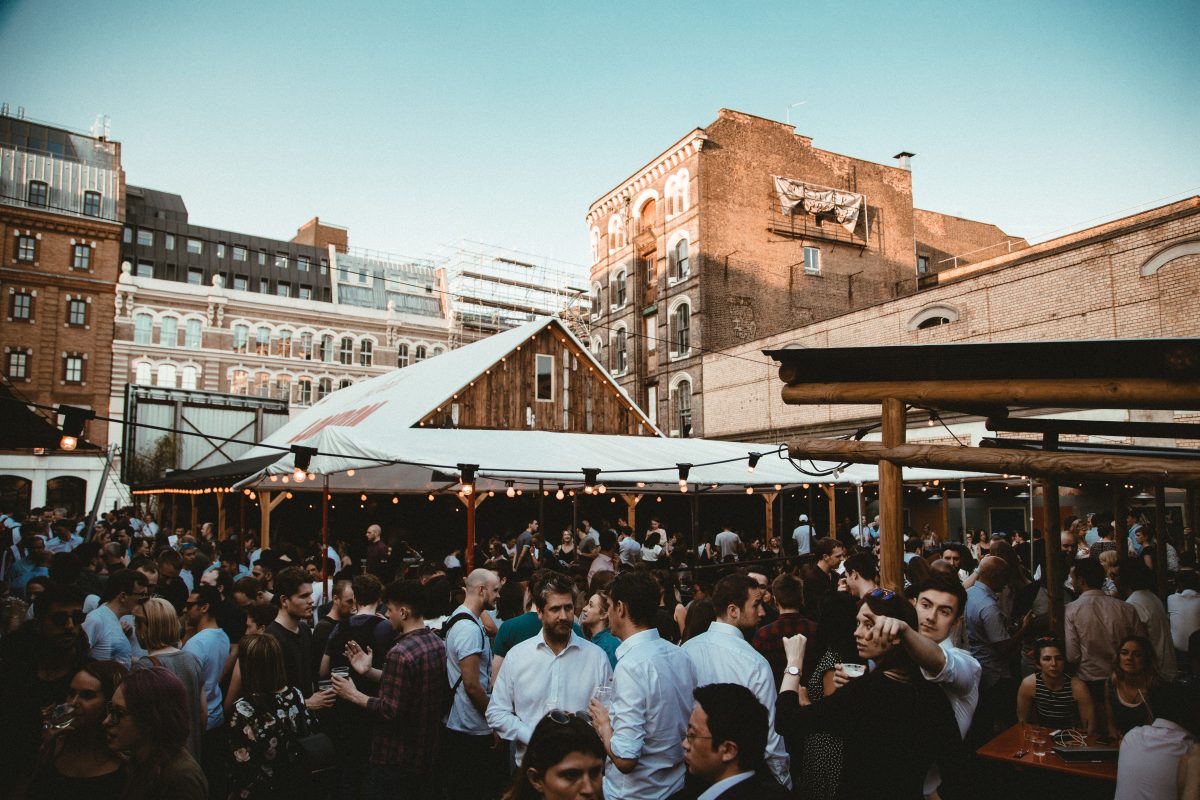 What: Fancy a slice of #EverydayActivism? From the folks behind Pebble Mag, a leading authority on all things green living, sustainable design, ethical fashion, slow food and eco-travel, comes a one day eco-extravaganza packed to the brim with debates, talks, speakers, workshops, slow fashion, plastic free living, zero waste skincare and so much more. Come along to learn how you can help the planet, whilst indulging in a delicious vegan feast courtesy of Rude Health, sipping on sustainable cocktails, and chilling out to the beats of the live bands and DJs who'll be playing throughout the day.
When & Where: 10.30am – 8.30pm, Flat Iron Square, 64 Southwark St, London SE1 1RU
How Much: £8 if booked in advance here, £12 on the door
What: Big screen. Wood-fired pizza. Beer and Wine. What's not to love? This Saturday at the Chiswick outpost of Brew Cafe they're screening comedy classic Zoolander, starring Ben Stiller and Owen Wilson, in which a past-it male model is brainwashed into becoming an international man of murderous mystery. Book your place on their couch before space runs out (a little birdy tells us it usually does!) and note that your ticket includes a pizza of your choosing, film and a glass of beer or wine.
When & Where: 7.45pm, Brew Cafe, 42 Chiswick High Rd, Chiswick, London W4 1PU
How Much: £13. Book here.
Sunday 28th April 2019

What: If you've decided to sit the London Marathon out this year, there is still a chance to get moving this weekend. Introducing EleFit, a jam-packed weekend of fitness and wellness in Elephant & Castle. From toddler raves and kids yoga, to over 65's cheerleading, an 80's fitness dance class and Tai Chi, there really is something for everyone at this weekend-long event. Fitness stalwarts GymBox will be in session, as will the Ministry of Sound with their signature aerobics class, and  London Tibetan Buddhism Centre who will be guiding the weekend's meditation practices. Alternative lattes, think matcha and turmeric teas, will be served alongside more traditional caffeinated beverages by Bermondsey favourite Hej Coffee, who will be attending with their new milk float, Ernie, in tow!
When & Where: 11am – 3pm, Castle Square, 40 Elephant Road, London, SE17 1AY
How Much: Free
What: There is very obviously nothing that says 'weekend' more than heading to the pub for a roast with your mates. It can however be a little tricky to join in with the pomp and festivities if you're vegan. Well, never fear, we have found possibly the best vegan roast in London, so rally the troops at get down to The Elgin, W9. Their Mushroom & Spinach Wellington with beetroot, braised leeks and vegan gravy is not to be sniffed at. To say it compares favourably to it's meatier counterparts is an understatement, and you'll be shooing away envious forks all lunch time long. Oh, and did we mention the Yorkshire Puds? They are the crowning glory and the cherry on the top of this (very vegan) cake.
When & Where: Lunch served from 12.30 'til it's gone, 255 Elgin Ave, Maida Vale, London W9 1NJ
How Much: Mains from £12.50. Book your table here.
What: This Sunday marks the last of the Firmdale Hotel's Spring Sundowner pop-up season. Enjoy a lingering end to the weekend with a drink in hand as you watch the sun set over London from the leafy roof top garden of the Ham Yard Hotel in Soho. Sample seasonal cocktails and biodynamic wines, perfectly paired with delicious cured meats, cheeses or 'Garden Platters' from local producers. We can't think of a better way to say goodbye to the weekend and get ready for the week ahead.
When & Where: From 4pm, Ham Yard Hotel, 1 Ham Yard, Soho, London W1D 7DT
How Much: £12 including a Rooftop Garden welcome cocktail. Book here.