There's so many fantastic Christmas events in London this week, that we had to make our regular top 5 column into a top 7! Hey, it's Christmas – right? From pop-up shops to one-off dinners, here's seven Christmas events in London you simply can't miss this week. Let's get into the festive spirit:
1. For Festive Food: Winter Wonderland at The Wood House, Dulwich
What: Christmas events in London don't come much better than this. As the trees on Sydenham Hill twinkle with fairy lights, find an array of festive treats at Winter Wonderland at The Wood House, Dulwich.From Monday 16th November, the beloved southeast London pub's outdoor space will sing with traditional Yule tidings, transformed by a festive market, Santa's grotto, Alpine ski chalets and a stunning 12ft Christmas Tree.
Why: The Christmas Market will offer a wide range of seasonal food and drink, from toffee apples and roasted chestnuts to homemade cookies and mulled wine and cider. Nearby, the Burger Shack will be grilling sensationally succulent burgers served with curly fries and craft beers and hot dogs straight from the barbeque. Kids will be filled with Christmas spirit with a visit to Santa's Grotto. On 21st December, a real life Rudolf will be present outside the Grotto from 1-5pm ahead of the big flight. You can embrace the atmosphere in one of the heated Alpine-style ski chalets, all topped with snow, surrounded by rope lighting and complete with tartan blankets, cushions and tables topped with traditional Poinsettia.
Details: Winter Wonderland at The Wood House starts on 28th November running 4-7pm every Friday, between 12 –7pm each weekend until 20 December and then as the big day approaches every day (12-7pm) between 21 and 24 December. 
Price: Free entry, £10 to enter Santa's Grotto
Where: The Wood House, 39 Sydenham Hill, London SE26 6RS
2. For Christmas Fun: Christmas Masterclass at The Royal Exchange
What: There's a great range of Christmas preparations happening at The Royal Exchange on the 16th of December. Working with experts in their field, The Royal Exchange will showcase how to exquisitely gift wrap, flower arrange and table dress for the holiday season. This is a must-attend invite only event for all those seeking inspiration in how to create the perfect Christmas at home. One of our favourite Christmas events in London for the expert festive shopper.
Why: The Christmas specialists taking part in the Christmas Masterclass include Jane Means, professional gift wrapper to the Queen and Harvey Nichols. Jane will show you how to tie the perfect bow, wrap seamlessly and cut circles around those tricky presents. Also Smythson are providing bespoke stationery for beautiful calligraphy scribed gift cards by Paul Antonio Studio to add a personal finishing touch to any present for Christmas.
Details: Wednesday 16th December – 18.30-21.00pm.
Price: Tickets are available on request and spaces are reserved on a first come first served basis.  RSVP to secure a place to rsvp@theroyalexchange.co.uk.
Where: The Royal Exchange, London, EC3V 3LR
Pic Credit © Gareth Davies
3. For Christmas Skating: Skate and Dine at in the City
What: Skate and Dine at in the City is the perfect festive treat. Broadgate Ice Rink, the longest running in London, is the capital's ice rink to Skate and Dine – great for skating, followed by a fantastic meal. One of our favourite Christmas events in London if you like to have your cake and eat it.
Why: Broadgate Circle offers a myriad of neighbouring restaurants, meaning skaters can go from rink-side to restaurant in a matter of minutes. Whether it's a steaming hot bowl of ramen at Shoryu, a protein-packed steak at Gaucho or a feast of Spanish tapas accompanied by a glass of Rioja at Jose Pizarro, there is a refuel option for everyone post-skate with over 30 restaurants to choose from.
Details: Perfect for skaters of all levels and ages, you can skate from morning to night, 10am-10pm from 16th November 2015 to 25th February 2016.
Price: Adults £13, Children £9, Family £35
Where: Broadgate Ice Rink, Exchange Square EC2A 2BQ – a two-minute walk from Liverpool Street Station and Broadgate Circle.
4. For Culture: That is All You Need to Know
What: If you're looking for something cultural, go see this fantastic play: That Is All You Need To Know. It's by an amazing all-female theatre company Idle Motion which tells the story of the code breakers at Bletchley Park during WWII (the same story that inspired The Imitation Game movie which starred Mnsr Cumberbatch et al).
Why: Idle Motion, having met at a school in Oxford, are fast gaining a reputation internationally for producing poignant, innovative and visually arresting contemporary theatre setting physical elements against imaginative staging and multimedia backdrops. That is All You Need to Know is a celebration of humanity's ability, to solve the most complex of problems, to crack life's impossible codes, and of the extraordinary people whose quiet work changed the course of our history.
Details: New Diorama Theatre, London, 15 – 19 December 2015, 7:30pm
Price: £14.50 / £13.50 concession
Where: 15-16 Triton Street, Regents Place, London, NW1 3BF, London NW1 3BF
5. For Charity: Cancer Research UK Concert
What: Cancer Research UK is bringing together world-famous opera singers and actors for an evening of Christmas cheer on Tuesday 15th December at the iconic St. Paul's Cathedral this festive season. The concert, which has raised more than £2million since its inception, will feature readings by Hugh Bonneville, Robert Peston, Tom Hollander, Cressida Bonas and Penelope Wilton, as well as exclusive performances from English soprano Kate Royal and British bass Matthew Rose.
Why: A highlight in London's Christmas social calendar, tickets to this year's concert will be available from Thursday 17th September, with prices starting from £30, going up to £125 for the best seats in the Cathedral.
Details: For more information on the event, visit crukconcert.org.uk, or to purchase a ticket please contact the Barbican Box Office on 020 7638 8891 or visit www.barbican.org.uk.
Price: From £30
Where: St. Paul's Churchyard, London EC4M 8AD
And one for luck…
6. For Ballet: The Little Match Girl at Sadler's Wells
What: Following a sell-out season last Christmas and 5 star reviews, Arthur Pita's magical dance theatre production of The Little Match Girl returns to Sadler's Wells. One of our favourite Christmas events in London for all the family!
Why: Based on Hans Christian Andersen's classic story, this touching tale of a young street girl's hopes and dreams is beautifully told through dance, song and original music performed live on stage. A spell-binding festive treat for all the family ages 5 and over.
Price: Adults £18 / Children £12
Where: Lilian Baylis Studio, Sadler's Wells, London
7. For Yogis: Yoga at Tower Bridge Walkways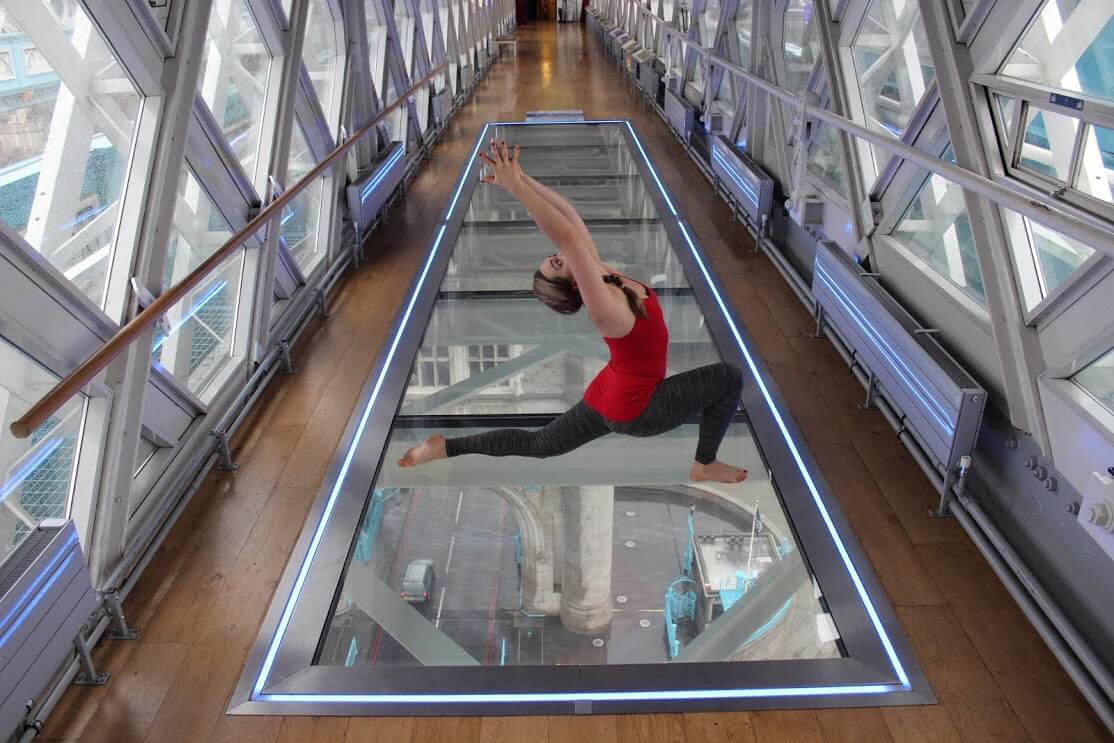 What: Get it while you can! This week sees the final yoga session of the year taking place on Wednesday 16 December at Tower Bridge Exhibition's high-level Walkways. One of our more unusual picks of Christmas events in London, but we really think yoga is just what you need during this hectic festive season.
Why: Yoga enthusiasts of all levels can take up their position on the High Level Walkways and enjoy stunning panoramic views of London. Adventurous yogis have the chance to practice their downward facing dog on the glass floor and see the Thames flow beneath their feet as they flow through the poses.
Details: Wednesday 16 December (7:30am-8:20am, arrivals at 7.15am)
Price: £25
Where: Tower Bridge Exhibition, Tower Bridge Road, London, SE1 2UP.