June Guide: 5 Food and Drink Events in LondonBy Iona Goulder
Looking for fun things to do in October? We've got just the article. From a charitable supper club to a not-to-be-missed Sunday wine tasting experience, here's our picks for this month:
What: The Tamil Prince reaches its first birthday and on Saturday 24th June celebrates with a glorious dinner and party. Known for seamlessly combining the British pub with the South Indian food of Tamil Nadu, the pub has rapidly grown in popularity following a number of glowing reviews throughout the year.
The Event: For one night only, The Tamil Prince offers a set menu based around India's most popular dish: biryani. A selection of starters includes masala mutton roll, onion bhaji and masala dosa. The main event features Vegetable biryani, Prawn moilee and Roasted pepper chicken or Tawa grilled sea bream. Clay pot kheer finishes the meal.
Where: The Tamil Prince, 115 Hemingford Road, London N1 1BZ
Tickets are £60 each. Buy here. 
What: Following the success of his first dinners, chef, restaurateur and food writer, Sami Tamimi will continue his NAFAS Supper Club Series – in support of FairTrade Palestinian farmers and producers – with two new events on 15th and 29th June at the Refettorio Felix community kitchen
Why: Celebrating the culinary heritage of Palestine and sustainable, low-carbon British produce, Sami takes guests through the Palestine coastline with sunny plates of summer's finest vegetables, grains, orange blossom and plenty of tahini. Served family style to encourage guests to share food and conversation, tables will be laden with freshly baked bread with za'taar to mop up Muhamara, Labneh and Hummus; alongside Musaqa'a – an Aubergine, chickpea and tomato bake; and Fish kofta with spicy fennel salad and preserved lemon yoghurt. Full menu below.
Where: Refettorio Felix at St Cuthbert's Centre, 51 Philbeach Gardens, London SW5 9EB
Tickets are £95 per person, with an additional wine pairing available for £35. Further information here.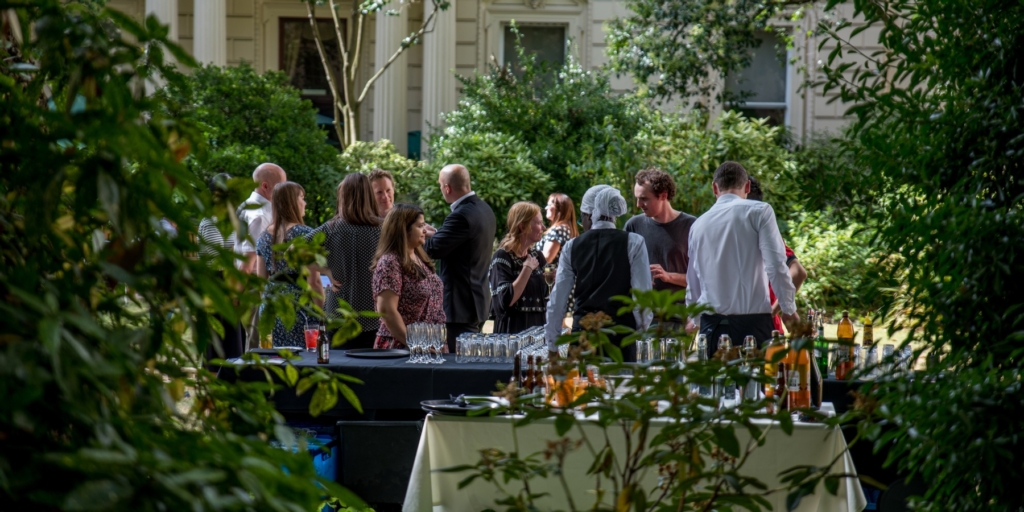 What: Searcys' first-ever 'Bubbly Show' makes its debut on Friday 23rd and Saturday 24thJune. Taking place at the  10-11 Carlton House Terrace by Pall Mall and hosted by restaurateur Searcys, expect a two-day celebration of all things fizz, filled to the brim with tastings, talks and dining experiences to remember.
The Event: With tickets starting from £49 per person, including eight samples of champagne and sparkling wine and access to talks, sip your way through an array of bubbles from top producers, including Taittinger, Perrier-Jouët, Chapel Down, Gusbourne and Greyfriars, with plenty of nibbles, afternoon tea and an on-site bar to keep you topped up. Talks and guided tastings include: a 'Battle of the Bubbles' England vs France showdown, Laurent-Perrier 'Grand Siècle' Champagne Dinner and The Art of Sabrage.
Where: 10-11 Carlton House Terrace, London, SW1Y 5AH
Booking is essential. More info here.
What: Bar Douro London Bridge has introduced a Sunday Wine Tasting Series, in partnership with a number of exciting Portuguese wine producers, exclusively on Sundays throughout June.
The Event: Sunday Wine Tastings – 5 for 5 | Meet the Winemaker series offer a rare opportunity for wine enthusiasts and novices alike to explore Portugal's diverse and dynamic wine scene. On 18th June, Hugo Mendes will be in the spotlight. Hugo likes to work with local varieties from Lisboa and Tejo and heritage techniques in the Alentejo where he makes an accomplished Talha wine. Lastly, on 25th June, guests will have the pleasure of meeting Miguel Queimado from Vale dos Ares, a boutique family-owned winery producing single varietal Alvarinho from the Monção e Melgaço sub-region of Vinho Verde.
Where: 35B, Arch, 85B Southwark Bridge Rd, London SE1 0NQ
Tickets for the Sunday Wine Tastings – 5 for 5 | Meet the Winemaker series cost £5, offering participants five 50ml tastes of the showcased wines. For those seeking a more indulgent experience, a pairing bite can be added for an additional £5, making the ticket price £10 in total. Tickets can be purchased here.
5. For a Food Festival: Thailand Showcase
What: Get ready to have the Thai-m of your life as the much-anticipated "Thailand Showcase" makes a return to London this summer. From 16th – 18th June 2023, the very best of Thai food, drink, arts and culture will take over Canopy Market in Coal Drops Yard, King's Cross for a three-day event that will bring to life the colourful culture of Thailand.
The Event: Immerse yourself in all that the country has to offer as London's top Thai chefs serve up classic dishes from all regions of Thailand, including pop-up restaurants from Patara, Nipa by Royal Lancaster London, 101 Thai Kitchen, Slurp Noodle and Mali Vegan. Vendors will also be selling contemporary Thai jewellery, modern crafts, homewares, and so much more, all of which are typical of the country's famous night markets.
Where: Canopy Market, King's Cross, London, N1C
The Thailand Showcase event is open to the public and is free entry