Competition: Win £5,000 in Flights to Thailand + VIP Prizes with EatFirstBy Angelica Malin
Exciting news y'all! EatFirst, the gourmet online restaurant which started in London, has now launched nationwide. To celebrate, EatFirst have teamed up with guest chefs KraPow LDN and Thai Airways to offer two readers return tickets to Bangkok worth £5,000. Simply enter here and read on to discover more:
EatFirst x Thai Airways: The Prize
They are generously giving away:
2 x pairs of return flights to Bangkok on Thai Airways
2 x £100 EatFirst Gift Cards
10 x Tickets to a Thai Cookery Class with KraPow LDN at Bourne and Hollingsworth on October 24th 2017
The Great Taste Award-winning kitchens of Head chef Benn Hodges are finally open to everyone in the UK with a brand-new range of meals created by a dedicated team of chefs. Aimed at discerning foodies looking for healthy alternatives to takeaway, EatFirst offers restaurant quality ready prepared meals produced and delivered directly from a central kitchen in Whitechapel.
EatFirst x KraPow LDN: The Collaboration
Inspired by their travels around Asia, the KraPow LDN founders – Richard and Paul – developed a taste for fiery street food in Northern Thailand. Launched in 2016, KraPow LDN has been serving up Thai flavours to the people of London and the UK at Druid Street Market, Victoria Park Market, Leyton Food Market, London Food Month's Night Market, Camp Bestival & Bestival and EatFirst.
EatFirst x KraPow LDN: The Menu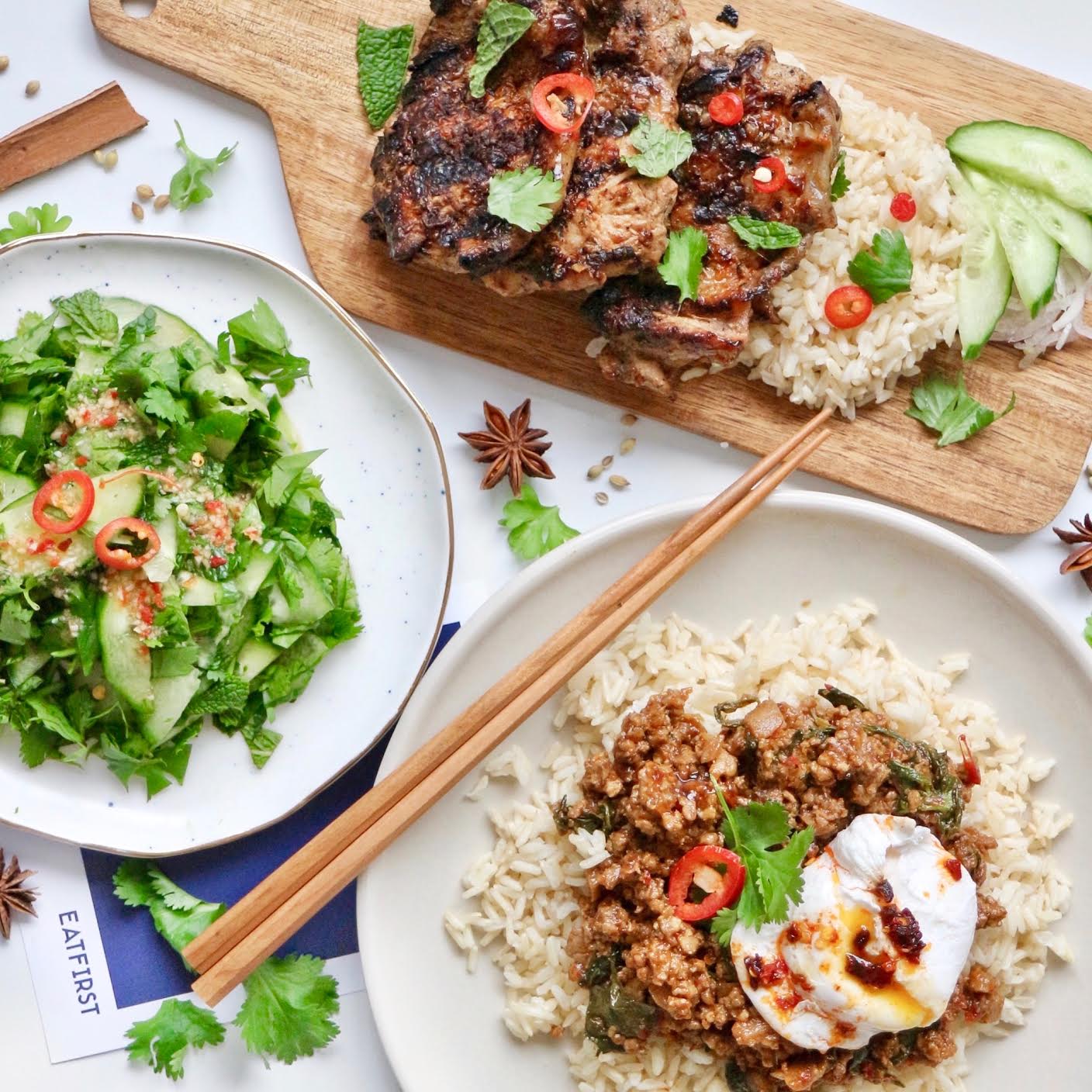 Photocredit – @the_lazyfoodie
Kra Pow – Pork and basil stir fry, with rice and poached egg, £9.99
The signature dish, and namesake from Druid Street Market legends KraPow LDN. A deliciously spicy northern Thai pork dish made with basil, chilies, ginger, onion and garlic. Served alongside brown jasmine rice and a poached egg, it's a perfect one-dish meal.
Gai Yang – BBQ chicken and rice and Thai salad, £8.99
The ultimate Northern Thai dish from KraPow LDN. Fresh chicken thighs are marinated overnight in a blend of intense flavours: coriander root, lemongrass and garlic. Chargrilled and served with brown jasmine rice, mint cucumber salad and a spicy Nam Jim Jaew sauce.
Laab Gai – Chilled minced chicken salad served inside lettuce leaves, £7.99
A famous Thai classic full of protein and packed with nutrients and vitamins recreated by the KraPow LDN boys. Minced chicken is served cold with fresh mint, herbs, shallots, toasted rice powder, dried chilli, lime juice and fish sauce. 
Sponsored post in assocation with EatFirst. Minimum orders £12.50 in London £40 Nationwide. For more information about EatFirst, and to enter the competition, see here.