Looking for the best rooftop bars in central London? Never fear, About Time is here. Discover our favourite rooftop cocktail spots for making the most of the sweet rays this summer. If you're looking for the best rooftop bars in central London, read on:
Best Rooftop Bars in London: Oxford Street 
1. The Roof Deck Restaurant and Bar
What We Say: One of the best rooftop bars in central London for sure. If you're hankering for the sunnier climes of sweet LA, check out the new Roof Deck Restaurant & Bar by restaurateur Des McDonald. The bar is inspired by the cool Californian lifestyle and we totally love it. Sack off the shopping and head up to the roof.
Eat and Drink: The menu features small plates and an array of starters, including tuna ceviche with kohlrabi, avocado, cilantro, almond and nigella seed hummus with seasonal vegetables and black kale with chicory, spelt, scorched feta and honey mustard dressing. There's also some great main courses, such as charred monkfish, scallops and bacon, summer vegetable freekeh and habanero dressing and free range chicken with heritage tomatoes, fennel, capers, olives.  For pudding, Executive Pastry Chef Siobhan Ambrose has created a dessert menu including lime and coconut meringue pie, and an avocado and pistachio ice cream sandwich.
Where: Selfridges Roof Top, 400 Oxford Street, W1A 1AB (Express lift on the Ground Floor in the Fragrance Hall)
What We Say: John Lewis always pulls it out the bag with their summer offering and this year is no exception. They've gone the whole nine yards with the garden theme once again – think potting sheds, Britain's smallest rooftop pub, faux grass and plenty of wooden garden furniture. This is one of London's worst kept secret – as soon as the sun hits, this place fills up.
Eat and Drink: The kitchen team from Foley's heads up the kitchen with their bold Middle-Eastern and Asian flavours with Mexican street food influences. The bespoke Foley's and John Lewis menu includes burnt chicken ends with Korean BBQ, spring onions and sesame seeds, spiced sweet potato fritters with grilled pineapple, cured red onions in a saffron coconut curry and slow cooked octopus taco stuffed with black sesame mayo. To finish, try the pannacotta served with coconut, lemongrass, lychees, chilli and chocolate crumble.
Where: 300 Oxford St, Marylebone, London W1C 1DX
What We Say: Sisu, on the corner of Marble Arch, is a decent rooftop if you're looking for a no frills al fresco dining spot that serves great street food and cocktails. Word of warning: there's no lift, so prepare to tackle numerous flights of stairs (kind of feels like you're trying to find your car in an NCP car park).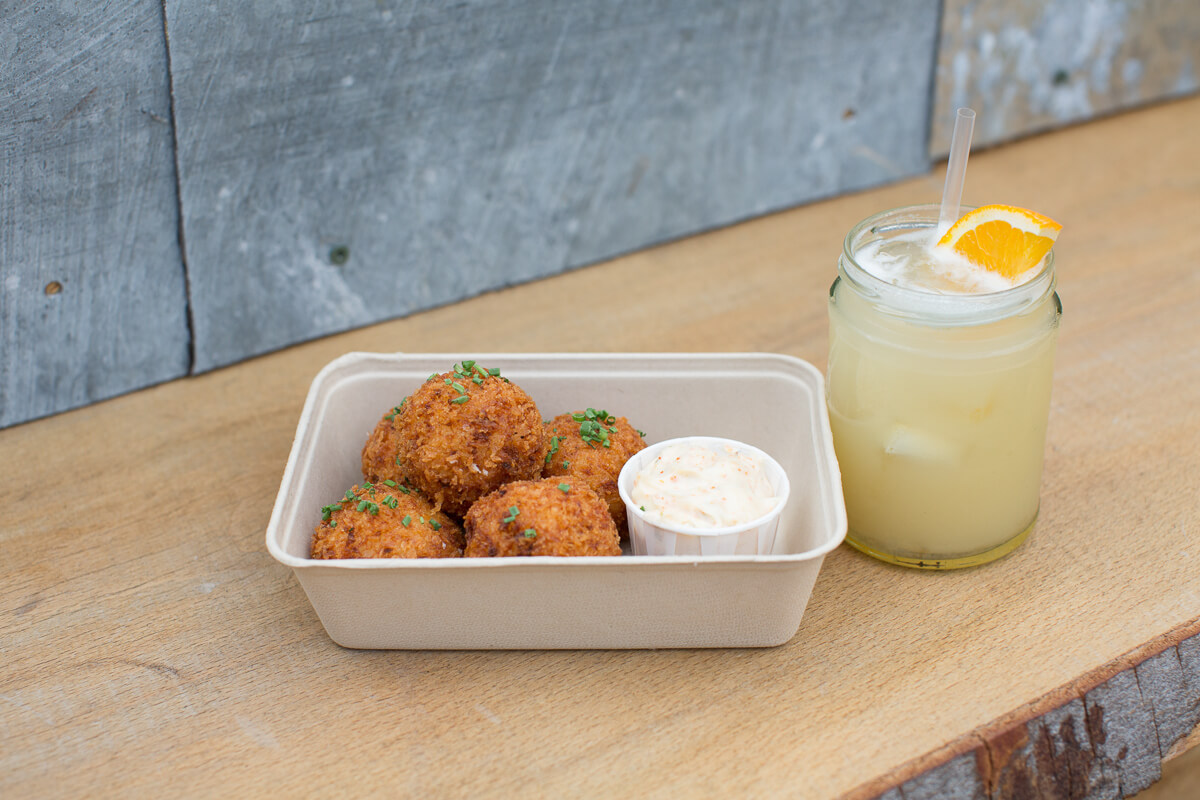 Eat and Drink: Made from up-cycled windows and overgrown with foliage, the RetrEat is where you can shelter from the elements and tuck into an international street food menu featuring the likes of miso aubergine tacos, fried chicken waffles, crispy squid with shredded kimchi, Canadian-style poutine (basically chips and cheese with gravy), and cheeseburger sliders with pickled jalapeños. Besides Negronis and Old Fashioned, Sisu is serving Camden Town Brewery beers, Caple Rd cider, wine, plus a range of cocktails. Signature pours range from the light, summery Florodora, a medley of Bulldog gin, fresh raspberries and ginger to the warming Howler with Wild Turkey 81 bourbon, apricot preserve and lemon.
Where: 535 Oxford Street, London W1C 2QW
What: If you're coming, come at night. Seriously. The terrace at aqua nueva is simply unbeatable when the sun goes down and the lights come up. It ain't the cheapest, but is it worth it? Absolutely. And this summer, the bar has teamed up with Ciroc Vodka to The Formentera Terrace. A slice of Ibiza has arrived in London. One of the best rooftop bars in central London without a doubt.
Eat and Drink: Light and summery cocktails, expertly mixed by Nico Peratinos with Cîroc Vodka, including Nueva Spirit, a medley of Cîroc vodka, elderflower cordial, lime, sliced cucumber, ground pepper and topped with Cava. There's also Sunset on Regent Street with Cîroc Red Berry, Aperol, Yellow chartreuse, honey, raspberry syrup and lime and the Formentera Colada, a heady mix of Cîroc Summer Colada, coconut cream, lime, pineapple, Manzanilla and Abbott's bitters.
Where: 5th Floor, 240 Regent Street (Entrance 30 Argyll Street), LondonW1B 3BR
Best Rooftop Bars in Central London: Paddington 
What We Say: Pergola Paddington Central is much like its older sibling found in White City; there's street food, ample seating, day-to-night vibes and plenty of funky tunes. Best to head there on a Saturday afternoon with all your chums. One of the best rooftop bars in central London when you're looking for something easy and casual.
Eat and Drink: As well as Patty & Bun, whose burgers have become a legendary London fixture (go for the bacon cheeseburger), Pergola Paddington Central also plays host to four restaurants: Mamalan, serving authentic, handmade dumplings, noodle soups and street snacks from the heart of Bejing; DF/Mexico, an East Coast-style diner with an experimental menu of American and Mexican fast food, Decatur, specialists in the distinct Louisiana-style and Raw Press who offer a selection of healthy vegan, gluten-free salads and juices.
Where: 5 Kingdom St, London W2 6AE
Best Rooftop Bars in Central London: Southbank 
What We Say: Everyone goes barmy for Dandelyan on the ground floor of Mondrian London (and rightly so, their cocktails taste like liquid dreams). But if you're after views – head up to the Rumpus Room for British-American inspired cocktails. One of the best rooftop bars in central London, hands down, and a great place to impress a date. Make sure you like them though – it's £18 a pop for an Espresso Martini.
Eat and Drink: A carefully designed drinks list from Head Barman Idris Conti include the R.I.N elixir made with celery and absinthe drops, citrus, rice, tea and apple shrub, Bombay Sapphire gin and tonic water, and Farmer's Punch, made with Falernum, maraschino, citrus, Amaro Averna and Germana 2yo Cachaca, as well as a thorough list of independent spirits and soft drinks.
Where: Rumpus Room, Mondrian London at Sea Containers, 20 Upper Ground, London SE1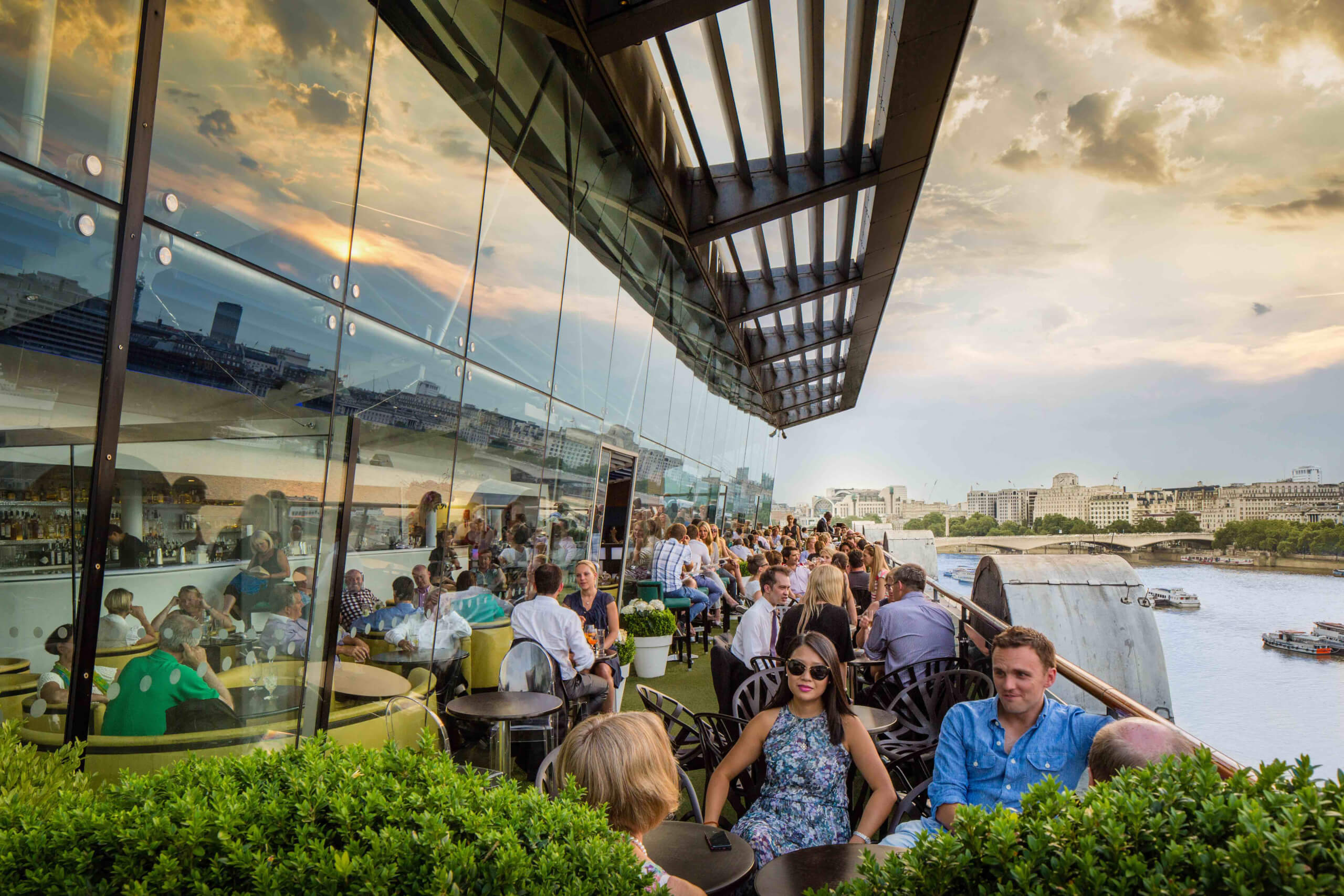 What We Say: OXO Tower is cool. The kind of cool you need on a date, when you want to make a great impression. The views are amazing, the cocktails are slick, the nibbles are delicious. If you're willing to take a little hit on the old bank balance, this is one of the best rooftop bars in central London. Trust us: you don't want to miss it this summer.
Eat and Drink: There's a ton of dining arrangements at the OXO Tower. If you're after a light bite/bar snacks, head to the OXO Bar for dishes such as fried vegetable dumplings with sweet chilli sauce, fried squid with parmesan aioli and charcoal grilled flatbread, tzatziki and muhammara. And they serve a fantastic weekend brunch too. The lively OXO Tower Brasserie offers an innovative all-day dining menu, and the OXO Tower Restaurant boasts a seasonal menu created by Head Chef Jeremy Bloor and an extensive wine list of over 800 wines.
Where: 2 Barge House St, London SE1 9GY
What We Say: A true oasis at the heart of Southbank Centre; stop by this bar for riverside views, and knock back a few cocktails. If you're a nature-lover, you'll adore the roof garden with its allotments, fruit trees and wild flowers.
Eat and Drink: There's a cafe and bar knocking up all the regular drinks and bites you usually find. There's pint in plastic beakers, ciders, house wine and other pub favourites. Hungry? Hit up the snack selection for sweet treats and other refreshments.
Where: Southbank Centre, Belvedere Rd, London SE1 8XX
Best Rooftop Bars in Central London: King's Cross 
What We Say: Not a fancy rooftop bar, but does the job all the same. Decent watering holes are few and far between around the King's Cross area – but the Big Chill comes out top with the boozy offering. An acceptable place if you want a good feed and a few pints under the London rays.
Eat and Drink: The menu is spilt into two: burgers and tacos and snacks. From the burger selection there's the classic beef, pulled pork with slaw and rocket, chicken topped with bacon and cheese, and the halloumi for the veggie brigade. There's four varieties of tacos (hello spicy buffalo chicken), along with nachos, wings, loaded fries, and jalapeño poppers.
Where: 257-259 Pentonville Rd, Kings Cross, London N1 9NL
Best Rooftop Bars in Central London: Soho
What We Say: The ideal place for summer cocktails with your girlfriends, and one of our favourite rooftop bars in central London, the interiors at Ham Yard Hotel are worth coming for a visit alone. Ham Yard is the perfect balance of elegance and laid-back chic, a little oasis in the heart of central London. Come for the fresh breeze, stay for the killer cocktails.
Eat and Drink: Usually the roof terrace is only open for residents, however this summer, they're opening the terrace to the public for a special tasting afternoon tea. Featuring all the well-loved staples of traditional afternoon tea, including finger sandwiches, scones and Champagne, this new experience adds another layer, offering inspired sweet and savoury treats, from garden bowls and risotto cups to seasonal cocktails and hand-picked infusions.
Where: 1 Ham Yard, Soho, London W1D 7DT
What We Say: A little known gem in central London, you won't have to queue to get into Sanctum Soho, which makes a welcome break from your usual rooftop bars in the capital. Sanctum is a low-key, easy bar that makes great classic cocktails, with free sports screenings throughout the summer.  Cheeky after-work cocktail or 5?
Eat and Drink: The mixologists make a mean Espresso Martini, and their other creations aren't half bad either. Keep the post-drinking munchies at bay with their small bites menu. Feast on flatbreads with hummus; mushroom gnocchi bites; salt and pepper squid; and mini burger and chips.
Where: 20 Warwick St, Soho, London W1B 5NF
Best Rooftop Bars in London: The Strand 
What We Say: Don on your best dress and heels if you're heading to Radio this summer. Radio, at the ME Hotel, is very much somewhere to be seen. The vibe is glitzy, glam and flashy, but don't let that put you off – the nibbles and cocktails here are divine, and there's nowhere with views like it in London. Be prepared for a long queue on weekends.
Eat and Drink: You have to drink Champagne, obviously. There's classic cocktails alongside more inventive tipples, and if you're after a weekend feed – opt for their boozy brunch. The menu feature ricotta pancakes with banana and honeycomb butter; buttermilk chicken with waffles and maple syrup; as well as poached egg with croissant, avocado, chilli, lime and coriander. A range of sweets are also available, from a strawberry sundae to doughnuts, and hot chocolate with chilled vanilla rice pudding
Where: 336-337 Strand, London WC2R 1HA
Best Rooftop Bars in Central London: Fitzrovia 
13. The Prince of Wales Feathers
What We Say: If you're more of a pub than a cocktail bar kind of person, then this is the place for you. Just over the road from Warren Street tube and a short stroll from Tottenham Court Road, The Prince of Wales Feathers is an elegant pub that serves every drink with a large dash of bohemian charm. Come here for all the beer, and tasty delicious nibbles while you're at it.
Eat and Drink: The pub stocks a range of beers on tap and in the bottle including brews from small local cask brewers, innovative craft masters and some well-known beers from around the world. Spice your own Bloody Marys to help kick-start your Sunday (or any day), or cool down with a pint of larger and a packet of crisps. If that doesn't take your fancy they have a dedicated sandwich menu featuring all kinds of bread-y wonders. The toasted salt beef Reuben with sauerkraut is hard to beat.
Where: 8 Warren St, Bloomsbury, London W1T 5LD