Top 12: London Happenings You Need to Know About This MonthBy Angelica Malin
Wondering what to do in London this month? If you're looking for something fun and quirky to do in the sunshine in London, we've got it covered. The capital is brimming with fun-filled events, parties, special festivals and collaborations at the moment – here's our pick of 10 summer happenings you can't miss:
What: The world's favourite champagne, Moët & Chandon, is bringing back Moët Party Day on 17th June.
The Lowdown: The worldwide celebration comes following the success of the first Moët party, which took place last June. The UK is prepping to celebrate across 40 bars and restaurants, including five in London – we're too excited.
What to Expect: In West London, to mark the 24-hour international celebrations Moët is bringing the first champagne truck to the capital with Moët Ice Impérial. Parking up at Bluebird Chelsea, West London guests can enjoy champagne on the rocks. Party in style, as you enjoy a champagne brunch and all-day BBQ with flowing Moët Ice Impérial, whilst DJ Jessica Muller spins the decks.
Meanwhile, in East London, Sky Garden is bringing the ultimate brunch to the party at 36 floors high. The ticketed brunch at £49.50 per person, will celebrate the start of summer with extraordinary food, a relaxed atmosphere and live music from one of Sky Garden's favourite DJs. In Spitalfields, Galvin HOP, the pub deluxe from Michelin-starred brother Chris and Jeff Galvin, will be hosting a special Moët Ice DJ night and Moët favourite Madison will be transforming its ever-impressive rooftop into a Party Day hotspot. In Central London, Edwardian Hotels London is celebrating Moët Party Day by hosting a duo of signature teas at its pop-up, at The Hampshire Lounge Bar, each paired and infused with Moët & Chandon Ice Impérial. Glorious.
Book: More information here
What: Need somewhere for cocktails in the sunshine? Discover Roof Deck Restaurant & Bar, the seventh rooftop collaboration between Selfridges and restaurateur Des McDonald.
The Lowdown: Inspired by the relaxed, cool Californian lifestyle, the latest Selfridges rooftop pop-up brings a taste of American West Coast living to the heart of London's Oxford Street.
What to Expect: It's the perfect spot to revel in the summer sunshine with Cali cocktails, there's a bar inside with a fully retractable roof and there's another on the terrace with a cabana for shelter. Guests can sip on fresh West Coast inspired cocktails, including the cucumber & chilli margarita with Tequila, agave, Habanero chilli, lime juice, cucumber and chilli salt and the clementine mojito with Havana Especial, clementine coulis, citrus, Angostura, fresh mint and soda.
Address: Selfridges Roof Top, 400 Oxford Street, W1A 1AB
What: Merguez Mama Burgers at Haché – a limited-edition burger from celebrity chef Sabrina Ghayour.
The Lowdown: Haché, the burger connoisseurs, has teamed up with the very talented Sabrina Ghayour to develop the limited edition Merguez Mama burger. The burger will be available from all six Haché locations across the city for the month of June only, to coincide with London Food Month.
What to Expect: Just to remove any guilt from tucking into this delicious meal, Haché has teamed up with Action Against Hunger to donate £1 from the sale of each burger to the charity. As an ambassador to the charity, Sabrina is hoping this tasty burger will prove very popular, raising as much money for the charity as possible.
Where: More information here
What: Looking for the perfect date night? The View from The Shard will be hosting a one-off midnight screening of Oscar winning film La La Land on July 7th.
The Lowdown: Hosted in conjunction with The Extraordinary Travelling Film Club, guests will be able to experience the attraction after its closed to the public before watching the film 800ft above London's glittering skyline at the UK's highest pop-up cinema.
What to Expect: The film will be screened on the open-air Skydeck on Level 72 of the attraction, surrounded by 360-degree panoramic views of the city, the most apt setting for the year's most romantic film. A jazz pianist will perform on the evening and admission includes entrance to the viewing gallery, a glass of Grey Goose Le Grand Fizz, a refreshing summer cocktail.
Book: Tickets are available to book online here – £45 per person and includes a free glass of Grey Goose Le Grand Fizz.
Where: Railway Approach, London SE1 9SG
What: Celebrate British summertime with a spot of al fresco dining at one of the capital's most iconic art galleries.
The Lowdown: Rex Whistler restaurant at Tate Britain will be serving picnic hampers stuffed full with great British produce this summer. The picnics are handpicked from artisan suppliers across the country, including a choice of cold cured meats, British cheeses from Neal's Yard and Paxton & Whitfield as well as top quality smoked salmon from Pinney's of Orford.
What to Expect: Expect an impressive selection of Tate Made treats; freshly baked bread and homemade chutney followed by cakes and scones with Cornish clotted cream and raspberry preserve. Complete with Clovelly hamper and picnic blanket, customers are encouraged to laze out on the Rex Whistler lawn with views of the river and enjoy first class food in a first class setting. Picnickers can also enjoy a range of excellent wines from Tate's wine cellar.
Book: Guests can pre order their hampers by contacting tate.restaurant@tate.org.uk or calling 02078878825.
Where: Millbank, Westminster, London SW1P 4RG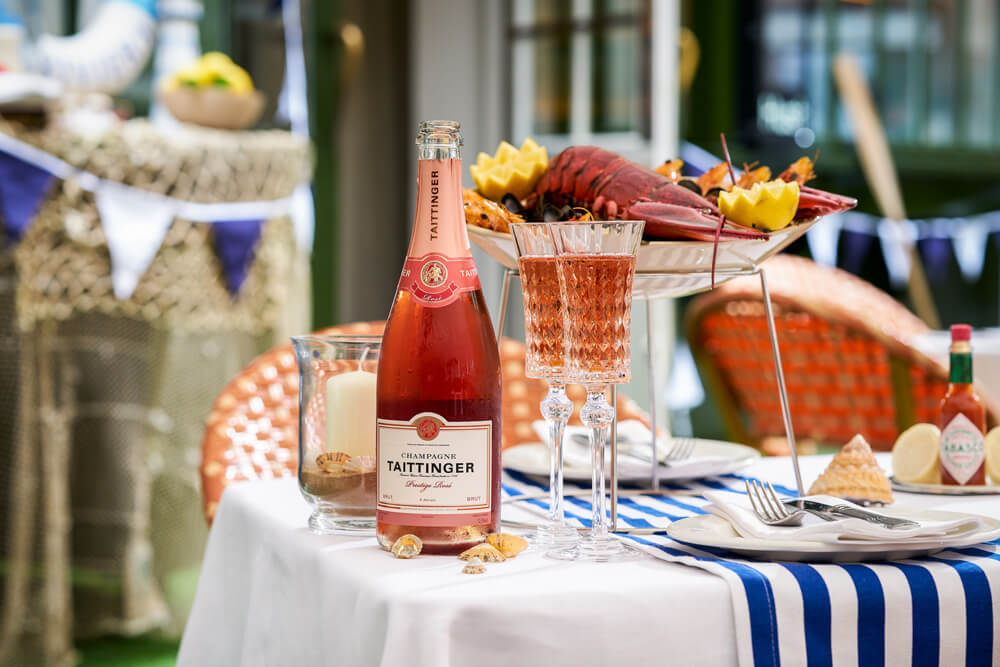 What: Fancy a spot of outdoor dining? Hush presents Riviera, a 1920s Art Deco-inspired extravaganza that will bring all the glamour, sophistication and elegance of the Côte d'Azur to London's West End, from 12th June until 8th September.
The Lowdown: Transport yourself to the French Riviera and enjoy a delicious special menu including;  fresh French bread with sundried tomato tapenade and slow roasted tomato dips, fresh and succulent Fine de Claire oysters, langoustinesm, lobster mayonnaise and the piece de resistance, a glorious plateau de fruits de mer.
What to Expect: All the French fancy vibes. Finish with Hush's irresistible Strawberry Glory – fresh strawberries drizzled in Modena balsamic with a champagne pastry cream, all accompanied by, what else but, a glass of chilled Taittinger.
Where: Hush, No.8 Lancashire Court, Brook Street, London W1S 1EY
What: Gastrophysics Chef's Table is the latest project from Kitchen Theory, founded by Chef Jozef Youssef.
The Lowdown: Aiming to explore the science and psychology behind how we perceive flavour, Jozef has created a thirteen-course multi-sensory menu, using the research he has collated over the past five years with leading experimental psychologist, Professor Charles Spence of the University of Oxford.
What to Expect: Set in an intimate studio in north London, the Chef's Table seats up to ten guests, while Jozef and his team prepare dishes in an open kitchen allowing an interactive experience for diners.  Following a Champagne reception, guests at Gastrophysics Chef's Table take part in a series of simple taste tests that are designed to explore each individual's sense of taste, and the strong psychological associations that we have with the different tastes: salty, bitter, sour, and sweet. To follow, guests are invited to dine on carefully designed dishes, using the finest seasonal ingredients.
Book: Taking place on the last Friday and Saturday of each month, the evening costs £160 for 13 courses, including a welcome drink, a selection of wines and cocktails paired to the dishes.  The space can also be booked for private groups of up to ten. Call 0203 302 7030.
Where: Kitchen Theory Studio, Unit 9a Alston Works, Falkland Road, High Barnet, EN5 4LG
What: Machiya is set to launch a brand new basement bar, Downstairs at Machiya, this month. Offering an extensive selection of sake, Japanese whiskey and creative cocktails, the bar is going to be your new favourite in London.
The Lowdown: Diners from the main restaurant can retire Downstairs to the lower ground floor after their meal to enjoy unique cocktails in this cosy and intimate bar. Or for guests looking for a new drinking den, Downstairs at Machiya is the perfect hideaway to catch up with friends.
What to Expect: Quirky and fun cocktails are all priced at £9, with highlights including Jigglypuff -with Portobello Gin, Campari, lemon & vermouth foam and Tequila Yuzu-Kosho Sour with Arette Blanco, yuzu, egg white, agave syrup, yuzu-koshu and chilli. There's also a Smokey Negroni with Lagavulin 16, Johnnie Walker Black, Umeshu, Antica Formula and Campari. These eye-catching drinks are more than matched by a selection of Japan's favourite bar snacks, including a wagyu slider topped with a fried egg, lotus root chips with miso-mustard mayo, a pop-katsu skewer with katsu sauce and a bowl of fiery Machiya hot wings.
Where: 5 Panton St, London SW1Y 4DL
What: Award-winning cartoonist Kipper Williams will mark the start of summer at the J Sheekey Atlantic Bar and terrace with the launch of the "Catch of the Day" series of playful cartoons.
The Lowdown: The cartoons, inspired by the restaurant's new coastal inspired summer menu, depict the J Sheekey Atlantic Bar's exuberant staff and distinguished diners, in Kipper's unique and humorous style. The Catch of the Day series of quirky cartoons will include depictions of diners eagerly awaiting freshly caught fish as it is delivered to the terrace by a seagull, a Waiter and feisty Tiger Prawn dueling, first date diners contemplating the 'forbidden' Fruits de Mer and a clothing fitting for the 'Dressed Crab'.
What to Expect: Alongside the Catch of the Day series, the J Sheekey Atlantic Bar is introducing five new coastal inspired dishes to its new summer menu, including steamed mussels and clams in a Goan curry sauce. Following a major refurbishment in 2016, the terrace's shimmering turquoise and cherry red colours brighten up Covent Garden's St Martin's Court, with statuesque planters punctuating the 50-cover seated area.
Where: 28-32 St Martin's Ct, London WC2N 4AL
What: Good Yoga Life takes yoga out of the studio and brings it to the places where people live and work, hosting residencies and pop-up experiences in unique and awesome venues in London.
The Lowdown: If you're looking for a rooftop or outdoor yoga class this summer, look no further than Good Yoga Life. Their rooftop yoga classes take place whatever the weather at four locations across London, with sky high views, great teachers and fun music. Catch a class in London Fields, Shoreditch, Borough and Aldgate East during the week and at weekends. Their pretty rooftops are adorned with flowers and decking and great views of the city's skylines.
What to Expect: Good Yoga Life is also bringing yoga to the Regent's Canal this summer in Kings Cross. Alfresco Yoga Brunch at Rotunda offers you the chance to downward dog on the waterside and enjoy a healthy buffet brunch. The hour long energising vinyasa yoga class with Good Yoga Life founder Kelly will uplift and set you up for the day. After class, step inside the Rotunda's well designed restaurant to enjoy a healthy yoga brunch buffet with freshly pressed juices and matcha coconut latte station. There's also an unlimited two hour prosecco brunch option available.
Book: Yoga brunch and roof top yoga
What: Sweatlife Festival by lululemon
The Lowdown: lululemon's Sweatlife festival is back and bigger than ever! The one-day fitness and wellbeing event returns to Tobacco Dock on Saturday July 22nd, for the second year running. Sweatlife has been mindfully designed to celebrate the ever evolving and expanding fitness landscape of London, featuring a lively crew of local sweat experts in yoga, boxing, Pilates, spin, barre, bootcamp, dance and crossfit.
What to Expect: Release everything and step into a powerful day of life-changing, mind altering, body-stoking sweat, endorphins, knowledge and connection. Experience adrenaline filled classes from some of London's top fitness studios including Barry's Bootcamp, Breathe Studios, Frame, Heartcore, Kobox, My Pilates, Psycle, UN1T and Xtend Barre.  Need to re-fuel? Expect a whole host of delicious food offerings at the food market and the team at Neat Nutrition will be there creating their delicious shakes to power you through the day. Ready to get mindful on the move? lululemon is bringing its infamous OM the Move Meditation Bus back for Sweatlife. And if that's not enough, be inspired at motivational talks hosted by wellness experts such as Jody Shield, author of Life Tonic and Annie Clark of Mind Body Bowl.
Book: Taking place on Saturday, 22nd July 2017. Tickets are on sale now at £30.00. Get Your tickets here: https://thesweatlife.co.uk
Where: Tobacco Dock – (Wapping Lane entrance). Tobacco Quay, Wapping Lane, London, E1W 2SF
What: London's street art treasure trove Graffik Gallery will open a Banksy Basement in Notting Hill featuring a series of original work by the elusive artist. Kicking off the celebrations for this new permanent gallery, Graffik Gallery have organised a special 'one night only' exhibition on 15th June.
The Lowdown: The owners of Graffik Gallery are recognised as 'Banksy experts' and the West London space is the go-to gallery for urban art.  The Graffik team has an unparalleled ability to foresee emerging talent and exhibits the elite within the realm of street art. The gallery also provide graffiti classes for the public, so you can learn to spray paint like a pro.
What to Expect: The 'LEGENDS' One Night Exhibition will open at 6.30pm on 15th June, featuring rare original works by Banksy, Os Gemeos, Obey, Ben Eine, Dotmaster, Mr Brainwash, Alec Monopoly, Stik, Nick Walker, Invader and Blek Le Rat. The guest list for the preview is strictly by invitation, so make sure to sign up! The new Banksy Basement is a permanent space dedicated to Bansky originals; the new space was launched by Graffik Gallery following huge public demand to see more pieces from the biggest name in urban art.
Where: Graffik Gallery, 284 Portobello Road, London, W10 5TE