Nothing beats suppin' a chilled glass of Savvy b in the London sunshine. And even better when it's served on a rooftop. If you're the mate in your friendship WhatsApp group who's always up for doing something more than sinking a few bevs, we've discovered the best rooftop activities in London that will have your chums grabbing their oyster in no time. Yoga is better when you're on a rooftop, right?
The 411: Just opened at Tobacco Dock in Wapping, Skylight is a new rooftop destination themed around a British urban lawn club. Occupying the top three levels of a former car park in the heart of East London, the 600 capacity Skylight features multiple bars, croquet lawns, petanque courts and street food stalls – all set against some of the finest views in the city.
What to Do: Capturing the essence of a quintessentially British garden party and transporting it into an exciting urban setting, Skylight's signature lawn games are the perfect activity for heady summer nights. An assortment of indoor and outdoor games features across the different levels of the venue, including two petanque courts, lawn bowls and three croquet lawns.
Eat and Drink: With bars on every level, and a focus on spritzes, cocktails and beer, Skylight serve up drinks that define summer. Refreshing cocktails and summer pitchers sit alongside signature spritzes and bubbles by the glass and bottle.Skylight is home to some of the most exciting names in street food, including  East London burger maestros, We Serve Humans, and Greek street food brand, Yiro known for their mouthwatering souvlaki, and Thai grub from Kra Pow.
Where: Tobacco Dock, Tobacco Quay, Wapping Lane, London E1W 2SF
2. For Fitness Classes: Brixton Beach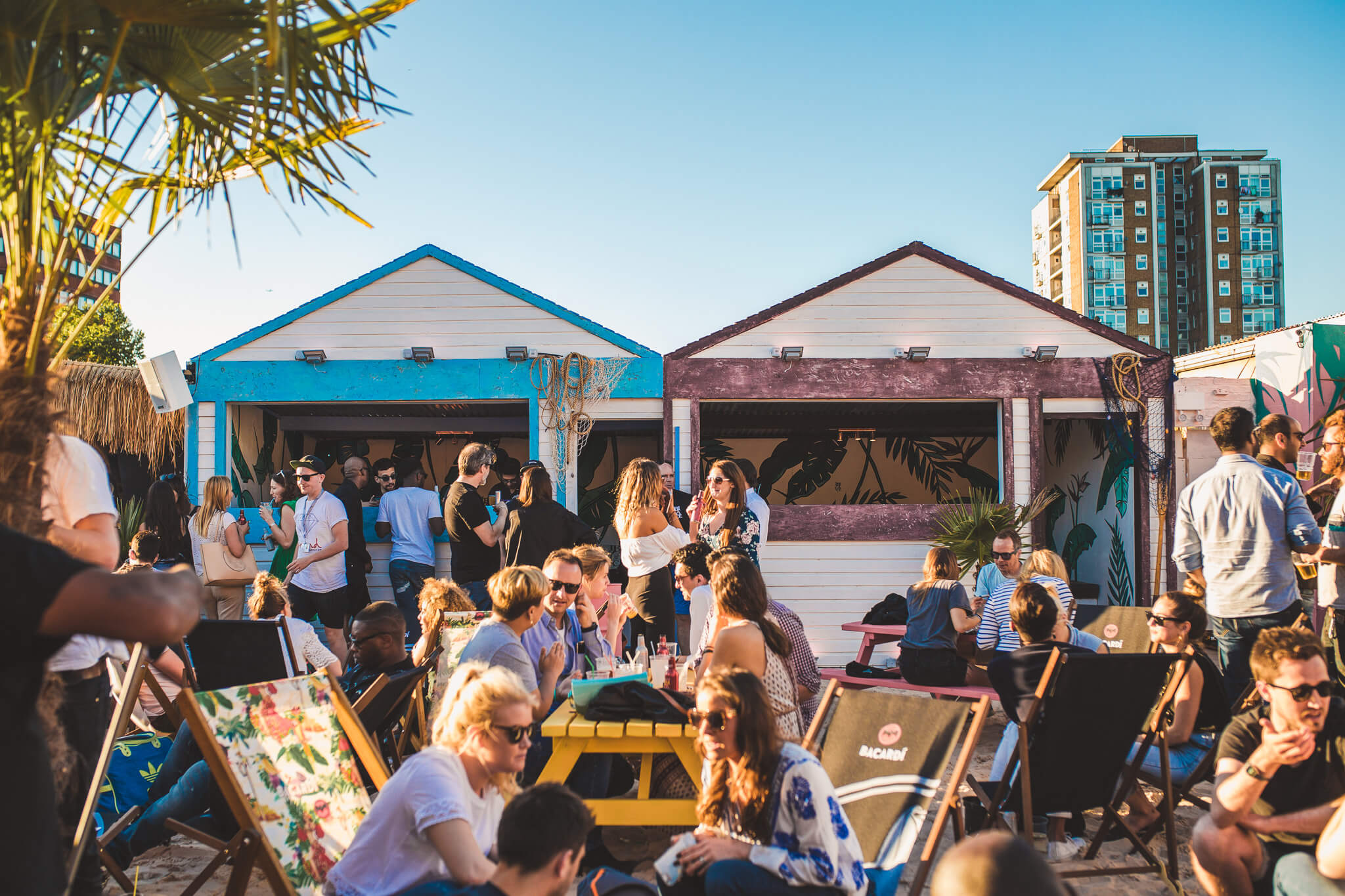 The 411: The ultimate urban beach has returned to Brixton. Inspired by the vibrant culture of Cuba, Brixton Beach transports everyone to a lush and colourful paradise, serving up a winning combination of cocktails, street food and entertainment, creating the ultimate festival that lasts all summer long.
What to Do: Brixton Beach has launched an extended programme of events this year, open every day throughout the summer. Packed full with entertainment for all, the rooftop beach welcomes a summer long residency from Ministry Does Fitness, the latest venture from British institution Ministry of Sound with the launch of Ministry Does Fitness on the Beach!. Everyone can take part in the eclectic array of fitness classes including HIIT, Zumba and Yoga sessions. For those film buffs out there, Brixton Rooftop are hostinga series of rooftop cinema screenings with a wide variety of films including well-loved classics and a selection of guilty pleasures thrown in along the way.
Eat and Drink: Street food dons are out in force at Brixton Beach including mac and cheese experts, Mac to the Future; Brixton's most loved Japanese soul food, Nanban; straight-up, traditional Mexican tacos by Del 74; and STAKEhaus, offering high quality British steak. Brixton Beach has also introduced weekly barbeque chef residencies from renowned BBQ joints from across the City every Thursday, welcoming some of the best restaurants to the roof including Mama's Jerk and Negril.
Where: Pope's Rd, Brixton, London SW9 8JH
Photo Credit: Jake Davis 
3. For Movies: Rooftop Film Club 
The 411: Book a date; or a mate, fill a popcorn box, and grab a deckchair, Rooftop Film Club has a stella line up of movies this summer. Rooftop Film Cub operate across four locations in London: Peckham, Kensington, Queen of Hoxton and Stratford. If you're a film buff, or just enjoy a rom-com with your best ones – there's nothing better than watching a flick under the stars.
What to Do: Watch films. Lots of films. The team use state-of-the-art wireless headphones so you can live in those memorable cinematic moments, and not get disturbed by the outside world. Now that's cinema. And their programme is hand-picked with a personal touch, to ensure each night is an unforgettable movie experience from cult classics to brand new releases. The Rooftop crew's summer line up includes gotta-see-again-but-this-time-at-altitude classics like epic jailbreak tearjerker The Shawshank Redemption, Oscar-winning animation Zootropolis and everybody except Warren Beatty's film of the year Moonlight.
Eat: The usual cinema suspects: popcorns, grab-a-bag maltesers, and mini tubs of ice cream. You get the idea. Each location has a different street food stall to keep food levels high, and there's plenty of cocktails, prosecco and beer to keep you going.
Where: Locations here 
4. For Loads of Activities: Social Fun & Games Club at Roof East 
The 411: Where else can you watch the sun set over an Olympic Park as you play a round of crazy golf, dance with the stars, hit home runs like Babe Ruth and bowl to a hip-hop beat while sipping cocktails and dining on London's finest street food? A Stratford rooftop, obviously.
What to Do: New features include the Rooftop Rollers. Don your skates and flex some fancy footwork with a boogie round London's first rooftop roller disco. Get down to some 80s classics and re-live your Starlight Express days – all ages welcome from mini movers to geriatric jammers. There's also hip hop inspired lawns – think of it as lawn bowls with a De La Soul makeover. And not forgetting Birdies mini golf, London's only batting cage experience with custom built batting nets, and Rooftop Film Club.
Eat and Drink: Pizza Shack is on hand to curb hunger with their authentic wood-fired stone pizzas, made using the freshest ingredients. Jimmy Garcia, the creator of Jimmy's Pop-Up, and the popular BBQ Club in Southbank, has set up shop serving chorizo hot dogs and Galician beef burgers.
Where: 45a Broadway, London E15 1XD
5. For Workshops: The Gardening Society at John Lewis  
The 411: Once again John Lewis has transformed its Oxford Street rooftop into a British summer garden, complete with private summerhouses and the UK's smallest rooftop pub and garden. The space also includes bookable Summerhouses, each with a bespoke summer scent and their very own private front garden with white picket fence. Each Summerhouse hosts a different theme, including one inspired by the culture and music of the 70's, one with a nod to travel and motoring and one a creative artist's workshop space.
What to Do: The Gardening Society rooftop is the place to be in London this summer if you want to practice your downward dog, or pot some plants. There's everything from gardening clubs, wellbeing workshops, yoga, fitness and HIIT training.
Eat and Drink: East London eatery Morty & Bob's have taken up residency on the rooftop of Oxford Street for the first time. The gang are serving an array of their favourite dishes, using British-sourced ingredients, the residency will run until the end of May. Two more exciting summer restaurant residencies will be announced two weeks prior to their launch.
Where: The Gardening Society, The Rooftop, 300 Oxford Street London W1C 1DX