"End your meal on a high!" "Stone me!" "Chill your beans". Judging by the headlines announcing the latest craze for CBD, you could be forgive for assuming cannabis has been legalised and in all the Brexit chaos you managed to miss the announcement. Fear not – or, if weed's your personal poison, prepare to be disappointed. Cannabis is not legal, and the CBD everyone from London to New York is eating, drinking and raving about will get you no higher than a glimpse of sunshine and the prospect of an al fresco meal.
CBD, or cannibidol as it is more formally known, is one of 104 chemical compounds found in the marijuana plant. It won't get you high, or stoned, because unlike actual cannibis oil, it contains less than 0.2 per cent of cannabis' psychoactive compound, tetrahydrocannabinol (THC). It may 'chill you out' but that depends on your interpretation of the word 'chill': the driving force behind the popularity of CBD (beyond hip newness) is World Health Organisation findings that CBD may help alleviate symptoms of Alzheimer's, Parkinson's, MS, pain, anxiety and diabetic complications.
Though the jury is out on whether CBD genuinely has the therapeutic effects its proponents claim, changes in legislation mean medicinal CBD will be viable on prescription from the NHS from November onwards. For the time being, your best way to dose up on CBD oil is to head to one of the growing number of restaurants and bars in town who are getting creative with cannibidol in the name of health or pure hedonism:
Best CBD Dishes and Drinks in London: For Health Kicks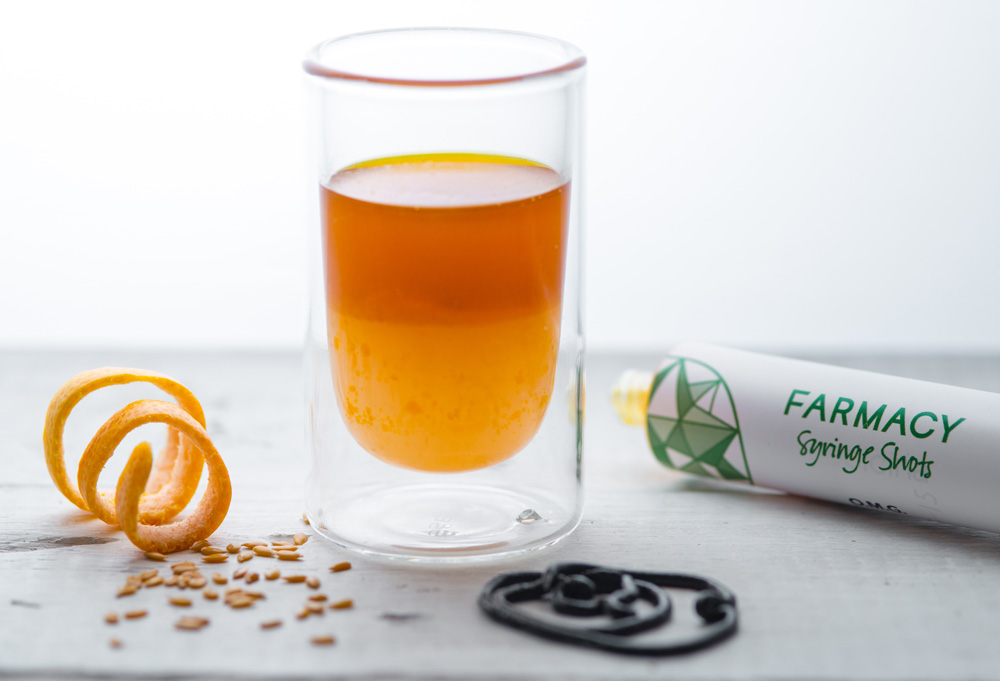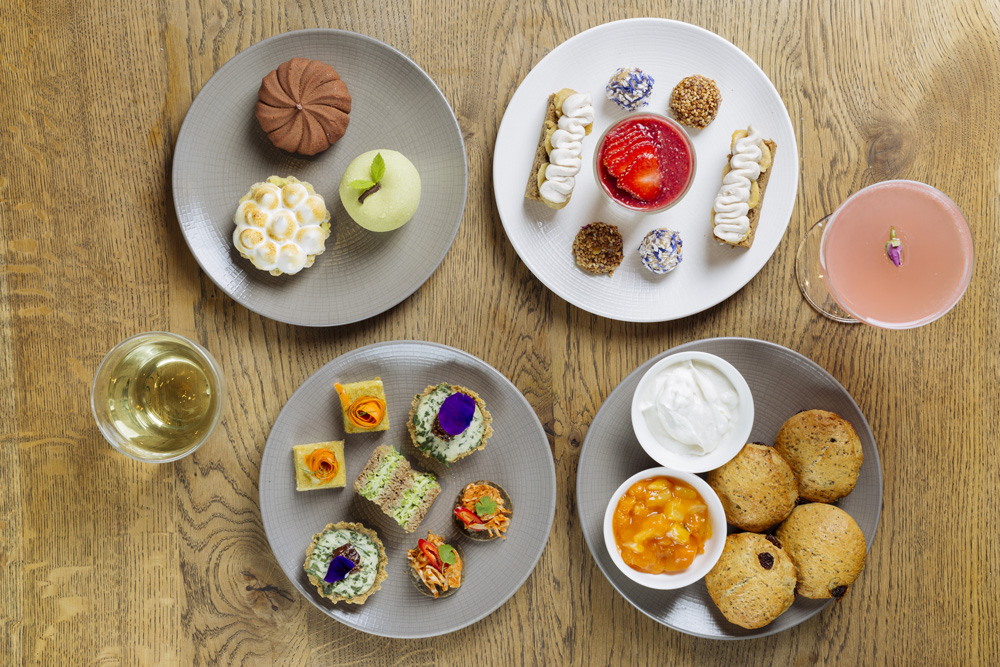 The original and arguably the most comprehensive, Farmacy was the first London restaurant to serve up CBD to their well-heeled Westbourne grove customers. Its manager, Alex Stanton, was taking CBD for years before they started putting it on the  menu, and swears by the numerous health benefits. You can get it in a syringe shot, with flaxseed oil, and grapefruit; in a vodka cocktail with lime, hemp, and bay leaf syrup; in a rum shot; and in chocolate truffles as part of their high tea. Alex maintains CBD still gives you the 'munchies', and has stocked up accordingly, with bowls of kimchi, quinoa, noodles and nachos – not to mention the avo toast and sweet potato fries without which no 21st century London menu would be complete.
2. For Homemade CBD: Feel Good Café
Not content with commercially sourced CBD oil, Feel Good Café make their own. It's organic, made in small batches and is "made from only the top flowers of the plant, extracted without solvents, CO2 or heat extraction to preserve beneficial constituents" and you can buy it to take away. You'll find some of the best CBD dishes and drinks in London here. In house, you can add it to any of their vegan, plant-based dishes and drinks for just a quid: think avocado, sweet potato and peanut butter brownies, potato bagels with hummus and roasted veg and smoothies of every shade and flavour under the sun.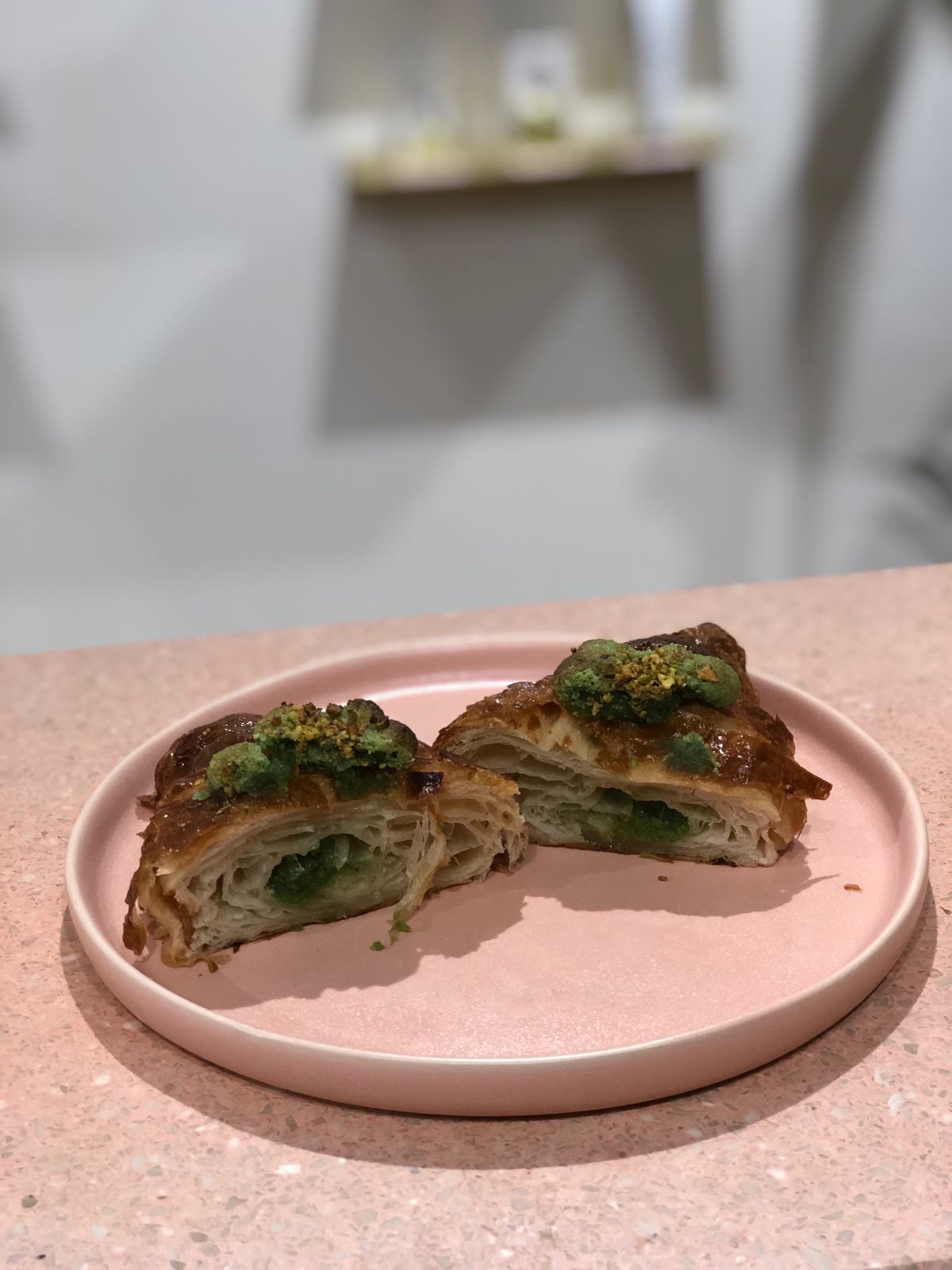 "A menu full of mood boosting, gut friendly and skin soothing ingredients" is how Glow Bar's café describes its offering. It's 'moon milks' contain virtuous-sounding ingredients like macqui berry, ashwagandha, lavender, beetroot, Schisandra, Wunder Workshop Golden Mylk, marine collagen and of course CBD. If this sounds a bit holier than thou, balance it out with a croissant laced with CBD-infused pistachio frangipane – or head next door to their sauna. If  the moon milks don't relax you the infrared sauna most certainly will. Come here for some of the best CBD dishes and drinks in London.
4. For CBD Lattes: Kalifornia Kitchen
Founded my Instagrammer Loui Blake, Kalifornia Kitchen incorporates its namesakes most healthy trends, including matcha, turmeric, chia and of course CBD oil, which you'll find in their plant milk based lattes. Not to be out- California -d, the interiors are pink, plant-filled and predictably Instagram-friendly
Best CBD Dishes and Drinks in London: For Hedonists
1. For CBD Gin Cocktails: Maison Bab
With a starter comprising lamb doughnuts and main courses that promise "a bold new expression of the modern kebab", Maison Bab makes no pretence toward healthiness. Meat butter, raclette shawarma and double-cooked fries make this a flavour first, flavonoids later joint. No surprise, then, to find their CBD offering appears in the form of a strong cocktail, excellently dubbed gin and chronic: a mix of Bombay Sapphire, lemon and CBD oil, which itself lends an earthy, bitter, slightly nutty twist to the citrusy drink
2. For CBD Beer: TT Liquor Green Times Brewing
Available at Islington's Indiebeer and TT Liquor in Shoreditch, Green Times Brewery uses quality organic hops and a little extra something – namely, cannabidoids. Their signature brew is entitled High Flyer: it won't get you high, for reasons previously mentioned, but at 4.3% ABV it won't leave you entirely on the ground. Besides, it tastes delicious with hints of hop and citrus and a tropical aftertaste, that distinct earthy flavour coming in as a base note.  With this in one hand and a pot of peanuts in the other, you're bound to forget about your anxieties and stress.
3. For CBD Tipples: Behind this Wall
In dimly lit hall, down a dimly lit flight of stairs, behind a curtain in a plant-festooned café in Hackney, there is a basement bar whose CBD-infused drinks are on the brink of East London legend. Owner Alex Harris has created a bespoke CBD syrup, that combines with white wine, chocolate tonic, green walnuts and a mint sprig to create Drymouth, or vodka, ponza kombucha, violet CBD syrup, winter melon bitters, juniper and marigold to create Purple Drank. There's a soft option too, if Seedlip, kombucha, cardamom tonic and CBD can be described as soft, and the snacks are expertly crafted from left over cocktail ingredients: red egg yolk and anchovies, toasted rum-infused pecans with CBD honey. We can't pretend it's all good for you, but we do know it's all good.
4. For CBD Turmeric Drinks: Genesis
The place to go for casual dinner whose menu convinces you you're being healthy even whilst stuffing your face with gluten-free nachos, fried avocado tacos and bánh mì hot dogs – mainly because, unlike Behind This Wall, its gone for the healthiest incarnation of CBD possible: a turmeric 'bomb' latte with  'crystal energy water', maple syrup, coconut milk and turmeric-infused CBD oil.
5. For a CBD & Potions Menu: Mortimer House Kitchen
This spring Mortimer House Kitchen, Fitzrovia's well-being destination restaurant and bar brings a revitalising new menu of hot drink infusions, CBD coffees and elixir blends, created in partnership with London-based brand Wunder Workshop, into play. The new "Maslow's Wunder Potions" menu features five new remedy drinks, combining Wunder Workshop's unique blends of adaptogenic super-roots such as Ashwagandha, said to sharpen the mind and decrease inflammation, and Cordyceps extract (a dried fungi) traditionally used in Chinese Medicine to treat fatigue. For those keen to enhance their daily tea or coffee ritual, Wunder Workshop's non- psychoactive Turmeric CBD Oil can also be added to any potion or coffee.