About Time You Visited: Skylight's Christmas Cocktail CinemaBy Angelica Malin
Well, this is exciting… an indoor festive Cocktail Cinema has arrived in East London. For those looking for some yuletide escapism, the Christmas Cocktail Cinema, which is part of Skylight Christmas at Tobacco Dock, is showing back-to-back classic Christmas movies throughout the run, from Love Actually to Die Hard.
The cinema, which is an adults-only experience, serves delicious themed cocktails and gourmet snacks alongside the films, and there's also an interval during each film, allowing you to top up on popcorn and grab another cocktail for the second half. The list of films being shown includes Bridget Jones Diary, Bad Santa, Home Alone, The Holiday, Love Actually and Elf.

Skylight, known for its panoramic views across the city's skyline, has expanded its famous offering this festive season, creating one of the city's biggest winter destinations – Skylight Christmas at Tobacco Dock. Skylight Christmas at Tobacco Dock is a collection of exciting outdoor and socially distanced festive eating and drinking experiences situated on the rooftop venue and at ground level across the Grade-1 listed warehouses and cobbled lanes of Tobacco Dock.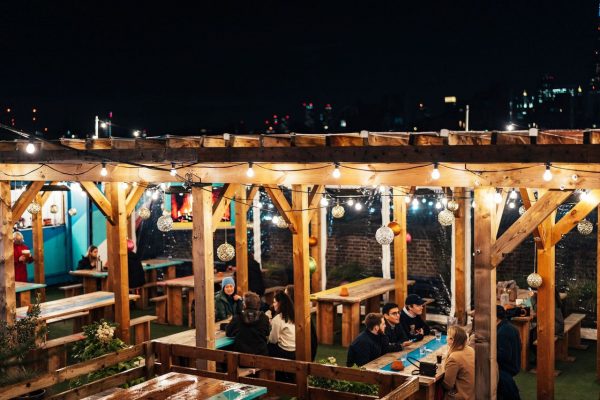 As well as the Christmas Cocktail Cinema, the iconic venue and event space also plays host to an igloo village, Feast In The Forest dining experience, spacious Après Ski Lodge bar, Off-Piste Speakeasy bar and Christmas market. These exciting additions to Skylight Rooftop's current igloo offering, combine to create Skylight Christmas at Tobacco Dock.
For more information and to book tickets, see here.
Photo Credit: Haydon Prowse