5 of the Best: Christmas Specials in Chinatown LondonBy Claudine Levy
Chinatown London is the perfect post-Christmas shopping spot to seek out the many festive-themed specials from the forward-thinking foodies with shops in the Central London district. From reindeer-shaped ice cream sandwiches to snow matcha tiramisu, here's our top picks:
The Lowdown: For the first time ever, Bun House have launched a limited edition Christmas Bun Box, filled with 6 adorable Christmas-themed sweet buns. The box includes two Snowman and Coral Snowflake signature custard buns with salted duck egg and coconut, two Christmas Gift and Blue Snowflake black sesame lava buns, and two Christmas Tree and Golden Snowflake gingerbread toffee buns packed with dates.
Price: £25.50 per box. Available to pre-order here.
Where: 26-27 Lisle St, West End, London WC2H 7BA
The Lowdown: Sammie Le of Yolkin – a specialist in themed macaron ice cream sandwiches packed with SE Asian and western ice cream flavours – has once again outdone herself with her new range of festive macaron ice cream sandwiches. This season, choose between a Boujie Reindeer in Salted Caramel, a Santa in Milk and Cookies, a Christmas Pudding in Chocolate Honeycomb and a Disney's Frozen-inspired Icicle in Candy Cane. You can also pick up an Ice Cream Yule Log in either Salted Caramel, HK Milk Tea, Vietnamese Coffee or Red Velvet flavour.
Price: £35 per yule log, which serves 8 to 10 people. Available in the Chinatown London store.
Where: 24 Rupert St, West End, London W1D 6DQ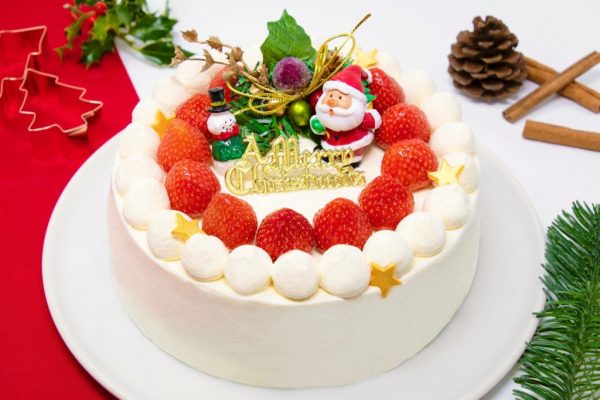 The Lowdown: Franco-Japanese boutique pâtisserie Kova has unveiled two new Christmas cakes for the festive season. Choose either Christmas Strawberry Shortcake – a fluffy chiffon cake topped with fresh strawberries and vanilla whipped cream, or a Christmas Matcha Shortcake – filled with matcha cream with matcha panna cotta on top. Both topped with Christmas decorations.
Price: £38 for a 6″ cake or £52 for an 8″ cake. Purchase online here.
Where: 20A Newport Ct, West End, London WC2H 7JS
>The Lowdown: Bubblewrap, purveyors of the famed Hong Kong-style bubble waffle stuffed with an assortment of delicious fillings, have launched a new festive combo in the shape of Rudolph The Red Nosed Reindeer – a bubble waffle filled with Nutella ice cream, chocolate crunch and topped with a handmade tempered Rudolph chocolate cut-out.
Price: From £5. Available in the Chinatown London store.
Where: 24 Wardour St, West End, London W1D 6QJ
The Lowdown: Matcha teahouse Tsujiri have launched a Snow Matcha Tiramisu – layers of mascarpone cream, matcha soft-serve, chiffon cake, Lotus Biscoff and Shiratama Dango, sprinkled with premium matcha powder and topped with fresh strawberries.
Price: From £5. Available in the Chinatown London store.
Where: 33 Newport Court, London, England WC2H7PQ