About Time: You Discovered Israel's Best Dishes with MASABy Angelica Malin
Thinking of taking a trip to Israel? Israel is a real foodie holiday and you'll need to get clued up about the local dishes to make the most of your adventure. Israel's cuisine of Middle Eastern flavour and street food will lure you in – every corner of Israel is rich with incredible food to try, see our guide to Tel Aviv here.
If you're looking for something beyond a holiday, Masa Israel organise incredible internships and work placements in Israel – you can see all of their programmes here. Here's what one of their recent participants said of the programmes:
I came to Israel in 2015 on a Masa Israel programme: Destination Israel hotel and tourism internship in Eilat. I went on numerous trips around Israel and studied Hebrew twice a week. To say it was one of the best decisions I have ever made is an understatement. Living and working in Israel was something I decided I wanted to do forever. Everyone here is friendly, warm, helpful and passionate. I finished my programme in July 2015 and made Aliyah, moving to Israel, a few days after. Now I am a bartender and manager, living my life to the full every day and learning the Israeli culture. Every day is different and I learn something new all the time. Thank you Masa Israel for these amazing life changing chances you provide!
– Minna Swindon
We can't get enough of Israel's cuisine; from Shakshuka to hummus, here's our guide on what to eat in Israel this summer:
1. Israel's Best Eggs: Shakshuka
The Lowdown: Over the years, Shakshuka has seen its popularity rise in the capital – but it's in Israel where this humble breakfast dish was first created. Shakshuka is a dish of poached eggs swimming in a thick, tomato sauce with peppers, sometime onions with a varying level of spice. Different restaurants put their own special spin, by adding a variety of spices, vegetables and chilli. It's a well-loved breakfast dish in Israel, usually served with warm challah or freshly baked bread to mop up the yolky dregs.
Where: Set just off the main strip in Tel Aviv, which introduces modern Jaffa, Dr Shakshuka is somewhat of a tourist pilgrimage in order to sample his namesake signature dish but also sample the richness of Libyan cuisine, which offers a host of mystery meats, herbs, pulses and textures which will leave you full to the brim. Read more about the restaurant here.
Beit Eshel St 3, Tel Aviv-Yafo
2. Israel's Best Mezze: Falafel
The Lowdown: Falafel is an obvious choice, but worth it all the same. These deep fried balls made from a ground chickpeas, fava beans or a combination of both is the poster dish of Israel. What was once only seen as a street food snack has now become a dinner table staple. Falafel can be eaten in many different forms – stuffed in pita bread with salad, served in a mezze spread or wrapped in a flatbread – these balls are light, can often be sweet, but delicious all the same.
Where: If there's one place to get your falafel kicks in Israel, head down to Falafel Gabai. The lacklustre interior and stripped back decor shouldn't deter your visit. The food, has and will always be the talking point. Fresh out of the fryer and stuffed into a pita – the falafel here is covered in a range of homemade sauces and dips.
Bograshov St 25, Tel Aviv-Yafo
3. Israel's Best Bread: Manakish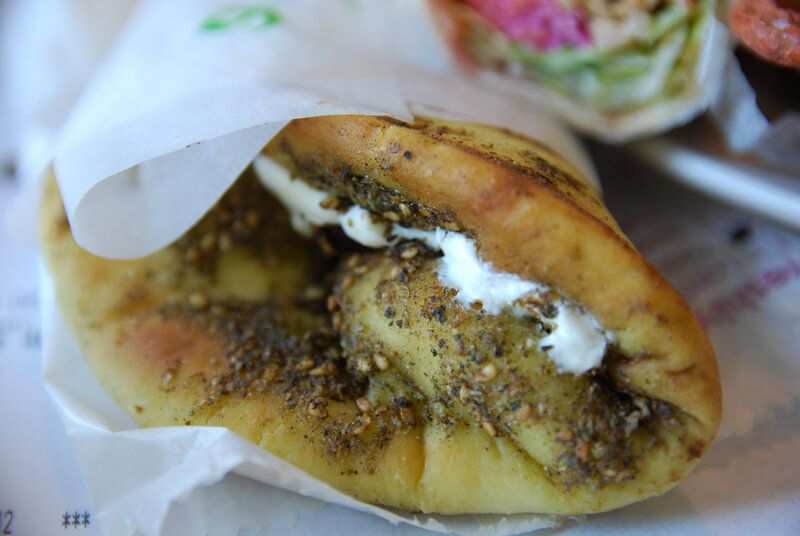 The Lowdown: If you don't try the bread out in Israel, then quite frankly, you're doing it all wrong. Manakish is a circle of dough, topped with either thyme, cheese, za'tar or ground meat. Eaten mainly for breakfast or lunch, the za'tar bread is the most popular – zaatar is mixed with olive oil and spread onto the bread before baking it in the oven. Best eaten warm with a cup of fresh mint tea, or with a side of feta cheese.
Where: It's hard to pinpoint a particular place to get your hands on this freshly made dough, as they've been making this bread for centuries, that anywhere you go – you know you're going to get a good loaf. Get down early yo street vendors early, so they're fresh and piping hot.
4. Israel's Best Meal: Israeli Breakfast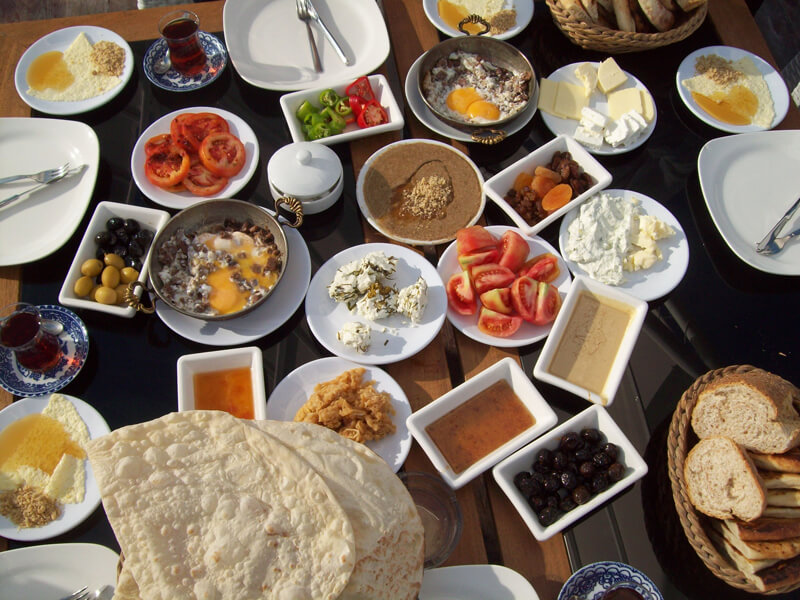 The Lowdown: Breakfast is not just the first meal of the day, but a celebration in Israel. And what better way to celebrate that a full blown Israeli Breakfast. It's not just one dish, but a combination of different savoury small plates. We're talking about Israeli salads, different cheeses, a medley of fish (usually salmon, sardines or herring), eggs, and of course; bread.
Where: Orna and Ella is a neighbourhood hangout that specialises in the first meal of the day. Their Israeli breakfast is epic – ideal for sharing, as they offer mini portions of feta, salads and warm breads. They also server killer fresh juices and their coffee is sublime. Read more here.
Sheinkin St 33, Tel Aviv-Yafo, 65232, Israel
5. Israel's Best Dip: Aubergine with Tahini
The Lowdown: It's what it says on the tin. The aubergine is charred, and then drizzled with tahini (a ground sesame seed paste), which is often served with yogurt and sometimes pomegranate seeds. The smokiness from the aubergine and the slight bitterness from the tahini makes this dish a dinner time dream.
Where: Ultra cool, and ultra modern – Toto claimed Best Restaurant in 2011 and still delivers on taste and quality. It may be an Italian restaurant, but their aubergine with tahini is legendary. It may not be the cheapest meal around, but it's worth your extra cash for the service and food.
Berkovitch St 4, Tel Aviv-Yafo, Israel
6. Israel's Best Salad: Tabbouleh
The Lowdown: If you haven't already cottoned onto it – the Israeli people love a good salad, and we aren't just talking about a few limp leaves. A mezze isn't complete without a big bowl of tabbouleh. A splendid combination of tomatoes, finely chopped parsley, mint, bulgur and onion, and seasoned with olive oil, lemon juice, and salt. Job done.
Where: The Brothers-Ha-achim sits on one of Tel Aviv's main streets and really imbues the cosmopolitan spirit of the city and sense of Joie de vivre that young Tel Aviv's have, despite what outsiders must perceive as a difficult environment to live in. If you pick the right night, a DJ will be spinning minimal techno in the background, whilst you get the waiter to order lots on your behalf.
12 Ibn Gabirol Street, Tel Aviv
7. Israel's Best Pastry: Bourekas
The Lowdown: Bourekas are the Israeli spin on the Turkish burek – a samosa shaped puffed pastry parcel filled with savoury goodness – cheese, veggies or meat. Israeli bourekas come in several shapes and are often topped with sesame seeds. The shapes and choice of seeds are usually an indication of their fillings and have become fairly standard among small bakeries and large factories alike.
Where: Penso to bourekas is what Gail's is to bread – an institution. Located in Levinsky Market, the windy paths boasts a treasure trove of snacks, handmade goods and takeaway treats. Penso know their pastry, founded 70 years ago by a Turkish immigrant, the eatery has been passed down the line, with the fourth generation currently at the helm.
Levinsky 43, Florentine – Tel Aviv
8. Israel's Best Sandwich: Sabich
The Lowdown: We Brits love a sarnie, so you'll be pleased to hear Israelis whip up a mean one, too. A sabich is a pita stuffed with fried aubergine and hard boiled eggs. Depending on where you go – tahini, spices and minced onions are sometimes added. This classic snack is a hit with the locals.
Where: Frishman Falafel and Frishman Sabich serve two things very well; falafel and sabich. Their sabich is stuffed with aubergine, egg, tahini, salad along with hard boiled potatoes and pickles (which are free by the way). It's a cracking joint for purse-friendly prices and traditional Israeli fare.
Frishman Str., 44, Tel Aviv 64395
9. Israel's Best Treat: Baklava
The Lowdown: There's only one way to end a fine dinner in Israel, and that's with a plate of baklava and a fresh mint tea. Baklava is similar to bourekas, only baklava is a sweet pastry held together with honey or syrup and sprinkled with nuts, usually pistachios.
Where: Head to Carmel Market and follow your nostrils to the many stalls selling freshly baked baklavas. There's so many hawker stands here to satisfy your sweet tooth craving. The options are endless; from the classic honey and nut, to more adventurous varieties.
Allenby, King George and Sheinkin streets, Tel Aviv
10. Israel's Best Classic Dish: Hummus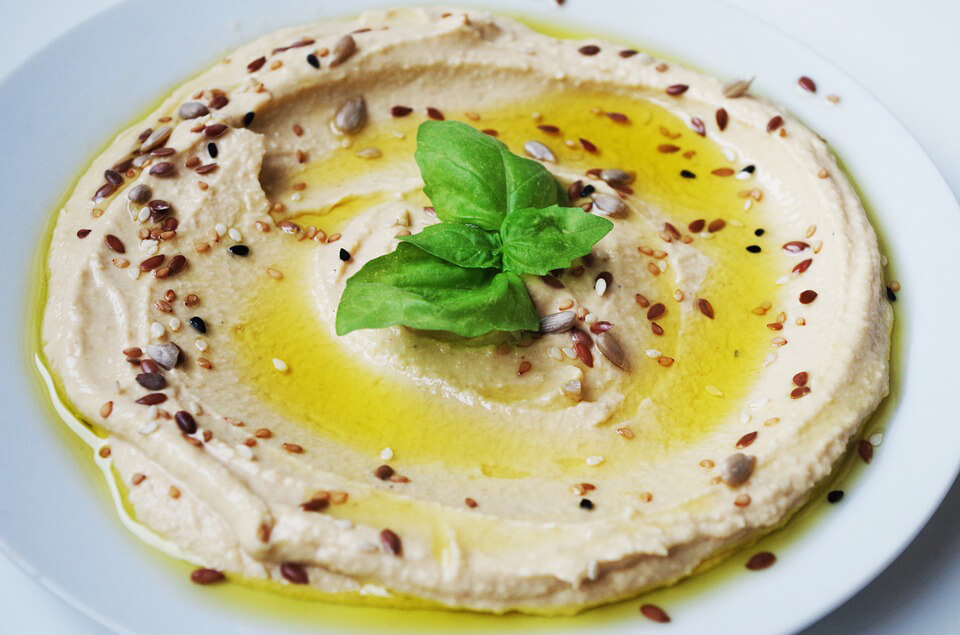 The Lowdown: Did you really think we would leave out the greatest dish chickpeas has ever given to us? Course not. Cut the people of Israel and they bleed hummus. Made from tahini, chickpeas and olive oil – the hummus in Israel is thick, creamy and is whacked onto any meal possible. And we love it.
Where: There's no bad hummus in Israel. We're serious.
Sponsored post in association with Masa Israel as part of #MasaIsraelMonth – for more information, see their website here and follow them on Twitter here. All photos are part of creative commons.