Hummus is the best thing chickpeas have ever given to us. Forget your standard mix, here's London best creative dips. Happy eating, London:
1. Best Meaty Hummus: Yalla Yalla 
Order: Hummus Shawarma – chickpea purée topped with marinated thin slices of lamb fillet
Why: Cheap eats and fresh ingredients is the name of the game at Yalla Yalla. Serving up informal Lebanese and other Middle Eastern cuisine from their Soho and Oxford Street branches, Yalla Yalla became an instant hit when it first opened in 2008. The menu is filled with delicious offerings including wraps, a wide array of sharing mezzes and charcoal meat dishes. The reason why Yalla Yalla has risen head and shoulders above the rest is the fact that it's consistently good. Their hummus shawarma – hummus with a generous topping of lamb strips – is on point and their fattoush is always worthy of an order. For the time strapped Londoner you can be fed in less then 20 minutes – making Yalla Yalla an ideal lunchtime pit-stop.
Where: 12 Winsley Street, London, W1W 8HQ and 1 Green's Court, London, W1F 0HA
2. Best Classic Hummus: Honey & Co 
Order: Luxury mezze – falafel with tahini, creamy hummus, tabule and loads of other yummy stuff
Why: If you're expecting extravagant decor with plush leather seating and a mahogany wooden bar – you've certainly come to the wrong place. Lavish decorations can be overlooked when the menu tastes as good as it looks. The carefully created menu concentrates on food from the Middle East, including delicious breakfast dishes of Merguez sausage roll with spicy tomato, harissa and fried egg and scrambled eggs with chilli tomatoes, yogurt and potato bread. Headed up by Israeli husband and wife duo, this is a place where you put down your knives and forks and just get stuck in. Come the evening, this place is buzzing with customers and humming with conversations from every table. Their luxury meze features a range of small dishes of white peaches and  sheeps' curd, labaneh and marinated aubergines, cheesy zaatar buns and their home-made creamy hummus, get slathering it on their home-made bread too. It's an absolute winner.
Where: 25a Warren Street, London W1T 5LZ
3. Best Fishy Hummus: Bouillabaisse 
Order: BBQ smoked haddock, hummus with toasted flatbread (£7.95)
Why: Recently opened Bouillabaisse is bringing coastal cuisine to Mayfair with some of the freshest and most sustainable fish and seafood in the UK (bold shout, but it's true). The menu has been created by Executive Chef Jordan Sclare with the focus on contemporary coastal cooking techniques, making  fish and seafood the stars of the show.  Their breakfast menu certainly doesn't disappoint and if you find yourself bored of Eggs Benedict and sugar-laden pancakes, drop by for their snow crab scrambled eggs on sour dough toast and homemade BBQ baked beans with griddled Australian gulf prawns. It's zany, unique and outrageously good. Their BBQ smoked haddock with hummus is an unusual dish for breakfast, pair a creamy, thick hummus with expertly seasoned and cooked haddock and you've got yourself one hell of a dish.
Where: 4 Mill Street, London W1S 2 AX
4. Best Adventurous Hummus: Hummus Bros
Order: Chicken and avocado hummus bowl (£5.55)
Why: When there's hummus in the name, you know they've got the chickpea smashing art down to a tee. Hummus here isn't just a dish, it's celebrated in a big, big way. Although you can't beat a straight talking, no fuss pot of well made hummus, the chaps at Hummus bros used hummus as a base and jazz it up with a whole range of different toppings. Think well seasoned and cooked beef and aubergine to their generous portion of chicken and falafel salad to our favourite of avocado with chicken, with the bottom layer being their popular hummus – all served with a fluffy pitta bread. Avocado and hummus is a combination we can get on board with.  This places certainly makes a refreshing change from bog standard pasta salads and over-refridgerated sushi.
Where: Locations here
5. Best Hummus with a Kick: Ceru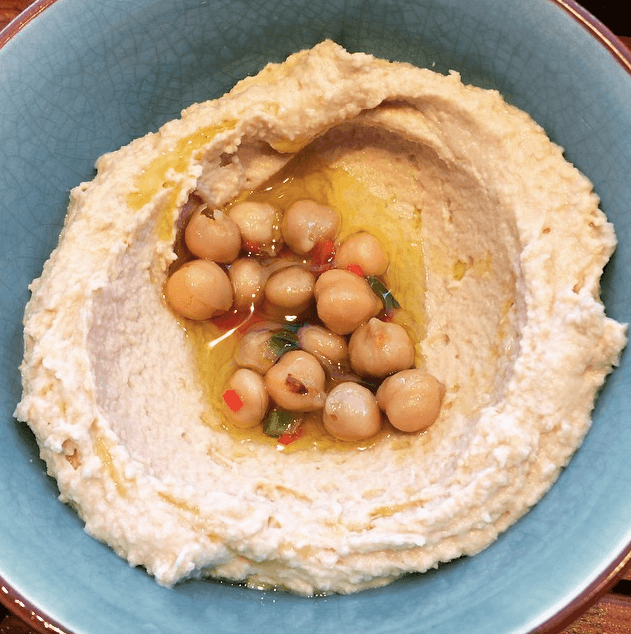 Order: Hummus topped with green chillies and lemon (£4)
Why: Ceru has had a crazy and extremely busy year, since bursting on the scene last year and setting up a food stall at Brighton Pride, this Levantine restaurant who locally source ingredients from the UK and the Levantine regions has seen a steady rise thanks to its pop-up last year in London. Although they've moved to new premises down at the London Riviera, their loyal customers have followed suit and gone with them. It's the fresh, flavoursome and reasonably priced food that keeps people coming back. Their panchar dip of roast beetroot, yoghurt, garlic and pistachio nuts is a firm favourite, but it's the hummus topped with added chickpeas and green chillies for a kick that gets our vote. For a memorable veggie dish that will have you hooked, order the herbed zucchini and feta cheese fritters. Absolutely delicious.
Where: Check out here where they will be next