So, you've got 48-hours in Tel Aviv? It's long enough to see the best of this amazing, vibrant city. If you're looking for something longer, MASA Israel organise incredible internships and work placements in Israel – you can see all of their programmes here. Here's what one of their recent participants said of the experience:
Being 24 years old, I knew it was now or never. The opportunity to write for a national magazine, Time Out Israel, about a country I love, while learning Hebrew and travelling over said country could not be put off. I made the right decision in choosing a Masa Israel programme; I am now contributing towards Israeli culture, the thing I love the most about Israel.
– Erica Toms 
For the curious traveller, here's what to eat, where to stay and where to party in Tel Aviv this summer:
EAT 
Tel Aviv is the foodie capital of Israel; from street side vendors to trendy breakfast spots, it's full to the brim with amazing options for the gourmet traveller. Here's where to eat in Tel Aviv:
BREAKFAST
Aroma is a veritable institution in Israel; one of the largest chains in Israel, it's contributed significantly to the creation of a true coffee culture in the country. The first Aroma was on Hillel Street in Jerusalem, which was the first espresso bar in Israel, and is known up and down the country for their great coffee, cakes and salads. Thanks to their world-class coffee and unique food, Aroma now hosts over 125 cafés all across Israel including its own coffee roastery, bakery, and factory for produce and dressings. Come here in the morning for a latte and the best pastries, breads and cakes in town. Their almond croissants cannot be missed.
Photo credit: here
You can't come to Tel Aviv and not visit everyone's favourite: Benedict. Benedict believe that breakfast is a style of meal and not the hours we consume it. For that reason, Benedict's breakfast kitchen is open every day, all day. That's right 24-hours a day! Breakfast for dinner? Yes, please. The restaurant is named after Lemuel Benedict, a retired Wall Street stock broker, who invented the Eggs Benedict on a hangover in the 19th century.
The food at Tel Aviv's Benedict is a fusion of worldly goodness; the menu offers you classic traditional breakfasts, as well as unique ones. You can get everything from Eggs Royale with smoked salmon, Benedict Joe with beef, banana pancakes with condensed milk and coconut, and, of course, Israeli breakfast with fresh juice, coffee, three eggs of your choice, homemade spreads and freshly baked bread. Win.
Again, an institution in Tel Aviv. If you like shakshuka, this is the place to come. This quirky, eccentrically designed restaurant in Jaffa is full of charm and character; Dr. Shakshuka himself is a Israeli, born in Jaffa to Libyan-born parents, who grew up surrounded by food at this father's restaurant. He started cooking at 11, quitting school to work in a restaurant and follow his passion. Today you can taste his cooking in the amazing breakfast on offer at Dr. Shakshuka; their breakfast menu includes African-inspired delights, such as consists of salads, stuffed vegetables, fish, couscous, grilled meat, and of course – shakshuka. Their set breakfast, which is around £10, includes a pitcher of lemonade, tea or coffee, cake and all the food your heart could desire.
Orna and Ella is a favourite for the trendy Tel Aviv brunch crowd. Open since 1992, what began as a modest cafe on Sheinkin Street has become one of Tel Aviv's most-loved venues for breakfast. It's all about homemade goodness here; every day they bake breads and pastries from scratch, as well as homemade pasta and desserts. It's great for veggies and vegans, too; they have scrambled tofu, vegan tofu shakshuka, as well as vegan granola with oat milk. Come here for all the bready goodness – the toasted croissant with feta, gouda and spicy red relish is divine, and you can't miss their homemade cheese and tomato omelette, which comes with homemade spreads, breads, vegetable salad and organic olives.
LUNCH
Eating on, or near, the beach in Tel Aviv is a must when you visit. One of our favourite spots in Manta Ray – Manta Ray is a true beachfront restaurant, located alongside the sands of the beach, and just steps away from the clashing waves. Their kitchen, headed up by Ronen Skinezis, is unique for its special and creative Middle Eastern cuisine; all of Manta Ray's fish and seafood are cooked with a lot of love and passion. Their fish dishes are divine; try the seabass with gnocchi and eggplant or bream with Jerusalem artichoke, they are sensational. Don't miss the cocktails – their frozen lemon margarita is the one.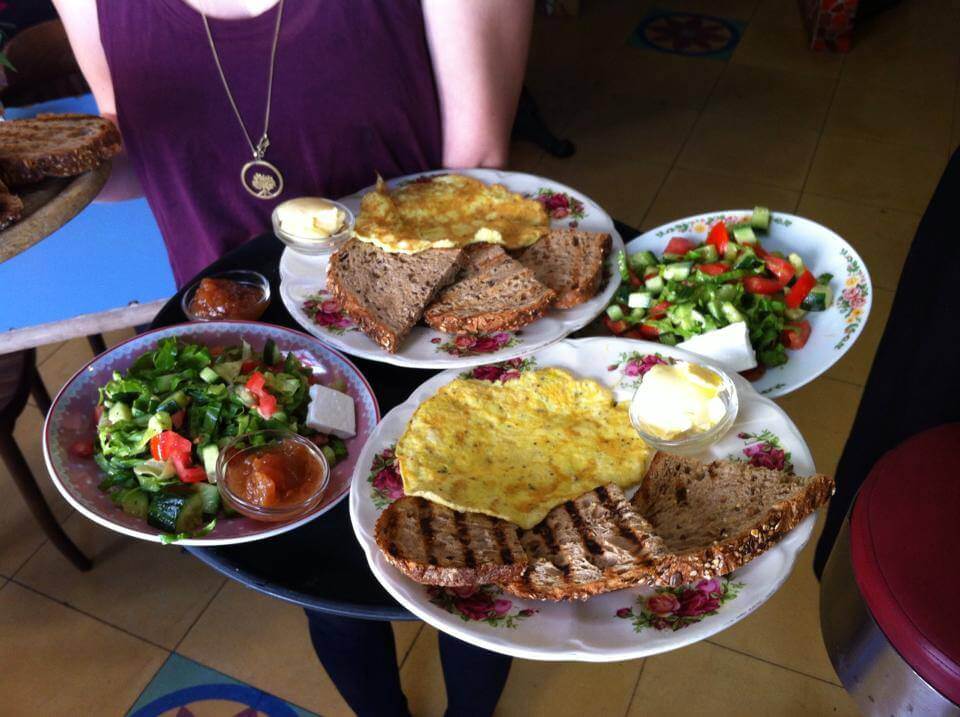 Café Bialik is the home of the arts. Founded in 1996, the cafe is located at the entrance to the Bialik Street – a gem of Tel Aviv's history, with cultural centers, such as the Museum Bialik, nearby. Over the years, this cafe has become a Tel Aviv institution for locals, where the neighbourhood, artists, singers and writers can meet. Come here for culture; every night, there are different live performances by new singers and bands, and the gallery space is used for temporary exhibitions. They do a great Business Lunch menu; the Israeli Market Salad and tuna sandwich with horseradish is beautiful.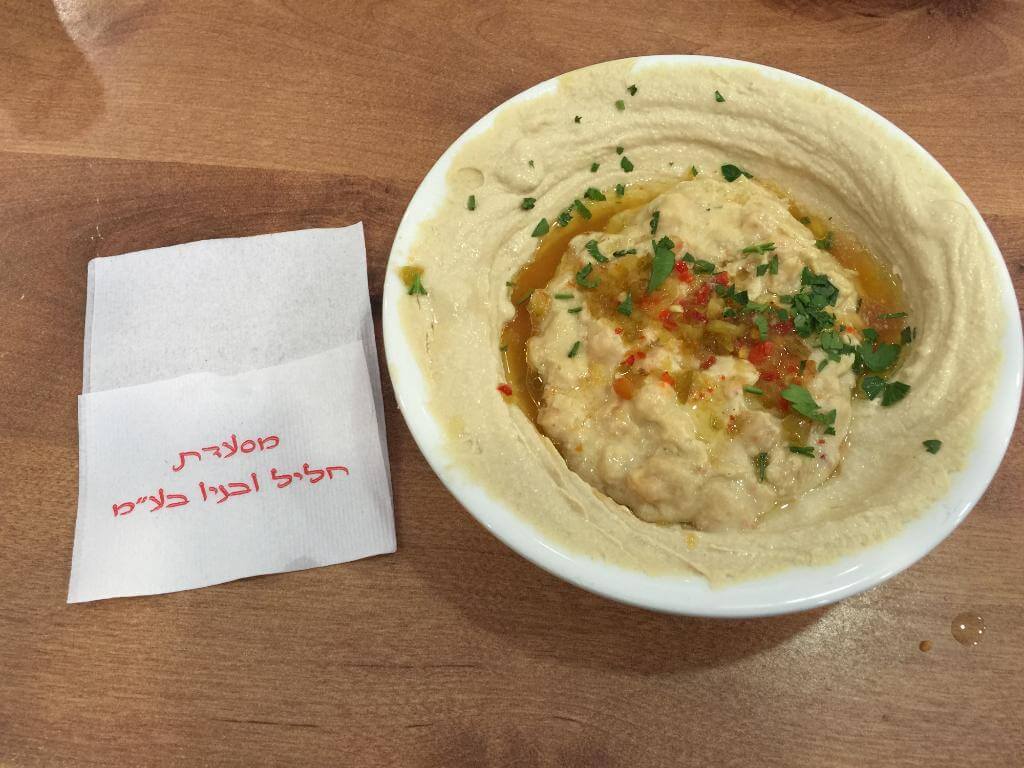 If you love hummus, this is the place for you. It's the perfect spot for a quick, tasty and cheap lunch – they offer a simple menus of different hummus and freshly baked pita bread, which can be enjoyed in the sunshine outside. No frills, nothing fancy, just seriously good hummus. Our favourite is the hummus with tahini – it's simply delicious. The menu is tiny – just hummus, Masbacha and pita-bread, topped off with cooked chickpeas or fava beans, and served with fresh onion and lemon juice. So, so worth it. Word of warning: the restaurant only stays open until all the hummus is gone.
DINNER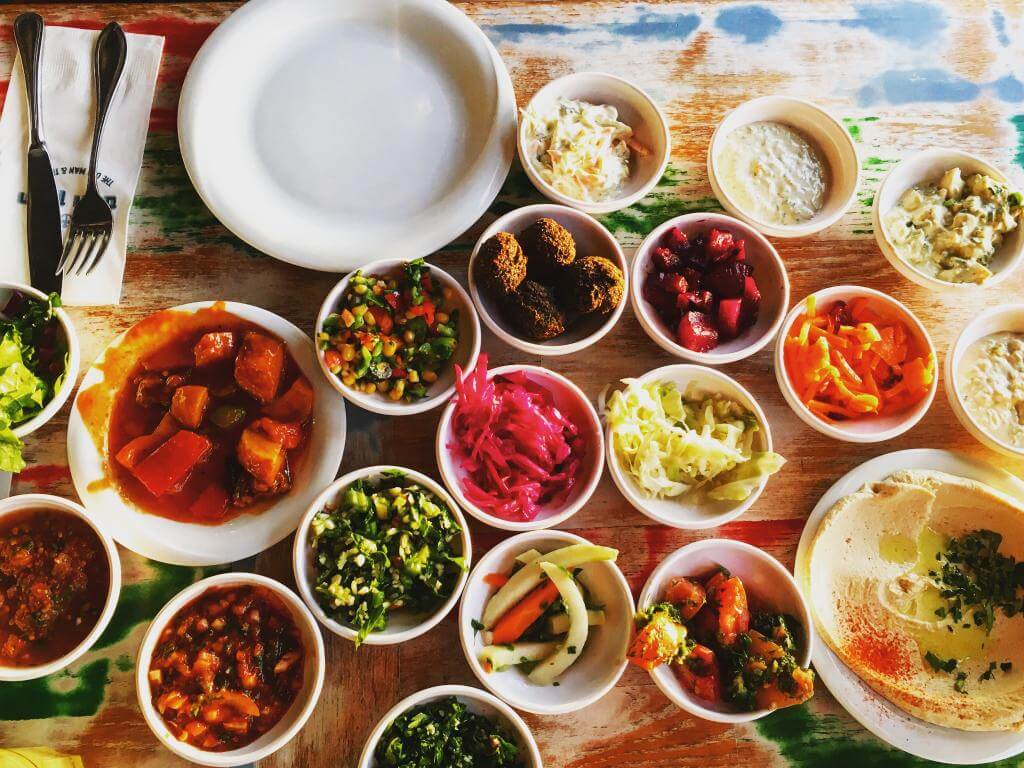 This fish restaurant is perfect for the indecisive; located by Jaffa Port, the Old Man and the Sea serves you twenty kinds of fresh salads, mezze, dips and pita bread before your main course (which is included in the price), along with homemade lemonade and tea. The fish here couldn't be more fresh or delicious; you can choose from the catch of the day, such as grouper, seabass or dennis, which is served simply with baked potatoes and vegetables. The mezze salad selection is one of the best in Tel Aviv – from fried cauliflower with tahini to smoked aubergine dip and tomato salad, you can really taste the freshness here.
The food at Herbert Samuel cannot be beaten. Herbert Samuel opened its doors 8 years ago along the beautiful Tel Aviv seaside, and ever since, diners have enjoyed their incredible menu and cocktails at the beautiful restaurant. The food isn't your traditional Israeli fare; their inventive menu reflects an obsession with creating cutting-edge food, that is influenced by the dazzling array of fresh, seasonal ingredients available in the local markets. Come for dinner and feast on their amazing fish dishes – the Dusky Grouper with tomato and basil, tuna and yellowtail sashimi, Jerusalem artichoke soup and homemade pasta are all divine. In fact, I had the best pasta of my life here –  the veal cannelloni with Swiss chard and Parmigiano Reggiano is the very stuff of dreams. Don't miss tomato salad, Herbert Samuel style – this iconic dish can now be found all over Israeli, a mix of fresh and sundried tomatoes, olive oil and egg, it's truly amazing.
Catit was founded in 2002 and soon became a real culinary institution. The food is bold, sexy and creative – Chef Meir Adoni, the restaurant's founder, is considered a leader of the elite cuisine in Israel for the last decade. Adoni is known for boutique catering events, participating in live television shows, writing books, creating apps and becoming a known worldwide culinary lecturer. The food here is so creative; try the Springtime Sweetbreads, roasted veal sweetbreads, green almonds, yuzu yogurt and brussels sprouts. The desserts are amazing too – the Brule amarena with coffee, sabayon and marsala foam is senstaional. Divine.
For French food, Raphaël Restaurant showcases the inspired menu of Chef Raffi Cohen, one of Israel's top chefs. The location here is amazing; the restaurant is in the David Tower on Tel-Aviv's Hayarkon Street, with beautiful views over Tel Aviv. Every meal here is a discovery; with inspiration from cuisine around the world, the dishes are all full of flavour, textures and surprise. The starters include smoked Spanish mackerel with fresh vegetables, red tuna sashimi and Israel black caviar. For mains, enjoy duck breast with endive salad and Moroccan cigars with tahini. Finish with chocolate with hazelnuts and vanilla ice cream, it's glorious.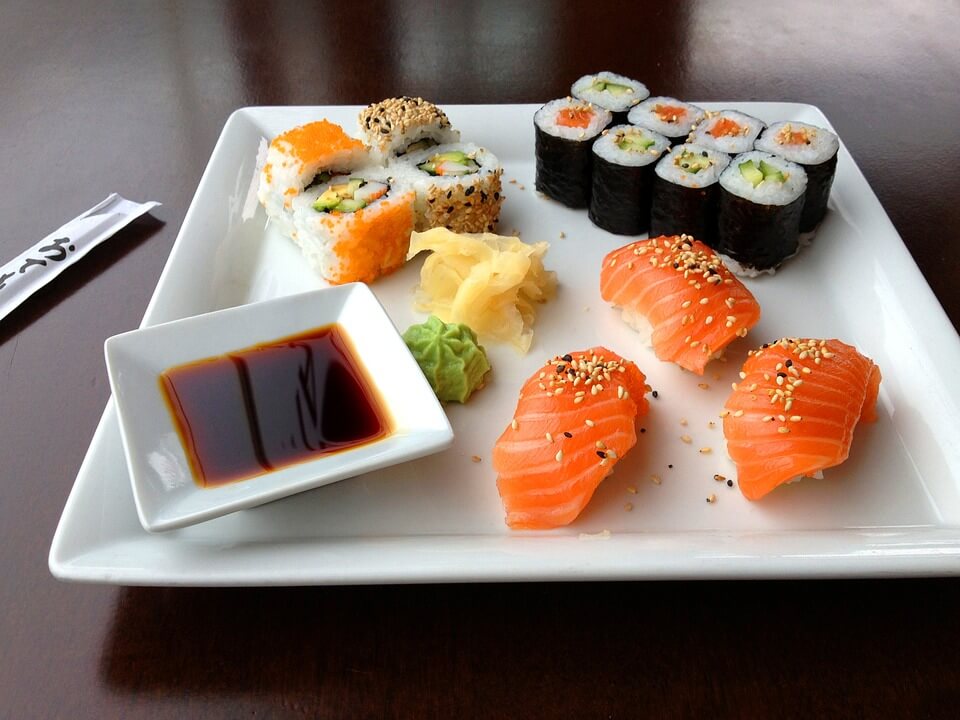 Moon was the first sushi bar in Israel to feature a sushi conveyor-belt. Launched ten years ago on Bograshov Street, it's now a Japanese favourite in the city. With an intimate and relaxed design, Moon is great if you eat at the bar and watch the world go by. Their food is beautiful – try the cucumber, wakame seaweed and sesame salad, sushi roll with salmon skin, avocado, cucumber and sweet potato tempura and salmon, red tuna and avocado topped with steamed shrimp and salmon eggs. Glorious.
DO
Hit the Beach
There's so many amazing beaches in the city; Tel Aviv has 16 beaches which are all beautiful, full of life, sunshine and great food. Our favourite is Banana Beach – the whole west flank of Tel aviv is lined with stunning beaches, and Banana Beach, on the southernmost side, is one of the best. It's here that you'll find lots of young people, drinking cocktails in the early evening at sunset, and people playing beach games. The Banana Beach cafe is the perfect spot for a light lunch (their hummus is brilliant) and an iced coffee. Our favourite.
Discover the Markets
Tel Aviv is brimming with wonderful markets; there's Carmel Market, the craft markets on Tuesdays and Fridays, and the antiques market in Jaffa. The most famous open-air shopping area is Carmel Market, which is near the very trendy and cool Neveh Zedek quarter. Carmel Market is great for fresh Israeli produce, such as Israeli olives, pastries, fresh fruit and juices, as well as handcrafted goods on their weekly craft market. If you're looking for some negotiation, try the Jaffa Flea Market – here you can haggle on all kinds of vintage items, such as jewellery, furniture and glassware. For something different, try Shuk Ha'aliyah in the Florentine quarter – here you can see traditional craftspeople making furniture, homeware and more, and you can pick produce, such as alkan cheeses, pickled vegetables and spices. Glorious.
Visit Jaffa
Jaffa, also called Japho or Joppa, is the southern, oldest part of Tel Aviv-Jaffa, an ancient port city in Israel. It's full of history and culture, and well worth a day trip. The oldest seaport in the world, Jaffa is home to Jews, Christians and Muslims, each with their own story to tell. Not only home to the best hummus in Israel, in Jaffa you can see culture at the Nalaga'at Theater, which offers and dine and show deal with BlackOut restaurant, as well as grabbing the best baked goods in town at the famous Arab bakery Abouelafia and Sons. Dinner at the Old Port in Jaffa is a must – here you'll find some of the best fish restaurants in all of Israel.
STAY
Where to stay in Tel Aviv? Don't worry, we have you covered…
Hotel Montefiore is an oasis of style in Tel Aviv, with unparalleled luxury, intimacy and exquisite style in a picturesque setting. Built in 1922, the Hotel Montefiore first existed as a private residence before its three year restoration, and now is one of the best boutique hotels in Tel Aviv. With only 12 rooms, all decked out in stylish dark wood furnishings, is the perfect choice if you're looking for a romantic, secluded stay. What's more, the hotel boasts some of the best food in town – their flagship Tel Aviv restaurant serves up sensational steaks, and they have a classic bar with creates some wicked bespoke cocktails. Yes, please.
The all-new Mendeli Street Hotel is a design hotel that reflects the contemporary spirit of Tel Aviv, moments away from the beach and the port. It's only a 2-minute walk away from the beach, and has all the facilities you could want and need – a great gym, 24-hour concierge service, a brilliant restaurant and beautifully designed rooms. Their restaurant, Mashya, serves up a fantastic Israeli breakfast every morning, which will set you up perfectly for a hard day at the beach. It's a family affair here – ever since the hotel's opening in the 1960's, three generations of the owner's family have been welcoming guests. Their recent renovation project means the hotel is bigger and better than ever – a place that you will want to return to, time and time again.
If you'd like to stay outside of the city, this is the place for you. The Ritz-Carlton, Herzliya, is beautiful – with a colour palette inspired by the golden sands, deep blue skies and coastal waters of the Mediterranean. This luxury Tel Aviv resort has everything you need – amazing kosher cuisine and wine at Herbert Samuel, a luxurious spa and the stunning views of the waters below. The hotel boasts one of the best spas in Tel Aviv, with 6 luxurious treatment rooms, Turkish Hammam, Swedish sauna, and sea view relaxation area. Perfect.
Sponsored post in association with MASA Israel as part of #MASAIsraelMonth – for more information, see their website here and follow them on Twitter here. All photo credits belong to the restaurants.