Florida is a foodie paradise, with Fort Lauderdale boasting a fine array of restaurants and cafes. We ate our way around this sunny state to bring you the best things you should be tucking into. We can confirm your tummy will be very happy indeed:
1. For Brunch: Hyde Beach Kitchen 
Order: Lobster roll – classic with celery, lemon zest and cayenne, served with shoe string fries
The Lowdown: Hyde Beach Kitchen is found in the up-and-coming district of Hallandale Beach. This waterside pitstop looks fresh off the pages of a holiday brochure, with the clientele as clean looking as the nautical interiors. The large outdoor seating area is ideal for al fresco brunchin' and lording the sweet Floridian rays. Swing by on a weekend for their brunch, served against a backdrop of banging beats.
Why: The menu boasts a fine selection of brunch classics. Think, French toast, eggs and bacon, steak and eggs, and assorted fruit, along with heartier dishes of lobster pasta, fried chicken and waffles, and lobster mac and cheese. Come for the hangover burger alone – a stomach busting meat patty topped with eggs, bacon and cheese. Any place that has sea views, killer cocktails and great food to boot gets our vote.
Where: 111, S Surf Rd, Hallandale Beach, FL 33009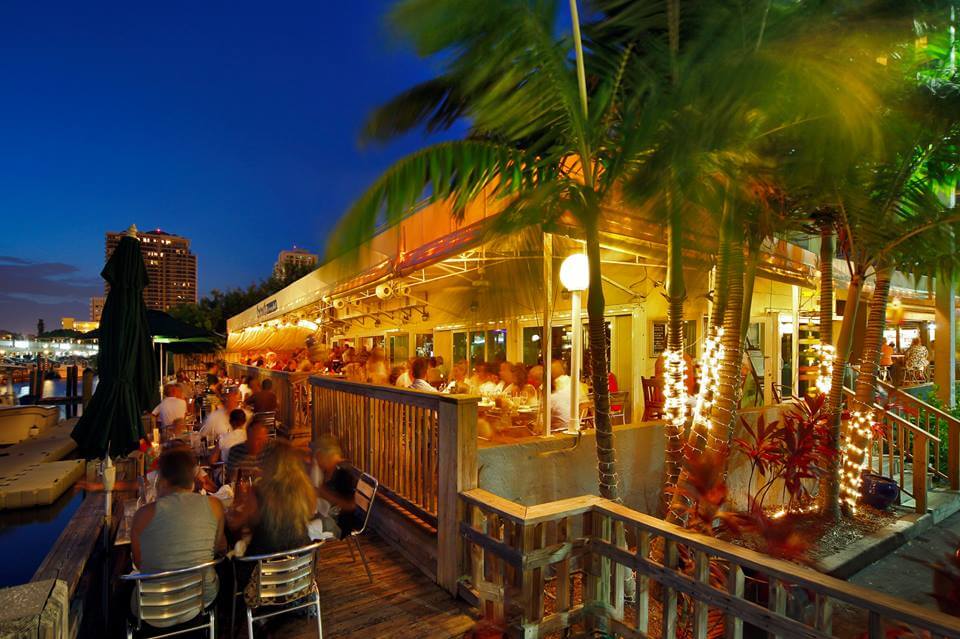 Order: Coconut shrimp platter – golden shrimp, french fries and coleslaw
The Lowdown: Ask any Fort Lauderdale native where to go for dinner, and we guarantee the first option will always be laid-back bistro, Coconuts. What this place lacks in modern furnishings, they make up for with their seafood dishes, and all round great grub. Looking out over the jetty, this is the ultimate spot to people watch and spy on some of the largest yachts in the area. The team live by one motto 'be nice', with the staff some of the friendliest in the area.
Why: The food here will make you happy on the inside – portions are large and the food is top quality. The fish tacos are a local favourite and the local mahi sandwich is equally notorious. Meat fanatics, rejoice in the glory that is the jambalaya with chicken, shrimp and andouille sausage. It's spicy, packs a punch, but overall it's a bargain. Wash it all down with their marine root soda.
Where: 429 Seabreeze Blvd, Fort Lauderdale, FL 33316
Order: Everything
The Lowdown: If you're on a foodie pilgrimage around Florida, Kuro is your mecca. Housed in the Seminole Hard Rock Cafe and Casino, this Japanese haunt operates at a different pace to the roulette tables and slot machines found outside its entrance. Relaxed, laid back, yet refined – the restaurant is the new kid on the block at Hard Rock Seminole. The menu pays homage to classic Japanese methods and ingredients, whilst also boasting modern and comtempoary bites thanks to Creative Culinary Director and Executive Chef, Alex Becker and Executive Sushi Chef, Shuji Hiyakawa who have sprinkled their magic over the menu.
Why: Throw the menu out of the window, and let the staff take you on a gastronomic journey. If there's one blow out meal to have in Fort Lauderdale, make it this one. The menu features both locally sourced and imported ingredients directly from Japan. The wagyu tacos and beef negima from the robata grill, and the Chilean seabass miso are traffic halteringly good. And those cinnamon doughnuts and that dulce de leche sauce had us signing up for a loyalty card on the spot.
Where: 1 Seminole Way, Hollywood, FL 33314
4. For Frozen Yogurt: Yogurt Ur Way
Order: Cheesecake frozen yogurt topped with Reece's peanut butter sauce
The Lowdown: Yogurt Ur Way is exactly what it says on the tin – it's yogurt, your way. And we aren't just talking about the plain variety. This shop is on par with Willy Wonka's Chocolate Factory, except everyone has won a golden ticket. Opened back in 2011, there's now four outlets across Florida, with the branch on Las Oslas Avenue in Fort Lauderdale the go to. The hardest decision at Yogurt ur Way is what flavour to go for. Don't fret; you can have them all.
Why: Want four different flavours? You can. What as many E Numbers as your hearts desires? You can. All of the yogurt is 100% yogurt with no artificial flavours, and no water added. There's over 60 different flavours that rotate weekly. Dig your spoon into cake batter, cheesecake, cookies and cream, and peanut butter yogurt. And it doesn't stop there – go absolutely wild on the toppings – brownies, peanut butter cups, nut and other chocolatey delights.
Where: Locations here 
Order: Caponato Bruschetta to start and Spacca Napoli pizza for main
The Lowdown: Louie Bossi is found on the main drag in Fort Lauderdale, Las Olas Avenue. This popular pizzeria and grill feels like a upmarket Frankie and Benny's, with much better food and a buzzing atmosphere. On warm days and blamy nights the restaurant packs out their front courtyard, although it's best to head to the large outside terrace at the back of the restaurant for a slice of rustic Italy in Florida. There's also a boules lane, perfect for after dinner games, and digestion and chill.
Why: Seriously, this place knows how to please hungry Americans and the out-of-towners; the options here are endless. The crowd pleasing pizzas are a must order, with the Piccante topped with spicy salami, fior di latte, and peppadews heavenly. Louis Bossi is a place for after work drinks, a catch up lunch with the girls, or a date night dinner. Yes, we will judge you if you don't order the tiramisu for dessert.
Where: 1032 E Las Olas Blvd, Fort Lauderdale, FL 33301
6. For Seafood: Lobster Bar Sea Grille
Order: Live lobster steamed and cracked
The Lowdown: Tourists and locals alike flock to Lobster Bar Sea Grille for their seafood kicks. Swap your flip-flops and beach shorts for something far more classier, this is the place where you quaff fine wines and marvel at the decor. This upscale restaurant is known on the circuit for its sea food – if it has been swimming in the ocean, it'll probably be on the menu. When the weather is warm, head for a table on their outdoor terrace to soak up the sunshine and knock back one of their expertly crafted cocktails.
Why: Lobster Bar Sea Grille is the Rolls Royce of the seafood restaurant world. The menu features whole lobsters, caviar, a variety of seafood on ice and whole fishes. Over the weekend, they roll out their special three course menu for the purse friendly price of $54. For a seafood hotspot, they whip up a mean filet mignon steak, and their lobster stuffed with lobster stuffing is a sight to behold.
Where: 450 E Las Olas Blvd, Fort Lauderdale, FL 33301
Photo Credit: Sara Hanna Photography
7. For a Theatrical Dinner: Mai-Kai 
Order: Blackened shrimp to start and spicy beef with almonds for main
The Lowdown: Release your inner warrior and head to Mai-Kai for a Polynesian dinner with a difference. Mai-Kai is a full on tiki party complete with flames, live shows of dancing depicting Polynesia's rich heritage, and a string of other acts. Grab a table stage side to get a cracking view of the action. They've gone the whole nine yards with the Polynesian theme – life-size tiki sculptures, a wooden bridge entrance and thatched roof. Some people say it's verging on tacky, we say it a bloomin' good fun.
Why: The menu clearly states what meals are suitable for all the ceoliac hunnies, with an abundance of veggie options also available. The Mai-Kai beef, panang chicken curry and Lobster Bora Bora are some of the highlights from the menu. The shrunken skull and Tiki Swizzle from the tropical drink selection are both potent, and well worth an Instagram shot.
Where: 3599 N Federal Hwy, Fort Lauderdale, FL 33308
8. For Snacks: Dolce Salato Pizza & Gelato
Order: Slice of Americana pizza and a cone of pistachio ice cream
The Lowdown: In the words of Hannah Montana, you get the best of both worlds – and no truer word is spoken when visiting Dolce Salato Pizza & Gelato. Family run, this authentic Italian joint specialises in, you've guessed it, pizza and gelato. Everything is made on site, with their famous marinara sauce legendary. You can buy pizza whole, or grab a slice, with the pizzas topped with a range of different ingredients.
Why: First things first, the pizza dough is light, crispy and full of flavour. You can't complain about the quality or the freshness here. Don't you dare go for a swift Big Mac before trying the glorious sauce-y slices of heaven that await at  Pizza & Gelato. Their gelato is just as good, or even better that their savoury bites. The gelato is creamy and delicious – the hazelnut and pistatio flavours shouldn't be missed. They also sell a range of dairy-free flavours including mango, wild berries and strawberry.
Where: 2406 Wilton Dr, Fort Lauderdale, FL, United States 33305
9. For Baked Goods: Pan'e Dolci
Order: A couple of  cannolis and a scoop of chocolate gelato
The Lowdown: Pan'e Dolci is known around town for their baked delicacies and proper authentic Italian eats. Bringing big European flavours across the pond, they bake everything in house including bread, tarts, wacking great slices of cheesecake and biscuits. If that doesn't satisfy your sweet tooth craving, they also sell their famed gelato.  Keep it simple and opt for a scoop of the coconut – it's fantastic.
Photo Credit: lasolasboulevard.com
Why: Their cannolis with a sweet ricotta filling are out of this world. It's basically a cookie and cream combo stuffed into little tubes of pastry, but they make a perfect afternoon pick me up. There's a great selection of sweet treats, and their savoury options aren't too shabby either. Order one of their espressos and a croissant sandwich, naturally.
Where: 3341 E Oakland Park Blvd Fort Lauderdale, FL 33308
Photo Credit: Yelp
Order: A variety of maki rolls and the steak sandwich
The Lowdown: A few paces from Fort Lauderdale Beach is S3 (standing for sun, sea and surf – with the restaurant looking out onto all three). And like the name, the restaurant serves three things: steak, sushi and seafood. The restaurant is vast, and the open kitchen is the main focal point of the dining area. The outdoor patio with fire pits and custom lounge seating is the ideal spot for picturesque views of the ocean and diving into a bowl of their chagrined edamame peas whilst pondering the menu.
Why: This place has sharing vibes written all over it. There's oodles of choice when it comes to picking your sushi, although take our word for it – the hurricane roll with pineapple, japans and tuna is a winner, and the rice less rolls are far lighter that its maki roll cousin. All of their produce is locally sourced, and thoughtfully prepared. Double your protein intake with the small plates of mac 'n cheese, and goat's cheese croquettes. Gooey, cheesy, goodness. If you don't fancy eating, perch yourself on a stool at the outside bar and watch as the mixologist magicians whip up some damn good liquid concoctions.
Where: 505 N. Fort Lauderdale Beach Boulevard, Fort Lauderdale, FL 33304
For more information, visit the Fort Lauderdale website here.