About Time: You Discovered the Best Beaches in California, USABy Angelica Malin
Sick of the winter blues? We say, head to the sunny beaches of California. With over 800 miles of coastline, it's not difficult to stumble upon large stretches of untouched sand, and breathtaking views. Don your wet suit and buy your travel insurance – it's about time you discovered the finest beaches in the Golden State. Looking for the best beaches in California? Here you go:
1. For Beach Hikes: San Fransisco
The Lowdown: San Francisco is known for many world-class attractions around the city, but the incredible beaches are often overlooked by travellers. San Francisco's beaches offer scenic views as well as plenty of hiking, kite-flying, surfing, relaxing and more. Baker Beach offers the best ocean view of the Golden Gate Bridge and the Marin Headlands; the perfect spot for sunbathing whilst watching the sea lions in the early morning.
Don't Miss: One of the lesser-known and visited beaches in San Francisco, Lands End is a hidden gem secluded behind the dramatic cliffs of Lincoln Park. Access the beach via a steep trail, and beautiful hike paths surrounding the beach make Lands End a must-see attraction. A classic California beach experience is offered at Ocean Beach, which stretches along the entire west side of the city and offers panoramic views of the Pacific Ocean.
The Lowdown: Santa Cruz, California, the birthplace of mainland surfing and home to the largest number of state parks and beaches than any other county in California (14 in all!), offers the classic California beach vacation with its old growth coastal redwood forests, legendary 100-year old seaside amusement park overlooking the sparkling blue Monterey Bay, 70 wineries and 1,500 acres of wine grapes, and so much more. Santa Cruz County's 29 miles of sun-splashed, fun-filled beaches has something for everyone.
Don't Miss: From dramatic windswept cliffs to the wide expanses of sand and sea – there's endless outdoor options.  Find your sweet spot in the sand, with surfing, volleyball, hiking along coastal bluffs, or kick back with beach-side picnics.
3. For Natural Wonders: San Luis Obispo County (SLO CAL)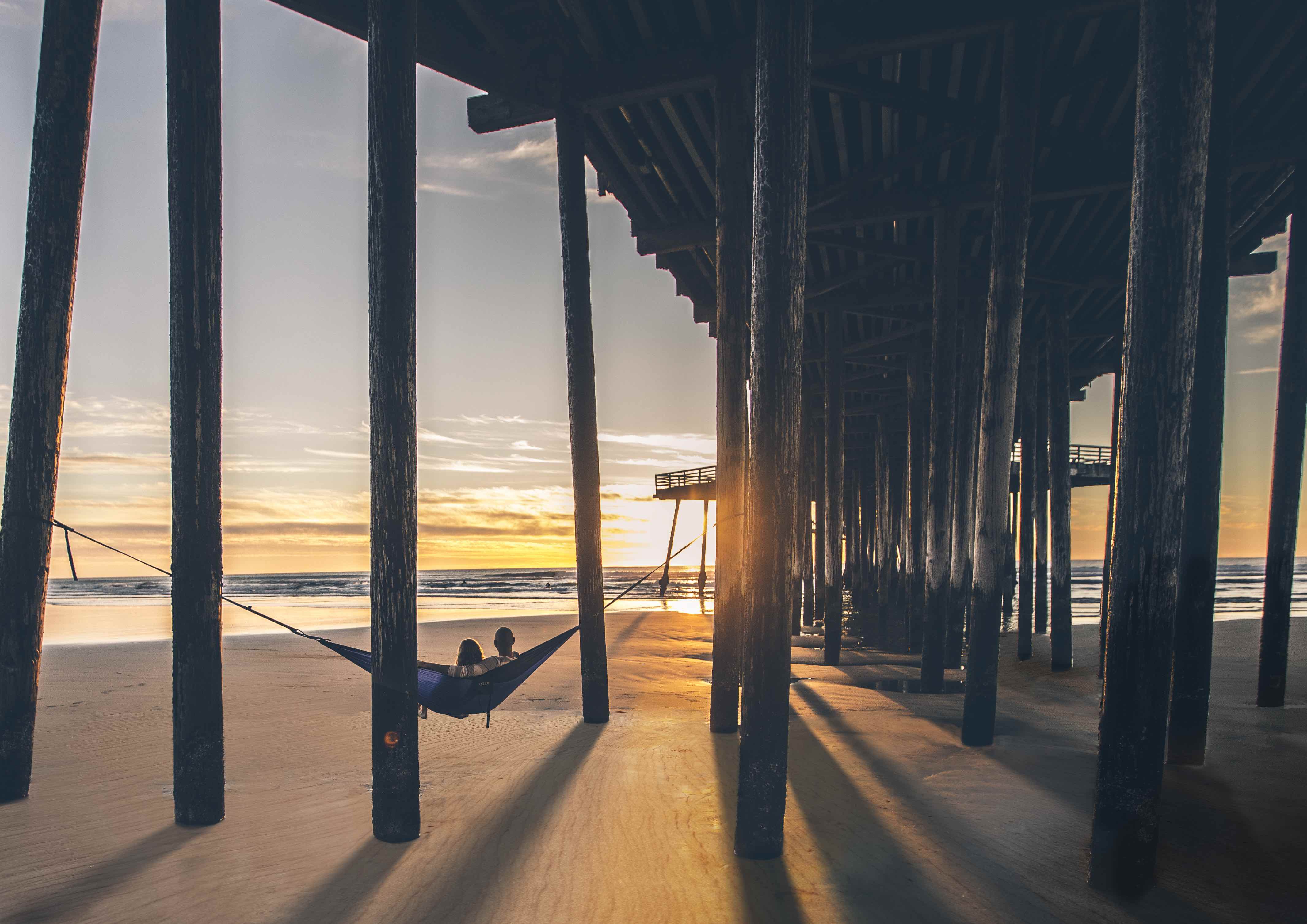 The Lowdown: Located midway between San Francisco and Los Angeles, SLO CAL offers up a colourful tapestry of earth, sea, art and agricultural abundance. Covering 3,616 square miles including 80 miles of coastline, SLO CAL has something for every type of holidaymaker: wine country, coastal beach towns, natural wonders, quiet fishing harbours, and bustling downtowns.
Don't Miss: In springtime, be sure to take a leisurely hike along the flower-filled coastal terrace of Fiscalini Ranch, or stroll along the boardwalk at Moonstone Beach. Estero Bluffs State Park offers wide-open ocean views perfect for whale watching, especially in the months from December to March.
4. For Costal Luxury: Santa Barbara – The American Riviera
The Lowdown: British travellers seeking a hint of coastal luxury can escape the cold, soak up the California sunshine and enjoy a variety of offerings in Santa Barbara, also known as the 'American Riviera' for its year-round Mediterranean temperatures and Spanish-style colonial architecture.
Don't Miss: Sunset cruises from Santa Barbara Harbour and Kayak tours around Channel Islands National Park make for scenic trips on the water, whilst bicycle rides, horse-riding, world-class wellness activities, local cuisine and California's original Urban Wine Trail are a few of the attractions that await on land. Whilst Stearn's Wharf and West Beach beach sit in close proximity to the city and Funk Zone area, secluded beaches, and coastal bluffs can be found along the coastline for surf and serenity.
 5. For a Winter Hangout: Huntington Beach 
The Lowdown: With 16 kilometres of pristine beaches and year round conditions for breaking surf, local surfers head to Huntington Beach, also known as Surf City USA, where surf's up even in the winter months (and nights can be spent roasting s'mores on fire-pits dotted across the beach). Beautiful walking and cycle paths line the beach from one end to the other and Huntington boasts one of the largest recreational piers in the world, complete with 50's style American Diner, Ruby's, perched at the end.
Don't Miss: If the lapping waves aren't your thing, calmer waters can be found at Huntington Harbour, a popular spot for paddleboarding, or even a gondola ride. Located just 35 miles south of Los Angeles and home to brands such as Vans and Hurley (the latter with a brand new flagship store across from the beach, offering custom fitting wetsuits), Huntington Beach defines California cool and is easy to reach from LAX.
6. For Water Sports: Newport Beach
The Lowdown: Only an hour south of Los Angeles this sunny beach side town is the perfect hub to explore Southern California. With its beautiful sandy beaches, amazing water sports offering, close proximity to major theme parks and great shopping and dining it has everything to make you want to pack your bags and head there this spring.
Don't Miss: There are plenty of beach activities on offer here for you to enjoy, including surfing some of the highest waves in California, paddle boarding or cycling along the coastal path with breath taking views. There's plenty of urban developments happening in the city including the luxurious Resort at Pelican Hill overlooking the vast expanse of the Pacific Ocean.
The Lowdown: San Diego is renowned for its 70-miles of coastline, laid-back beaches and Cali-Baja cuisine, but even more so for its year round warm weather – perfect for a getaway to beat the winter blues. Direct flights from London Heathrow take you to San Diego International Airport with BA and only a 10 minute transfer time downtown. Coronado beach, Ocean beach and La Jolla offer the perfect setting to practice snorkelling and kayaking, and watching sea lions at the cove.
Don't Miss: Rewind at La Jolla, the swanky seaside community to the northwest of San Diego that is home to boutiques, waterfront restaurants, plus three great beaches. The beaches of Torrey Pines State Natural Reserve could take your breath away. Follow nature trails dotted with wildflowers, ferns and rare Torrey pines to the cliff edge, then descend to virgin sands.