As one of the most visited cities in the world, Hong Kong is home to an array of hotels often housed in the glittering and majestic skyscrapers that make up the iconic skyline. For visitors looking for a break on a budget, without having to compromise on value, we bring you the best budget hotels in the city.
1. For Thai Design: Soravit on Granville
The Lowdown: Opened in April 2018, Soravit on Granville is a Thai themed hotel situated in the heart of Tsim Sha Tsui. Its guestrooms and large restaurant boasts authentic Thai design and artwork by artists from Bangkok. Penchant for shopping? You've hit the big time, as Soravit on Granville is just a short walk from the world of luxury goods and high street boutiques. And if you want to pick up a bargain, Canton Road and Nathan Road are just minutes away.
Price: Rooms at Soravit on Granville start from HK$1,200 (approx £109)
Where: 29A Granville Rd, Tsim Sha Tsui, Hong Kong
2. For a Rooftop Pool: Hotel Jen
The Lowdown: Hotel Jen is a budget friendly property which is part of the Shangri-La family catering to urban adventurers. It aims to deliver comfort, quality and value but with a playful twist and friendly service. As well as 283 guestrooms, Hotel Jen encourages everyone to seize the stay, meet the locals, and unravel the city through experiential programmes focused on after-dark exploration, artistic discovery, local rituals, as well as promoting local flavours and food producers.
Price: Rooms at Hotel Jen start from £90
Where: 508 Queen's Rd W, Kennedy Town, Hong Kong
3. For a Modern Oasis: Hotel Stage
The Lowdown: Located in the heart of Kowloon, Hotel Stage has been designed to incorporate a urban minimalist interior with state of the art technology to enhance guest experience. The philosophy behind the hotel is to provide a modern oasis, which promotes art, culture and community. Nestled within the cultural riches of surrounding neighbourhoods, including Tin Hau Temple and the Jade market, Hotel Stage offers Superior, Deluxe and Suite guestrooms as well as an all day dining restaurant, a wine bar, and a unique initiative called Art Bridge where stories of its community are told through different art forms.
Price: Rooms at Hotel Stage start from HK$1,200 (approx £109)
Where: 1 Chi Wo St, Jordan, Hong Kong
4. For Minimalist Rooms: Hotel TUVE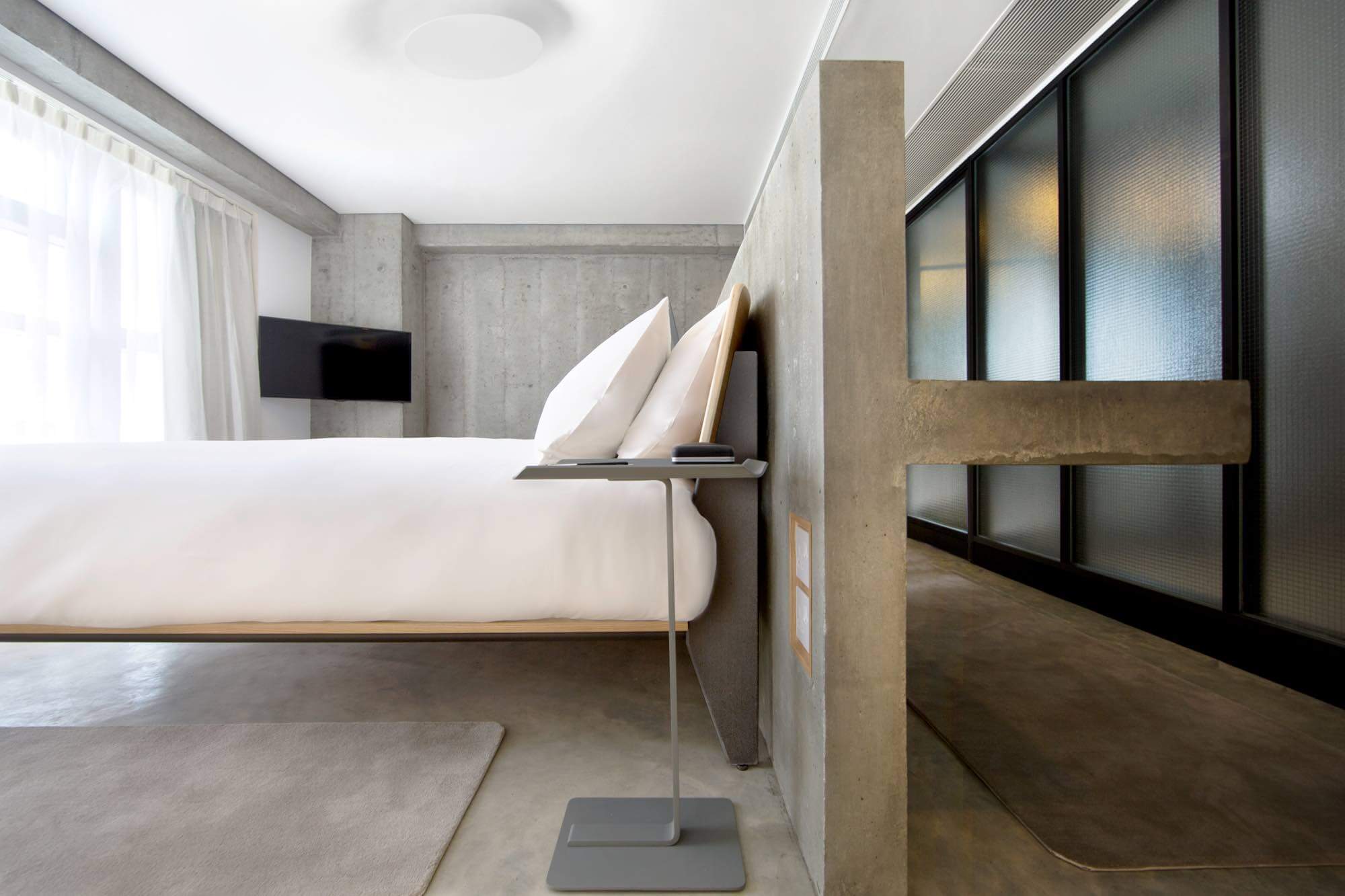 The Lowdown: Tucked away in Causeway Bay, Hotel TUVE is a minimalist and stylish hotel with an industrial feel. The hotel may be modern but once visitors step outside, they will be met with a bustling traditional neighbourhood featuring noodle shops, foot massage spas, and a few streets away, Victoria Park. As well as 66 guestrooms, with concrete walls and floors, Hotel TUVE also offers an intimate Italian restaurant and is a five minute walk from Tin Hau MTR station.
Price: Rooms at Hotel TUVE start from HK$1,100 (approx. £100)
Where: 16 Tsing Fung St, Causeway Bay, Hong Kong
5. For Old School Glamour: Lanson Place
The Lowdown: A stylish city retreat, Lanson Place is a hotel housing 173 modern guestrooms and 21 suites inspired by its European façade. Offering comforting calm just minutes from the excitement of Causeway Bay, the hotel also features an elegant lounge with library space, and a fully kitted out gym with Techno Gym equipment and sensational views over Victoria Park. Rugby fans will also appreciate the hotel which is a mere 700 metres away from Hong Kong Stadium, with some rooms offering game play views.
Price: Rooms at Lanson Place start from HK$1400 (approx. £128)
Where: 133 Leighton Rd, Causeway Bay, Hong Kong
6. For a New Opening: Hotel VIC on the Harbour
The Lowdown: Opening in September 2018 Hotel VIC on the Harbour will be the latest affordable hotel in the heart of Hong Kong. Located in the North Point district on Hong Kong Island, the hotel will offer 671 affordable luxury guestrooms and suites as well as a rooftop bar, restaurant and swimming pool providing panoramic views of Victoria Harbour. Boasting a unique design that enables all guest rooms to have a view of the harbour, Hotel VIC on the Harbour has been a product of renowned award-winners Rocco Design Architects Ltd.
Price: Rooms at Hotel VIC on the Harbour starts from HK$1,500 (approx. £137)
Where: 1 North Point Estate Lane, North Point, Hong Kong