Stay Here: The Spread Eagle Hotel and Spa, SussexBy Claudine Levy
You know a place has nailed service when you turn up on the wrong weekend and dumbfoundingly attempt to check into your room, a week early, only to be greeted with a smile and a 'no problem'. And that's exactly the kind of welcome you can expect at the Spread Eagle Hotel and Spa. Foggy brained and laden with London, we attempted to check-in a week too soon. The staff at The Spread Eagle easily shrugged off our embarrassing predicament, and found a room for us at the very last moment. Now that is impressive.
The Spread Eagle is the kind of place you need to have in your back pocket for those times that life just gets a bit too much – when work deadlines and sweaty tube carriages conspire to make you feel like you're living life in a cartoon on fast-forward. This is when you know you need to opt-out of the city for a weekend, jump on a train with a good book and a better friend, book a room and spa treatment, and bliss out for a no-frills fuss-free few days.
The hotel is part of the Historic Sussex Hotels collection, which also includes Bailiffscourt – a stunning series of houses and cottages in private parkland next to Climping beach, and Ockenden – a luxurious Elizabethan manor house and spa.  The Spread Eagle is a wee 39-room former coach house in the pretty little town of Midhurst in West Sussex. There's not much there, except maybe a pub and a parish church, but that's kind of the point.
The Spread Eagle Hotel and Spa: The Accommodation
The hotel itself dates back to 1430, and in 1533 was brought by Henry VIII's admiral, no less. Since then, the property has been transformed into a cosy hotel replete with the only wig closet left in England. I know. You can choose from a series of suites, deluxe and traditional rooms, and if possible, you should request a four-poster bed, because you deserve to kid yourself into thinking you ARE the queen for at least the weekend. We stayed in the gorgeous White Room – overlooking the front of the hotel. The room also has a secret passageway leading up over the roof, which was used by smugglers in the 17th century, so that comes in handy.
The Spread Eagle Hotel and Spa: The Spa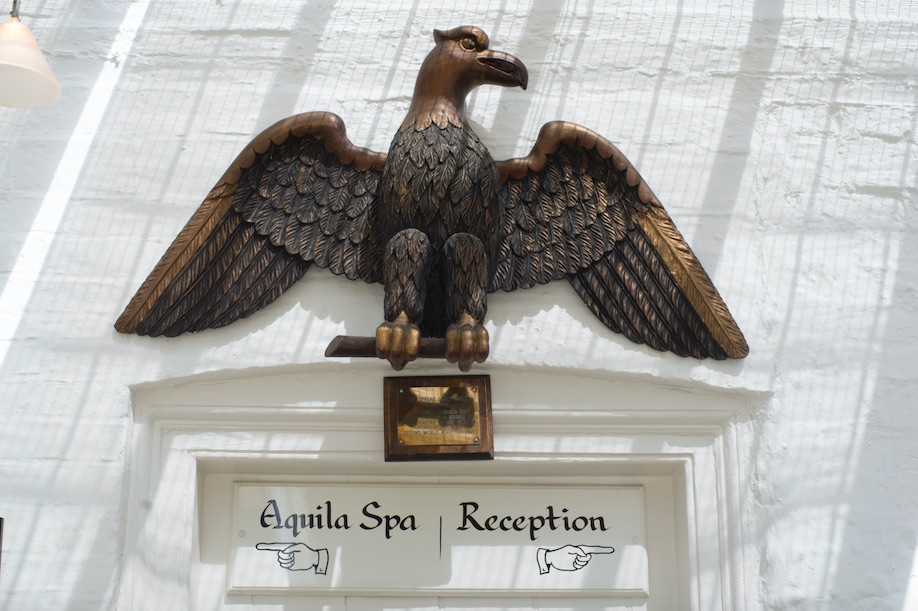 The spa is simple and low-key, if it's possible for a spa to be homely, this spa is homely. There is a pool, along with prerequisite jacuzzi, steam room and sauna, and all treatment rooms are upstairs in the hotel, so you get to feel fluffy carpet underfoot while you shuffle along in your slippers. The signature treatment is a full-body mud wrap. The South Downs Soother is an intensely relaxing 90 minute experience which starts with a soothing foot bath, and then moves on to a detoxifying body brush, mud wrap, mini facial and foot massage. If you suffer from claustrophobia, I'd recommend opting for another treatment such as The Windows of the Soul facial which focuses on the delicate eye area, or the Media in Good Spirits – a massage dedicated to the neck, shoulders and back – perfect for those desk-induced knots.
The Spread Eagle Hotel and Spa: The Food
The Spread Eagle's cute little restaurant is so atmospheric that you'll forgive the slightly dated vibe. It has something of a '100 year old grandma' about it, with uneven floorboards, rickety chairs, and a roaring open fireplace covered in copper pans. The food, on the other hand, is as modern British as it gets – think artichoke soup with parmesan crisps, foie gras on toasted brioche, and that oh-so-classic staple of any contemporary menu: triple cooked chips. All dishes are unfussy and delicious, and provide the perfect yummy fodder for rolling upstairs to bed to pass out in your four-poster bed like Henry VIII.