There is something incredibly beautiful about this hotel. Everything sparkles.
From the chandeliers to mountain tops, the gold dusting on the Snickers macarons to the ultra-cool, ultra-modern indoor swimming pool; this hotel has a glow about it. Even the car that picks us up, a Rolls Royce which once belonged to Roger Moore, sparkles with pride.
I keep muttering the words 'alpine fresh' to my colleague. She finds it annoying, but I know she feels it too: a lightness, a clarity, that makes the hotel feel miles away from bustling city life.
As the owner explains about Gstaad: 'You come up, to slow down'. And how.
There's something magical about being tucked away in the Swiss alps during summer; it's a stolen moment of beauty, away from your postcard-perfect snow-capped Swiss alps vision.
The mountains are bathed in sunshine, not snow, and somehow it's all the more beautiful for its irregularity. The snowy Swiss picture seems tacky and cliched by comparison; this streaming summer light is far more breathtaking.
And this is no ordinary hotel; Le Grand Bellevue is a 5* luxury boutique hotel, owned by the charismatic Daniel and Davia Koetser. Daniel talks with such enthusiasm and belief, that you can't help but fall in love with the place.
The hotel holds particular significance to him; his wife, who designed its stunning interiors, and he met on its very lawns, and they spent the first night of their honeymoon in this hotel. When it came onto the market, they felt they 'had' to buy it – and 6 months later, a brand new hotel opened.
That feeling of the personal, those touches of love, run through the vein of the property; from the waiter who places a silver cloche over our food to make sure it stays warm, to the waitress who remembers my penchant for the mini chocolate brownies, and the doorman who brings you an umbrella to the restaurant, it's the special touches that show Daniel and Davia's passion is contagious. No wonder 75% of the staff end up staying at the hotel each season.
If you're looking for the perfect place for a summer getaway, or a skiing break in December, here's what you need to know:
Le Grand Bellevue: The Design
Le Grand Bellevue opened last December; a small hotel, with only 57 rooms, it manages to be both youthful and traditionally elegant at the same time. It has the feeling of a house hotel; the bright and colourful living spaces could be your own home, with huge sofas and George Smith armchairs. There's even a specially curated library with everything from chick lit to heavy non-fiction to please all kinds of traveller. Guests can enjoy afternoon tea by the fireplace (it's a double-sided fireplace, of course) and snuggle up with hot chocolate in the winter months. There's also birdcage chairs, if you're wondering.
The bedrooms are filled with light, air and space. Many of them have their own balconies; and the modernity of the rooms is balanced by the cute touches, a free mini bar, and Bamford cosmetics, that make you feel as it's your own room.
Le Grand Bellevue: The Food
If you need a drink, the Art Deco bar with a 17-metre custom-made Chesterfield has a classy, elegant feel. The best cocktail is a Bellevue Smash with fresh berries, gin and lemon. That's a serious cocktail, right there. You can also pick a bottle of wine from the 10,000 strong wine cellar, or enjoy some cognac in the cigar room.
The hotel also boasts a one-Michelin star restaurant; Leonard's. The restaurant is somewhere between super fine dining and comfort food; it's not overly refined fancy fare (the kind of food you need a microscope to see) just delicious, homely cooking, done with absolute finesse. The tuna tartar is avocado and coconut is the work of a seriously confident, and seriously capable, chef. It's not all super fancy, mind, they have also have a damn good molten chocolate cake with a melting middle. In the winter months, more traditional Swiss stews and meat dishes will feature heavily – perfect for the post-skiing crowd.
They also have a stunning sushi restaurant with an actual Japanese chef and the most adorable traditional Swiss lodge, Le Petit Chalet, with serves one thing and really well: fondue. In this 18-man restaurant, you can get cheese fondue, raclette and amazing red wine. Frankly, what else do you need.
Le Grand Bellevue: The Activities
You won't be bored in Gstaad. Beyond all the alpine adventures, such as skiing, snowboarding, hiking and camping, there's also plenty on offer from the hotel. There's a cinema who screens every night and the Yacht Club, members' club, within the hotel.
The hotel offers cheese fondue hikes (the dream) where you will be kitted out with a backpack with the fondue essentials, before setting off for a mountain stroll. You can also join the hotel on gourmet treks which showcase local herbs and produce, before having a cooking lesson back at the hotel. There's also cycling tours, arranged by the hotel, and all sorts of outdoor pursuit.
Le Grand Bellevue: The Facilities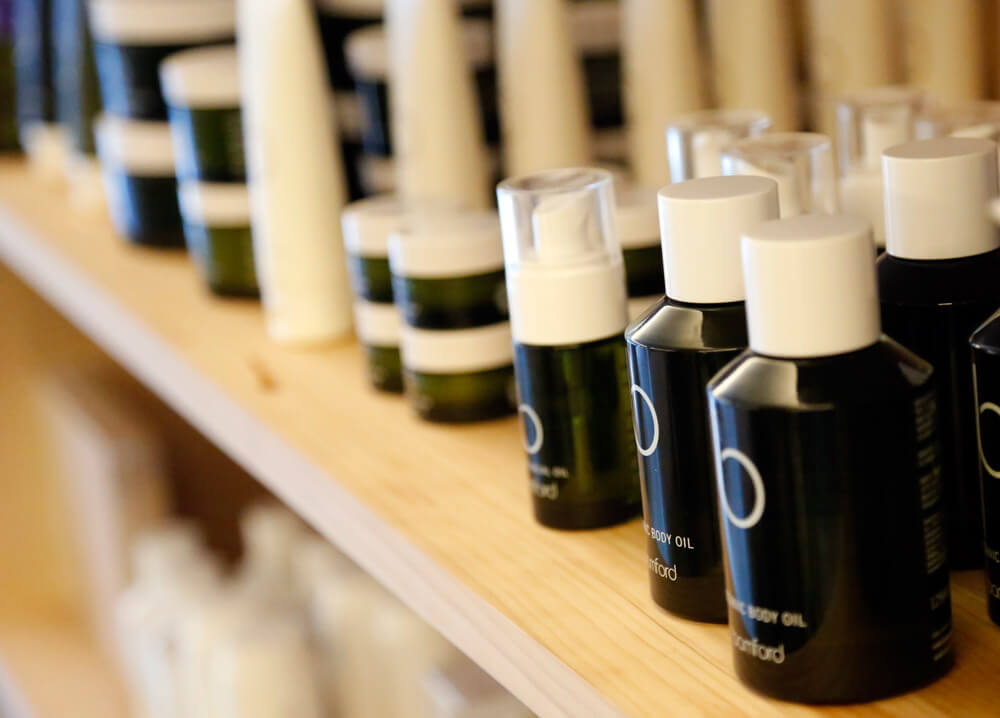 If all that's too active, there's the Bellevue Spa. It's an sensational spa; working with Bamford and Cellcosmet, you can have all manner of treatments, remedies and retreats. There's also eight spacious treatment rooms; an array of heat therapies including Turkish hammam, Himalayan salt inhalation grotto and outdoor Finnish sauna; a fully equipped gym; yoga & pilates studio; beautiful relaxation areas with water beds overlooking the mountains and a beautiful swimming pool opening up onto a lavender-clad terrace.
There's also an outdoor lounge bar which plays host to a cinema for guests; serving icy cocktails, champagne and tapas. Come for the famed risottos (and caviar ice cream), stay for the Alpine scenery. Heaven.
Summer rates from 390 CHF per room based on double occupancy on a B&B basis.
Winter rates from 620 CHF per room based on double occupancy on a half-board basis.
For more info call +41 33 748 00 00 //Email: info@bellevue-gstaad.ch or take a look at the hotel website.