Looking for an island escape? Overwhelmed by the hustle and bustle of city life? We have just the ticket. The Conrad Maldives Rangali Island is everything you're looking for and more. With luxury accommodation, world-class food, incredible experiences and 5* service, read on to discover why it's about time you took a trip to the Maldives:
There's nowhere on earth quite like the Maldives; nowhere with such a sense of peace, time, space and serenity. The Conrad Maldives Rangali Island has bottled that sense of serenity, and sprayed it over the whole island. The second you step off the private sea plane, you'll be transported into an exotic escape, away from the stress of daily life. London will be but a distant memory, as you sip a fresh coconut and refresh yourself with a jasmine-scented cold towel. This is an island where you can do as little or as much as you please. Whether you want to recline on a sun lounger for 10 days, unwind to the sound of the lapping waves with a cocktail in hand or see a beautiful Maldivian sunset with a cruise on the Indian Ocean, the island has it all.
If you're a curious traveller, the resort will keep you on your toes with fantastic activities, including an outdoor tennis court, open-air cinema, diving, water sports, dolphin spotting and whale shark trips. And if you just want to relax and take it easy, there's 2 incredible spas to pamper in, as well as the long stretches of deserted beach, an incredible infinity pool and sublime villas you simply won't want to leave. Picture yourself at sunset, sipping a tropical cocktail, watching the colours of the sky change before your very eyes. Perfection.
The accommodation is where things start to get really, really exciting. These aren't villas like you've ever seen before. Oh, no. These are villas that embrace nature, create a sense of wellbeing and calm, and transport you to another world entirely. The accommodation ranges from the Beach Villa, moments from the ocean, to the stunning Water Villa, with steps down into the sea, and the ultimate in luxury, the Sunset Water Villa, which boats sunset ocean views, and infinity pool, whirlpool and private sundeck. You can discover all the room types here.
First off, we experienced the Beach Villa. The villa is beautifully spacious, with a stunning open-air bathroom for all your outdoor showering needs. Moments from the beach, it's the perfect room for beach lovers, as you can be in the ocean within seconds with your private beach access. What's more, the beach villas boasts some of the best sunset and sunrise views of the island.
We then swapped our beach-side position for a Water Villa on the ocean itself. A truly once-in-a-lifetime experience, the water villas are something uniquely Maldivian in feel. With a sunset or sunrise view, private plunge pool, outdoor furniture and ocean-facing bath, the water villas are so very special. Perfect for ocean-lovers, you can snorkel directly from the villa with steps down into the turquoise lagoon below, and watch the fishes swimming with the special glass-panelled desk. Take things one further and discover the simply incredible luxury water villas, including the Sunset Water Villa, the ultimate in a luxury escape. The Sunset Water Villa is set in its own private area of the lagoon and can be reached by jet-boat or private walkway. This villas features two bedrooms, a large infinity pool, spacious living area and 24-hour private villa host. Dreamy.
The food. Oh boy, the food. You will be totally spoilt for choice at the Conrad Maldives, with 12 award-winning restaurants and bars including the world's first undersea restaurant and the Maldives' first celebrity Chinese restaurant. There's so much to choose from; for foodies, the resort boasts everything from incredible, bountiful buffets to serene spa cuisine, as well specialist evenings such as the island's Maldivian Night with traditional palm weaving, dancers and more, and special Champagne and Lobster evening on the beach. If you like to have a little taste of everything, like me, you'll love the Atoll Market, where guests are treated to food from eight kitchens buffet-style, including Italian, Japanese and Indian delights. There's everything from freshly-made sushi to wok-fried noodles, homemade patisserie to Italian spaghetti. Yes, please.
For something more formal, we adored the food at the Sunset Grill. This restaurant is a seafood lovers dream, offering up the most sensational fresh crab salads with avocado, huge, impressive grilled seafood platters complete with Maldivian lobster, fresh langoustine and grilled prawns, and an impressive wine list. The beautiful, open restaurant is all set in the most serene setting with outdoor tables near the water's edge.
One of our favourite foodie experiences of the whole stay was the special 10-course tasting menu at Koko Grill – the resort's Japanese restaurant. This is one meal not to be missed; you dine al fresco and enjoy course after course of absolute perfection under the stars. Without a doubt one of the most romantic dining venues on Rangali Island, it's great fun to watch the cooking in action from the open grill as chef prepares the picture-perfect Japanese cuisine in front of your eyes. Heaven.
And if that's not enough, you can treat your loved one (or yourself, because solo holidays are cool too) to one of the world's finest experiences at Ithaa. Unlike any restaurant you've visited before, Ithaa is located five metres below the ocean's surface, offering 180-degree panoramic views of the beautiful, bright coral gardens surrounding it. Whether you're visiting for the six-course set dinner menu, four-course lunch or mid-morning cocktails, this is one experience you'll never forget. Trust me.
If you're looking for experiences on the island, the Conrad has made it easier than ever to discover the very best of your destination in 1, 3 or 5 hours. From sunset yoga to eating with the sharks 16 feet below the ocean's surface, Conrad Maldives Rangali Island has curated a list of 1/3/5 experiences, with special itineraries that reflect a local take on culture, art, food and more. We loved the Chinese noodle-making and dim sum masterclass – learning how to roll your own Chinese noodles and mastering the art of folding dim sum wrappers – followed by a delicious lunch of handmade Chinese delights. There's so many amazing experiences to be had at the Conrad; why not discover how to catch your dinner the Maldivian way. You'll master the basics of angling Maldivian-style during an evening of sunset fishing and reel in your very own catch of the day for a campfire-style beach barbecue. You can discover all the resort's Stay Inspired experiences here.
If that's all a bit much, there's no spa on earth quite like that at the Conrad Maldives. You'll find complete peace and serenity at the island's two award-winning spas set on stilts above the lagoon -the Spa Retreat on Rangalifinolhu Island and Over-Water Spa on Rangali Island. The Spa Retreat is really rather special; 50 metres off the northern tip of the main island, this specialist destination spa is a place to relax and switch off. With its 21 luxurious villas and Mandhoo Spa Restaurant, the Spa Retreat offers everything from calming Elemis oxygen facials to deeply-nourishing Four Hand massages, exotic coconut rubs to Valmont detoxifying facials.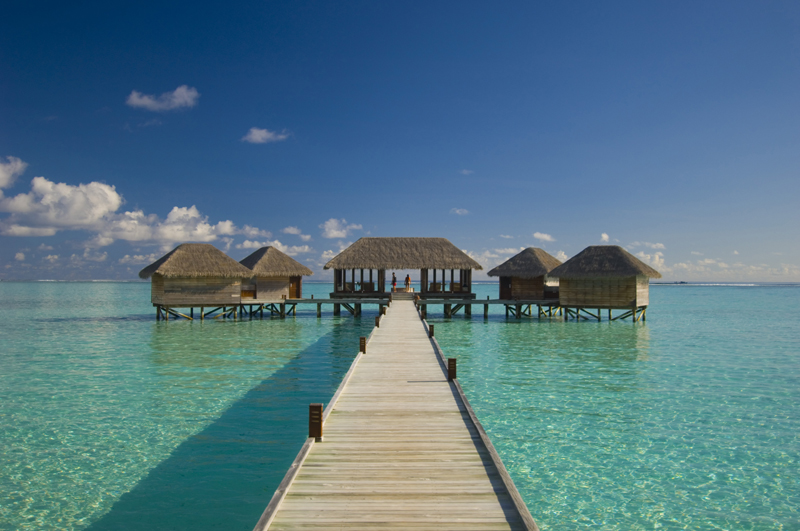 I loved the strong, powerful Elemis deep tissue massage with a dynamic blend of essential oils and firm pressure to help melt tension away. For a private affair, the stunning Over-Water Spa on Rangali Island is complete with glass-floored treatment rooms to watch the fish go by as you're massaged into total bliss. The spa has 4 specialist couples room – perfect for honeymooners. Come here for the Art of Love spa half-day, which includes body exfoliation, scalp massage, body wrap, relaxing massage and romantic bath. You'll immerse yourself in your private jetted bath to experience a bathing ritual like no other, while sipping on fine champagne and enjoying the picturesque views of the Indian Ocean. Oh boy.
This is a resort like none other. It's hard to say, exactly, what makes it so special. I think it's a combination of the incredible food, the villas that make you lose your sense of time, the serene, stunning spas and the friendly staff, which, combined, create the most amazing Maldivian experiences. Whether it's for first timers to the Maldives, honeymooners or families, this truly is a resort you'll never forget. Take my word for it: just go.
Rates start at £416 per night, including breakfast, for a Beach Villa, and £719 per night, including breakfast, for a Water Villa. For more information and to book, see here. To keep in the loop, like the Conrad Maldives on Facebook here, follow them on Twitter here and like them on Instagram here.