Imagine a place where time stands still. Imagine hill tops, lush with greenery, standing in stark contrast to miles and miles of azure blue sea. Imagine a place where you can drink an Aperol Spritz as the sun sets, eat gelato before dinner, and completely lose track of time. And now imagine that you can get here in less than three hours from London. Sound good, right?
Well, Sardinia's Chia Laguna Resort in the south-west of Sardinia is just that. A haven of tranquility, tucked away in the hills, with the most stunning views of the glistening Bay of Chia and Dune di Campana beach. The resort opened recently, and has that quiet calm of somewhere yet undiscovered by tourists – far from your average back-to-back sun lounger filled holiday destination, Chia Laguna is quiet, serene, and, most importantly, it can be all yours. If you're looking for an amazing Sardinian holiday, here's what you need to know: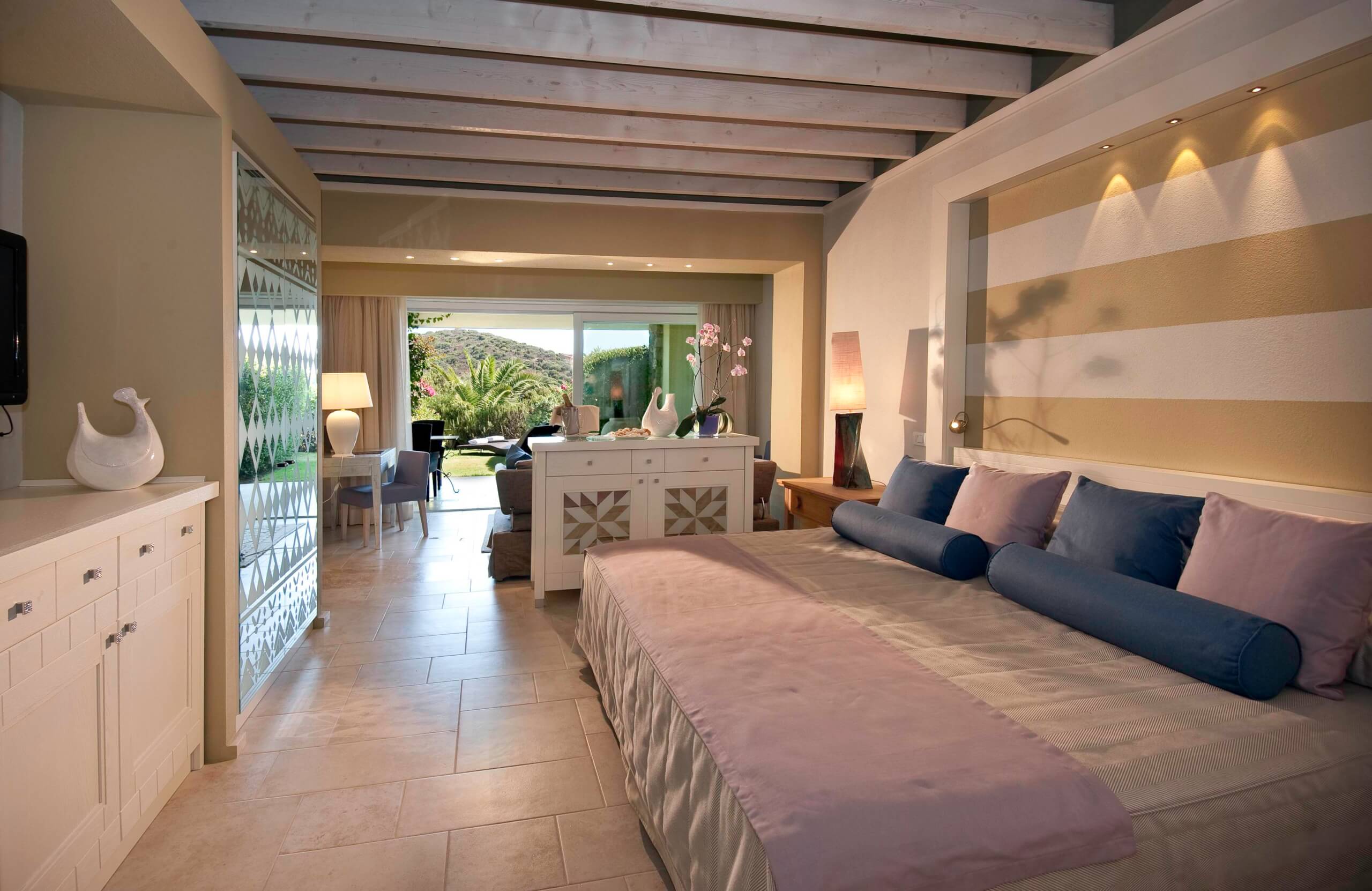 If you're staying in the 5* Hotel Laguna, there's 85 Mediterranean-styled bedrooms and suites; accommodation ranges from beautiful rooms, to garden suites and sensational panoramic suites, with views all over the country. Perfect for couples and families, each bedroom features either a large terrace or private garden, and you'll be able to see all the wildlife – think views of the lagoon, the sea and a colony of pink flamingos, no less – from the comfort of your bedroom.
They've just opened two new suites – the Luxury Panorama Suite features its own jacuzzi, a hanging garden, huge terrace and a great living space, whereas the Natural Prestige Suite sprawls over 140 square metres, with its own study room, with incredible views over the Tower of Chia. If you're staying in one of these suites, you have the added luxury of your own 24-hour butler service, private transfers to and from the airport and beach, and the first pick of the best sun beds. The bedrooms are bright, light and airy – lots of Laura Ashley-inspired pastel colours and beautiful nude tones – and ooze a sense of calm, only enhanced by their fantastic facilities.
Let's talk water. The hotel has not only fantastic swimming pools, but access to one of the most beautiful beaches in Sardinia, Dune di Campana beach, only a 5-minute drive away. In the hotel, you'll find three amazing pools – a family-focused pool with pool side restaurant, the warm hydropools in the spa, and a fantastic infinity-like luxury pool outside the main hotel. You'll also find a range of activities for the sporty type, everything from tennis to horse riding, as well as nautical activities, such as sailing, banana boating and windsurfing, offered by the hotel, down at the beach.
If you like golf, there's Is Molas Golf Club only 20 km away, and they've got a fantastically equipped gym, too. If you want an escape, you can rent dinghies to explore the surrounding secret coves and beaches, as well as other historic expeditions which can be organised by the hotel. As the hotel is close to Cagliari, Barumini, the grottos of Is Zuddas in Santadi and Carloforte, it's perfect for exploring Sardinia's rich history. That said, you'll be forever if you just want to lay out on a sun lounger for the entirety of your trip and get slowly sunburnt whilst drinking piña coladas. That's fun, too.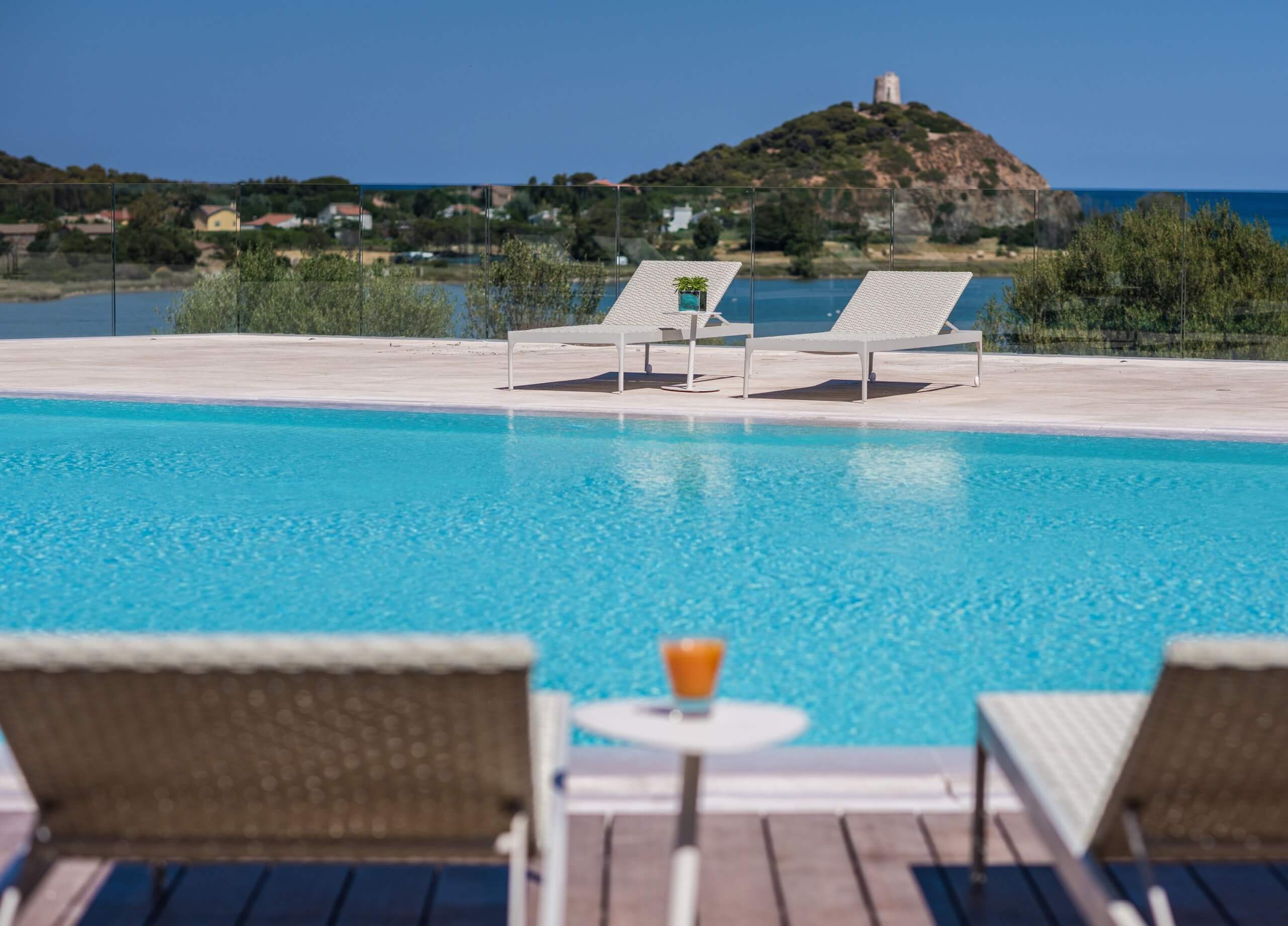 As part of the hotel's 40 million euro investment, they've just opened a brand new spa for 2015. The Chia Natural Spa, which uses Eteria products, is small, but perfectly formed. The spa offers a range of treatments, from hot stone massages to unusual body wrap treatments, and great facials. The spa sits on three levels – the first level features a huge steam room with changing coloured lights, varying showers, sauna and relaxation area. They also have a dedicated room for a special mud treatment, where mud is applied the skin and allowed to soak in during a special hot experience, followed by a steam room – you'll come out all brand new, we assure you. Upstairs features treatment rooms, a hanging garden which surrounds a variety of hot pools, including hydro-massage baths, and the rooftop of the spa has a hidden sun deck, with a mini freezing cold infinity pool, perfect for submerging yourself after a long, sun-filled day.
When it comes to great food, you just can't beat Italy. From plates of fresh, al dente pasta, to heavenly combinations of fresh tomatoes, buffalo mozzarella and sensational olive oil, the Italians just do it better. At Chia Laguna, with nine different restaurants from you to choose from, you really can get a taste of the best of Sardinian cuisine. For casual dining, there's their Club House pool side restaurant, which features fresh salads, light pasta dishes and baskets of traditional Sardinian flat bread. If you'd like dinner by the pool, you can eat at the Club House restaurant in the evening, too, and dine on their Sardinian speciality of gnocchi with clams, spaghetti with fish roe.
For lunch by the beach (a must), head to Le Dune Restaurant – it's just by the Campana beach, and is the perfect beach-side stop for hungry tummies. They've got their own wood burning oven, so make fantastic pizzas with perfectly thin crusts and lots of melting mozzarella, as well as great seafood dishes – try the cuttlefish salad with fresh lime and great beans, the tuna carpaccio which is wafer thin and the fantastic spaghetti with clams. Of course, it wouldn't be a meal in Italy without a Caprese salad, too.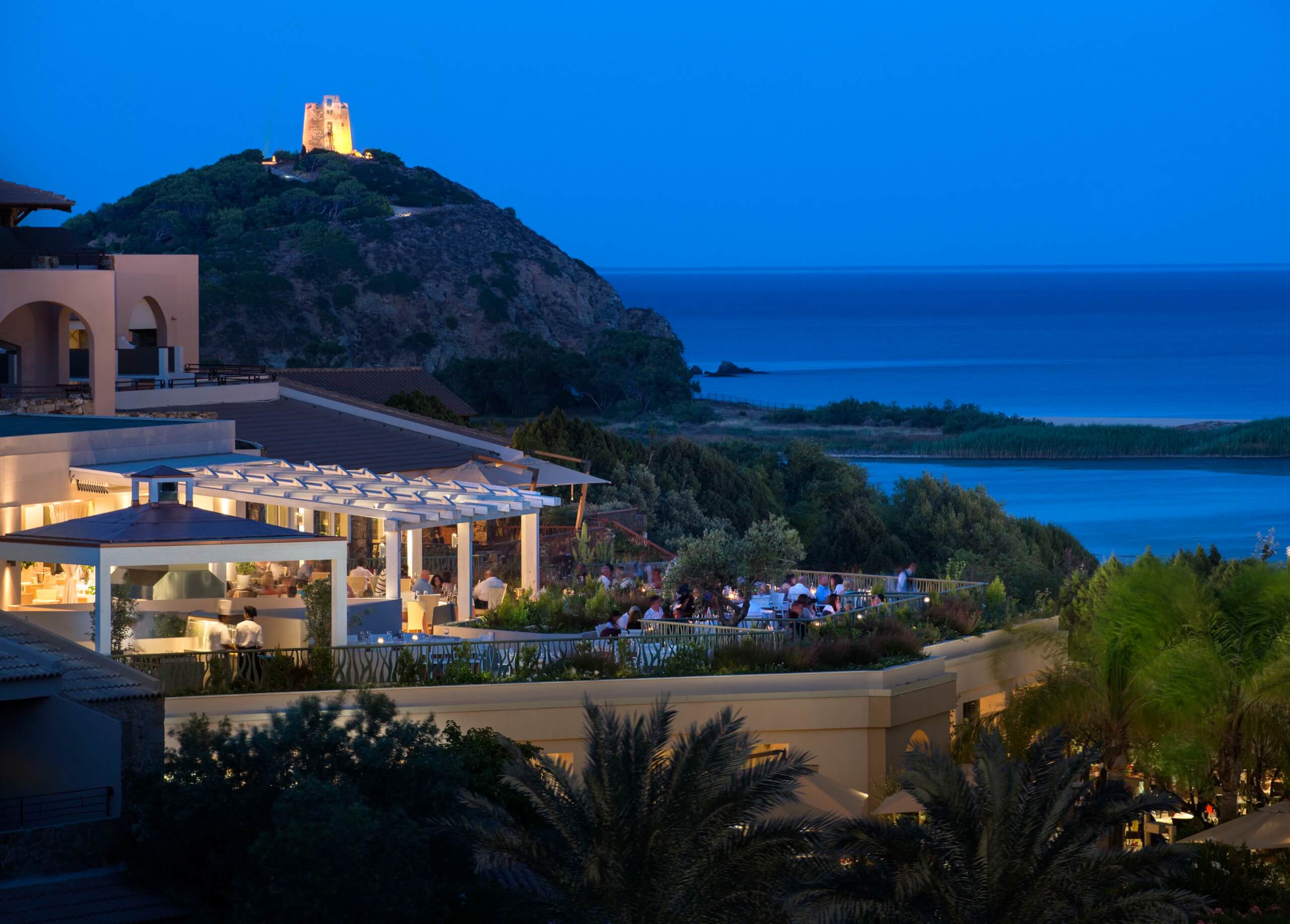 For dinner, La Terrazza Restaurant is the hotel's take on gastronomy;  with views of the lagoon and the sea, it's lovely for open-air dining with their huge terrace. The focus is on simple, well executed Mediterranean cuisine with a modern twist, such as courgette parmigiana, saffron risotto and grilled sea bream. If you'd like to dine outside of the hotel in the evening, La Pergola Restaurant is a short drive away; an informal, atmospheric Italian trattoria which serves up sensational pasta with squid, fregola with fish and lobster and steaming bowls of mussels, is the perfect romantic date spot after a hard day's work the beach. All in all, you won't go hungry at Chia Laguna, and with such a big selection of restaurants for a comparatively boutique hotel, and a made-your-own pancakes stand at breakfast, we guarantee you'll roll back to England very happy, indeed.
With its new pool, spa and ultra-luxury suites in 2015, we can see great things for Chia Laguna as the next big holiday destination for sun-worshipping Londoners. But, as it stands, the hotel is currently an undiscovered gem, and its quiet modesty, perched over the beach, bay and crystalline sea, gives it a quiet air of grace. Go here before everyone realises its beauty, and sip cocktails on the beach, knowing you have stumbled on a little place of beauty to call your own.
For more information and to book, see their website here. Sardatur holidays (0208 9732296; www.sardatur-holidays.co.uk) has prices from £1,482 per person based on 2 adults sharing IHC's Chia Laguna's Hotel Laguna***** in a Deluxe Room on a half board bases, including shared transfers and return economy British Airways flights from Heathrow. Rates also include Wi-Fi, access to fitness facilities and beach service.