Looking to plan your next trip? Put Antigua and Barbuda top of your list – one of the most beautiful islands in the Caribbean, and the home to the famous Antigua Sailing Week, which just celebrated its 50th year. I took a trip to Antigua, in the name of journalism of course, and got the lowdown on the best places to eat, sleep, party and pamper on the island for our special Antigua travel guide:
Antigua Travel Guide
Why Visit
Antigua has it all: sun, sea, stunning beaches, sumptuous food and the kind of warm, welcoming vibe that makes you want to visit, time and time again. Antigua ticks all the boxes – whether you're looking for  romantic getaway, an easy family holiday in the sun or a taste of the Caribbean's party scene, there's a holiday for everyone on this sunny tropical island. With 365 beaches (one for every day of the year, I'm told), a whole host of island sporting activities and some stunning resorts, read on and discover why it's about time you made Antigua your next summer holiday.
The Climate
One word: sunshine. Antigua boasts amazing weather all-year round; Antigua has a tropical climate with warm, mostly dry weather and lots of sunshine. The winter months are December through to March, which still have average pleasant daily temperature of 27°C, and June is the hottest month in Antigua with an average temperature of 28°C. In May, you can expect beautiful, warm days, with highs of 29°C, with the occasional tropical storm to keep things vibrant.
Who Goes
The rich, famous and travel-hungry alike. With some stunning private beaches, exclusive resorts and world-class sailing opportunities, it's no surprise Antigua attracts an elite traveler, counting celebrities and heiresses as fans. With the prestigious Antigua Sailing Week each year, keen sailors and boat-lovers flock to the island to experience the buzzy vibe of sailing week, complete with daily beach parties, special concerts and one-off sailing week experiences. That said, the island's more rugged, untouched side draws in a wanderlust crowd, of solo travellers and backpackers, curious to see the best parts of the Caribbean.
Where to Stay
All-inclusive is the name of the game in Antigua, and the island is home to some fantastic resorts, which are family-friendly and great for relaxed breaks. Here's our pick of the best:
For All-Inclusive: Verandah Resort & Spa
If you're looking for an all-inclusive hotel with some great facilities, beaches and restaurants, Verandah is the one for you. The hotel is vast in size (you'll need a buggy to get around!) and is very family-friendly, with great swimming pools, a kids club and even it's own a mini golf on site. The resort is home to two beautiful beaches, where you can enjoy a range of watersports, including kayaking, stand-up paddle boarding, complete with beach-side bars for a cheeky pina colada or ten during a stressful day of sunbathing, napping and relaxing. Verandah offers a range of dining, including beach-side Rasta Bar which serves up the tastiest cheeseburgers and toasted sandwiches, a great breakfast buffet (banana bread for breakfast is always a good idea) and, for more fancy dining, the hotel's Nicole restaurant is your great fine dining option. The resort's accommodation is lovely, with private beach-facing bedrooms, complete with their own balcony for watching the sunrise, coffee in hand. Perfection.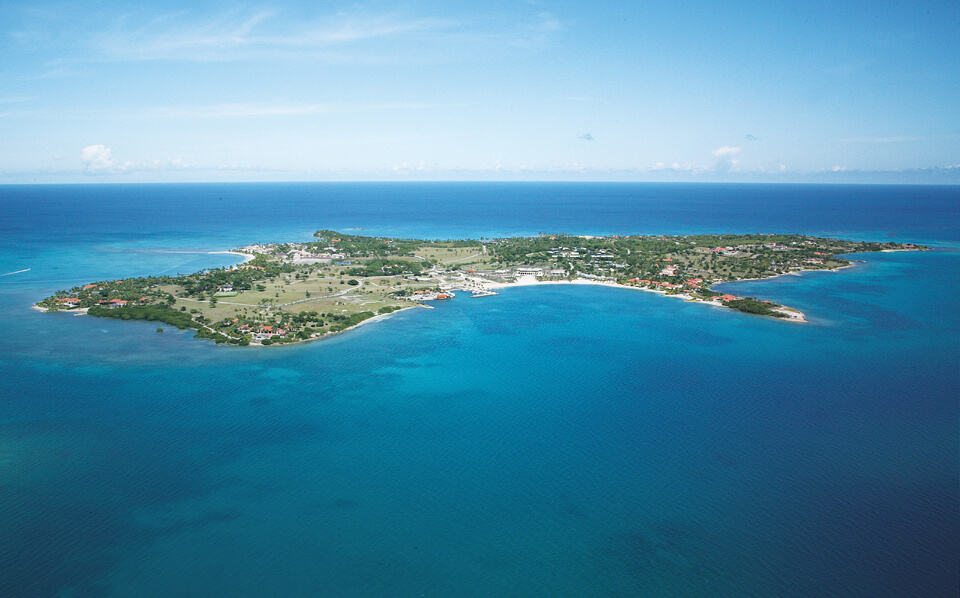 For total island luxury, Jumby Bay needs to be top of your list. There's nowhere on earth quite like it; the resort is set on one of the most beautiful, undisturbed places imaginable. Jumby Bay is a Rosewood Resort (the people behind the super swanky Holborn hotel) and boasts incredible remote island life. The resort is reachable only by boat – with no cars in sight – so you can expect total privacy at this island of of white-powdered beaches and winding bicycle paths. Truly one of a kind, it's widely considered to be the finest resort in the Caribbean – if only for the food alone, which is some of the best in all of Antigua. 
It doesn't get much better than Coco Bay Resort. If you're looking for an exclusive, adult-only getaway on the sunset side of the Island, this is the destination for you. Coco Bay is wonderfully atmospheric, with sandy beaches and plantation-style Caribbean chic accommodation – expect  a colourful collection of pastel cottages along the hillside, two white-sand beaches and miles of turquoise Caribbean Sea. It's just beautiful, the perfect sanctuary when you're looking for a real getaway from modern life. The perfect place for real romance in Antigua, we say. 
Antigua Travel Guide
What to Eat
There's going to be a theme here: shrimp, garlic, hot sauce, and more shrimp. No Antigua travel guide would be proper without all the amazing food of the Caribbean. I simply couldn't get enough of the fresh seafood and fish in the Caribbean, it's truly one of the best parts of visiting Antigua. Served simply with home-style rice and beans or rosemary potatoes, their fish is divine – try garlic butter lobster during the season, conch, grilled Butterfish, Mahi Mahi or squid for a real taste of the island. If it's on the menu, opt for a fish dish with coconut and garlic – two of the sample ingredients in Antigua – and don't leave without trying Susie's Hot Sauce if you can handle the heat. For street-side eating, stop at one of the road-side fruit stands to sample Black pineapple – local to the area, this pineapple is more concentrated and sweeter than any you've tasted before. And for a delicious snack, roasted corn is a must-try in Antigua.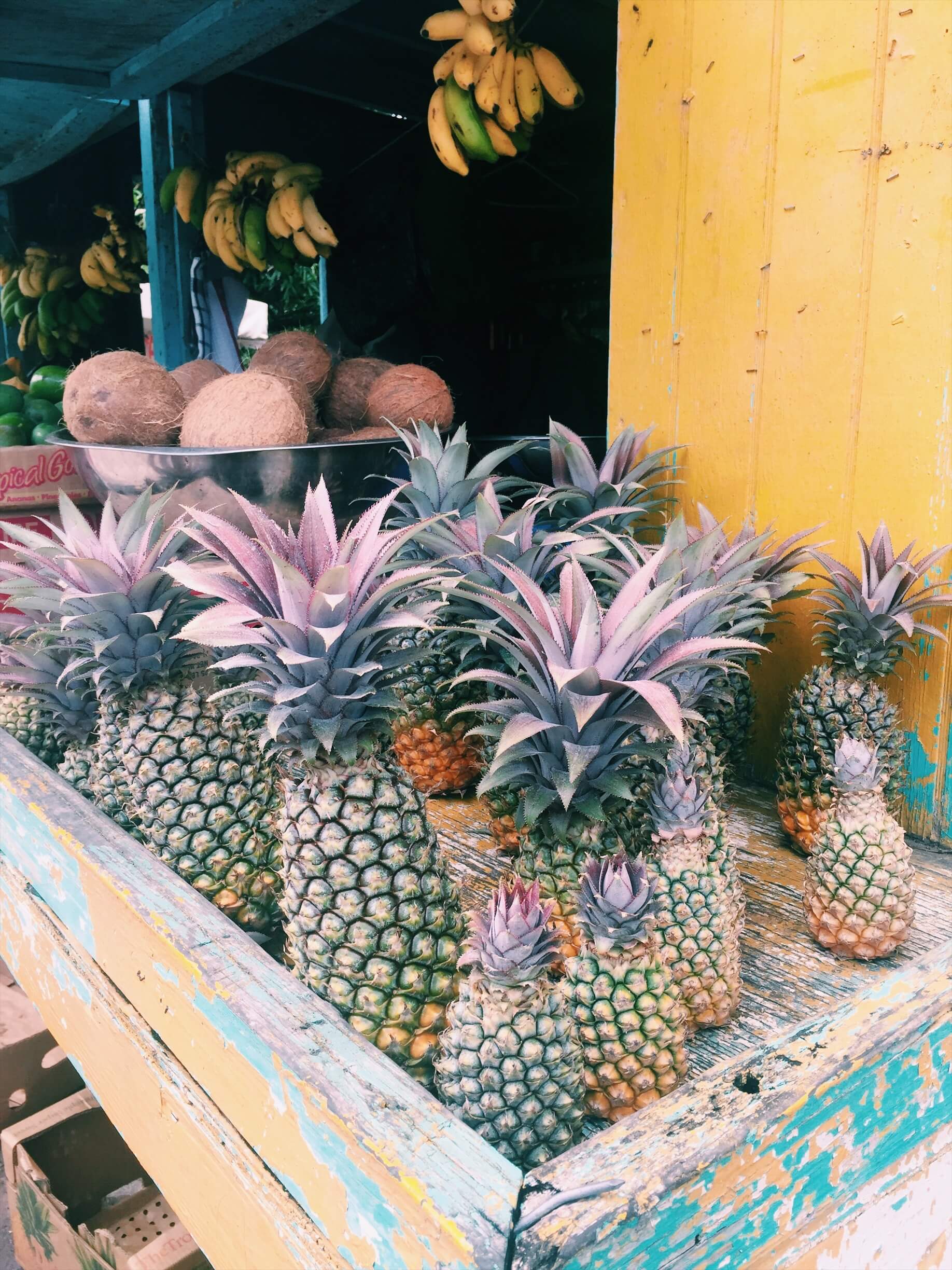 Of course, there's other delights to sample, such as a traditional island BBQ with flavoursome ribs, spicy chicken and grilled fish. Plantain is also one of the most popular ingredients in the Caribbean, and you'll even see it at breakfast in the form of green banana porridge. I say, go simple and sample some deep-fried plantain bites, they are delicious. You must try a traditional Caribbean breakfast on the island – complete with fungi (a kind of cooked polenta), salt fish, boiled eggs, Johnny Cakes (fried savoury doughnuts) and spinach stew. Nothing like your normal bowl of Cheerios, but delicious nonetheless. For drinks, you can't miss the island's rum cocktails – a local rum punch will see you right, or try a rum and coconut water for a local delight.
Where to Eat
For Fine Dining: Nicole's, Verandah Resort & Spa
If you're looking for a touch of class and sophistication, then Nicole's is a great choice. The adult-only restaurant at Verandah Resort and Spa has a low-lit, quiet ambience, that's perfect for romantic dinners, and the food is sublime. Start with the scallops on a bed with butterbean puree, or a simple Caprese salad with mozzarella and local tomatoes, followed by delicious, plump garlic shrimp in a buttery sauce, which are served simply with rice and steamed vegetables. Simple, good cooking, with beautiful presentation.
This was hands-down my favourite beach restaurant on the island; it just wins on every level. The food is incredibly delicious, the setting just perfect and, what's more, there's a local steel band to bring a real flavour of the Caribbean to your meal. Start with a selection of starters for the table – the conch fritters, breaded shrimp and seafood chowder a real highlight. For main course, you need to try the grilled lobster in coconut milk – it brings together the best flavours of the Caribbean, in one dish. And if you love shrimp, you'll simply die for the grilled shrimp with lemon butter sauce, grilled vegetables and steamed Jasmine rice. The sides here are great too, try the grilled plantain, sweet potato fries and smother on that hot sauce baby. A good spot for veggies, there's a dedicated vegetarian menu, with dishes such as spicy tofu with brown rice and chilli-infused vegetable stir fry.
For Amazing Shrimp: Dennis Beach Bar
Another fantastic beach bar, this is an ideal spot if you fancy a dip before your meal, as the beach is one of the most beautiful on the whole island. The restaurant offers up a range of fish, meat and vegetarian options, with some generous portions too!
The Mahi Mahi with coconut sauce is sweet, fresh and delicious, and their chilli shrimp are finger-licking good, served alongside some seriously moreish French fries. If you're feeling experimental, the conch in a traditional Creole sauce comes highly recommended by the owner. Don't leave without trying their pina coladas, they are the stuff of dreams.
For Buzzy Dinner: Trappas Restaurant & Bar
For an evening restaurant with a lively atmosphere, you can't miss Trappas near English Harbour. The restaurant is casual and laid-back, with friendly staff and a simple chalkboard menu that explains the specials of the day. Reasonably priced and good for a big group, their cocktails are some of the best in Antigua – go for a Caipirinha or a fresh lime daiquiri for a refreshing tipple. The food is unusual (tarragon in a ceviche, anyone?), with a focus on local produce – the best dishes are the seafood mix, with shrimp, squid and mussels, in a garlic, parsley and white wine sauce. The Mahi Mahi, served simply grilled, is a tender delight, and one of the most popular items at the restaurant.
For a Seafood Feast: Papa Zouk
For an all-out seafood feast, this is one restaurant that can't be missed in Antigua. The restaurant only serves seafood, so don't go taking your vegan mate, but if there's one thing they do well, it's the fresh fish. Not only fish, but Papa Zouk, run by an eccentric German film director with a penchant for English Harbour rum and red mullet, boasts the largest collection of rum in Antigua, and serves up a seriously strong rum punch. The food is full on – the flavour is strong, prepare to consume enough garlic to ward off a vampire for life – but totally delicious. Start with nibble to share, such as the shrimp tapas with breaded shrimp, grilled plantain and deep-fried Butterfish, a Bouillabaisse made with local seafood, fresh tomato and garlic (so, so much garlic) and the Conch fritters.
Their homemade garlic bread is a thing of beauty served with, you guessed it, more garlic sauce. For mains, their red mullet is a popular choice – the whole fish is served grilled, head, tail and all – although the House Mix is a great one to try, with a selection of battered Butterfish (try saying that after a few rum punches), grilled shrimp and Mahi Mahi. In short: prepare to eat all the seafood.
Antigua Travel Guide
No Antigua travel guide would be complete without a little inspiration for cocktails, dancing and local flavour. Here's where to have fun in Antigua:
Where to Party
No Antigua travel guide would be complete without some music and dancing. Here's our favourite spots for a dance on the island:
Sundays at Shirley Heights are a real highlight, and shouldn't be missed. Every Sunday, the lookout point, which has views over the whole island and the glittering landscape below, hosts a special party with live music and a barbecue. Now in its 31st year, they have hosted more than 1,560 of them! From 4pm, the sweet rhythms of the steelband accompany mouth-watering smells of the barbecue. Expect a fantastic steel band every week, and different performers, including reggae and soul singers. The perfect way to get a taste of local culture, put on your best dress and prepare to dance into the small hours with a rum and coke in hand.
English Harbour, Antigua's lovely historic district, is focused on the fifteen square miles of Nelson's Dockyard National Park. Developed as a base for the British Navy in the great age of sail, the harbour served as the headquarters of the fleet of the Leeward Islands during the turbulent years of the late 18th century. Today, English Harbour is one of the most idyllic spots on the island, and, especially during Antigua Sailing Week, one of the most buzzy tourist spots – home to sailing boats, catamarans and super yachts alike. The beautiful harbour is lined with restaurants, bars and hotels, and there's plenty of serene spots for watching the world go by, cocktail in hand. I loved the water-side bars for sipping a super strong mojito and admiring the nearby yachts. If you're looking to stay here, the x hotel gets booked up a year in advance – one look inside and you can see why.
Antigua Travel Guide
What to Do
There's so much to do in Antigua you'll be totally spoilt for choice. Here's the pick of our favourite things to do in Antigua:
Explore St Johns
St Johns is the main town in Antigua, and the center for souvenir shopping, street food, craft markets and fashion boutiques. It's a great place to explore on foot if you're wanting to soak up some local culture, and there's a great Antiguan delicatessen and doughnut shop where you can stock up on artisan Caribbean produce, such as hot pepper jelly, cinnamon coconut chips and macadamia sugar.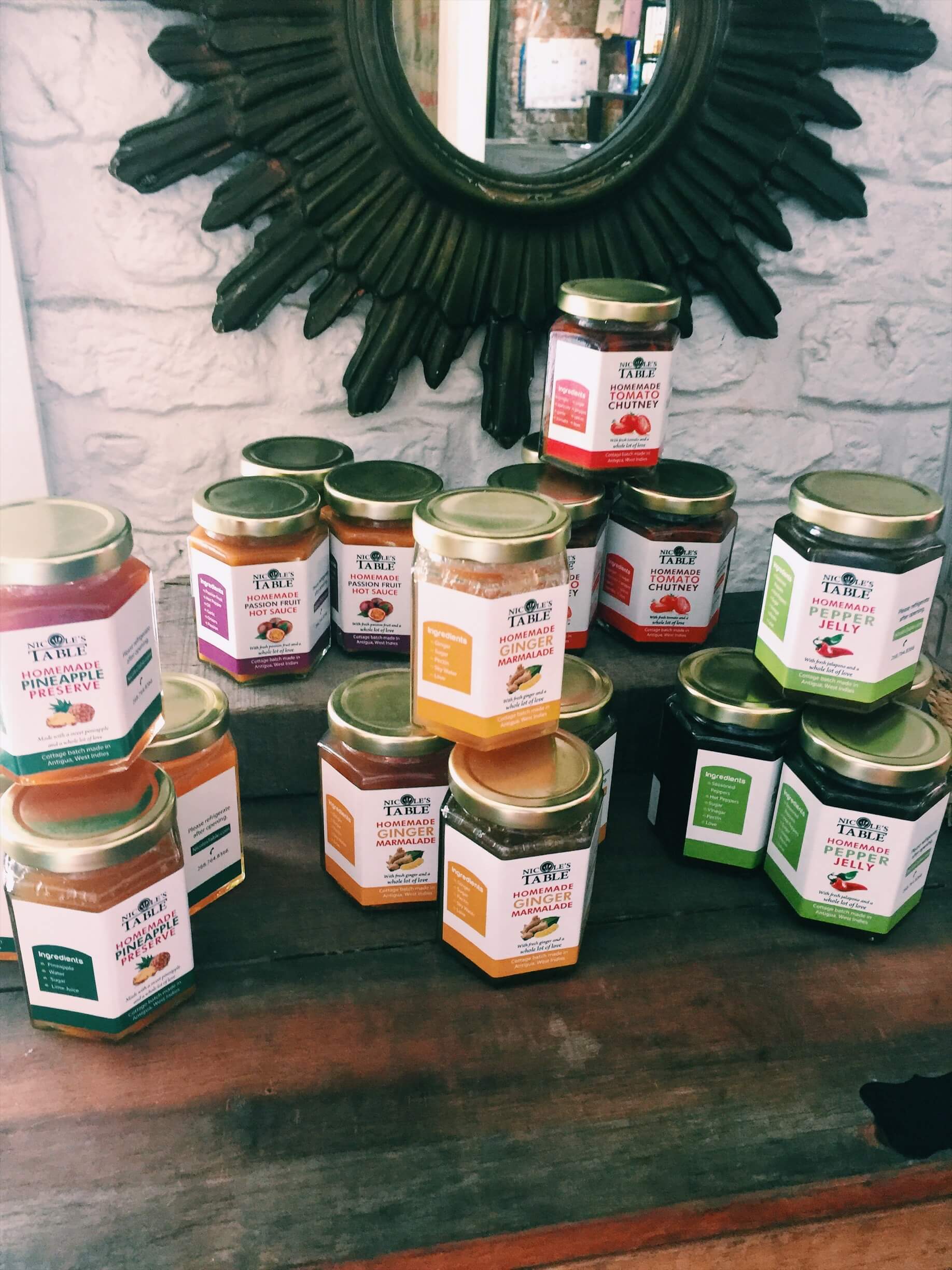 During the week, there's also an indoor fruit, vegetables and craft market, for a slice of local action – make sure to try the more unusual local delicacies, such as tamarind, papaya and homemade pickles from the street vendors. Word of warning: Susie's Hot Sauce 'Tears of Fire' is really as spicy as it sounds.
Kayaking with Antigua Nature Tours
There's nothing like uncovering new layers to a destination, and Antigua Nature Tours allows you to do just that. The 2 and a half hour tour features a 30-minute kayak trip in the protected mangroves, where you can see sea cucumbers (disclaimer: they look like a big poo), starfish and upside-down jellyfish, followed by snorkelling and a mini hike on Bird Island with a refreshing rum punch. A great way to see a different side to Antigua, the landscape you'll witness on the tour is a lot more rugged than the picture-perfect beaches, and really highlights the stunning natural beauty of the island. The kayaking and snorkelling trip are suitable for all standards, so it's a great trip for beginners too.
Mystic Cruise with Tropical Adventures Antigua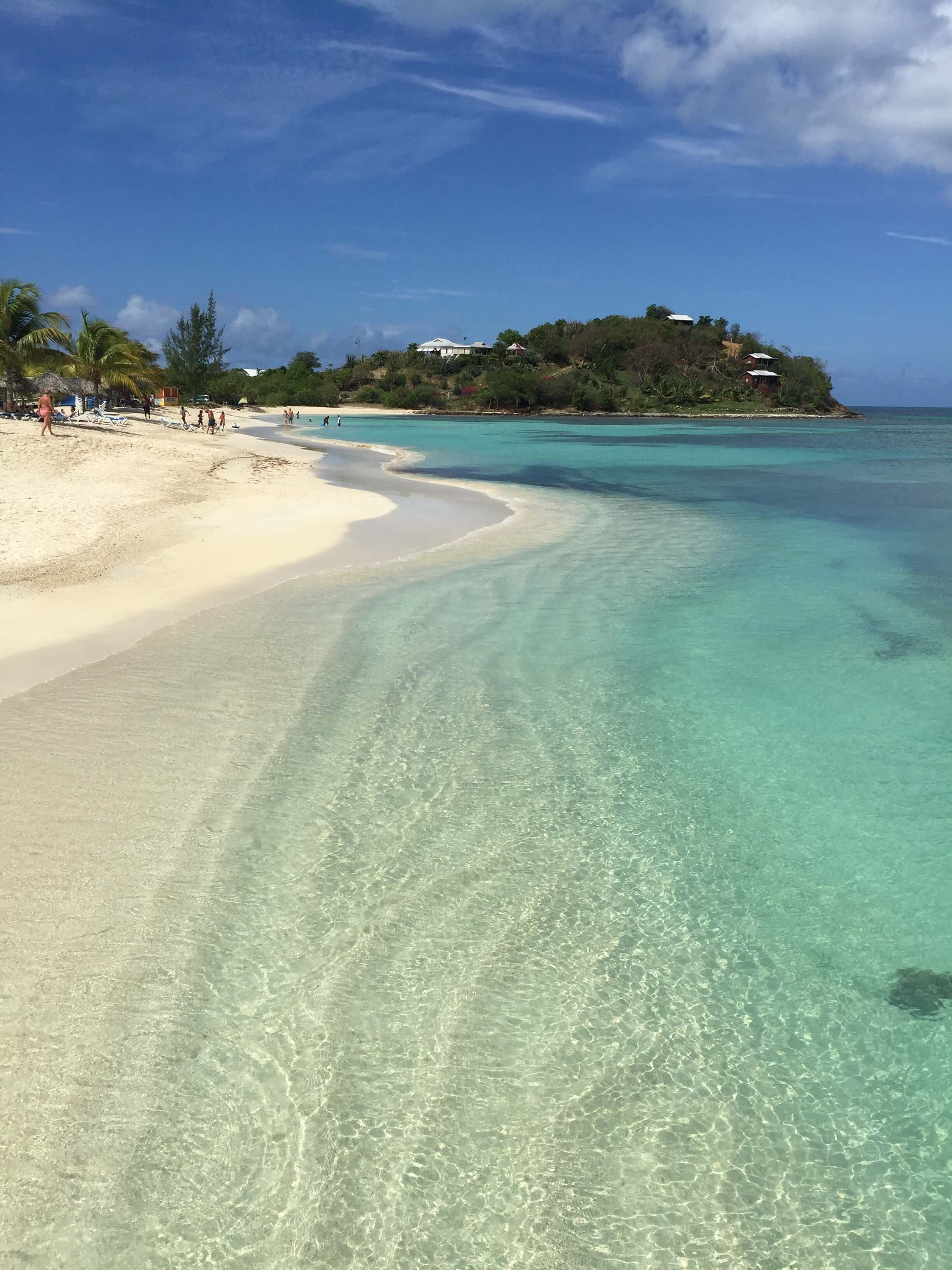 For a day at sea, you need to try Mystic Cruises. The full-day cruises offer an enchanting view of Antigua by sea, exploring the best parts of the island and having lots of fun along the way. The cruises includes all-inclusive drinks, a delicious BBQ lunch and a beach party, so you'll get the full party experience on this trip. If you're there during Antigua Sailing Week, opt for the Chase the Race boat trip, where you get to see the racing acton up close and personal, weaving in and out of the sailing boats and following them along their journey. You can also do a one-of-a-kind Tropical Sunset Cruise. Take my word for it, it's truly magical.
If you're a fitness lover looking for something quirky, try the new Float Fit class at St. James' Resort. The class is a low-intensity, high-impact workout on floating boards at sea, and you'll work up a sweat as you move through burpees, lunges, squats and mountain climbers, whilst trying to keep your balance on the board. Expect a serious workout (even if it is just from laughing at yourself falling into the water again and again) that will leave you on a high for the day ahead. If you're looking for something more gentle, Verandah Resort and Spa offers yoga classes with a lovely, high-spirited instructor every other day for guests. Yoga on the beach to the sound of birds chirping and waves lapping? Yes, please.
Tourist Attractions
There's lots of great tourist attractions to visit in Antigua; some of our are favourites are the Limestone Caves, Half Moon Bay and Betty's Hope Sugar Plantation. These attractions will give you an insight into the island's (at times) troubled history, and how it has developed into the country you see today. Betty's Hope was a sugarcane plantation in Antigua, which was established in 1650, shortly after the island had become an English colony. The limestone formation is a beautiful spot for photos, and a great place to visit when the waves are high for a real sense of drama. Half Moon Bay is a a tranquil spot in the South East of Antigua, fringed by one of the Caribbean's best beaches – a great spot for snorkelling on calm days. Oh Antigua, we love you so.
Virgin Atlantic flies to London to Antigua from £529 return – to book, see here. For more information about Antigua and Barbuda, see the tourist board website here.