Planning a trip to Tainan? Tainan, Taiwan's oldest and fifth-largest city, is one of Taiwan's greatest hidden gems, with amazing sights, shops and restaurants to discover. You can find out more about Taiwan in our latest guide here and the best things to do in Taipei here. Here's what to eat, see and where to stay in this fantastic city:
48-Hours in Tainan: What to Do 
Conficious Temple
Built in 1665, this is the first Confucian temple in Taiwan, and a must-visit. Many worshippers of Toaism and Buddhism combine the teachings of Confucius with their religion. Despite its age, the temple is very well preserved and is definitely worth a visit.
Grand Matsu Temple, Yongfu Road
This large and atmospheric  temple is dedicated to Matsu, Goddess of the Sea – a very important deity because Taiwan is an island. Formerly the home of King Ning Jing, and converted in 1684, this temple with its gilding, imagery and statues takes the breath away.
Tian Gong Temple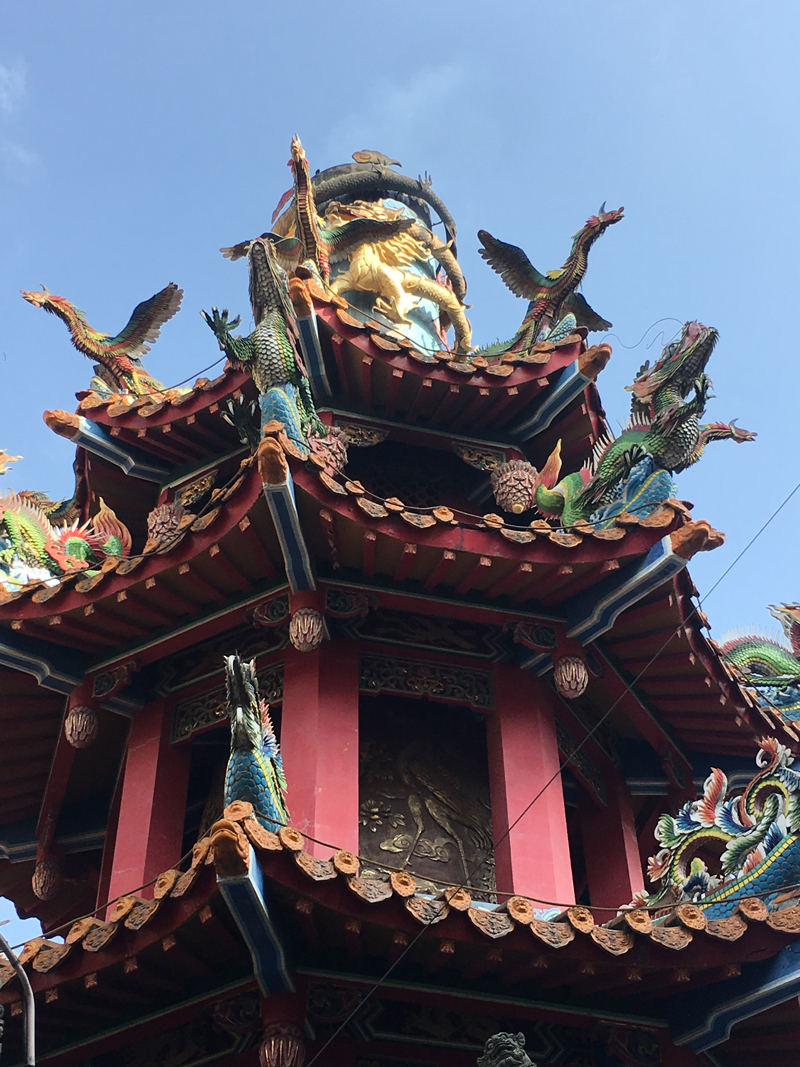 Built in 1854, this is an extraordinary example with its carvings of lions and dragons, and then most intricate and ornate imagery imaginable. The history of Tiong Bahru Qi Tian Gong dates back to 1920, first located in the 'taro garden', which is the present Tiong Bahru estate.
Chuan-Mei Theatre
Taiwan has a history of hand painted movie posters advertising the latest movies, and this extraordinary art still survives, but only just! Yan Zhen-fa can be seen at his makeshift studio on the pavement opposite the Chuan-Mei Theatre, creating vast hand painted canvases to hang on the cinema marquee opposite. On the side of an adjacent building, he has created a makeshift gallery where hang his outsize portraits of Hollywood stars.
Chihkan Tower
Built by the Dutch as their centre of government in 1653, and formerly called Fort Provintia – the compound features statues commemorating the victory of Koxinga, the Ming commander who defeated the Dutch in 1662. The waterfalls and coy carp in the ponds surrounding the tower are mesmerising. A rare example of the fusion of Dutch and Chinese architecture.
Hayashi Department Store
If you fancy a spot of shopping, this Japanese era department store closed in 1945, and was converted to offices. Happily in 2014, it was restored and opened as Tainan's version of Fortnum and Mason!
48-Hours in Tainan: Where to Eat
Du Hsiao Yueh
There's plenty of great places to eat in Tainan. Established in 1895, the founder of this hotspot invented Dan Zai Noodles. Simply delicious – try the grilled Milk Fish, and radish omelette, they are local favourites.
Checkered Record Club
If you're in the mood for a cocktail, head to this trendy and busy bar in a fun, funky neighbourhood.
Shennong Old Street
For everything in one place, check out this bustling old street, famous for its artisan bars, cafes, and pop-up shops.
48-Hours in Tainan: Where to Stay
Silks Place Tainan
Superbly positioned for both business and leisure, Silks Place Tainan is situated in the heart of Taiwan's enchanting former capital. A mere thirty-minute drive from Tainan High Speed Rail station, this hotel is a few steps away from the Shin Kong Mitsukoshi shopping district and major historic landmarks. Amazing, huge, luxurious rooms in this modern hotel, with every amenity.
Out of the Cities
You can't miss visiting the beautiful surrounding area around Tainan. Take coach, bus or hire car and head for the hills, from Tainan. The most stunning and dramatic scenery awaits, with windy roads, towering mountains and glorious tea plantations. Here's where to visit:
Fenchichu – quaint old street with market stalls and cafes, locomotive museum, and mountain railway.
Alishan Win Tea Plantantion – come here for tea tasting and to explore the lovely rose garden.
Long Yun Farm – a bamboo farm, restaurant and hotel in one. A must-visit in the area!
Alishan House Hotel – you simply must see this hotel in the clouds. Perfect for spa, star gazing, sunset, sunrise – one of the best experiences you can have in Taiwan.
Flights:
EVA Air flies to Taipei via Bangkok from London Heathrow daily. www.evaair.com / +44 (0)207 3808300. Economy return fares from GBP533. Premium Economy return fares from GBP1051. Royal Laurel return fares from GBP2331. Please note that EVA Air regularly offer special promotion fares – check the website for the latest special fares.
For More Information:
The Taiwan Tourism Office in Frankfurt is the contact for holidaymakers, tour operators and anyone interested in Taiwan as a travel destination. Here you will all find competent help in preparing your trip.
Address: Taiwan Tourism Bureau, Friedrichstrasse 2-6, 60323 Frankfurt, Germany, www.taiwan.net.tw, https://www.facebook.com/TaiwanUK/