Perfect Weekend: 48-Hours in Switzerland with Edel & StarkBy Angelica Malin
Looking for a fun-filled getaway? We say: make a weekend out of Central Switzerland. There's so many amazing places to explore in Switzerland – from skiing destinations to relaxing lake-side breaks. Here's how to do the perfect 48-hours in Switzerland, About Time style:
48 Hours in Switzerland: How to Get Around
For the perfect 48 hours in Switzerland, you're going to need some sweet wheels. We rented a car with luxury car hire company Edel & Stark to make our weekend extra special; they offer luxury car rental, limousine service and private jet charter in Europe and Dubai. The choice is yours – everything from Ferrari to Lamborghini, Aston Martin to Maserati – see the complete luxury car rental fleet of Edel & Stark here. Driving round the Alps in a Range Rover? Yes, please. The car was super slick and made the whole weekend so comfortable, we'd really recommend upgrading to a luxury car for a trip to remember.
48 Hours in Switzerland: The Lowdown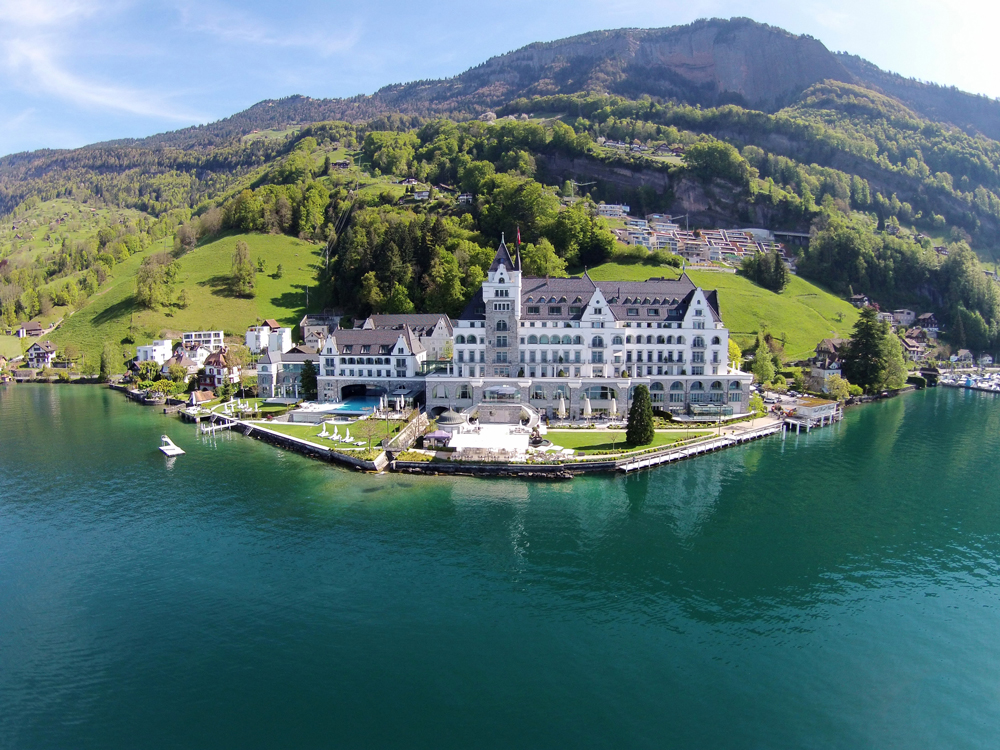 When visiting Central Switzerland, I'd recommend doing a 1-night stay in Zurich to get a taste of the city, and then driving to the mountains for a 2-day break by the mountains. You can't miss Vitznau on an idyllic break in Switzerland. This little town lies in the bay of Lake Lucerne, at the foot of the Rigi. It's a really popular spot for holidays – especially during the summer – where you can take trips around the lake, and explore the mountains. We loved the sense of calm and serenity in Vitznau, it's a great place to come for mountain air and getting back to nature. In the summer, there's lots to do on the lake, including sailing, swimming and fishing.
48 Hours in Switzerland: Where to Stay
For a City Break: Atlantis by Giardino, Zurich
If you're looking for a hotel in the heart of the city, you need to visit Atlantis by Giardino in Zurich. This legendary 1970s-vintage hotel at the foot of the Üetliberg mountain in Zurich has been renovated completely – it's super stylish, luxury and has great facilities. This hotel is really rather special; strikes the perfect balance between city life and the calm of nature. It's an urban retreat – somewhere you can come and relax, knowing you're still close to the buzz of the city.
We loved the light and feel of the hotel – there's a feeling of spaciousness with 95 private bedrooms, which all include breakfast buffet, alcohol-free minibar, Wi-Fi and a complimentary shuttle service to and from the city centre. The hotel's design is really unique; with subtle colour schemes, premium materials and hand-selected fabrics. It's also a delight for dining – Rolf Fliegauf heads up Ecco Zürich restaurant – a concept already awarded two stars in the Michelin Guide. And in the kitchen of the Hide & Seek restaurant the flavour is international: the team combines tastes of Asia, Europe and Middle East to create an exciting culinary melting pot. One hotel you really can't miss.
For a Spa Break: Park Hotel, Vitznau
You can't miss the Park Hotel in Vitznau, it's one of the best places to stay in all of Switzerland. This hotel has been expertly renovated; behind hundred year old walls lies a wonderfully inviting interior. Today, the hotel is the perfect mix of old and new, with state of the art technology integrated into the luxurious décor of the historical building.The hotel is characterised by three main themes: Wine & Dine, Art & Culture and Health & Wealth. The different areas of the hotel, as well as the 47 residences, suites and junior suites have been individually furnished – we totally loved the chic style of the hotel.
The Park Hotel is also a foodie's delight; enjoy culinary delights in their two restaurants or on the lakeshore terrace, and choose wine from their six exclusive wine cellars. The Park Hotel is a great base for exploration; Vitznau is the ideal starting point from which to discover the breathtaking scenery of Central Switzerland.
48 Hours in Switzerland: Where to Eat
If you're looking for something once-in-a-lifetime in Zurich during 48 Hours in Switzerland, then you must try two-Michelin star Ecco Restaurant at the Atlantis by Giardino Hotel. Rolf Fliegauf heads up the kitchen; the award-winning cuisine of this German-born chef is really something special. It's all about natural flavours of seasonal ingredients here, with a really creative edge. The 2* restaurant offers up unique tasting menus; choose between 5, 7 and 9 courses, and enjoy some serious culinary delights. Each course is a creation in itself; with incredible presentation, unusual flavours and attention to detail. The food is really something special; we loved the tuna toro with cucumber and yuzu and the Skrei from the North Sea with artichoke, bottarga and sherry vinegar. Wow.
If you're looking for views, this is the place. The design of this luxury restaurant is really something; with 180° panorama views, the all-glass restaurant serves up a picture-postcard Swiss lake and mountains. Open for lunch and dinner, PRISMA is the place to come for fine dining in Central Switzerland. The restaurant is headed up by new chef de cuisine Philipp Heid, who creates delicious fusion cuisine. His creations, rooted in European culinary tradition, are inspired by far-Eastern ingredients – the perfect fusion of Asian and Mediterranean cuisines. You can choose from 4, 5 or 6 courses, all inspired by East and West. We adored the fish dishes here; try the Japanese yellowfin tuna with Mizuna salad, cristal caviar, daikon radish and calamondin, and you can't miss the Skrei from Lofoten, miso marinated with eggplant caviar and crispy potatoes. Finish with poached pear with ginger lemongrass sauce, pear sorbet and coconut sticky rice for the perfect end to your meal.
For Italian Classics: Barbatti Luzern
Barbatti is an institution in Lucerne, and serves up some of the best Italian food in Switzerland – perfect for a great 48 Hours in Switzerland. If you're looking for pasta and antipasti in an impressive setting, then head to Barbatti. You can expect elegant chandeliers, hanging from high ceilings, paintings and sculptures by Lucerne artist Rolf Brem and a local charm. The food is seriously good: authentic, full of flavour and really fresh. We started with a delicious plate of Italian Burrata cheese, with fresh cherry tomatoes and basil, followed by a delicious plate of aubergine ravioli with tomato sauce and parmesan. So good, you'll want to come back.
For Local Cuisine: Restaurant Riva
One of the best places to eat in Weggis; expect great Mediterranean dishes and fresh fish from Lake Lucerne. It's a beautiful spot by the lake – the perfect place to sit with a glass of wine and take in the view. We loved the food at RIVA; we started with a delicious tuna tartare, a hearty local-inspired Swiss rosti with spinach, smoked salmon and creme fraiche, followed by an outstanding grilled local fish with fresh vegetables and a tasty mushroom ravioli with sage butter. A great restaurant for a taste of local culture and cuisine in Central Switzerland.
48 Hours in Switzerland: Where to Visit
Lucerne, Switzerland
Lucerne is the gateway to Central Switzerland, located on the Lake Lucerne, with a beautiful mountain panorama. It's a popular spot for tourists, with lots of attraction, souvenir shops, restaurants and local activities, including outings to the nearby mountains Rigi, Pilatus and Stanserhorn. A great place to make a day trip, we recommend a visit to the Lindt chocolate shop to stock up on delicious treats to take home, and a stop at local cafe by the lake for a spot of coffee and homemade cake. A must-visit town in Central Switzerland, we say.
Engelberg, Switzerland
One of the most popular places to visit in both summer and winter, especially if you've only got 48 Hours in Switzerland. It's the place to come for skiing; Engelberg is one Switzerland's top ski resorts in winter. In the summer, this becomes a popular spot for hiking and mountain climbing. Come here for the adventure sports!
Andermatt, Switzerland
If you're looking for great ski, visit Andermatt, a small village in the centre of the Ursern valley. It's the cross-roads of the Alps, so lots of people visit for great views and epic skiing. Andermatt is a very popular ski destination and gets very busy in the winter for those looking for amazing off-piste skiing.
Looking for a trip to Switzerland? We travelled to Switzerland with luxury car hire company Edel & Stark. who offer car rental in Germany, Switzerland, Austria, France, Italy and beyond. For more information and to book a car, see here.