Though it may have become one of Europe's most popular stag do locations in recent years, if you look past the matching T shirts and drinking games you're bound to encounter, Budapest also makes for a strikingly beautiful and entertaining weekend away. Flawlessly combining history, culture and stunning vistas with a brilliant nightlife, if you've not yet been add it to your 2015 to do list now. A short 2h 15m flight from Gatwick, it's easy to fit in the best bits of the city in a weekend, both on the Buda and Pest sides of the glorious blue Danube. Here are my recommendations of where to spend your forints.
Must Stay
We headed out a group of six girls celebrating a 30th birthday, so while we didn't want to spend hundreds on accommodation we understandably preferred a step up from the Wombats hostel favoured by the aforementioned stags… the serviced 7 Season Apartments on Kiraly útca, a five minute walk from Pest's main shopping street and bustling nightlife, was even a step up from our Clapham abode. Clean, spacious, three bedrooms, two bathrooms, self catering and from a mere €45 a night for a studio, we couldn't have picked a better spot for our base. If you're heading for a romantic weekend away the city boasts a host of quaint bed and breakfasts, along with luxurious big name hotels including Kempinski and Corinthia. Check out www.booking.com for great deals.
Király útca 8, 1061 Budapest. www.7seasonsapartments.com
Must Eat
Tucked swayed on a side street away from the tourist eating spots, Zeller Bistro is a gem of a find. The cosy candlelit cellar serves food sourced largely from the owners' family and friends around Lake Balaton, including wines from the family's own vineyard. Waiters are friendly, attentive and extremely knowledgeable, even bringing a trio of wines to the table of us to try before deciding on which to choose. While the menu includes a wealth of European dishes, try the Hungarian specialties such as grey beef carpaccio and beef cheek. My saffron risotto, with chunks of sweet butternut squash and grilled scampi, was mouth-watering and with a three course dinner and wine coming in at under £30 one can certainly afford to indulge. The best touch? Every table is provided with a pot of crayons to doodle on your placemats; my 'dinner art' even made it on to the wall.
Izabella útca 36-38, 1077 Budapest.
Must Visit
The House of Terror, situated halfway along the beautiful Andrássy Boulevard, is well worth a visit for the stark reminder of Hungary's brutal and chequered history. The headquarters of the Hungarian Nazi party during WWII, followed by that of the secret police during the communist occupation, the building – reopened as a museum in 2002 following an extensive refurbishment – houses a permanent tribute to those imprisoned, tortured and murdered within its walls during both occupations. An at times chilling and sobering experience, but nevertheless one that will open your eyes a little more the the history of this wonderful land.
Andrássy útca 60. www.terrorhaza.hu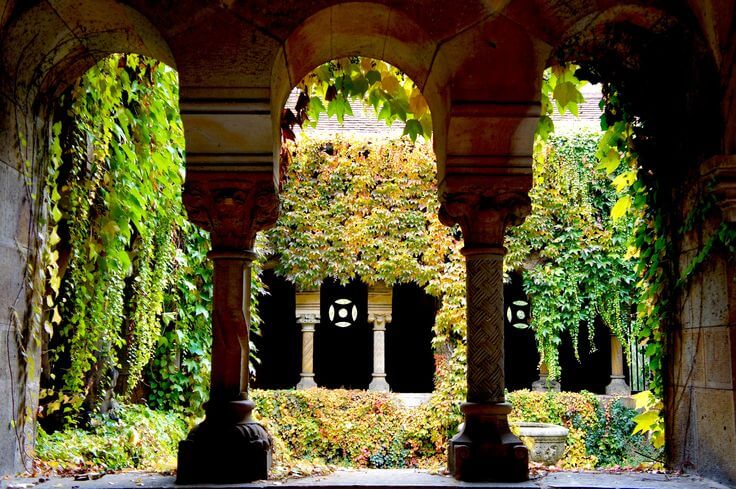 Must Do
No trip to Budapest would be complete without a visit to one of the city's stunning historical thermal baths. There are plenty to choose from; Buda's Gellért baths, situated inside the majestic Gellért Hotel, or the Rácz Spa, built in the 1800s by the Omorovicza family on the site of a medieval spring and home to the brand's range of signature therapies and treatments. For the biggest in the city, head to the Széchenyi Baths. With 21 pools heated between 18 and 34 degrees, including 11 thermal water pools and a 50m outdoor pool, it's busy all year round so booking is recommended. One of the largest spa complexes in Europe, it dates from 1913 and with full day usage at around £12 you will certainly get your money's worth.
Situated within the City Park. www.szechenyibath.hu
Must Drink
Budapest has become famed in recent years for its magnificent ruin bars; a series of drinking dens all across the city in formerly abandoned buildings. A far cry from London's sometimes carbon-copy nightlife, no two are quite the same. Think graffiti covered concrete walls, reclaimed, mismatched, drinks crate furniture, fairy lights and bare bulbs strung across every ceiling beam and you get an idea of their eclectic feel. Our Friday night led us to Szimpla Kert, a mysterious alleyway behind heavy doors opening into an incredible courtyard of a dozen different bars, decorated every which way with all sorts of reclaimed junk and bric a brac, serving very drink under the sun from somewhere at amazing prices – think £1 pints and £4 cocktails. With a great mix of local twenty somethings and travelling foreigners there's a reason it's vote the city's Number 1 night out on Trip Advisor.
Szimpla Kert, Kazinczy útca 14, 1975 Budapest. www.szimpla.hu
Must Drink
A stroll across the Erzsébet bridge from Buda back in to Pest will lead you past the For Sale Pub, across the road for the Great Mark Hall. Not *actually* for sale, this ruin bar offers giant bowls of free peanuts at every table and a floor covered in straw on which to throw the shells. With amazing craft beers, huge food portions and live music, it welcomes guests to pin whatever they want onto its heaving walls, resulting in an incredible array of art, business cards, love notes to the city and random musings. Genius. Just mind out for all the candles…
Vàmház körút. District 5, 1053 Budapest.
Must Buy
The city is full of little craft markets in every available square, and with Hungary famed for its handicrafts you could do worse than to stop off for a spot of shopping. Watch out for the Folkart Centrum, a huge shop specialising in local crafts situated on the main shopping street of Vaci útca; it has the goods but at inflated tourist prices. Instead head to the small wooden huts dotted around the city's squares to hunt out a bit more of a bargain. Most of the locals speak English and will be more than happy to engage in a light haggle. I went determined to purchase some traditional Hungarian embroidery and walked away with three pieces that cost me a good £20 less than I would have paid in a shop.
Must Eat
I don't even know if the kürtőskalács I became addicted to in one short weekend are necessarily a Hungarian snack – one stall had them down as 'traditionally Transylvanian' – but nevertheless, they are delicious and if you see one, you should try one! A kind of cakey, doughnutty, bready hybrid, the doh is rolled onto a wooden cylinder before being baked over hot coals and then coated with either cinnamon, cocoa, vanilla or sugar. A fresh, hot, sugary snack perfect for nibbling on as you mooch about the city on a cold winter's afternoon.