Instagram Diary: 10 Things You Need to Eat in Orlando, FloridaBy Angelica Malin
There's a wonderful, vibrant food scene in sunny Orlando, beyond the novelty ice creams and hot dogs at Disney, which is just waiting to be discovered. From vegan doughnuts to perfect iced lattes, mouth-watering pancake stacks to fully loaded toast, here's 10 foodie delights you simply can't miss in Orlando:
1. For Breakfast Perfection: Buffet Breakfast at Loews Sapphire Falls
Order: Breakfast (dishes from $8)
The Lowdown: Amista Cookhouse is Sapphire Falls' casual, all-day restaurant with a fun Caribbean theme. The venue boasts a fantastic seasonal menu, which keeps things delicious and fresh. We loved the indoor and outdoor feel here, with al fresco sitting for soaking up the sunshine. Enjoy a delicious breakfast with the family before a day at the pool, pop in for lunch and a cold drink, or relax and regroup at a private dining table.
The Food: The restaurant's Caribbean-inspired cuisine prepared in an exhibition kitchen will complement your days of sun, sand and blue waters. Expect everything from ceviche to burgers during the day – but the breakfast is really something to travel for. They've got a fantastic buffet breakfast spread, with everything from make-your-own omelettes, to freshly baked pastries, cakes and doughnuts, and seasonal fruit. They've also got some gluten-free delights, including gluten-free pancakes with berries and with sugar-free maple syrup. Perfection.
Where: 6274 Hollywood Way, Orlando, FL 32819, USA
2. For Brunch: Strawberry & Shrimp Salad at Hamilton's Kitchen
Order: Strawberry and spinach salad with goat's cheese, candied pecans, pickled onions, plus sautéed local shrimp.
The Lowdown: If you're looking for a brunch spot with incredible, fresh food, a perfect al fresco setting and a seriously cool, relaxed vibe, then Hamilton's Kitchen is the place for you. Located at trendy upmarket hotel The Alfond Inn, Hamilton's Kitchen serves locally sourced ingredients that are full of flavour. You can dine inside by the open kitchen, where you will experience the sights, sounds and aromas of their delicious food, or enjoy brunch in a lovely sunshine-filled patio.
The Food: It's all about local and seasonal here; the menu features farm-to-table dishes, freshly prepared with a modern culinary twist. Their Sunday brunch is an absolute delight; there's everything from freshly-made cheese and ham omelettes, to French toast with blueberries, grapefruit brûlée. You can't miss the granola parfait with Greek yogurt, berries and honey. We love their fresh salads – truly, never tried salads like it – the strawberry and spinach salad is an explosion of flavours, textures and sensations, with creamy goat's cheese, crunchy hazelnuts and tart onions. The Cobb Salad with egg, goat's cheese, cherry tomatoes, cucumber, and the most divine poached salmon is a must-try, and you must sample their street-inspired tacos with plump shrimp, sweetcorn and lime. Divine.
Where: 300 East New England Avenue, Winter Park FL 32789
3. For a Sweet Fix: Milkshakes at The Toothsome Chocolate Emporium
Order: Red Velvet – a milkshake topped with a Red Velvet cupcake. Yes, please.
The Lowdown: For a sweet fix, you must discover this new full-service restaurant, bar and sweet shop by Universal Orlando. There's a full menu of foodie delights, including seafood, salads and steak, but the sweet stuff is really what people flock here for.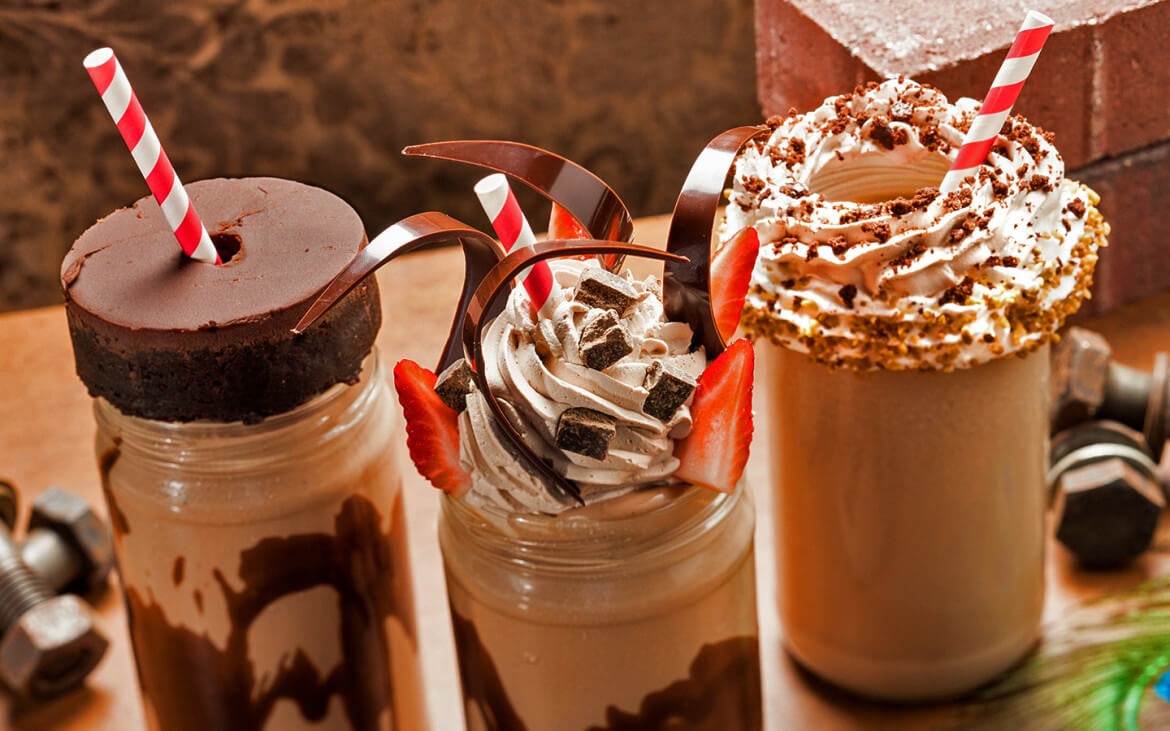 The Food: Save room for the one-of-a-kind gourmet chocolate and desserts, such as incredible, over-the-top milkshakes, and insanely good ice cream sundaes. Think ice cream, whipped cream, sprinkles, cake and more. Our personal favourites are the Red Velvet and Dulce de Leche milkshakes, which are as tasty as they are Instagrammable.
Where: Universal CityWalk, 6068 Universal Blvd, Orlando, FL 32819, USA
4. For Vegan Brunch: Chocolate & Banana Toast at The Sanctum Cafe
Order: Loaded sprouted grain toast with banana, chocolate hazelnut butter, coconut and bee pollen.
The Lowdown: Owned by a health coach, this hipster-casual Mills50 destination is the place to come for plant-based eats. The Sanctum serves hearty vegetarian and vegan dishes, all non-GMO and mostly organic, with gluten-free fare as well, so it's perfect for plant-lovers. It's a little tucked away, but well worth discovering.
The Food: The breakfast menu at The Sanctum focuses on healthy, planet-loving food, with lots of wonderful health benefits. The vegan breakfast menu is small, but tasty, with favourites such as avocado on sprouted grain toast with watermelon radish and pea shoots. There's also a great Acai sorbet bowl, with vegan granola and local fruit, such as pineapple, kiwi and berries, but the winner here is the loaded toast, which is a delicious mix of homemade chocolate nut butter, banana and coconut. Honestly, it's like a grown-up version of Nutella on toast, with none of the nasties. They also do some cracking smoothies and health 'shots' – the kale, pear, almond butter and coconut milk creation is my personal favourite.
Where: 715 N Fern Creek Ave d, Orlando, FL 32803, USA
4. For Vegan Sweet Treats: Valhalla Bakery at Market on South
Order: Half Dozen Vegan Doughnuts ($15)
The Lowdown: Market on South is Orlando's first vegan commissary kitchen and bakery that offers full plant-based dining and beverage menu that includes items like BBQ, cupcakes and kombucha. They're also host to Valhalla Bakery, which serves up some of the best vegan bakes in town. Seriously, they need to be tasted to be believed.
The Food: It's all about the sweet treats here. Valhalla Bakery is the brainchild of Celine Mariah Duvoisin, who wanted to create delicious, flavoursome egg free, dairy free desserts, that everyone could enjoy. The bakery makes everything from lemon bars to cupcakes, chocolate chunk cookies to cinnamon buns, each with a unique, tasty twist. We can't get enough of their vegan doughnuts – the Peach Blueberry, Passion Strawberry and Chocolate Oreo are our personal favourites.
Where: 2603 E. South St, Orlando, Florida, 32803
5. For Pancakes: Brunch at The Briarpatch, Winter Park
Order: Blueberry stuffed pancakes with lemon curd and blueberry syrup ($12.95)
The Lowdown: One of Winter Park's most iconic restaurants, we loved the Briarpatch for brunch. It's always a popular spot – the restaurant has welcomed locals and visitors alike since 1980. The location couldn't be better – located on Park Avenue, it serves contemporary American cuisine in a warm and inviting atmosphere. Whether it's for Sunday brunch on their outdoor patio, or a scoop of ice cream while you're shopping, this is the place to visit.
The Food: If you get one thing at this restaurant, make sure it's the pancakes. Locals flock here every weekend for their amazing pancake stacks with endless amounts of flavour combinations. My absolute favourite were the blueberry pancakes with sweet lemon curd and syrup – such a delicious, full-flavoured combination that ticks all the boxes. For something quirky, try the raspberry and brie stuffed brioche french toast or the killer granola wheat and fibre pancakes with homemade granola and bananas.
Where: 252 N Park Ave, Winter Park, FL 32789, USA
6. For a Treat: Gideon's Bakehouse Cookies at East End Market
Order: Candied Walnut Chocolate Chip Cookies ($3.99)
The Lowdown: A neighborhood market and cultural food hub inspired by Central Florida's local farmers and food artisans, this is the place for visit for independent retailers in Orlando. We love the vibe of East End Market, with bakers, makers and coffee creators all in one space – the perfect place for exploring the other side of Orlando. You can't miss these amazing chocolate-chip studded cookies, warm from the oven, with an almond milk latte in their sunny courtyard.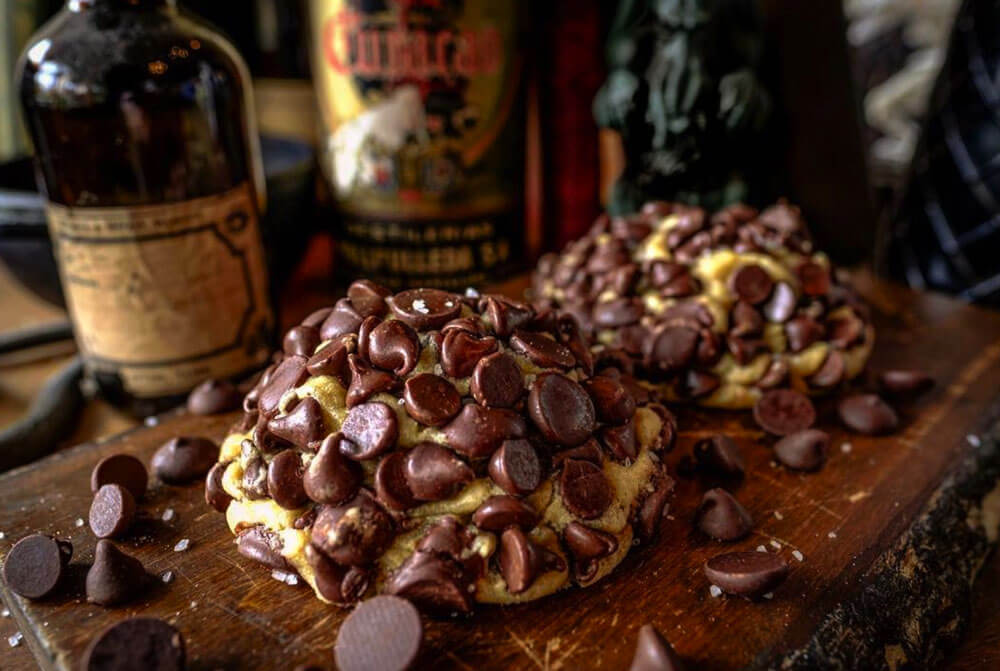 The Food: There's a variety of foodie merchants at East End Market, but we fell in love with Gideon's Bakehouse. Gideon's Bakehouse brings you a truly unique experience in small batch hand crafted cookies and cakes – they make some amazing cookies, including Pistachio Toffee Dark Chocolate, Peanut Butter Espresso and Triple Chocolate Chip. Not like any cookie you've tried before, these cookies are soft, chewy and utterly delicious. We love the candied walnuts on this cookie – they place whole chunks of it all over the top of their giant cookies for a delicious crunch.
Where: 3201 Corrine Dr, Orlando, FL 32803, USA
Photo Credit: Gideon's Bakehouse Instagram
7. For the Best Local Cuisine: Dinner at Luma on Park
Order: Potato Wrapped Blue Prawns with blue crab-smoked jalapeño aioli, green tomato chutney, fried basil ($14)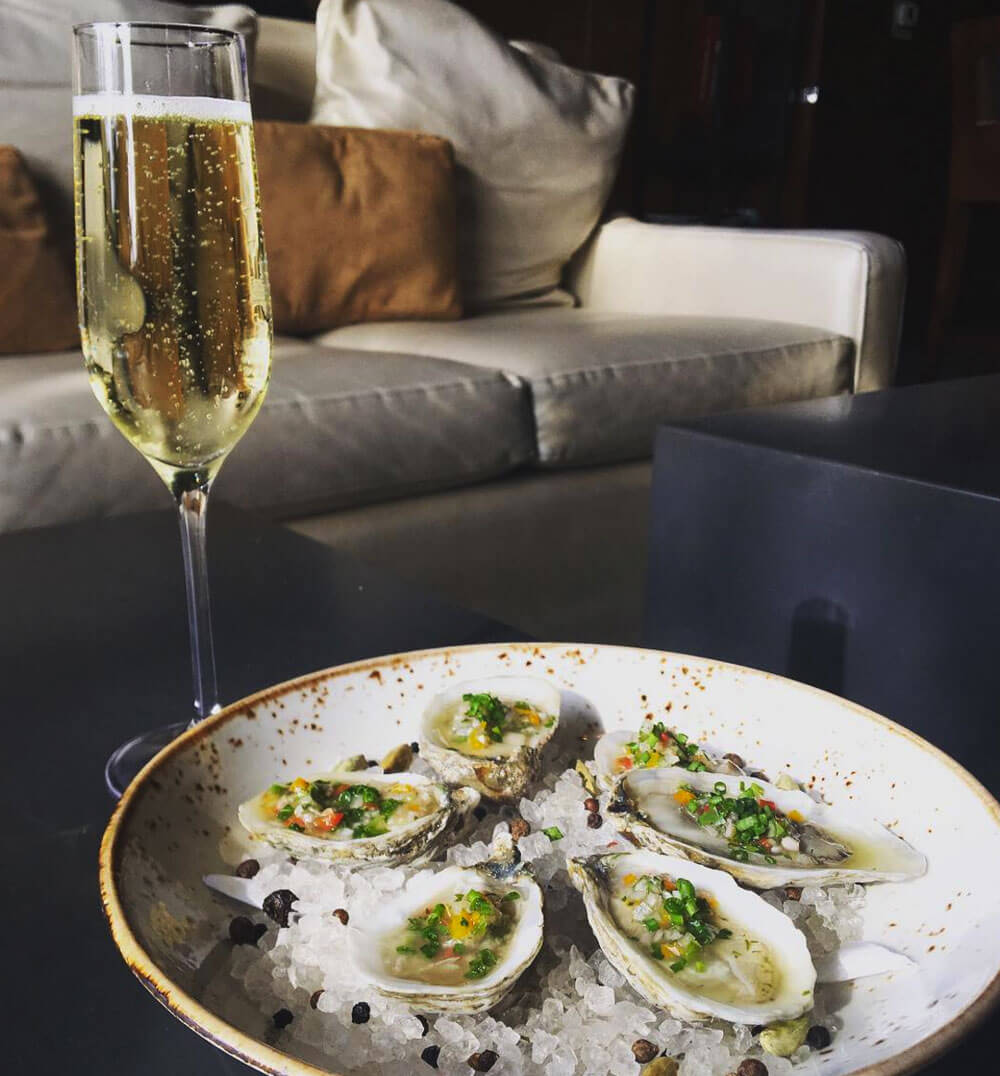 The Lowdown: One of the trendiest spots in town, the modern design and décor of LUMA in beautiful Winter Park will seduce you from the off. It's a popular spot in the area for locals and tourists alike, serving up sophisticated, impressive food in an easy, cool atmosphere. You can eat outside in the summer months, for the ultimate al fresco dinner in the sunshine. 
The Food: The food here is just beyond incredible. The menu focuses on using seasonal, local ingredients and those go far beyond buzz words here – really, you can taste the quality in every bite. My personal favourites were the Blue Prawns with a moreish smoked dip – a serious must-try – and the incredible citrus and local radish salad, which is full of bright, zesty flavours. For mains, you can't miss the homemade beef ragu pasta and their insanely good fish dishes – the grilled Mahi-Mah with eggplant, black olive and cabbage just out of this world. Don't miss their malted chocolate cremeux for dessert, it's heaven in every mouthful.
Where: 290 S Park Ave, Winter Park, FL 32789, USA
8. For Dinner: Mushroom Ravioli at Urbain 40
Order: House-Made Porcini Ravioli with mushroom duxelles and Vermont crème fraîche ($23)
The Lowdown: Urbain 40 is an American Brasserie and Lounge featuring chef-crafted cuisine that offers imaginative staples for brunch, lunch, dinner and late night. This place is simply too cool – it has a speakeasy feel, with a low-lit ambience, amazingly well stocked bar and the best Italian-inspired food around. Come here for something you simply wouldn't find elsewhere in Orlando.
The Food: There's so many gems on the menu here, including the incredible flat breads and sharing starters. Start with some of their delicious small plates – I loved the tuna carpaccio with niçoise olives, red onions, chives and peppadew peppers. You can't miss their flatbreads – they are a real highlight here – my favourite was the truffled mushroom with roasted garlic confit (too good) with gruyere, asiago and fig reduction. For mains, you simply need to try their pasta – the Pasta Al Pomodoro with fresh, roasted tomatoes and the mushroom and truffle ravioli are simply out of this world. Cracking cocktails, too.
Where: 8000 Via Dellagio Way, Orlando, FL 32819
9. For Asian Food: Hawkers Asian Street Fare
Order: Green Papaya and Shrimp Salad
The Lowdown: If you don't know, Hawkers are street vendors who depend on locally grown ingredients to create dishes sold from mobile carts and stands. At Hawkers in Orlando, their chefs select the best of street food recipes from across Asia and deliver them to you in a hip, sharing environment. It's all about the Asian small plates here, such as delicious Asian salads, rice and noodles.
The Food: We can't get enough of their salads – the sesame chicken noodles and Vietnamese spring salad are particular highlights. If you're a rice lover, try Kimchi fried rice and don't miss the delicious Tom Yum soup for a really warming, tasty dish.
Where: 1103 Mills Ave N Orlando, FL 32803
10. For Novelty: Iced Lattes at Starbucks Walt Disney World
Order: Iced almond milk latte ($2.99)
The Lowdown: Ok, it's Starbucks. You don't need much of a lowdown, everyone knows it. But the special fantasy-themed cups at Starbucks Disney are worth it for a trip alone. Go on, your Instagram is calling out for some coffee love.
The Food: The drinks selection is surprisingly exciting at Starbucks in America – with lots of unusual stateside additions. Try their Vanilla Bean Crème Frappuccino for something sweet, and the Strawberry Açaí is a great refresher if you need a boost.
Where: Magic Kingdom Park, Main Street, U.S.A
For more information on Orlando, see the Visit Orlando website here and download their travel app here.