Stay Here: Four Seasons Hotel Los Angeles at Beverly Hills, USABy Angelica Malin
Looking for a special weekend in Los Angeles? Want to treat yourself to the perfect mini break? You can't get better than the Four Seasons Hotel Los Angeles at Beverly Hills – here's everything you need to know about the hotel: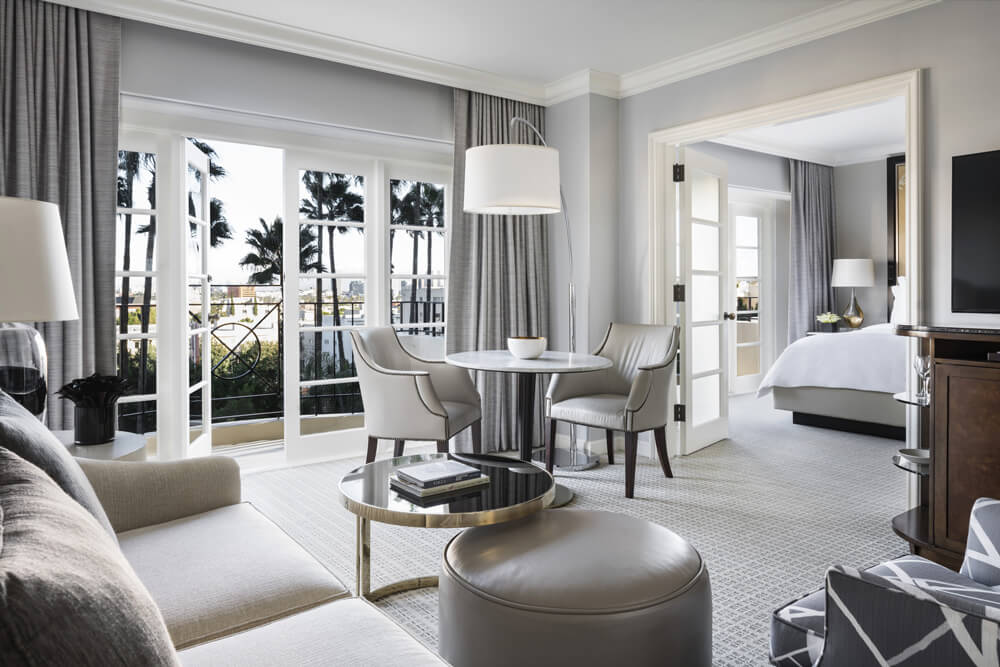 This hotel is so very special. With a stunning pool, great restaurants, luxury accommodation and 5* service, the hotel has everything you need for the perfect weekend in Los Angeles. Expect an ultra-luxe experience; from the marble-topped bathrooms to the private, secluded swimming pool and spa, the hotel is about as luxury as it gets. The Four Seasons offers an oasis from the hustle and bustle of LA – it's like an island onto itself – with a real home-away-from-home feel. With its discreet atmosphere, you can tell why the hotel's a long-time favourite of Hollywood celebrities and A-listers like. The hotel's location cannot be beaten; located in between downtown Los Angeles and the Pacific Ocean, Beverly Hills is the perfect area for luxury shopping and a quiet residential area for Hollywood's elite. If you want luxury, style and substance, this hotel is the one for you.
The accommodation at the Four Seasons is beautiful in its simplicity; flooded with natural light, packed with personality, subtle in style, super high-tech, these are the kind of rooms you'll never want to leave (at least not until you see the outdoor pool). Expect bedrooms decorated in warm tones to echo the sunshine of Southern California, that just feel like your own. There's 285 spacious guest rooms and luxury suites in the hotel, which all feature French doors to a step-out balcony with views of the gardens, the Hollywood Hills, Los Angeles or Beverly Hills. Located moments from Rodeo Drive, your bedroom is your own home – only moments from the best of Beverly Hills.
Clean colours, fresh feel and a homely atmosphere, you cannot beat the accommodation at this hotel. The rooms range from the Studio Suite to the very best Presidential Suite, with something for everyone in between. Starting with the Studio Suite, which features an oversized walk-in closet, living area and great views of the area, right up to the Presidential Suite, which features a modern design with a penthouse feel and eight walk-out balconies, each offering panoramic views of the Hollywood Hills and downtown Los Angeles. We loved the Hollywood Suites – these stunning suites offer great views of LA, pull-out sofa bed and a separate living room – with a beautiful aesthetic. Whatever room you choose, you'll always be offered free WiFi, entertainment, walk-in wardrobes, 24-hour concierge, limo service, iPad and more!
The facilities at the Four Seasons are really what sets it apart from other hotels in Los Angeles; your every need is taken care of at this hotel and it's a great spot to bring the whole family. The hotel offers some great facilities, including a world-class spa, outdoor pool, fitness centre, multiple dining options and rentable cabanas by the pool. This is easily the best pool I've seen in LA; super glamorous and exclusive, their outdoor pool (for hotel guests only) is set on a tropically landscaped terrace, offering elevated city views from the 4th floor. If you want to treat yourself, there's also six poolside cabanas for spa treatments or a private escape, with drinks from the adjoining Cabana Restaurant. Perfect.
We loved that the 24-hour fitness centre is open-air – it makes working out such a pleasure, with sunshine views of the city nearby and a cool breeze running through the gym. There's some other great perks at the Four Seasons – notably, luxury car transportation within a 2-mile radius of the hotel, meaning you can explore the local area in your own time and an app to access all the hotel's services via your phone. Of course, if you feel like exploring LA, the Four Seasons makes the perfect base – there's so much to do in the area, including Grand Central Market, The Broad, shopping in Beverly Hills and relaxing at The Grove. We found their concierge super helpful in planning a schedule for the weekend and they're happy to arrange restaurants and experiences on your behalf – perfect for first-time visitors to LA.
The spa at the Four Seasons is really something special. You can escape the madness of Los Angeles by basking in a private poolside cabana or try a spa treatment, including JetSet Refresh Facial and the Spa's signature Surrender Massage. There's everything from bespoke facials to full body treatments at the spa, with the best beauty brands around. Glorious.
What's more, this summer, the Four Seasons Los Angeles is celebrating Global Wellness Day on Saturday, June 9, 2018 through a variety of fitness, spa, and food and beverage initiatives with leading celebrity experts and brands. There's going to be everything from morning yoga on the hotel's rooftop helicopter pad, featuring 180 degree views of the city to plant-based lunch by renowned Chef Matthew Kenney and guided meditation sessions, plus complimentary juices throughout the day. Follow the hotel on Twitter here for more information. The hotel also recently launched dedicated Wellness Rooms and Suites in partnership with Delos, featuring Circadian lighting, LATHER amenities, meditations by Deepak Chopra, air and water purification systems, healthy menus, light minibar items, Alo Yoga mats, weights, balls and also Peloton bikes in the suites. So if you're looking for a healthy break, this is the place.
The food at the Four Seasons was simply sublime – and one of our favourite aspects of the stay. They've got a great range of dining options; from delicious poolside cuisines (hello salads, fries and burgers) to fancy breakfast in their sunshine-soaked outdoor terrace. For modern Italian cuisine, dine at Culina and if you want sophisticated cocktails, check out the trendy Windows Lounge. For poolside dining, there's their newly renovated poolside Cabana Restaurant on the fourth floor, which features casual, all-day dining. We loved the breakfast at Culina Restaurant – featuring some fantastic breakfast dishes, including American pancakes, avocado on toast, smoked salmon bagels and winning granola parfaits, all in a beautiful, serene setting. If you want a nibble by the pool, you can't miss the seasonally-inspired Californian food at Cabana – we loved the watermelon and feta salad, hearty Cabana Burger and decadent ice cream sandwiches. We're dreaming of those sweet potato fries to this day.
As you can tell, we totally loved our stay at the Four Seasons Hotel Los Angeles. Everything from the 5* service to the luxurious amenities, tip-top facilities and delicious food, made the entire hotel stay totally flawless. There's something about this hotel which is just so exclusive, which makes it feel like you're the only people staying there, even at full capacity. I think this is down to the incredible service – the staff were always so accommodating, making our whole stay such a pleasurable experience. We can't wait to return to the Four Seasons and we think it's about time you visited too.
Four Seasons Hotel Los Angeles at Beverly Hills is at 300 South Doheny Dr, Los Angeles, CA 90048. For more information and too book, see their website here.