About Time: You Enjoyed an Arty Break in New YorkBy Lucy Handley
New York is awesome at any time of year, but winter has a special magic to it. Skies can be bright blue, the views from high up don't have the haze that summer can bring and the city shows off its glitzy best for the chillier climes.
It's also a great time to explore NYC's art scene; whether you want to take in fine art at small galleries or blockbusters at the Met, you'll have plenty to talk about over cocktails later.
Where to Stay for an Arty Break
The Lowdown: The hip Arlo Hotel in SoHo has 'micro' bedrooms, compact rooms with under-bed storage and glass-walled shower rooms. Some have roof terraces with loungers and outdoor showers, and most have floor-to-ceiling windows. The hotel runs all kinds of events in its concrete-floored lobby, such as its upcoming transcendental poetry salon (free for guests), and grown-up art class Paint Nite. It also has a deal with the Dogpound gym opposite, a favourite of Hugh Jackman and Victoria's Secret models.
Where: 231 Hudson St, New York, NY 10013, USA
For Old School Glamour: Beekman Hotel 
The Lowdown: In Lower Manhattan, the Beekman Hotel is a grander affair with a stunning high atrium and its own art collection made up of 60 original pieces. Its wood-panelled reception has a desk clad in Persian carpets and antique glass lamps, and the Brooklyn Bridge and Wall Street are within easy reach.
Where: 123 Nassau St, New York, NY 10038, USA
What to See and Do
For Galleries Large and Small: Whitney Museum of American Art, Neue Gallery and the Tenement Museum
The Lowdown: The Whitney Museum of American Art in the hip Meatpacking District has a staggering 23,000 works from some of the greatest artists in the US: think Georgia O'Keefe, Edward Hopper and Willem de Kooning, while exhibitions from Andy Warhol and Grant Wood are scheduled for 2018.
Where: 99 Gansevoort St, New York, NY 10014, USA
Photo Credit: Bill Orcut
For German and Austrian Art: Neue Gallery 
The Lowdown: For something smaller, try Fifth Avenue's Neue Gallery, right opposite Central Park and housed in a beautiful 1914 building that was formerly a private home. After browsing the collection of paintings, sculpture and decorative art – all German and Austrian and from the early 20th century, head for Café Sabarsky for a Viennese pastry treat.
Where: 1048 5th Ave, New York, NY 10028, USA
Photo Credit: Neue Gallery 
For a History Lesson: Tenement Museum  
The Lowdown: And for a proper history tour, the Tenement Museum on the Lower East Side tells the story of New York's early immigrants, their hopes, dreams and how they lived in cramped tenement apartments.
Where: 103 Orchard St, New York, NY 10002, USA
The Lowdown: Some of the Big Apple's greatest collections can be seen for free, in what could be the city's best kept arty secret. Sotheby's in the Upper East Side exhibits art over six floors ahead of its sales, and the shows are ever-changing, from a private collection featuring Impressionist and Modern pieces from Renoir, Dufy and Kandinsky to a couture fashion jewellery collection from a designer's personal archive.
Where: 1334 York Avenue, New York, New York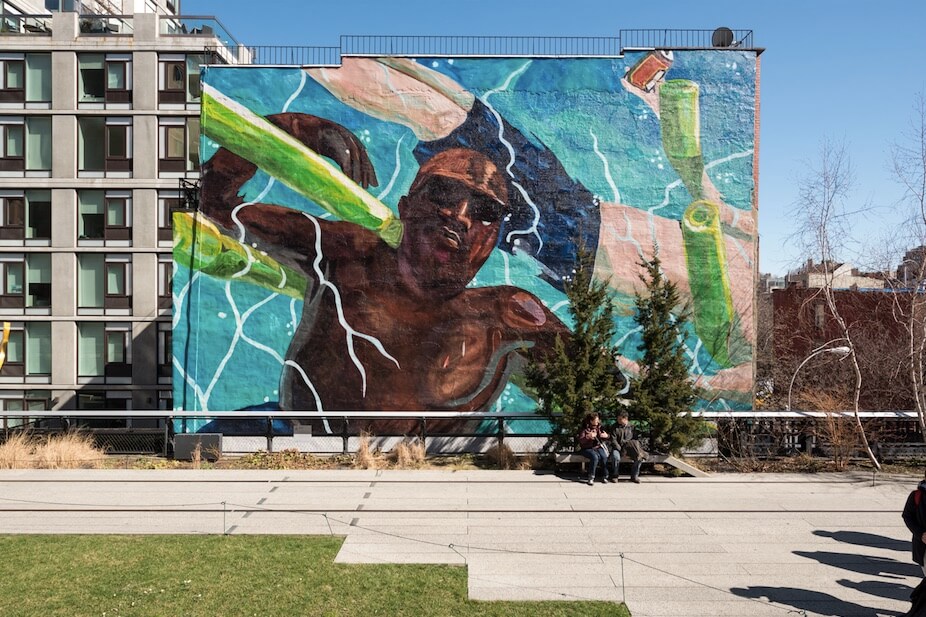 The Lowdown: New York's High Line, a garden and park that runs along an old railway track, is not to be missed. Start at the southern end after you've done the Whitney, and walk the 1.5 miles to the striking Hudson Yards development being constructed at its north. There's a mixture of art along the way, including sculptures, music and interactive pieces, and a useful website shows what's on.
Where: High Line, New York, NY 10011, USA
Photo Credit: Henry Taylor, the floaters, 2017. A High Line Commission, on view March 2017 – March 2018. Photo by Timothy Schenck. Courtesy of Friends of the High Line.
The Lowdown: If the word "museum" brings back childhood memories of being dragged around rooms of dusty, glass-cased dullness, then Museum Hack is for you. Guides run unconventional tours at the Metropolitan Museum of Art (the VIP package comes complete with wine and chocolate) and the American Museum of Natural History – "one of the coolest museums on the f***ing planet," according to the guys at Museum Hack.
Where: Book here
For All the Sites: New York City Pass
The Lowdown: If you are keen on ticking off New York's greatest hits, then a New York CityPASS includes half a dozen sights like the Rockefeller Center's observation deck and the Empire State Building. It also includes entry to the 911 Memorial and Museum, a quietly stunning tribute to all those who lost their lives on 11 September 2001. Two giant pools mark the spots where the Twin Towers stood surrounded by swamp white oak trees, while the underground museum shows the buildings' foundations and tells the stories of those involved.
Where: Buy here 
Where to Eat and Drink
For the Ultimate in Glam: The Top of the Standard 
The Lowdown: For new-school New York glamour, the Top of the Standard bar in the Meatpacking district is hard to beat. By day it's all blond wood and pale furnishings and by night the whole place seems to glow gold. It's a celebrity favourite too – Katy Perry hosted a post-Met Gala party here this year. The Standard runs interviews with artists on its website and come summer, head to its Plaza to see the latest art installations.
Where: The Standard, High Line, 848 Washington St, New York, NY 10014, USA
For Park Avenue Bites: Regency Bar and Grill 
The Lowdown: For a true New York pre-shopping brunch, head to the Loews Hotel on Park Avenue. Its Regency Bar and Grill is home to the original "power breakfast" on weekdays, where media and Wall Street executives rub shoulders over the most important meal of the day. Weekends are a more relaxed affair, and diners can choose from a timeless menu of smoked salmon benedict, chopped salads and blueberry pancakes.
Where: 540 Park Avenue, #200, New York, NY 10065, United States
For New York Cheesecake: Rocco's Pastry Shop 
The Lowdown: You could argue that New York cheesecake is an art in itself, and at Rocco's Pastry Shop on Bleecker Street in the West Village, they claim their sweet treats are world famous. I counted 11 varieties of cheesecake alone – try the classic New York Style version, made with Philadelphia cream cheese. It's gluten free too.
Where: 243 Bleecker St, New York, NY 10014, USA
Getting Around
For Airport Transfers: Blacklane Cars 
The Lowdown: Blacklane Cars provide speedy and luxurious transfers from New York's airports into town and passengers get text alerts with their driver's name and number ahead of time. Uber is an effective way of getting around, while the subway is quick – and cheap.
Where: See the website for more information.