Searching for great things do in Los Angeles on a whistle-stop tour? You've come to the right place – from restaurants to hotels, neighbourhoods to experiences, we've got it covered. For more California inspiration, discover our ultimate California road trip guide here. Now, here's how to see the best of Los Angeles in a hurry:
Things to Do in Los Angeles: Essential Information
What to Expect:
Los Angeles is a wacky, wonderful place; a sprawling Southern Californian city, the home of America's TV and entertainment hub, it's a city that's as stylish as it is fearless. From visiting the Walk of Fame, to hanging out on Rodeo Drive, or feasting in Bel Air, Los Angeles has every experience you could hope for. Expect to spend the sparkles in LA, it's not a cheap holiday. 
When to Visit: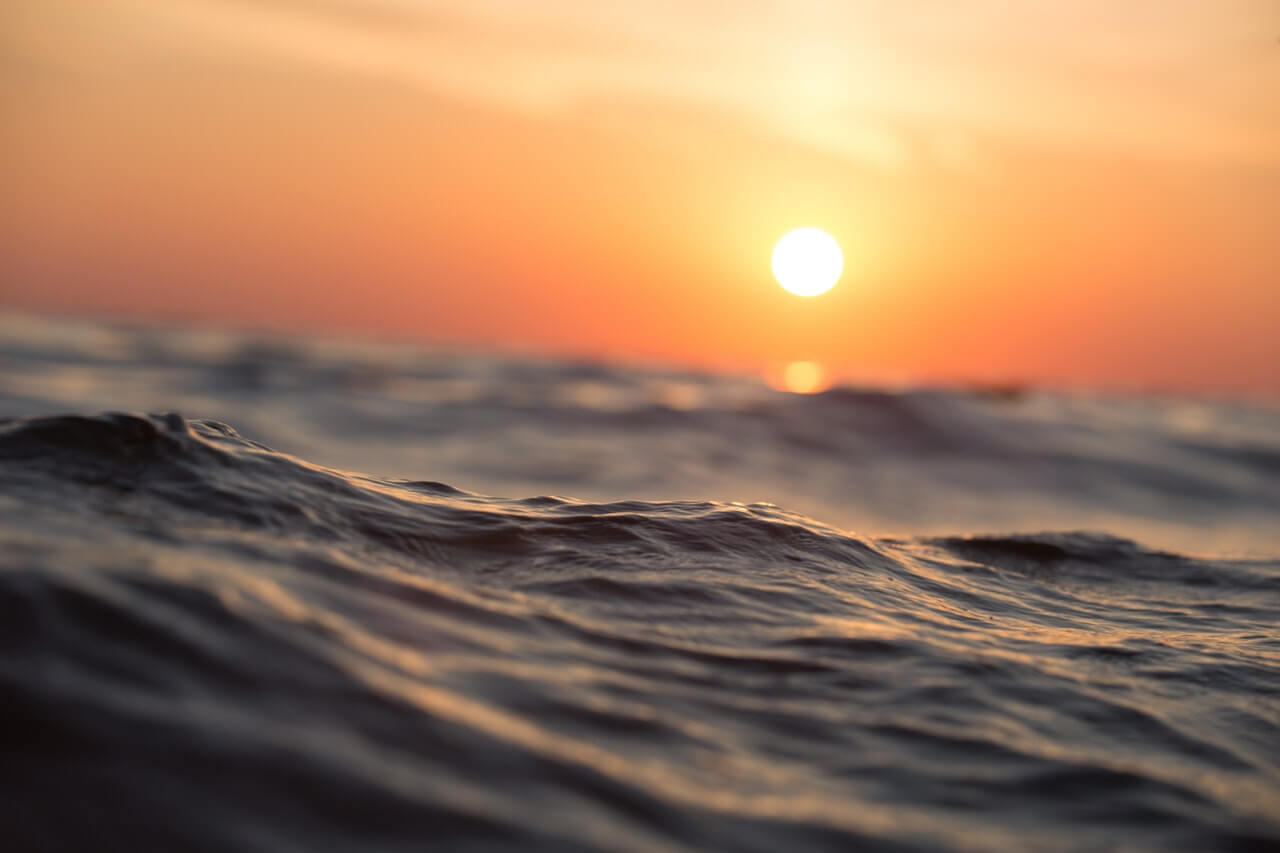 The best time to visit LA is between March and May, and September and November, when it's a bit cooler and the crowds have died down. You won't be fighting your way through a hoard of tourists at every attraction, and if you're looking for a good deal, plan a winter trip for a reduced rate on hotels and flights. Pack an umbrella if you're visiting in January and February, mind, as it's rainy season.
How to Get Around:
Frankly, LA is a city where you need to drive – if you want to explore all the best things to do in Los Angeles, it's your best bet. It's the quickest way to get around, as the neighbourhoods aren't that well connected. Luckily, the advent of Uber and Lyft means you don't have to drive yourself, however, if you don't feel like getting stuck in the rush hour traffic. If you'd rather take the metro, you can get to Santa Monica for Downtown LA in around 45 minutes, costing a mere $1.75. 
Things to Do in Los Angeles: The Neighbourhoods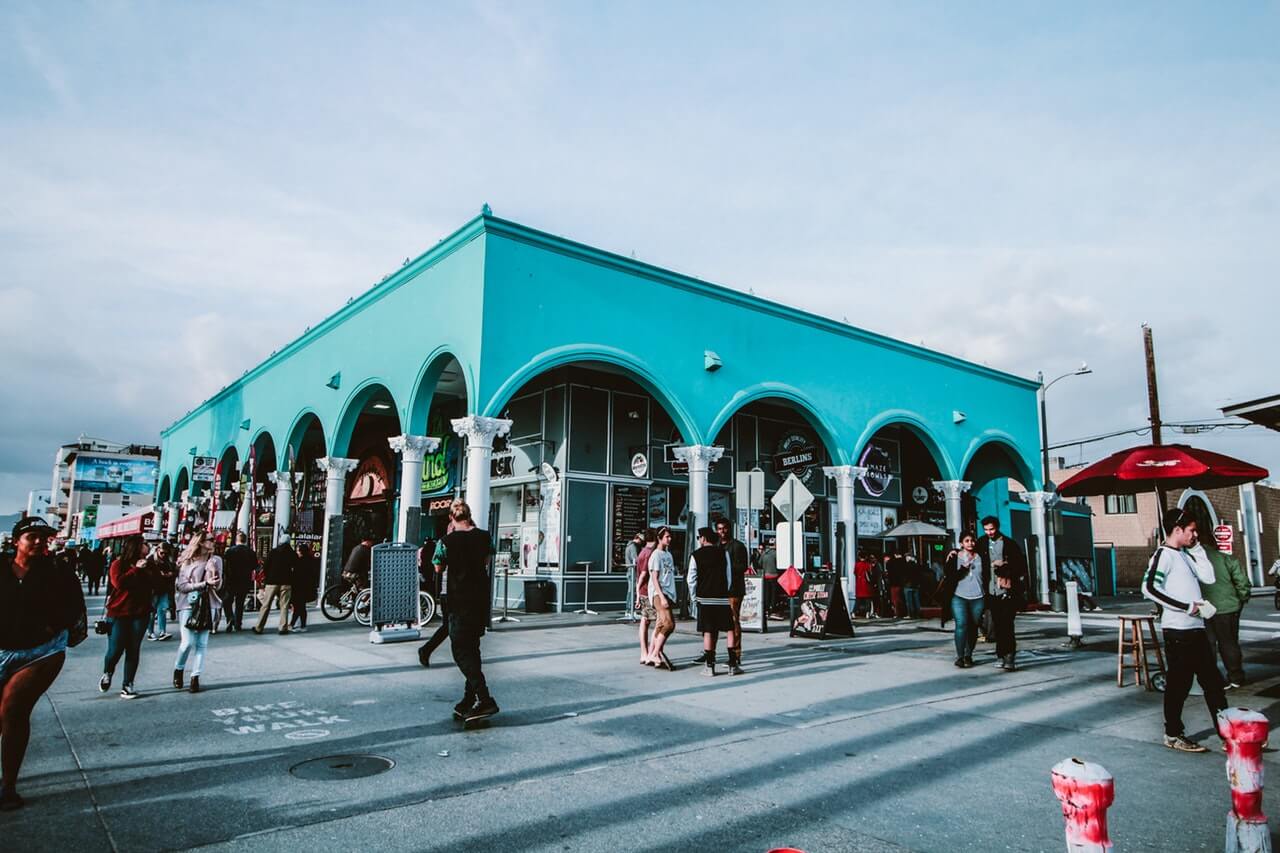 Where to Visit:
There's so many great places to visit in LA, divided into neighbourhoods with their own distinctive look and feel – there's so many great things do in Los Angeles, you'll be spoilt for choice. Here's our favourite places to visit in the city: 
Santa Monica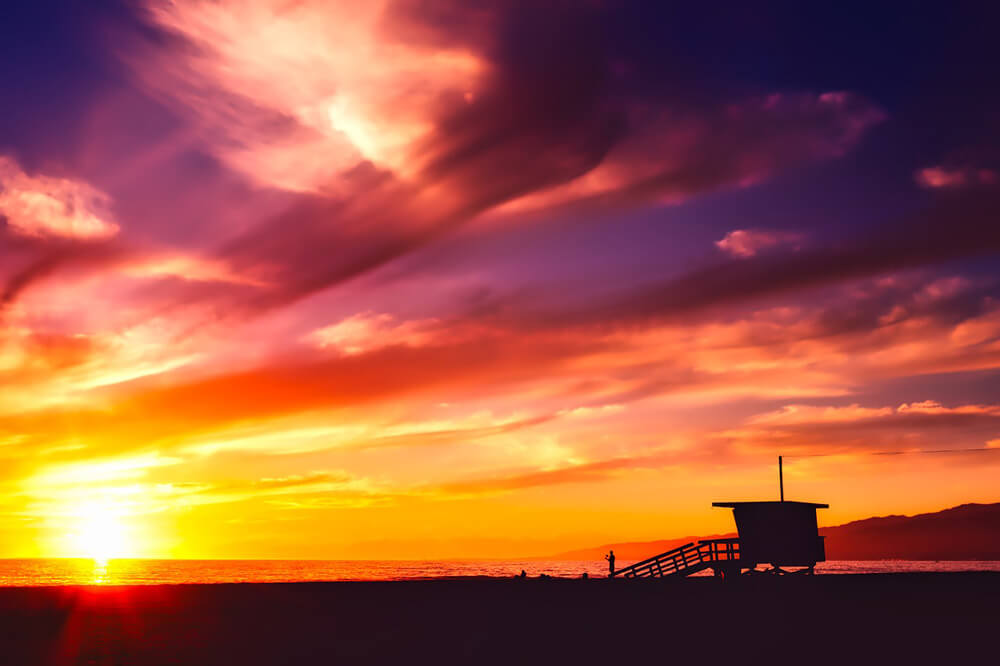 Santa Monica is one of my all-time favourite places to visit in LA; a coastal city west of downtown LA, the city is beautifully fringed by Palisades Park, with amazing views over the Pacific Ocean. It's simply stunning, and there's tons of fun activities to enjoy – Santa Monica Pier is home to the Pacific Park amusement park, historic Looff Hippodrome Carousel and Santa Monica Pier Aquarium. For a taste of local life, try a paddle board Yogaqua class in Marina del Ray, or take a stroll along Venice Beach, stopping for a latte on Abbot Kinney boulevard.
West Hollywood
West Hollywood, known locally as WeHo, is a popular city in LA and home to the famous Sunset Strip. It's a great place for nightlife and dining, with lots of brilliant options on the Strip, as well as trendy accommodation such as The Standard Hotel. If you're looking for shopping, the western stretch of Melrose Avenue is known for its trendy clothing boutiques, interior design shops, restaurants and antique stores. Don't miss the Design District, celebrity hangouts such as Soho House and catch a gig at the Comedy Store.
Beverly Hills
Beverly Hills is a mecca for high-end shopping, and a trip to LA isn't complete without a visit to Rodeo Drive – one of the most impressive, upscale shopping streets in the world. Think: Prada, Dior, Fendi, and so much more. The home to many Hollywood starts, Beverly Hills is a must-visit in your trip to LA, and don't miss the Greystone Mansion, which is the backdrop for many famous movies. For a real celebrity haunt, check out The Bevelery Hills Hotel and grab at bite at their poolside spot, The Cabana Cafe – and, come dinner time, dine under the stars at The Peninsula's fantastic rooftop restaurant on the 5th floor. Magical.
Bel-Air
Bel-Air is much more than just the original home of the Fresh Prince of Bel-Air. An affluent, sparkling city, with a plethora of 5* hotels, high-end restaurants and stunning private homes, it's more of the most incredible neighbourhoods to drive through. If you're looking for a world-class breakfast, head to the Hotel Bel-Air, where Wolfgang Puck's signature blueberry buttermilk pancakes are worth the journey alone. Bel Air is a really special place, and one you simply cannot miss.
Things to Do in Los Angeles: Unmissable Activities
For art-lovers:
There's so much for art-lovers in Los Angeles. You must visit the collections of the Los Angeles County Museum of Art, which is housed in a 20-acre building complex. For modern art, visit the Broad Contemporary Art Museum for real wow-factor works of art. The Getty Center is one of the most impressive museums in the world – and one of the best places to visit in LA. It has paintings from everyone from Rubens to Monet, with lots of photography and a beautiful sculpture garden. For great walking tours of the city, try the Los Angeles Conservancy tours, where you'll visit the city's most famous buildings and architecture – the Art Deco tour is a fantastic way to learn about the city's artistic history. For something special, don't miss The Broad – a contemporary art museum on Grand Avenue, which is simply brilliant.
For beach bums:
If you're a beach-lover, you can't miss spending a day in bohemian Venice Beach. The super hippy, chilled out area is great for a leisurely day with the sand and sea. The beaches in Santa Monica are simply stunning – grab a cold beer on one of the State beaches and watch the sunset in true LA style. If you're looking for shopping, Abbot Kinney is a high-end boulevard with a luxury, glamorous feel – for a more typical California experience, head to the boardwalk for people watching. 
For thrill seekers:
Santa Monica Pier is fun if you're in a childish, nostalgic mood. Sure, it's a bit touristy and a sickly stick of cotton candy will set you back an eye-watering amount, but I loved spending a few hours at the arcades, spending all my hard-earned cash on the basketball and dancing games. Playful, silly, young and fun – a visit to the Pier is something everything a holiday in California should include.
For fitness fanatics:
We loved trying our hand at paddle board Acro yoga with YOGaqua. Sure, we spent most of the morning falling in the water, but it's a super fun way to get out into the ocean and try your hand at some new yoga tricks. The classes are held at Marina del Ray – don't forget to pack a bikini, because you're going to be getting very wet.
For foodies:
Photo credit: Original Farmers Market
Foodies will be totally spoilt for choice in Los Angeles. If you're looking to taste the best local produce, head down to Original Farmers Market. A favourite destination among locals and tourists since 1934, LA's world famous Original Farmers Market offers over 100 gourmet grocers, restaurants from across the world and the most delicious local produce.
For cocktail lovers:
You must visit a rooftop bar when in LA – it's the trendy thing to do. Discover the best rooftop bars in LA here in our latest guide – we say get down to the Hotel Erwin for the best views of Venice Beach with a cocktail in hand.
Things to Do in Los Angeles: Hotels
Where to Stay:
There's so many great hotels in LA – especially in West Hollywood and Santa Monica, which give a really amazing local feel. Here's our favourite places to visit in the city: 
The Standard Hotel, West Hollywood
Super trendy, minimalist and totally chic, The Standard hotels are iconic all round the world – for good reason. At this slick WeHo hotel, expect a floral-themed bar, relaxing pool and great pool-side restaurant, as well as functional, Instagram-worthy bedrooms that strike the perfect balance of style and substance. We loved the quirky touches of the hotel, including a copy of George Orwell's 1984 in every room, a delicious comfort food room service menu and the personalised touches of decor in every room. A must-visit in Los Angeles. 
If you're looking to escape all the hustle and bustle of the city in one of the slickest's hotels in town, then the Viceroy needs to be top of your list. Not only does the hotel offer up delicious cabana-style outdoor dining, weekend yoga classes, a refreshing swimming pool and the sexiest marble bathrooms I've ever seen, it also provides the ideal location for exploring Santa Monica – only moments from the beach. Mind you, we won't blame if you just want to laze by the pool and enjoy the delicious food by their CAST restaurant, which uses only the best, local produce. The service at the Viceroy is as slick as can be, and you'll be wowed by the vibe, atmosphere and design of this 5* hotel. 
Another brilliant option in Santa Monica, the Shangri-La is a household name throughout the world, and their LA hotel is a really amazing luxury option. The hotel boasts a great outdoor swimming pool, a wicked rooftop bar and all the luxury amenities you could wish for. The rooms themselves are all super luxe in design, with huge baths, flat screen TVs and one of the fanciest mini bars I've ever seen. If you feel like splashing out, this is the place to come. 
Things to Do in Los Angeles: Food
Eating in LA is notoriously tricky – there's lots of tourist traps and a cup of coffee can set you back an eye-watering amount. Here's the restaurants, cafes and coffee shops where you'll get more bang for your buck (or, at least, it will be worth it): 
For Breakfast:
One of my favourite places we visited in LA, Tarte Tatin is a new Israeli-inspired breakfast and brunch spot a stone's throw from upmarket Rodeo Drive. The popular, packed cafe has street-side outdoor tables, great for people watching and feeling the sun on your face, and serves up some of the best breakfast around. Try their Mediterrean Breakfast which features two eggs, tuna salad, labneh, tahini, freshly-baked bread, homemade lemonade and a latte, or try something new with their delicious Shakshuka. Don't miss their almond croissants, too, they're the dream. 
If you're feeling really fancy, there's really nowhere on earth quite like the Hotel Bel-Air. Their all-day restaurant creates some of the finest breakfast dishes in all of Los Angeles – and are almost too picture perfect to eat. The restaurant, by Wolfgang Puck, is simply world-class – order the smoked salmon bagel, which comes with cream cheese, capers, onion and the tastiest smoked salmon ever – or try the unmissable buttermilk blueberry pancakes. Their fresh berries are also delicious, as is the freshly-squeezed orange juice. 
For something quirky and different, check out this ocean-facing Greek yogurt haven in Santa Monica. Go Greek is a fully customisable yogurt shop, offering up delicious frozen yogurt with every topping under the sun, and brilliant yogurt bowls, each with a unique twist. Choose from the Greek Salad savoury yogurt bowl with cucumbers, tomatoes and olives, or the delicious banana, cacao, date syrup and halva yogurt bowl. I'm hoping they bring this concept to London very, very soon. 
For Coffee:
A super trendy coffee spot on Abbot Kinney boulevard, the coffee here is no joke – strong, full of flavour, intense – it's just what you need for a morning boost. Try their iced lattes with the roast of the day, they are divine, and don't miss their matcha croissant – it's a work of art in pastry form. 
For Lunch:
If you're looking for something uniquely LA in vibe, The Butcher's Daughter in Venice Beach is a plant-based restaurant, cafe, juice bar and "vegetable slaughterhouse." In short, they chop, fillet and carve fresh produce into healthy vegetarian dishes and press them into pretty juices. Right on. You'll be hard-pressed to find a more popular spot for weekend brunch, and the crowds flock here for their iconic vegan dishes, such as buckwheat pancakes, Acai bowls and avocado on 12-grain toast. Avoid the weekend crowds and pop in for a spot of weekday-lunch; the Spicy Kale Caesar is too good.
To be honest, you could choose Flower Child for breakfast, lunch or dinner, and you'd be so happy. This is healthy food, but not like you know it. Flower Child's fundamental promise is to serve healthy food for a happy world – they work with ranchers who respect, protect and love their animals and their proteins are all raised without additives. The food is divine; from the delicious vegan poke bowl with beetroot and avocado, to incredible strawberry and Goat's cheese salad, the bowls here win on flavour, as well as ethics. 
For Dinner:
Oh, what a place. The rooftop restaurant at the Peninsula Hotel is about as cool and romantic as it gets. The menu here is simply stunning; with everything from tuna tartare with pineapple and avocado, to BBQ Branzino with delicious roasted corn with chilli butter and homemade 'Smores. What's more, the restaurant's cocktails are totally winning – you must try the spicy Jalapeno Margarita with a sweet and savoury delight. Come on weekends for their special BBQ menu, which features ribs, steaks, burgers and more. 
This is one dinner spot you don't want to miss. Located in the beautiful Fairmont hotel, Chef Ray Garcia's seasonal bistro FIG features only the freshest local and organically grown ingredients straight from Santa Monica's Farmer's Market. This restaurant is easy and relaxed – with a charcuterie and cheese bar, communal table, and sharing-plates menu, FIG offers an intimate atmosphere for any occasion. We loved their signature Bread Balloon with homemade hummus, delicious cheese board with local cheeses and the fresh, zingy fattoush salad. 
If you're a cheese lover, you can't miss Forma in Santa Monica. Not only does the restaurant boasts one of the most impressive, lengthy cheese menus I've ever seen (there's about 60 to choose from!), including rare, truffle, local, French and Italian cheeses, but they even toss their pastas in a big wheel of Parmesan. Yes, you heard me, the pasta is finished off inside a cheese wheel. The dream. Order the Cacao & Pepe for a taste of authentic, Italian delights, and don't miss their Burrata with melon, cherry tomatoes and olive oil – it's beyond delicious.