About Time: You Visited the Best Rooftop Bars in Los Angeles, CaliforniaBy Alicia Grimshaw
Looking for the best rooftop bars in Los Angeles? The search ends here. We can't get enough of America. We love the States, and we don't care who knows it. If you're planning a trip to the West Coast over the next couple of months, here's the best rooftop bars you need to spend your dollars at in Los Angeles. Because cocktails taste better when you drink them a few floors up.
Best Rooftop Bars in Los Angeles: Ultimate Guide
The Lowdown: The only rooftop kick-back bar in Venice – known for its people watching, epic sunsets, panoramic views and live local DJs. Sink into their cozy couches (complete with blankets on request) and enjoy a chilled tipple (or three).
Drink: If you're not coming for the views, which you really should be, come for the Lazy Sunbather cocktail. A muddle of Bombay Sapphire Gin, Cointreau, Aperol, lime and grapefruit, it's the perfect post beach pick me up. And their mini beef sliders, complete with baconaise are a sight to behold.
Where: 1697 Pacific Ave, Venice, CA 90291
The Lowdown: Housed in a mid-century Downtown L.A. landmark, Rooftop at the Standard features an alfresco bar with endless views of Downtown and the mountains beyond. Complete with a heated pool, dancefloor, fire pit and endless twinkles from the cityscape, the iconic venue treats LA dwellers to nightly DJ sets, waterbed pods and a German Biergarten. One of the hottest rooftop bars in LA by a country mile.
Eat and Drink: Throw caution to the wind, and lay down some cash on one of their pitchers. The Almost Famous cocktail is our fave: Rye, peach purée, lemon and ginger beer. It tastes like liquid dynamite. And be sure to soak up the alcohol with baja fish tacos topped with napa and red cabbage, crema, salsa verde and  micro cilantro (coriander to us).
Where: 550 South Flower at Sixth Street, Los Angeles, CA 90071
The Lowdown: Nestled on the 15th floor above South Hill Street, this indoor/outdoor restaurant and lounge offers night owls a stellar view of the sparkling city lights. With tasty French fare, live music and toasty fire pits to curl up around, they weren't lying when they said this bar is an 'elevated resting place'.
Eat and Drink: Their crafted cocktails are, quite simply, amazing. We're talking about the Writers Block with Grey Goose La Poire Vodka, St. Germain, lemon juice and Sparkling Wine, and the fiery Penicillin, a muddle of Famous Grouse Scotch, lemon juice, agave nectar and ginger. Bacon mac n' cheese bites with black truffle béchamel? Get some.
Where: 448 South Hill St, Los Angeles, CA 90013
The Lowdown: Upstairs at Ace Hotel takes inspiration from Hollywood's famous Les Deux Café – think Provençal-style gardens dotted with mosaic-top tables. There's a concrete pool inspired by Donald Judd's in Marfa, TX, and the city's bright lights stretched out in all directions, Upstairs' bunker-like bar hosts a smattering of events every night of the week. The party never stops here.
Eat and Drink: Order a Sangria pitcher and a bowl of their homemade guacamole. Job done.
Where: 929 S.Broadway, Los Angeles, CA 90015
The Lowdown: Mama Shelter has that LA vibe. The laid-back vibe that us Brits try to emulate back at rooftop watering holes back home, but never quite succeed. The bar blends the beachside atmosphere of Miami with LA city living. A hollywood hotspot, Mama Shelter boasts 360-degree views; from the Hollywood sign to Downtown, and South Bay to Westside.
Eat and Drink: A sky high brunch is our jam. And all you need to know about is the deep fried French Toast drizzled with whipped peanut butter, fresh banana and seasonal jam. Best washed down with a Throw Mama From the Train cocktail – Beefeater gin, Aperol, lemon and Yellow Chartreuse.
Where: 6500 Selma Avenue, Los Angeles, CA 90028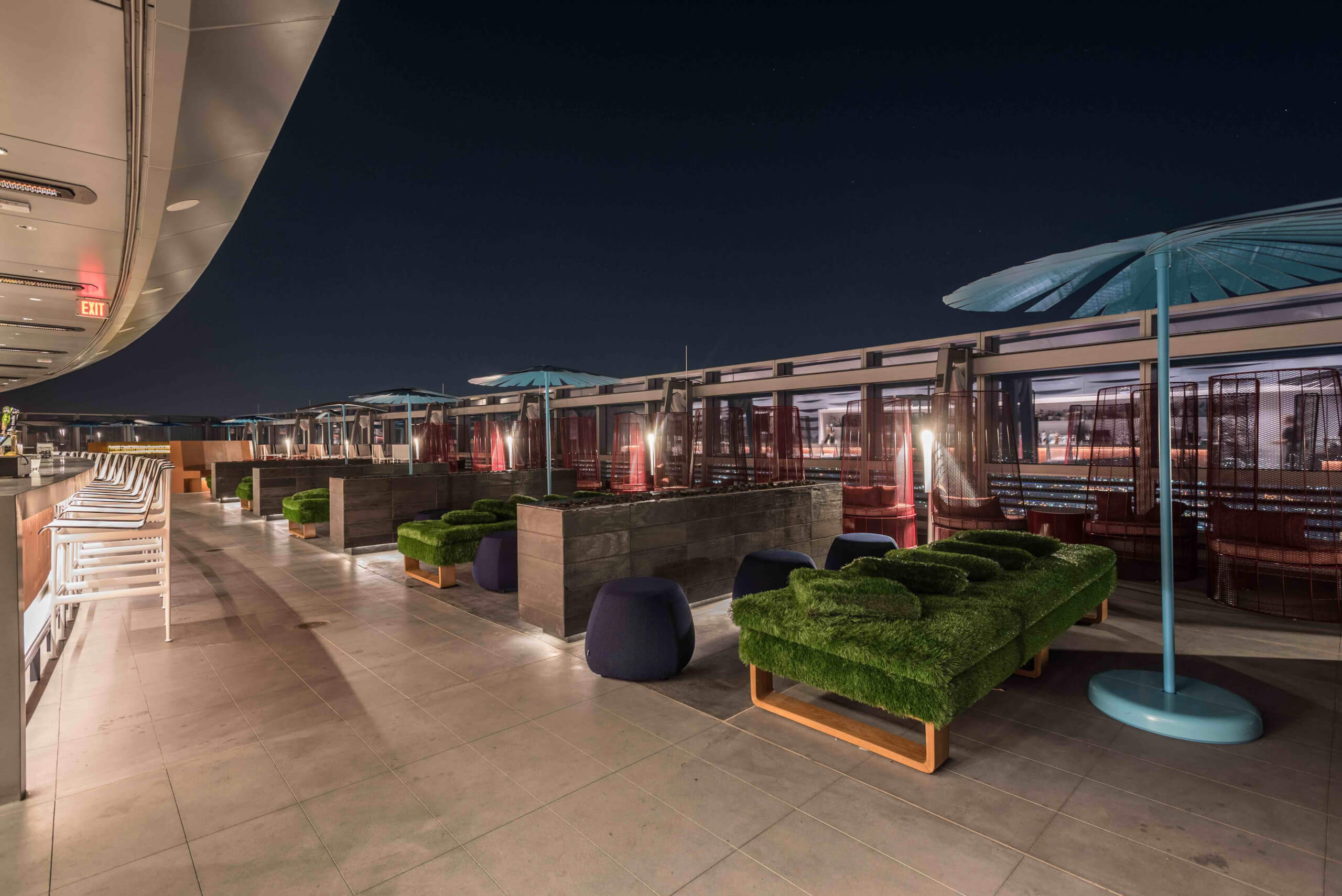 The Lowdown: Spire 73 is a pretty special bar, and is currently the tallest open-air bar in the Western Hemisphere. No biggie. Located on the 73rd floor at the InterContinental Los Angeles Downtown, the bar's epic view of LA is worth paying over the odds for one of their cocktails. Sip slowly, and drink in the sweet vista.
Eat and Drink: The bar stocks a vast selection of whisky (one of the biggest in the area, don't you know). And there's the usual bar nibbles to help with the hunger pangs.
Where: 900 Wilshire Blvd. 73rd Floor, Los Angeles, CA 90017
The Lowdown: Perched on the 22nd floor of the Hollywood Proper Residences, Filifera is one of LA's new kids on the block. The bar offers a peaceful haven from the bustling city streets down below, and there's both an indoor and outdoor lounge. When the rays hit, the bar is the ideal sun trap.
Eat and Drink: Their house speciality cocktails are absurdly delicious. Give the Passion Fruit Fizz a whirl – Maker's Mark Bourbon, PassionFruit, Aqua Faba, lemon, pastis and wild fennel flower. It's a proper summer refresher.
Where: 1550 N. El Centro Ave, Rooftop, Los Angeles, CA 90028
The Lowdown: With 360-degree pool-side views spanning the L.A. skyline and Hollywood Hills, this rooftop bar and restaurant serves up American fare with a classy atmosphere. Rest and unwind with the lights of L.A. surrounding you whilst plotting your hike up the Hollywood Hills.
Eat and Drink: You can't beat breakfast alfresco. And on a rooftop. The menu features everything from Greek yogurt parfait to innovative egg dishes. And the signature pancake lasagna is a must order. Tasting is believing.
Where: 6317 Wilshire Blvd. Los Angeles, CA 90048
For more LA info, see here.