Looking for gift inspiration for the travel lover in your life? Discover our latest Christmas gift guide featuring all our top gifts for travel lovers that anyone with a lust for adventure will adore:
What: Deluxe Scratch Map (£19.99)
The Lowdown: The Deluxe Scratch Map is guaranteed to be a hit for any globetrotter. Just like its name suggests, the aim is to scratch off the foil of the destinations you've visited to create a visually stunning record of where you've been in the world. The Deluxe map is stylish and sleek with intricate geographical details. The black background and copper foil look sophisticated on any wall and the bright colours of the map underneath create a fun and vibrant contrast. A top favourite on social media, it's without a doubt one of the best gifts for travel lovers this year. 
Where to Buy: MenKind
What: Motif Photo Book (starting from £6.99)
The Lowdown: The best thing you can give a travel lover is the gift of memories and Motif is here to make it happen. The simple free-to-download app on all Apple devices helps users create beautiful personalised photo books, calendars and cards using the photos of memories they've captured over the years. These photo products make thoughtful and affordable physical tokens of the memories travellers have collected on the road from shared trips to a compilation of treasured travel memories. 
Where to Buy: Motif
What: Srprs.me Gift Voucher (from £20)
The Lowdown: Want to know the best way to a travel lover's heart? Simply buy them a trip abroad. Srprs.me is the leading mystery holiday provider which turns holidays into a quick and easy gift from as little as £20 up to £300. The best bit? Those who are travelling won't know where they're going until they've reached the airport, opened the envelope and found the pin code on their scratchcard. Srprs.me is simple to use. Just fill in your specifications online, receive a dedicated page and Srprs.me consultant, get a weather forecast of your destination seven days before you go and finally, receive a scratchcard which will reveal your destination once you arrive at the airport – then you're off!
Where to Buy: Srprs.me 
What: RNLI Pretty Useful Tools Set of 3 Travel Pouches (£16)
The Lowdown: Travel pouches for your suitcase are always useful and travel pouches that give back are even better. The Set of 3 Travel Pouches by Pretty Useful Tools donates 100% of its profits to RNLI (The Royal National Lifeboat Institution), the largest charity that saves lives at sea across the coasts of the UK and Northern Ireland. These travel pouches are made from water-resistant and durable rip-stop fabric. Versatile and with stunning designs, they're one of our top gifts for travel lovers wanting to make a difference. 
Where to Buy: RNLI 
What: Tempur Sleep Mask (£30)
The Lowdown: One of our favourite gifts for travel lovers is the Tempur Sleep Mask. It's an essential gift for any globetrotter travelling long-haul or backpackers getting used to the hostel lifestyle. The pressure-relieving Tempur material in this luxurious sleep mask ensures that it moulds perfectly to your face, providing complete darkness for you to drift off and get some good quality rest. A must-have for light sleepers and anyone who wants to grab a few moments alone while travelling, the sleep mask is made from soft velour and is designed to cushion the eye area while you sleep. 
Where to Buy: Tempur
What: Tile Sticker Bluetooth Tracker (£34.99 for 2)
The Lowdown: There's nothing more stressful than misplacing one of your most valuable possessions while travelling which is why Tile's Bluetooth trackers are an essential gift for any travel lover. Simply attach the Tile to your treasured belonging and if it goes missing, ring it and use it in reverse to call your phone. If you fear that you've left your item further away, check where your item was last seen on a map or tap into Tile's community, the world's largest lost-and-found network which will help you find the lost or stolen item anywhere in the world. The new Tile Sticker is small and waterproof with an adhesive back and a three-year battery life which makes it perfect for life on the road. 
Where to Buy: Tile, Amazon, Argos and John Lewis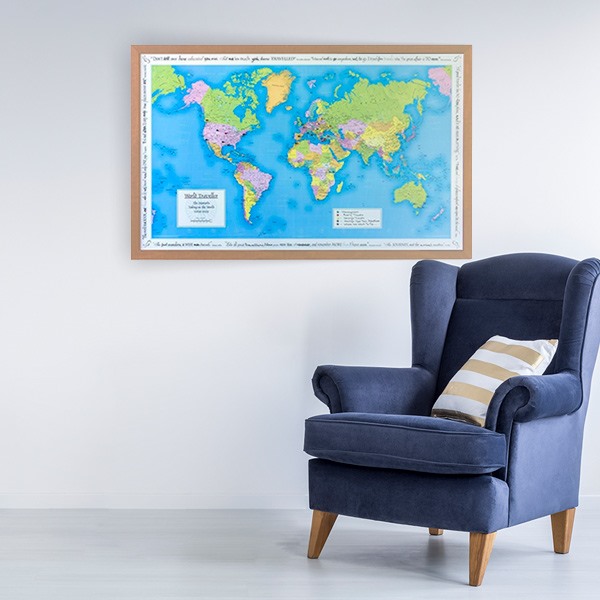 What: I Just Love It Personalised World Traveller Map (£38.99)
The Lowdown: The Personalised World Traveller Map from I Just Love It gives you the chance to record your travels in a fun and unique way. The highly detailed map comes in a choice of two oak frames so you can give it centre stage on the wall. Each map has a hundred pins in five different colours included so you can construct a personalised key of what each colour represents. To make it that little bit more meaningful, you also have the opportunity to print a personalised message onto the map in a font of your choice and the laminate surface allows you to write significant dates and details from your travels. 
Where to Buy: I Just Love It
What: GB Eye Carabiner Mugs (£12.99)
The Lowdown: A perfect gift for the adventure traveller, GB Eye's new collection of stainless steel carabiner mugs come in a range of distinct designs to choose from. Each mug is double-walled and holds 220ml of hot or cold liquid. Quirky and lightweight, these mugs can be clipped onto your backpack for ease when you're travelling. It's an essential travel accessory for camping, backpacking and festivals alike. 
Where to Buy: GB Eye
What: Elite 75t Earbuds (£189.99)
The Lowdown: Jabra's new stylish Elite 75t Earbuds are a must-have gift for any travel lover who enjoys a tune or a podcast on the road. These earbuds provide complete freedom from wires and come in a compact case that can easily be slipped into a pocket or hand luggage. The Elite 75ts are the best fit ever and provide 7.5 hours of battery life and 28 hours with the charging case. They may be small but they pack in plenty of power, making them one of our favourite gifts for travel lovers this Christmas. 
Where to Buy: Jabra
What: PNY Fast Portable Charger (£59.99)
The Lowdown: Phones have become an essential part of modern travel. We use them for directions, lifts, research, finances… the list is endless. So, the last thing anyone wants is for their phone to run out of battery while travelling. Enter PNY's Fast Portable Charger, the brand new powerpack with a delivery of 10000 mAh. The powerpack's compact nature means that you can slip it into any bag with ease so you don't ever have to leave it behind. The powerful little gadget can charge your phone to 50% in 8 to 30 minutes and its 3 different ports allow you to charge multiple devices simultaneously. 
Where to Buy: Amazon
What: PNY Universal Tripod and Wireless Remote (£39.99)
The Lowdown: The PNY Universal Tripod is a must-have for any travel lover – particularly solo travellers – who want to capture the memories of their trip with ease. Its compact nature means that it can be tucked into your backpack so you can take the best photos where ever you go. The tripod is suitable for compact cameras, smartphones, DSLR and action cameras and its handy wireless remote means that you can take group and solo shots without having to dash to and from the camera. 
Where to Buy: Amazon
What: Tisserand Aromatherapy & National Geographic Explore Travel Kit (£20)
The Lowdown: Award-winning aromatherapy specialist, Tisserand Aromatherapy has teamed up with National Geographic create a collection of sustainable destination-specific wellness travel kits. The Explore Travel Kit is one of our top gifts for travel lovers this Christmas because it captures the blissful essence of fresh winter air – a perfect accompaniment to the festive season. Designed to fill you with complete serenity, this travel kit includes a travel-sized bath oil, mood mist and a rollerball in Tisserand's Explore blend of Petitgrain, Cardamom and Peppermint 100% natural pure essential oils. It leaves a fresh and invigorating aroma that clears your head and stimulates your senses. Presented in a reusable vegan cosmetic bag, each bottle is 100% PCR and fully recyclable. 
Where to Buy: Boots and Tisserand Aromatherapy
What: Snugpack Luxury Wash Bag (£12.95)
The Lowdown: Perfect for long-haul trips, Snugpak's Luxury Wash Bag is big enough to keep all your favourite toiletries in one place, with room for more if necessary. It's a handy little bag made out of heavy-duty 600D polyester and plenty of roomy compartments which means that it can take whatever the adventure throws at it. Designed to help you feel more organised on the road, the wash bag comes with a detachable mirror and a useful hanging hook so you can store it safely out of the way.
Where to Buy: Snugpak